TOLEDO, Ohio — To kick off the Solheim Cup celebrations downtown, the Opening Ceremony Fan Fest fills up Promenade Park starting on Friday. GRAMMY Award-winning artist Gwen Stefani will close out the Opening Ceremony with what is sure to be a concert to remember and the excitement continues Saturday with a concert by
Stefani has achieved global success as a performer, songwriter, frontwoman for an iconic rock band and multi-platinum solo artist. She also has four MTV Video Music Awards, two Billboard Awards, an American Music Award and a Brit Award, in addition to being a regular judge on NBC's The Voice.
Young is a multi-platinum country singer and songwriter. In 2006, he was declared the Season 4 winner of the television program, Nashville Star, which was a singing competition that aired on the USA Network. He recently surpassed the four billion streams mark for his catalog worldwide, which includes eleven No. 1 singles. His current hit is "Famous Friends."
TICKETS AND CASHLESS CONCERT INFO
These are cashless events, meaning all transactions will happen on credit or debit cards. If you have cash, reverse ATMs are on hand to turn your cash into a card to use, fee-free.
All Friday tickets include the following:
2 p.m. – Gates Open with local bands and activities in the general admission stages
5 p.m. – Opening Ceremony will be live-streamed throughout the event footprint
6 p.m. – More local bands and activities in the general admission stages
8:30 p.m. – Main stage, Gwen Stefani performs and the show will be livestreamed throughout the event footprint
10 p.m. – Fireworks display
PARKING INFO
On Friday, Park and Ride lots will open at 1 p.m. Shuttles will begin running from the lot to the event at 1:30 p.m. and will run approximately every 15 mins throughout the day. The last shuttle to leave from the event site in downtown Toledo to the lots at midnight.
An opportunity to purchase Park and Ride Tickets will be available upon purchasing your event tickets, or by using this Ticketmaster link.
CLEAR BAG POLICY
Attendees are encouraged not to bring any type of bags. However, a clear bag policy is in place. An exception will be made for medically necessary items after proper inspection at a gate designated for this purpose.
The less you bring, the easier it will be to pass the security checkpoint.
WHAT IF IT RAINS?
All shows are rain or shine. No refunds or exchanges unless a show is canceled.
CHANGES IN WHAT YOU CAN BRING
Unlike other ProMedica Summer Concert Series events, you cannot bring a chair to these concerts as seats are already set up. No tables or coolers are permitted. No outside food or beverages are allowed.
WHAT IS NOT ALLOWED?
Weapons of any kind
No blankets
Food or beverage
Cans, bottles, coolers or other similar containers
Video cameras, audio recorders or other similar electronic devices
Cameras (not including cell phones)
iPads
Laser pens, pointers or other laser products
Air horns or noisemakers
Coolers
Fireworks
Glow Sticks
Beach balls
Aerosol spray cans
Tools (box cutters, Leatherman or any multi-tool, screwdrivers, etc)
Pets (except service animals)
No umbrellas or parasols are permitted due to blocking other people's views.
No chairs allowed in VIP PIT area (chairs will be provided for you, unless the artist designated area standing room only).
Plastic tarps, tents or stakes.
Skateboards.
Solicitations, handbills, posters or unauthorized sales.
Any other item deemed unacceptable by management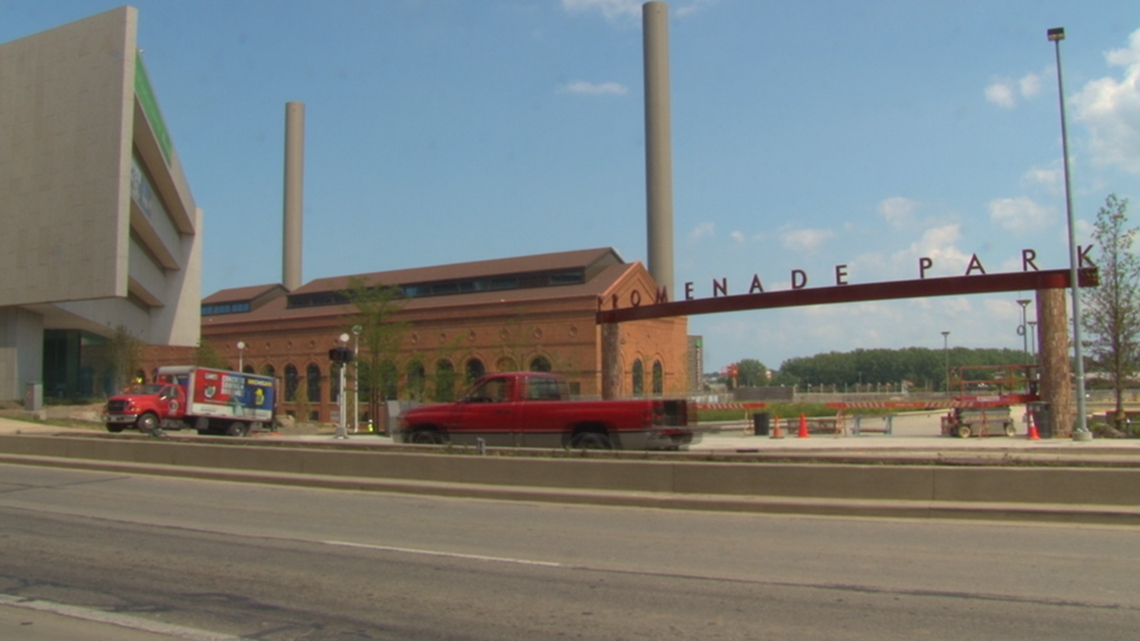 FULL PROMEDICA SUMMER CONCERT SERIES LINEUP
General ticket information can be found here.
The series underscores a revival of sorts for the city as events are coming back, businesses are opening and folks are shedding their masks once and for all.
"We have been working hard to bring music back to the riverfront," ProMedica vice president of marketing and communications Kathleen Merrill said during the announcement of the concerts in the spring.

SUMMER'S PREVIOUS BANDS & PLAYLISTS
AUG. 26 & 27 | THIRD EYE BLIND, OLD CROW MEDICINE SHOW
The Promedica Summer Concert Series at Promenade Park delivers not one night of entertainment, but two!
First off is Third Eye Blind on Thursday, August 26. The band hit it big when their first single, "Semi-Charmed Life' reached #4 on the Billboard Hot 100 in 1997. Other singles followed, including "Jumper," "How's It Going to Be" and "Never Going to Let You Go."
Old Crow Medicine Show with Molly Tuttle & Oliver Hazard perform on Friday, August 27. Discovered while panhandling by Doc Watson, the bluegrass musician invited the band to play at his festival and launched its career.
AUG. 13 | I LOVE THE 90S CONCERT: VANILLA ICE, COLOR ME BADD, C+C MUSIC FACTORY
Were the '90s really 30 years ago? Look at your calendar and your mind will be boggled as you realize they were - at least the early 90s. The ProMedica Concert Series is proud to present some of the biggest acts of that era.
Promenade Park in downtown Toledo will be filled with the I Love the '90s Tour this Friday. Joining headliner Vanilla Ice are Color Me Badd and C+C Music Factory. All 4 One was set to play but won't make this leg of the tour.
Vanilla Ice's hits include "Ice Ice Baby," "Play That Funky Music" and "Rollin' in My 5.0." He also launched the bleached pompadour look that took over many a high school hallway along with his awesome dance moves.
Bring a towel when C+C Music Factory takes the stage. Hits "Gonna Make You Sweat (Everybody Dance Now)," "Here We Go (Rock & Roll)" and "Things That Make You Go Hmmm…" will, well, make you sweat!
"Fans need this. It has been a hell of a time with everything that has been thrown at people in 2020. People need a good old party like they did in high school," Jeff Epstein, co-creator of the tour, said. "No doubt this is a show that fans will be clamoring for as they dust off their Cross Colours. It's 1995 all over again."
AUG. 6 | JOSH TURNER AND LAUREN ALAINA
The ProMedica Summer Concert Series at Promenade Park welcomes country artists Josh Turner and Lauren Alaina to the big stage on Friday.
Turner is a Grammy-nominated performer and Inspirational Country Music Awards winner. Early standout "Long Black Train" joins hits "Your Man," "Would You Go with Me," "Firecracker," "Why Don't We Just Dance," "All Over Me" and "Time is Love" on his playlist.
You may recognize Alaina from "American Idol" where she was the runner-up in the 10th season. She was also a contestant on "Dancing with the Stars" where she finished fourth.
Alaina's number one country hits include "Road Less Traveled," "What Ifs" and "One Beer."
So enjoy a beer (or the beverage of your choice) this weekend at another in a series of downtown concerts.
JULY 30 | WARRANT WITH WINGER
Late '80s and early '90s glam metal bands Warrant and Winger team up to take on Toledo.
Remember banging your head to the radio in your car? Hair and makeup flying everywhere? These bands know where you're coming from. In fact, their hair might have been longer than yours.
Warrant is known for hits "Heaven," "Down Boys" and "Cherry Pie." In fact, this is the Cherry Pie 30th Anniversary Tour.
Winger had success with "Seventeen," "Miles Away" and "Heading for a Heartbreak."
Winger also had a run of infamy appearing on the nerdy kid's shirt who idolized Beavis and Butthead on their MTV show.
The "melody and muscle" sounds of 38 Special return to Toledo with special guest Pat Travers as part of the Promedica Summer Concert Series at Promenade Park.
The band, known for hits "Hold on Loosely," "Caught Up in You," "Teacher, Teacher," "Second Chance" and "If I'd Been the One," comes honestly to its southern-flavored influence as it was co-founded by Donnie Van Zant, the younger brother of Lynyrd Skynyrd founder co-founder Ronnie Van Zant. Eventually, the band moved away from that in favor of a more "arena rock" sound.
Their name comes from an incident at their rehearsal space - a warehouse in the middle of nowhere. They had lost the key to the lock and crawled in and out of a window using a ladder to access it.
One night, locals complained of loud music issuing from the building and the law showed up. The band tried to explain they couldn't come out right away because of the padlock on the door. One of the cops said, "That's all right. We'll let this .38 special do the talking" and shut off the lock.
The band chose that for a "temporary" name and it stuck.
JULY 16 | KOOL & THE GANG
Almost every wedding reception you've ever been to starts with Kool & the Gang's "Celebration." And if it didn't, you've got the wrong friends!
The group ruled the charts in the eighties. By 1986, Kool & the Gang had 14 top 40 singles in the decade, more than Michael Jackson. Hits include "Jungle Boogie," "Ladies' Night," "Too Hot," "Get Down On It" and "Fresh," among many others.
The band formed way back in 1964 in Jersey City, New Jersey. Seven high school friends bonded over their love of jazz. According to a mini-documentary called Kool TV, the band swore they would never play rock 'n' roll and were "anti-Motown." In the end, they say they "played it all." Elements of soul, jazz, funk, rock, and pop fill their catalog.
Incidentally, Robert "Kool" Bell is not the lead singer. He plays bass. He is also originally from Youngstown.
Downtown Toledo had a certain "Shine" to it as Atlanta rock band Collective Soul took the stage as the first act in this summer's ProMedica Summer Concert Series at Promenade Park on July 9.
The band that helped define alternative rock in the 1990s is known for such hits as "Shine," "December," "Where the River Flows" and "The World I Know." Collective Soul released its tenth studio album, Blood, on June 21, 2019. The album peaked at No. 4 on the Billboard Top Independent Albums Chart.
Collective Soul promised an invigorating live set with a mix of their classic hits and also shared their new music as well. Local rockers Arctic Clam got the night moving as the opener on the big stage.