TOLEDO, Ohio — It will be a nice and dry start to the weekend with temperatures sitting in the mid-50s this morning. You'll notice as you go throughout your morning that a lot of the smoky haze has tapered off and we will be left with mostly sunny skies for Saturday.
By the late morning hours, temperatures will start to rise just in the 70s as we get closer to the afternoon. Expect a shift in temperatures by Saturday afternoon. By afternoon, temperatures will reach into the mid to upper 80s for highs.

With the continued lack of rain, we will likely end the day with the 21st consecutive dry day in a row.
The question is: will we see a 22nd day without rain?

For most of the day, it will stay rather dry. Temperatures will start in the lower 60s.
By the afternoon and evening hours Sunday, clouds will start to roll into the area and eventually bring some much-needed widespread showers for Sunday night.
Showers will continue into Monday morning when rain becomes a bit more scattered.
The chance for rain continues through Tuesday as temperatures start in the lower 70s for the workweek.

Quebec wildfire smoke
Lake Erie high-resolution satellite imagery separated by just 5 days shows how incredibly thick the recent wildfire smoke was in our area.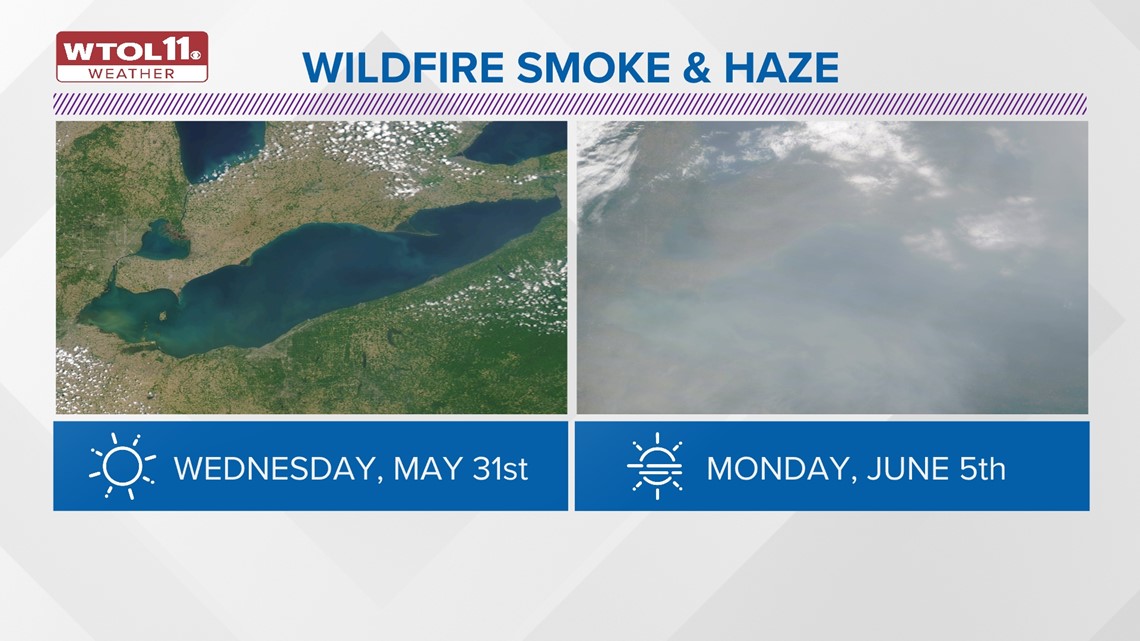 Dry conditions and drought
The U.S. drought monitor, which updates every Thursday, released updated information, categorizing much of northwest Ohio and southeast Michigan in a moderate drought.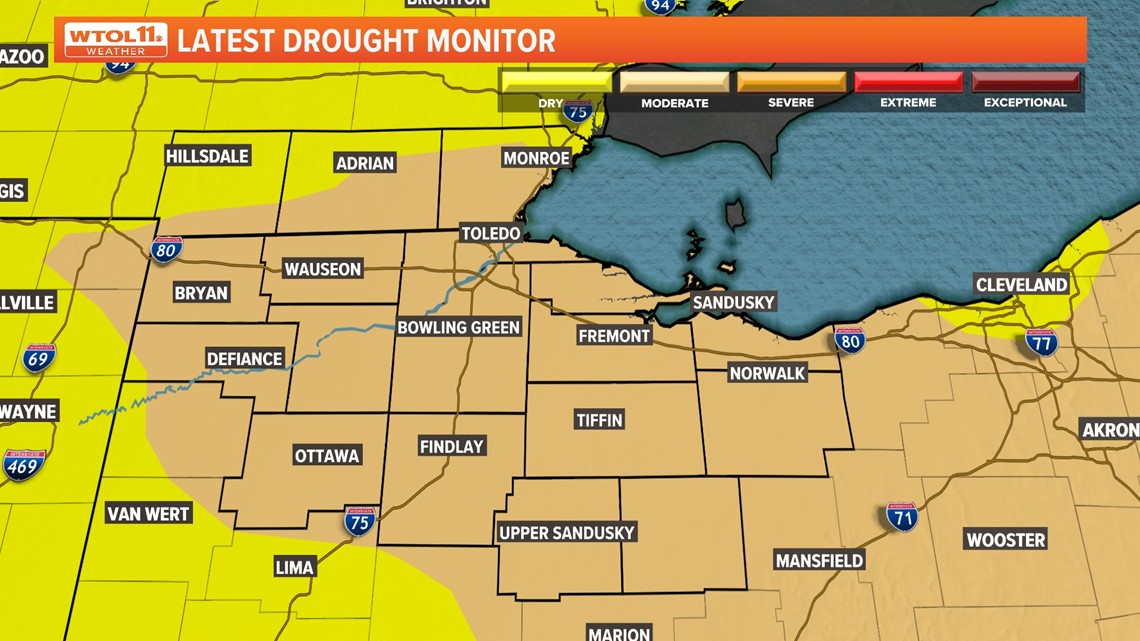 This comes after our area saw nearly three weeks of dry conditions. If 20 days pass without rainfall, then 2023 will rank as the longest spring dry spell in recorded Toledo history.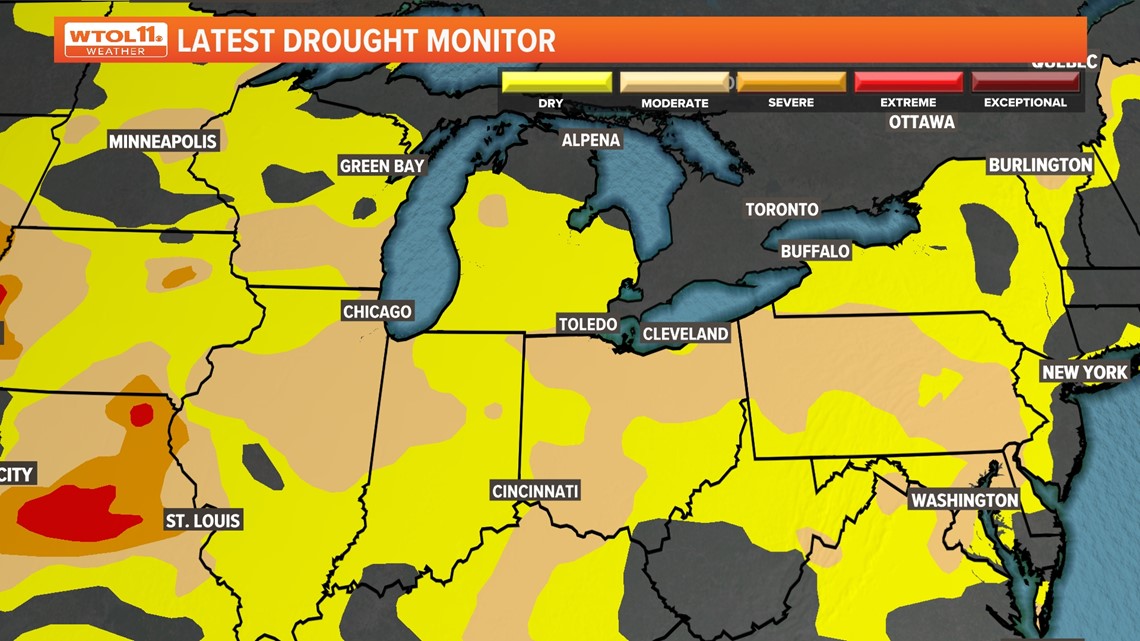 Mayflies!
A huge swarm of mayflies has hatched on the western basin of Lake Erie. This is the first swarm detected by Doppler radar this season. This swarm spans nearly 20 miles from Toledo to Pointe Mouillee State Game Area.
At this time, the mayflies remain over the lake but will come onshore in the coming days and weeks.


Dry May
May is normally the wettest month of the year! This May only delivered 0.9" of rainfall. Interestingly, our average high temperature for the month landed at 73, directly on par with the average. That doesn't tell the full story, as we experienced a roller coaster of temperatures with many ups and downs.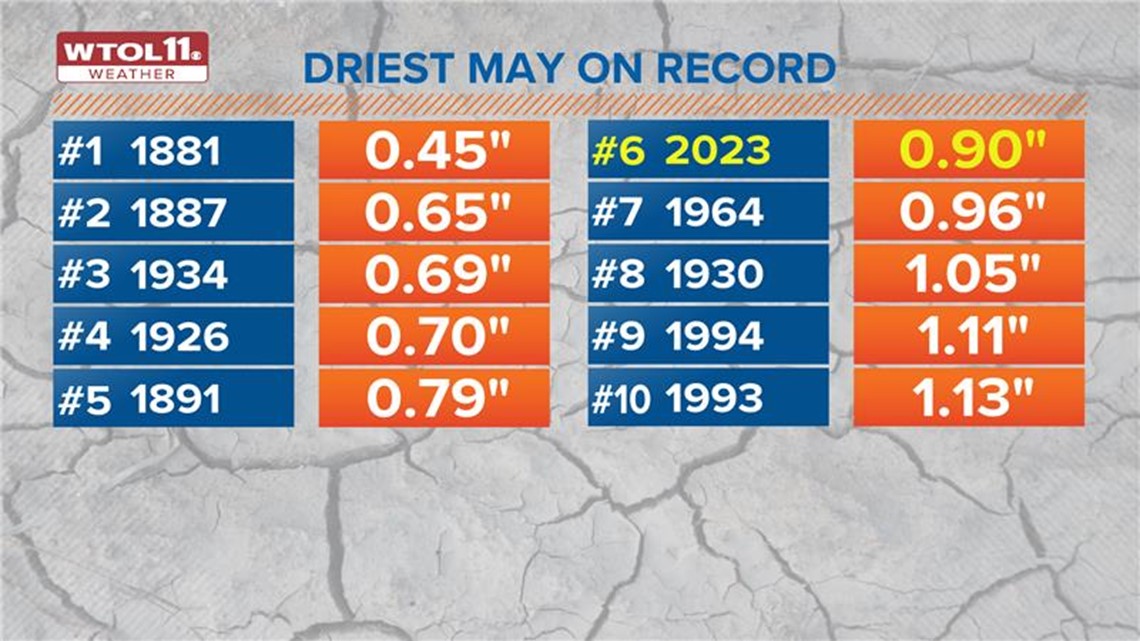 WTOL 11 Weather Hangout
Want to know what our weather team is talking about this week? Check out the WTOL 11 Weather Hangout!
WTOL 11 meteorologist John Burchfield breaks down how the weather app works for you: