TOLEDO, Ohio — Editor's note: For a list of county snow emergency levels, click here.
With Wednesday's forecast expected to bring 4 to 7 inches of snow in northwest Ohio and southeast Michigan, hazardous road conditions can make your daily commute dangerous.
The National Weather Service issued a winter storm warning Tuesday morning for several northwest Ohio counties ahead of Wednesday's ALERT DAY. With heavy snowfall accumulations, it is possible some counties will issue snow emergencies. Understanding Ohio's three snow emergency levels can give you a better sense of weather safety as you make, modify or cancel plans.
Snow emergencies are determined at the county level, and it is ultimately up to the county sheriff to make the decision to issue an emergency. The sheriff evaluates road conditions and uses the following guidelines provided by the state of Ohio to determine a county-wide snow emergency.
LEVEL 1: Roadways are hazardous with blowing and drifting snow. Roads may also be icy. Motorists are urged to drive very cautiously.
LEVEL 2: Roadways are hazardous with blowing and drifting snow. Roads may also be very icy. Only those who feel it is necessary to drive should be out on the roads. Contact your employer to see if you should report to work. Motorists should use extreme caution.
LEVEL 3: All roadways are closed to non-emergency personnel. No one should be driving during these conditions unless it is absolutely necessary to travel or a personal emergency exists. All employees should contact their employer to see if they should report to work. Those traveling on the roads may subject themselves to arrest.
The WTOL 11 weather team has forecasted snowfall totals between 4 and 7 inches in much of northwest Ohio and the southeastern-most parts of Michigan. Some isolated spots in northwest Ohio may see as many as 8 inches of snow. Areas southeast of Findlay and northwest of Adrian are expected to see between 3 and 5 inches of snowfall.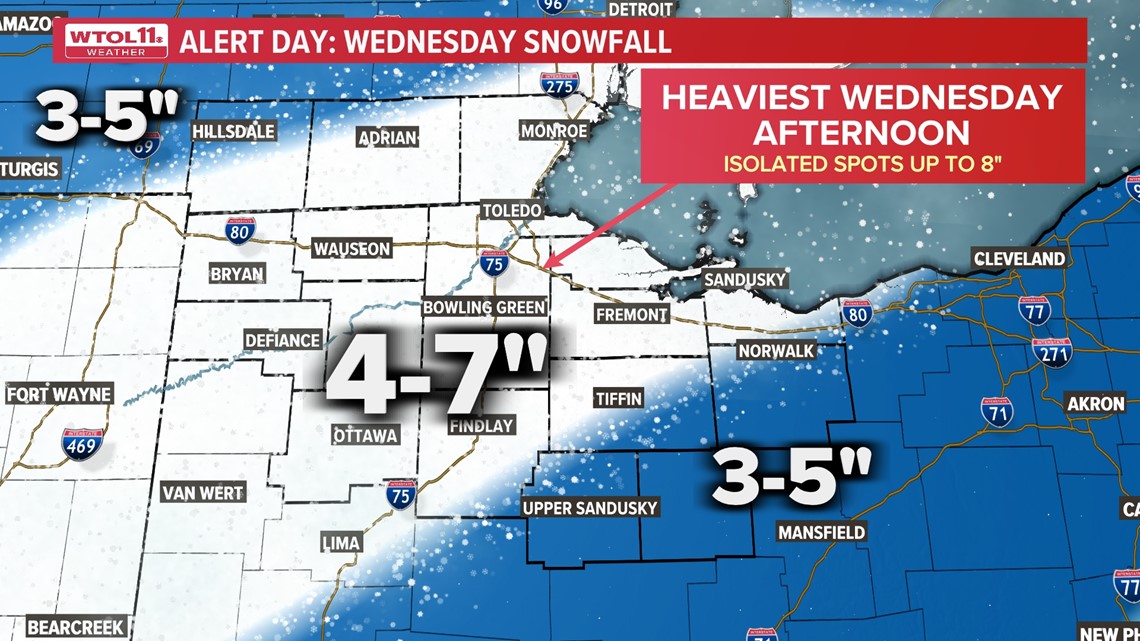 It will remain unclear what kind of snow emergencies will be issued for northwest Ohio and southeast Michigan counties until sheriffs evaluate conditions and make the decision. WTOL 11 will issue updates regarding snow emergency levels as they come in.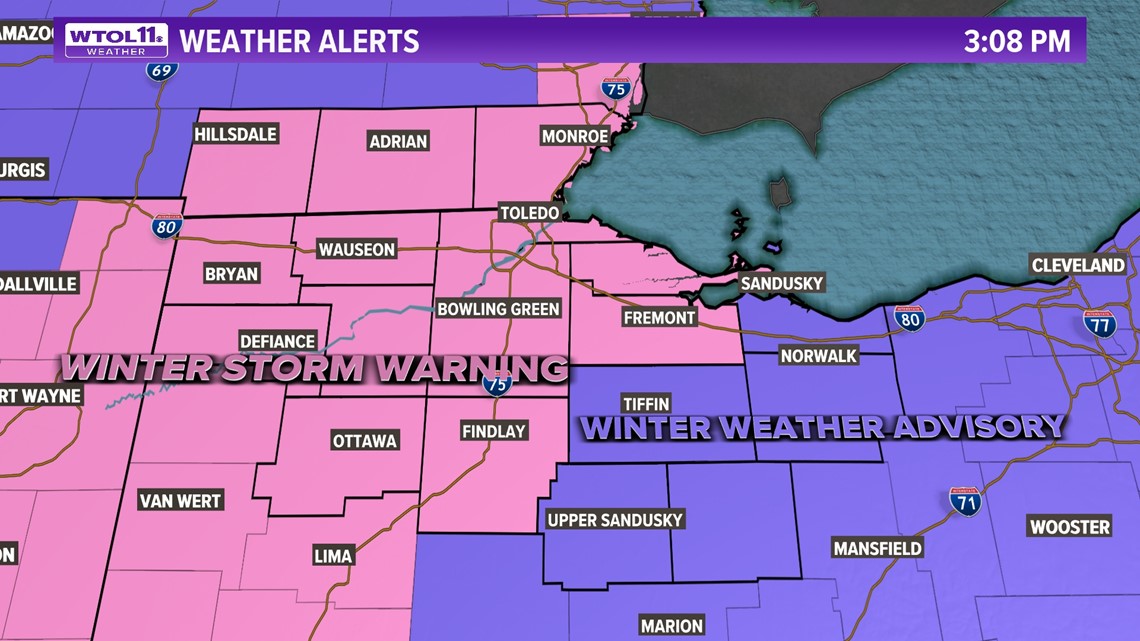 As of Tuesday morning, the National Weather Service issued winter storm warnings to several northwest Ohio counties; Upper Sandusky County, Tiffin County and counties east are under winter weather advisories.
In Michigan, Hillsdale, Adrian and Monroe counties are under winter storm warnings.
The National Weather Service may upgrade or lift some advisories and warnings as the storm passes through. Stay with WTOL 11 Weather for the latest forecasts and updates.
MORE FROM THE WTOL 11 WEATHER TEAM