TOLEDO, Ohio — The WTOL 11 Weather Team has the latest forecast regarding anticipated snowfall accumulations ahead of Wednesday's ALERT DAY.
The heaviest snow will pass through northwest Ohio and the southeasternmost parts of Michigan, bringing 4 to 7 inches of snow to the region. Southeast Michigan and areas southeast of Findlay can expect 3 to 5 inches of snow. Isolated spots in northwest Ohio could see up to 8 inches of snow.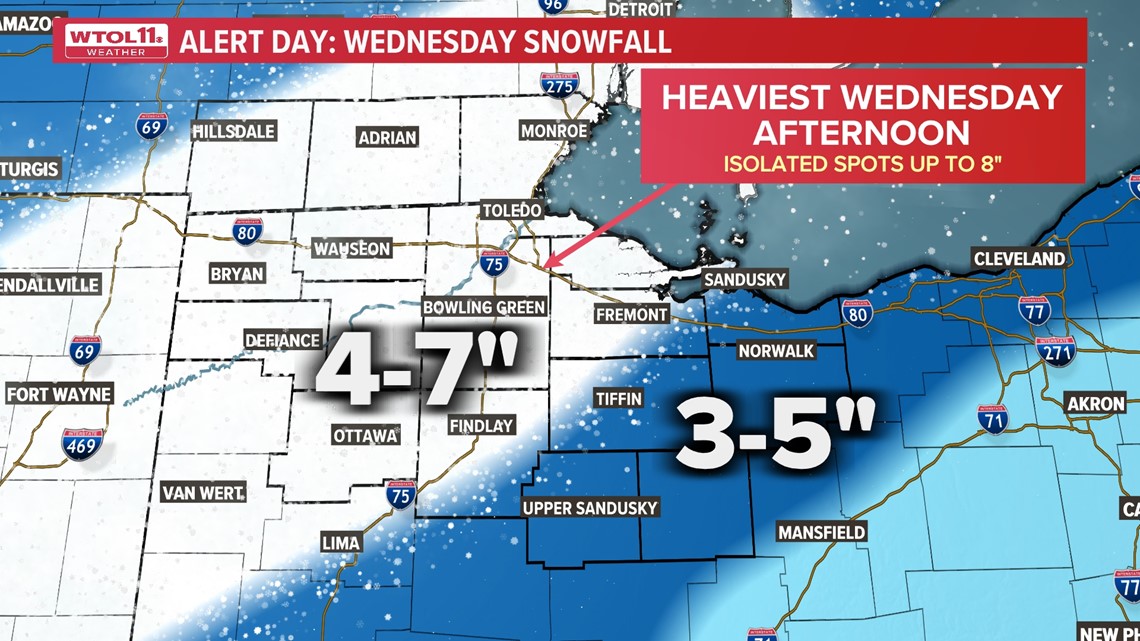 Expected accumulation totals can change as the storm gets closer. Stay with WTOL 11 for the latest weather updates.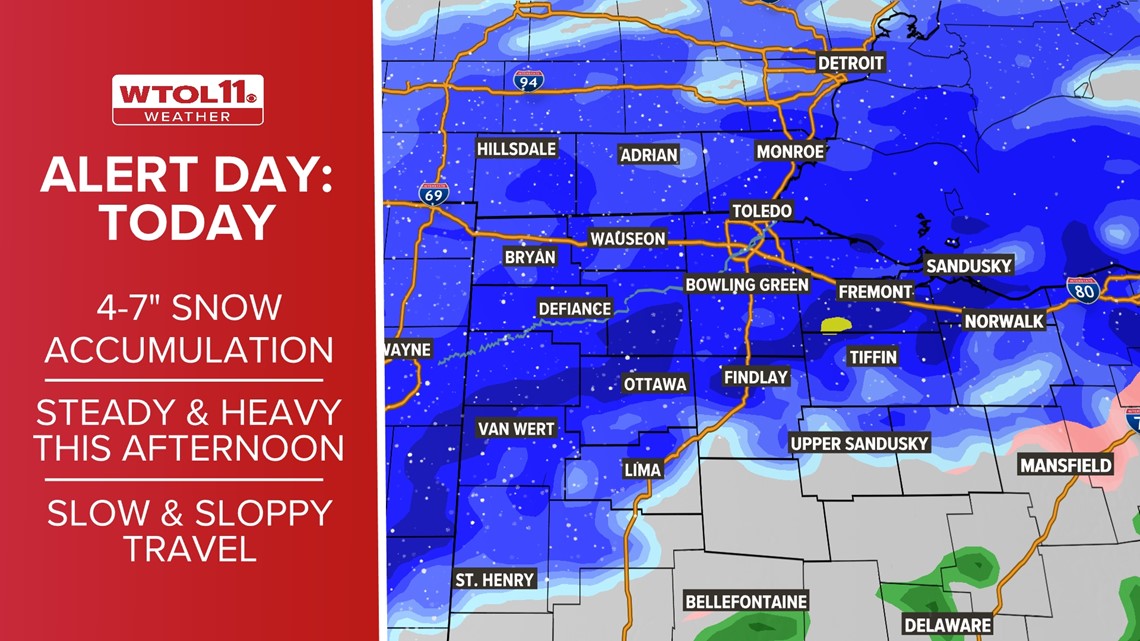 Snowfall is expected to begin Wednesday morning around 7 a.m. and last throughout the afternoon and evening. The weather event will impact travel throughout the region, including both your morning and evening commute.
The heaviest snow will fall during the afternoon, when up to 1.1 inches of snow could fall per hour.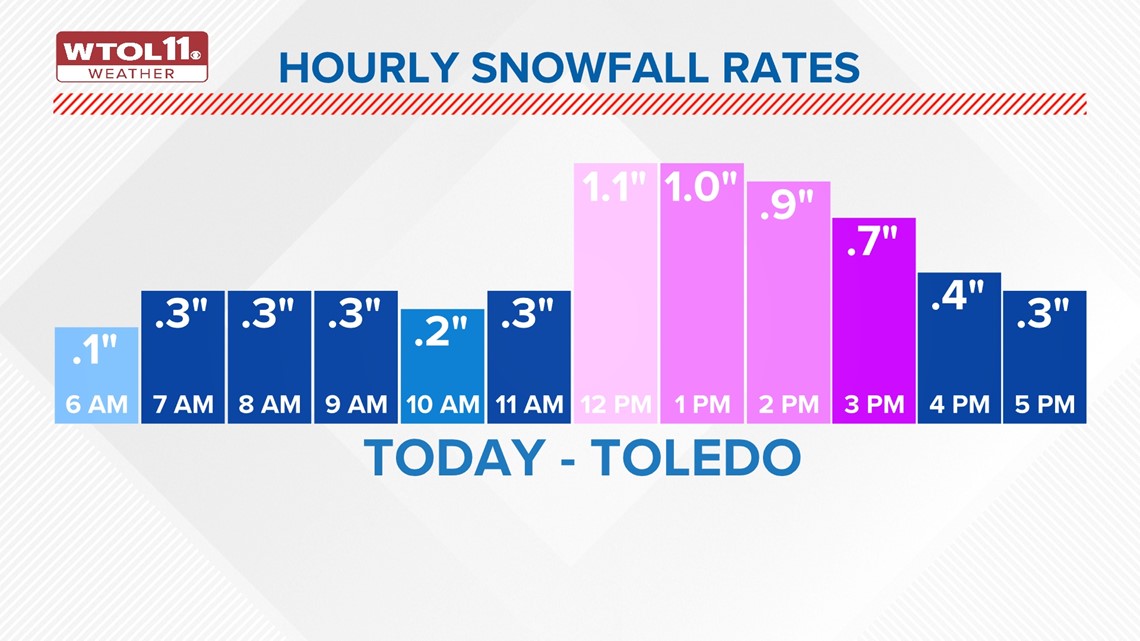 Read the WTOL 11 Weather Team's Three Things to Know for more details ahead of Wednesday's ALERT DAY storm.
This snowstorm is the largest of the season after a particularly mild January. During a normal winter season, northwest Ohio and southeast Michigan typically see 16 inches of snow by the fourth week in January; prior to Sunday's snowfall, most of the region had seen only 1.6 inches of snow in total.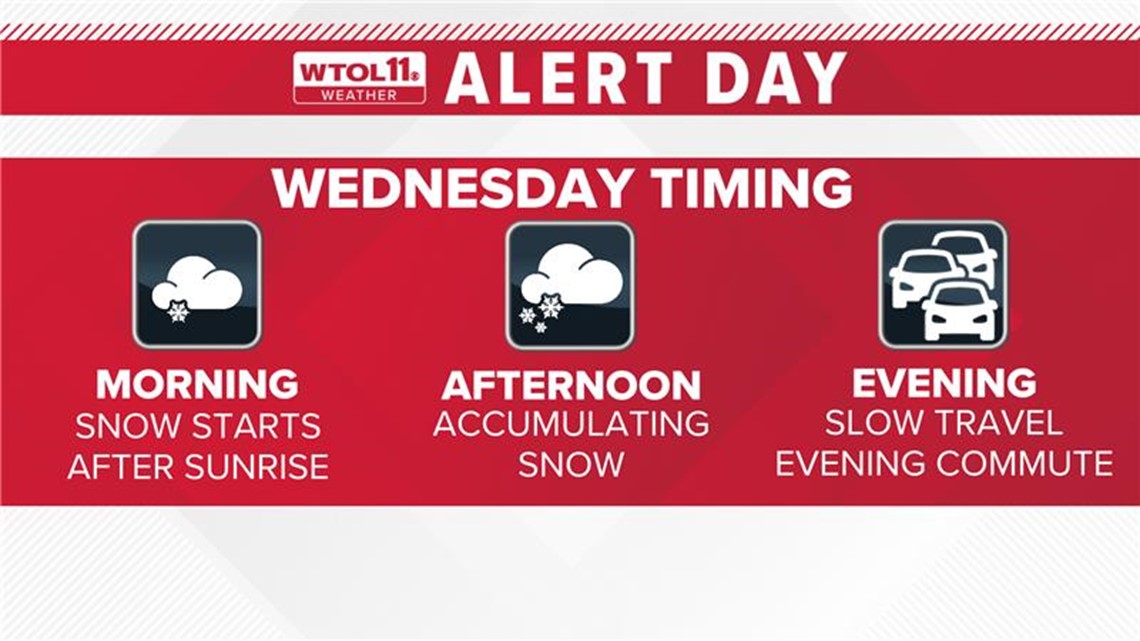 Colder temperatures are also set to return. January temperatures have averaged 10.5 degrees warmer than normal. In the coming days, expect temperatures below or near freezing to persist, bringing a more January-like feel to the forecast.
MORE FROM THE WTOL 11 WEATHER TEAM
➡️ Get a fresh start to your morning and wrap up your day with the latest news and your WTOL 11 Weather forecast delivered right to your inbox!
WTOL 11's Your Morning Blast and Your Evening Blast deliver stories from northwest Ohio, southeast Michigan and beyond to keep you informed.