TOLEDO, Ohio — Four Toledo City Council members and one local attorney are accused of participating in a bribery and extortion scheme that encouraged soliciting and/or accepting cash, checks, money orders or other things of value from local business owners in exchange for their votes on city council.
The scheme was revealed in a criminal complaint filed Tuesday in U.S. District Court. Named in the filing are Democratic council members Larry Sykes (At-Large), Yvonne Harper (District 4), Gary Johnson (At-Large) and Tyrone Riley (District 1).
The federal charges of bribery and extortion carry maximum penalties of 10 years and 20 years in prison, respectively, according to US Attorney Justin Herdman.
The filing in the U.S. Northern District Court describes the alleged offense of "receipt of Bribe by Agent of Organization Receiving Federal Funds" and "Hobbs Act Extortion under Color of Official Right."
According to the affidavit, the FBI started to investigate Toledo City Council in 2018 for soliciting or accepting cash, checks, money orders or other things of value from local business owners in exchange for their votes on city council.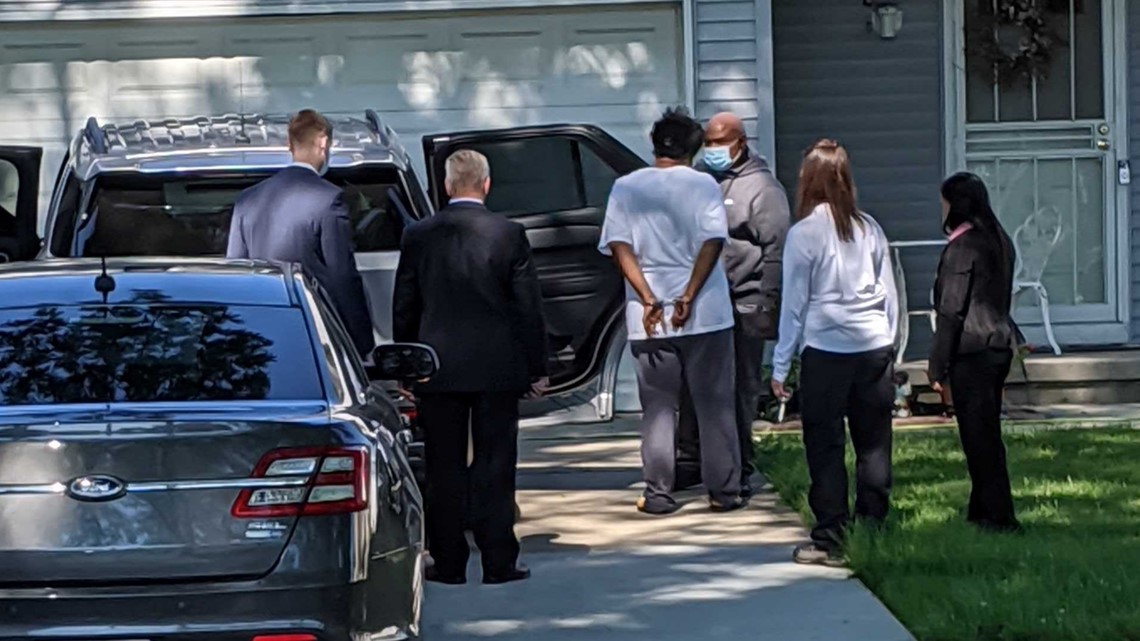 The four council members appeared in federal court Tuesday afternoon. Magistrate Judge James R. Knepp II set a $50,000 unsecured bond each for them, meaning they will sign a piece of paper saying they will pay that amount if they fail to appear. July 20 was preliminarily set as the next court appearance.
The judge also ordered them to have no contact with each other and anyone involved in the investigation, restricted their travel to the Northern District of Ohio, and ordered them to submit to a DNA swab if requested. The court is not banning the council members from engaging in the deliberative business of being on city council, but are prohibited from private communications with those involved in this case.
Johnson, as a reserve deputy sheriff and gun collector, was ordered immediately to have his firearms and ammunition secured and out of his possession. Sykes, Harper and Riley said they do not have any firearms.
It was revealed in court that Harper had an additional charge beyond the bribery and extortion charges. The third charge applying only to her is a charge of unlawful interstate communications with the intent to extort, which has a maximum 2-year imprisonment penalty and a $250,000 fine.
ALLEGED BRIBES
At least three council votes were impacted by the alleged bribes, according to the FBI.
"The investigation revealed that City Council members Tyrone Riley, Yvonne Harper, Larry Sykes, and Gary Johnson all accepted bribe payments for official acts," the filing said.
"Additionally it was determined that Harper used a local attorney, Keith Mitchell, to solicit and funnel her bribe payments."
Mitchell is being sought by the FBI, according to a news conference Tuesday afternoon.
WATCH | FBI NEWS CONFERENCE
CHARGES AND PENALTIES
They will face charges of bribery and extortion in federal court, according to US Attorney Justin Herdman.
Herdman said the penalties are a 10-year maximum sentence for bribery and the extortion charge carries a 20-year maximum. Both charges also have a $250,000 fine attached.
"These allegations reveal greed, sure and simple. They also reveal a violation of public trust," Herdman said.
FBI Special Agent in Charge Eric B. Smith asked anyone with further information on the bribery allegations to call the FBI office at 419-243-6122.
The FBI cited confidential informants, recorded phone calls, text messages in-person meetings, and analysis of financial, business and government records as sources in its investigation.
On Tuesday afternoon, the FBI also executed a search warrant on the 22nd floor of One Government Center related to the four council members arrested.
READ THE FEDERAL COMPLAINT
Toledo City Council members are paid $27,500 per year.
MAYOR'S STATEMENT
Toledo Mayor Wade Kapszukiewicz issued a statement Tuesday afternoon:
"I am shocked and heartbroken by today's arrests. This is a terrible day for Toledo — and for everyone who believes in the good that can be accomplished through public service.
"I was inspired to run for public office by a Catholic priest, Fr. Timothy O'Brien, who impressed upon me the benefits of a life dedicated to serving the public good. Because of his mentorship, I have no tolerance for public officials who abuse the trust of the citizens. One of the reasons Toledo has seen relatively little political corruption, historically, is because the public doesn't tolerate it either.
These members of Council are entitled to their day in court, and they should be "presumed innocent until proven otherwise. I encourage all Toledoans to say a prayer for our city and for the hope that justice will be done in this case."
CITY COUNCIL PRESIDENT MATT CHERRY RESPONSE
"Corruption of any kind cannot be tolerated and has no place in the government of Toledo and Ohio. I ask everyone to withhold judgement until the investigation is over. I pray that the federal investigation into four council members is thorough and swift.
"Toledo's legislative branch of government continues to operate. Anyone who violates the public trust should be dealt with accordingly and under the full weight of the law. The other members of Toledo City Council and I are cooperating fully with the investigation. We will continue to work with the administration through this time to ensure our operations are unaffected."
OHIO DEMOCRATIC PARTY STATEMENT
The state Democratic Party issued a short statement Tuesday morning:
"These are serious charges. At the same time, everyone is entitled to due process and their day in court."
LUCAS COUNTY REPUBLICAN RESPONSE
The county's Republican Party issued a statement and several demands in the wake of the morning's arrest warrants served on the four Toledo Democrats.
Mark Wagoner, chairman of the Lucas County Republican Party, wrote:
"A culture of corruption exists within Toledo City Government. Four Democrat city council members – including the Executive Director of the Lucas County Democratic Party – have been arrested by the FBI in connection with a bribery scheme in Toledo city government.
"Democrat domination of Toledo city politics has consequences, and today we see them. Lucas County Republicans have long pointed to the culture of corruption within the City of Toledo and have put forward quality candidates to end Democrat domination. Today, the importance of watchdogs on Toledo City Council is never more clear.
"The Lucas County Republicans call for the following immediately: (1) all four city council candidates should resign; (2) open elections should be held for each of these open seats; and (3) Yvonne Harper should be removed as Executive Director of the Lucas County Democratic Party."
ARREST AT HARPER RESIDENCE
A search warrant was executed at the home of Toledo City Councilman Yvonne Harper on Tuesday morning.
Agents were seen at the house in the 2300 block of Franklin Avenue and the councilwoman was seen in handcuffs in her driveway.
Officials took the councilwoman into custody.
Harper's neighbor, Vivian Myers, described the scene and when she saw Harper being led away.
"I look up and I can't get up close because there is a lot of people, but I saw a gentleman handcuff her and then they set her in the car and it worried me," Myers said. "Because I'm like, 'Well, what is she going to jail for?' I just talked to her - there was nothing wrong, so I didn't understand."