TOLEDO, Ohio — Four Toledo City Council members were arrested Tuesday, facing charges of bribery and extortion for their involvement in an alleged bribes-for-votes scandal spanning back to 2013.
Democratic council members Larry Sykes (At-Large), Yvonne Harper (District 4), Gary Johnson (At-Large) and Tyrone Riley (District 1) as well as local attorney Keith Mitchell were all named in the complaint. Mitchell is accused of funneling bribes and is not yet in custody.
All five are being investigated for their involvement in the scheme that allegedly encouraged soliciting and/or accepting cash, checks, money orders or other things of value from local business owners in exchange for their votes on city council.
Several state and local leaders have spoken out about the scandal. Here's a look at what they had to say:
OHIO GOV. MIKE DEWINE
Ohio Gov. Mike DeWine went on the Scott Sands show on 1370 WSPD Tuesday afternoon, making comments about the ongoing case.
Listen to the full interview below:
"It's a sad day when you see something like this happen," DeWine said.
DeWine said he learned about the situation not long before it was released to the public, saying incidents like this "erode the public's confidence in government."
However, he emphasized that he had little knowledge so far of the details in this particular case and made note that people are innocent until proven guilty.
CONGRESSWOMAN MARCY KAPTUR (D-OH)
Congresswoman Marcy Kaptur (D-OH) released the following statement on Tuesday:
"As a lifelong Toledoan, I cannot even express fully how dismayed and hurt I feel at the shocking news of multiple Toledo City Council members being taken into custody today. The events we are witnessing trouble me greatly as much as they trouble everyone in our Toledo community.
Public trust is the basis of all representative government. Public officials swear an oath to maintain the highest ethical standards, always placing the public interest before their own. In my work, I certainly have interacted with all of the individuals involved and I must say I am more than shocked at the charges they face. I am heartbroken.
I would caution: in public service, public trust is as vital as it is fragile. Without it, our work in the public realm is impossible. Public servants swear an oath to protect and defend the laws of our society and act in the best interests of our entire community.
It pains me to say that today public trust in our community has been deeply shaken. Rebuilding public trust will require a thorough investigation so the full truth is known. There must be due process for each of the accused, full restitution if the court so deems, and full transparency so justice is served. Restoring public trust will require our community to bind up our wounds and aspire and recommit to honor and excellence in governance. May God bless our community as the legal process ensues."
TOLEDO MAYOR WADE KAPSZUKIEWICZ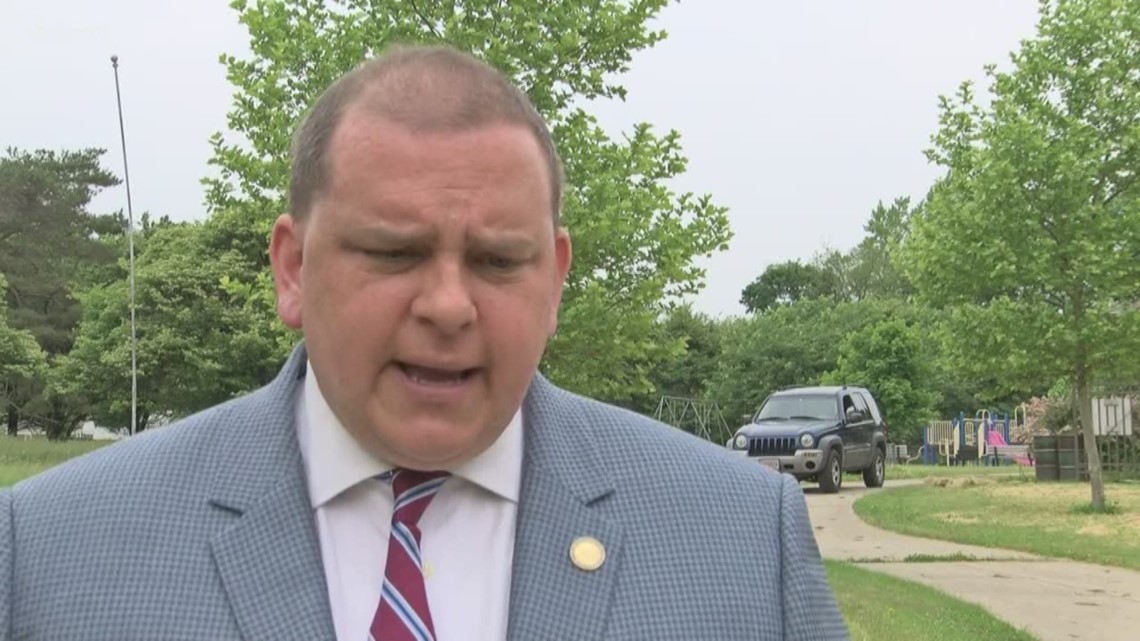 Toledo Mayor Wade Kapszukiewicz issued a statement on the matter Tuesday afternoon:
"I am shocked and heartbroken by today's arrests. This is a terrible day for Toledo — and for everyone who believes in the good that can be accomplished through public service.
I was inspired to run for public office by a Catholic priest, Fr. Timothy O'Brien, who impressed upon me the benefits of a life dedicated to serving the public good. Because of his mentorship, I have no tolerance for public officials who abuse the trust of the citizens. One of the reasons Toledo has seen relatively little political corruption, historically, is because the public doesn't tolerate it either.
These members of Council are entitled to their day in court, and they should be presumed innocent until proven otherwise. I encourage all Toledoans to say a prayer for our city and for the hope that justice will be done in this case."
Ohio House Minority Whip Rep. Paula Hicks-Hudson
Rep. Hicks-Hudson responded to the federal investigation with this statement:
"While I am saddened and disappointed to hear this news today, as an officer of the court I will wait for the full facts of this case to play out as everyone deserves to be presumed innocent until proven guilty.
"As elected officials, it is our sacred duty to uphold the public trust, to be stewards of good government that is honest and accountable to the people and institutions we represent."
CITY COUNCIL PRESIDENT MATT CHERRY
Council President Matt Cherry released this statement:
"Corruption of any kind cannot be tolerated and has no place in the government of Toledo and Ohio. I ask everyone to withhold judgement until the investigation is over. I pray that the federal investigation into four council members is thorough and swift.
Toledo's legislative branch of government continues to operate. Anyone who violates the public trust should be dealt with accordingly and under the full weight of the law. The other members of Toledo City Council and I are cooperating fully with the investigation. We will continue to work with the administration through this time to ensure our operations are unaffected."
OHIO DEMOCRATIC PARTY STATEMENT
The state Democratic Party issued a short statement Tuesday morning:
"These are serious charges. At the same time, everyone is entitled to due process and their day in court."
LUCAS COUNTY REPUBLICAN RESPONSE
The county's Republican Party issued a statement and several demands in the wake of the morning's arrest warrants served on the four Toledo Democrats.
Mark Wagoner, chairman of the Lucas County Republican Party, wrote:
"A culture of corruption exists within Toledo City Government. Four Democrat city council members – including the Executive Director of the Lucas County Democratic Party – have been arrested by the FBI in connection with a bribery scheme in Toledo city government."
CHRIS DELANEY - TOLEDO CITY COUNCIL (DISTRICT 6)
One member of Toledo City Council, Chris Delaney, who represents District 6, spoke out about the arrest of his fellow council members:
"I'm surprised and disappointed. Allegations of public corruption must be investigated. I will cooperate with authorities in their endeavors to root out corruption. The ultimate dispositions regarding the defendants will occur in a court of law."
RELATED VIDEO: