TOLEDO, Ohio — Ohio Gov. Mike DeWine is addressed the state Thursday afternoon from the University of Toledo student union, providing new information on his team's response to the COVID-19 pandemic.
Lucas County was marked as the top county in the state with the most coronavirus cases per 100,000 people, with 341.
DeWine noted the majority of the top 11 counties were along the northern border, seeming to attribute at least some of that spread to the Michigan COVID-19 surge.
During Thursday's briefing, Dr. Susan Batten, associate professor of the UToledo College of Nursing, explained how the university is getting out into the community.
On Mondays, for example, a team of students and what faculty are available head out on the street to get vaccinations out to those who need it most. Set up in a parking lot with just one light, they give out shots to people in the community, many of whom are homeless.
The program seems successful -- Batten said she and her students have seen a 90% return rate after receiving the first dose of the Pfizer vaccine, meaning the vast majority made the effort to come back for their second dose.
DeWine sang the group's praises Thursday, saying, "This is one of the neatest things I've heard."
In addition to the Monday team on the street, UToledo has a student-driven community care clinic. With faculty members serving as guides, students get out and work with community groups in Lucas and Wood counties.
Batten said although they are still students, and can't yet begin their career, a lot of them share the thought, "We can do something about this."
The university group has administered close to 40,000 immunizations total, Batten said, adding, "I'm indebted to the students."
Toledo-Lucas County Health Commissioner Eric Zgodzinski noted the collaboration that's gone on between the health department and the university stretching back to the onset of the pandemic.
The university first aided in contact tracing, then with testing and now with COVID-19 vaccinations.
"That's what we do in Lucas County. We are a team. We are resilient," Zgodzinski said.
In addition to UToledo's initiatives, the health department has been creating its own ways of reaching out to the community. Zgodzinski laid out programs already in existence, like free TARTA rides to clinics, to initiatives still on the horizon.
Walk-in clinics will start to become more commonplace in the county, for instance. Starting Monday, the Lucas County health department will offer free walk-in COVID-19 vaccinations Monday through Friday. Mass vaccination sites will also offer limited walk-in appointments starting this Friday and Saturday. Zgodzinski said this trend will only continue to grow as health leaders work to make vaccines more accessible.
"We are really in a different phase of this," DeWine said as he asked providers to team up with businesses for vaccination.
As of last week, one-third of the state's population was reported to have received at least one dose of the COVID-19 vaccine.
"Our ticket to freedom is the vaccine and our ticket to a good summer is the vaccine, our ticket to a good spring is the vaccine – it's our ticket out," DeWine said.
JOHNSON & JOHNSON
Ohio Department of Health Chief Medical Officer Dr. Bruce Vanderhoff addressed the current pause on the Johnson & Johnson COVID-19 vaccine.
As a reminder, the FDA and CDC both advised providers to "pause" distribution of the J&J shot Tuesday as they investigate reports of rare blood clots in six women between six and 13 days after receiving the vaccine.
The women were all between the ages of 18 - 48. One of the cases has been fatal
Vanderhoff said clots are paired with low platelets, making the usual treatment for blood clots potentially dangerous. This is one of the reasons the pause was issued, as health leaders hope to learn what to look out for and how best to treat them.
The CDC Advisory Committee on Immunization Practices met yesterday to discuss the six cases. At the end of a lengthy discussion, they decided that more time was needed to accurately assess whether the J&J shot was indeed linked to these rare cases, or if it was merely coincidental.
According to the CDC, after a month out from receiving the J&J vaccine, your risk of developing this rare clotting is extremely low.
If you got it in the last three weeks and develop a very severe headache, abdominal pain, leg pain or shortness of breath, go to your healthcare provider.
Vanderhoff said it is important to remember, that these cases have been extremely rare so far, six out of 6.8 million Johnson & Johnson doses administered in the US.
DATA
On Thursday, the Ohio Department of Health reported:
2,164 new coronavirus cases compared to the 21-day average of 1,997
181 new hospitalizations compared to the 21-day average of 100
31 new ICU admissions compared to the 21-day average of 11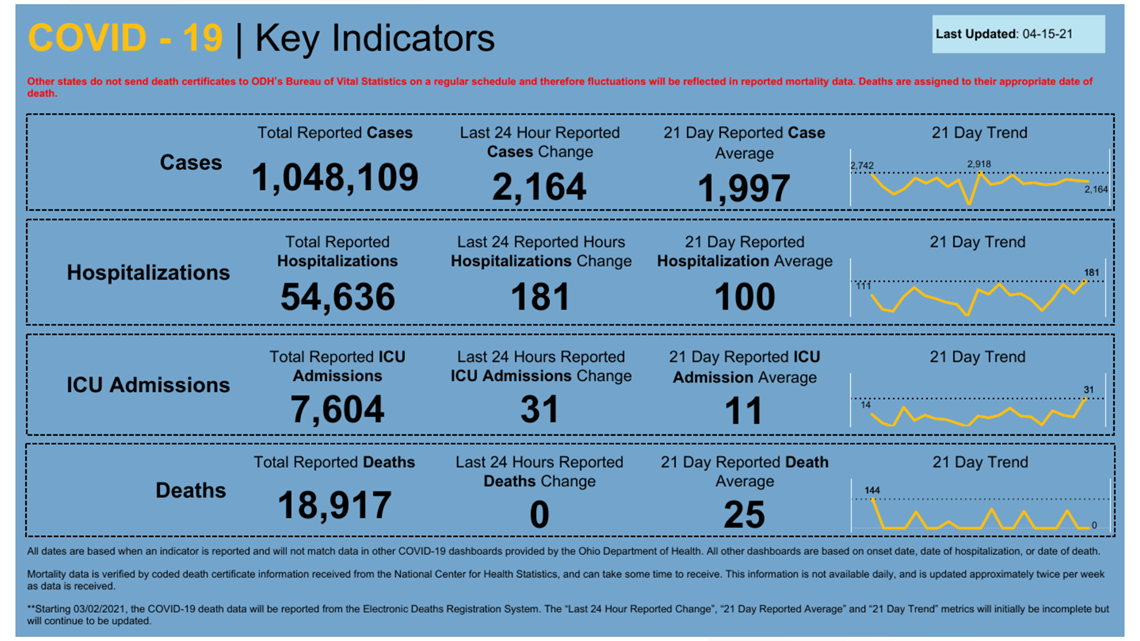 DeWine announced Thursday that 36% of Ohioans have now received at least one dose of a coronavirus vaccine, however, Ohio's statewide case incidence number has reached 200 cases per 100,000 people as compared to 144 cases per 100,000 people four weeks ago.
As a reminder, DeWine previously said that once that state hit 50 cases per 100,000 people, all public health orders would be lifted. At the time, the state was on a rapid downward trend. However, that has since reversed as Ohio has started to see that number grow once again.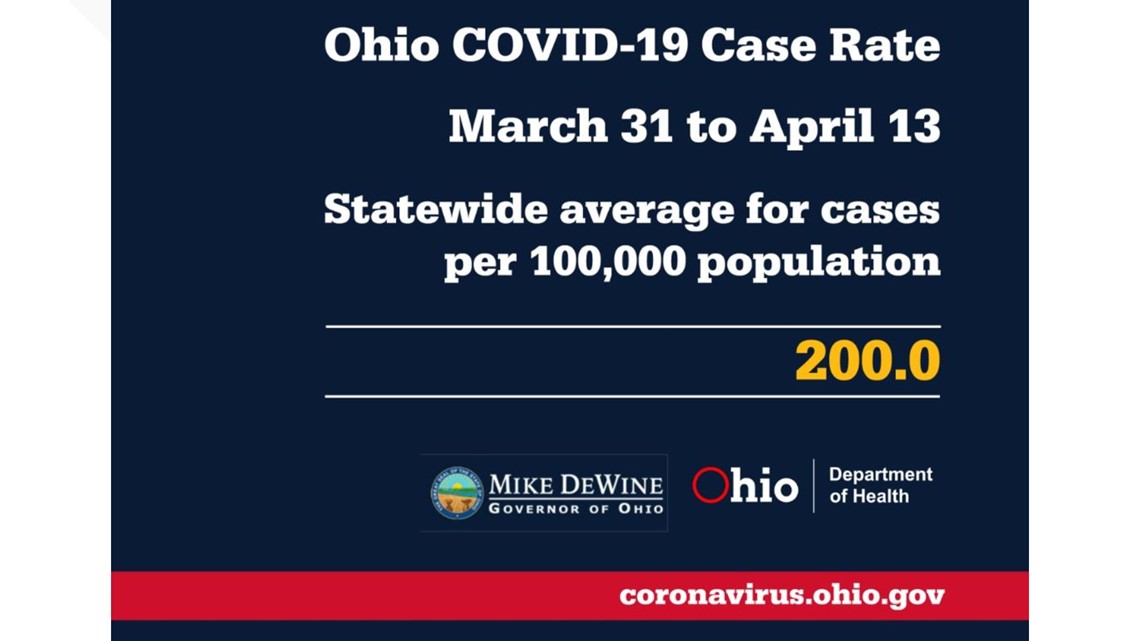 Hospitalizations also continue to trend upward.
On Thursday, there were a total of 1,305 COVID-19 positive patients on Ohio hospitals. On April 2, that number was just 1,037.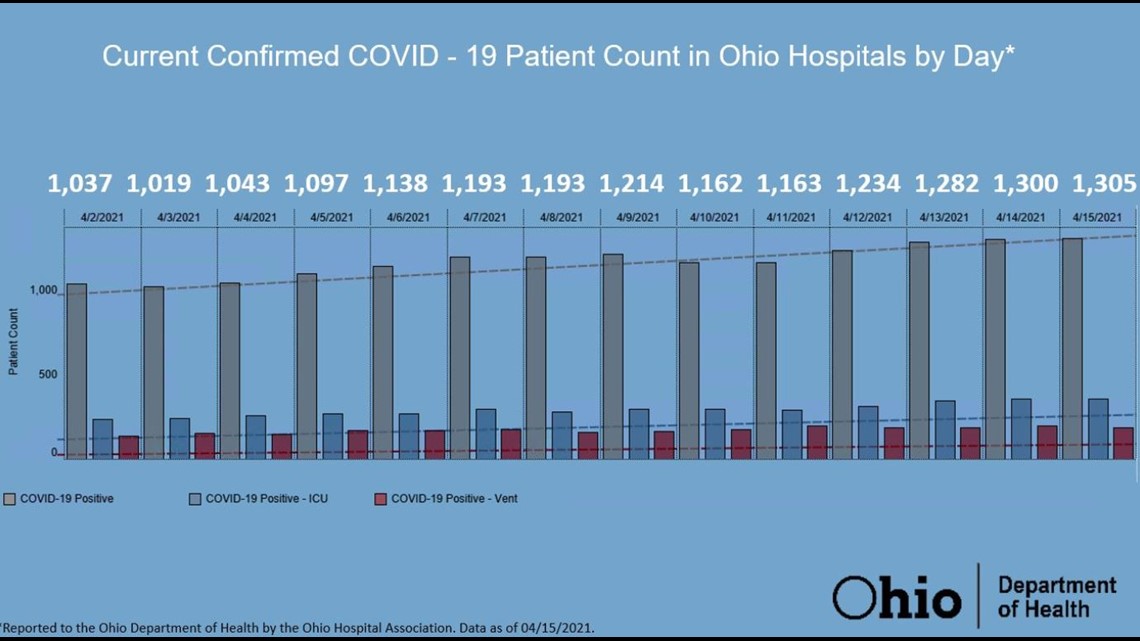 "What we're seeing in Ohio is a strong variant that is multiplying very quickly and is more contagious than the virus we've seen in the past, but we have hope, and hope is the vaccine," DeWine said. "Vaccination is how we get out of this."
FULL PRESS CONFERENCE
INCLUSIVE EMPLOYER TOOLKIT
Opportunities for Ohioans with Disabilities (OOD) on Thursday announced the launch of the Inclusive Employer Toolkit designed to help employers recruit, hire, and retain employees with disabilities and foster an inclusive workplace.
Recruitment and retention are challenges for many businesses. Individuals with disabilities represent a talent pool that is often hidden and underutilized. The Inclusive Employer Toolkit, which can be used in its entirety or by section, is a guide to creating an inclusive workplace and accessing this hidden pool of talent.
"Ohioans with disabilities make excellent employees because of their loyalty and drive to be successful," Ohio Lt. Governor Jon Husted said. "Creating an inclusive work environment and leveraging this untapped talent pool gives companies a competitive edge, and the new OOD Employer Toolkit can help give businesses the tools they need to get started."
The Toolkit includes four main topics:
Building the Business Case – benefitting from hiring people with disabilities
Inclusive Workplace – making the workplace inclusive of everyone
Recruiting, Hiring, and Supporting Employees – getting access to a greater pool of talent
Workplace Accommodations – making small changes can make a big difference