Men on trial for death of Stone Foltz found not guilty on most serious charges
Troy Henricksen and Jacob Krinn were found not guilty of involuntary manslaughter and reckless homicide, but guilty of hazing and other lesser charges.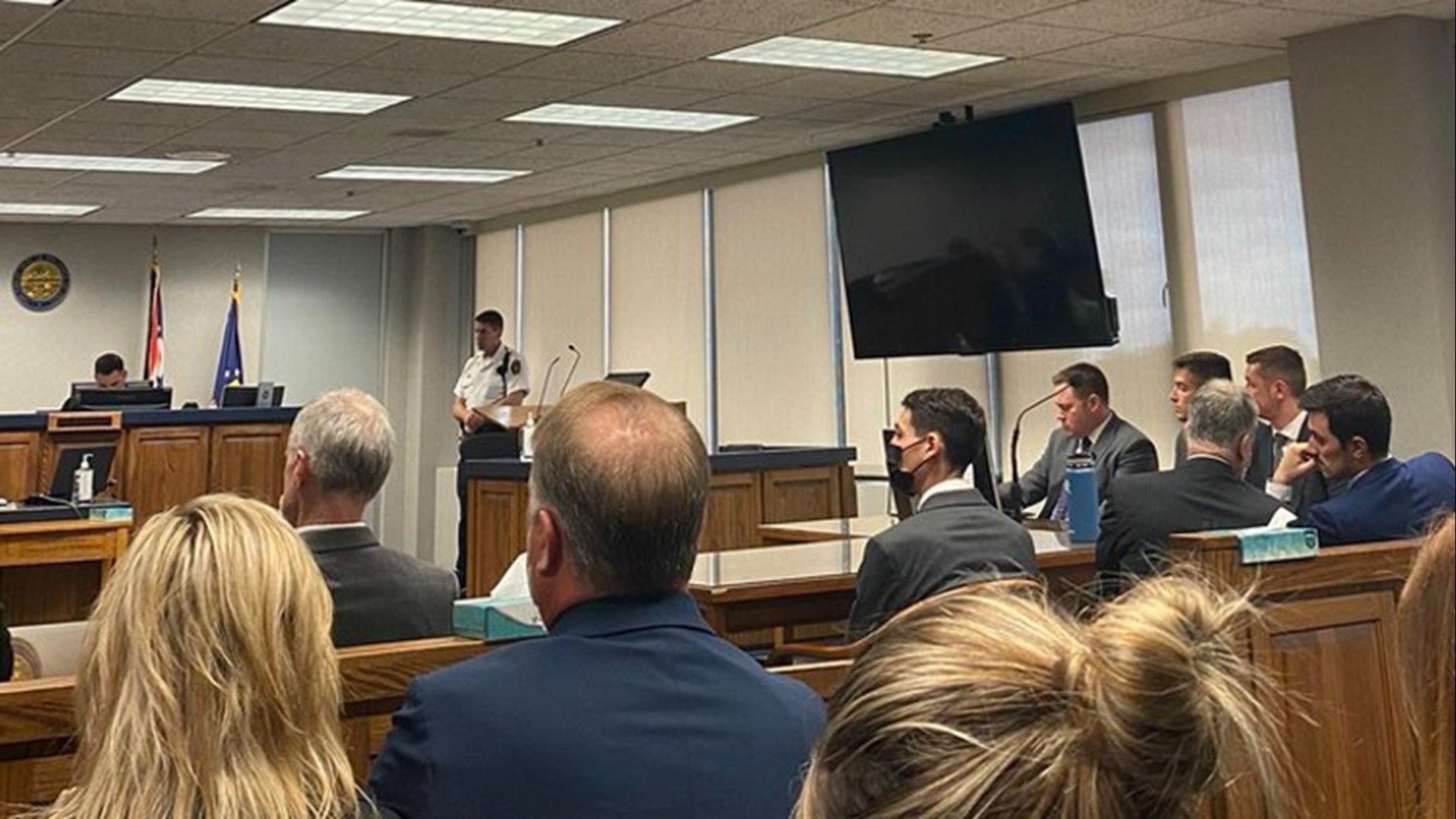 Jacob Krinn of Delaware, Ohio, faced seven charges, five of them felonies:
Involuntary manslaughter – 1st degree
Felonious Assault – 2nd degree
Involuntary manslaughter – 3rd degree
Reckless Homicide
Obstructing official business
Hazing
Failure to comply with underage alcohol laws
Troy Henricksen of Grove City, Ohio, faced five charges, three of them felonies:
Involuntary manslaughter
Reckless Homicide
Tampering with Evidence
Hazing misdemeanors
Failure to comply with underage alcohol laws
Six other men pleaded guilty earlier this year to various charges.
Below is a day-by-day breakdown of the proceedings.
Editor's note: There may be some content within the trial testimonies that readers may find disturbing, including graphic accounts of hazing, verbal and emotional abuse.
DAILY VIDEO RECAPS
Friday, May 27
:
Jury deliberations & verdict
3:30 p.m.
A verdict has been reached. It will be read at approximately 3:45 p.m.
Krinn was found not guilty on the following charges:
Involuntary manslaughter
Reckless homicide
Felonious assault
Krinn was found guilty on the following charges:
Hazing
Obstructing official business
Failure to comply with underage alcohol laws
Henricksen was found not guilty on the following charges:
Involuntary manslaughter
Reckless homicide
Tampering with evidence
Henricksen was found guilty on the following charges:
Eight counts of hazing
Seven counts of failure to comply with underage alcohol laws
Krinn will be sentenced July 8 and Henricksen will be sentenced July 29.
4:15 p.m.
Shari and Cory Foltz, Stone's parents, released the following statement:
"As we sat in the courtroom day after day listening to excruciating testimony about Stone's final moments, we grieved. Not just for the senseless death of our beloved eldest son, but for the lives of the young men who are now being held accountable for their reckless and self-serving actions. It didn't have to be this way, and make no mistake, it will happen again until Greek organizations and the universities that support them end hazing for good. We loved Stone deeply, and we lost him so young. We needed to hear the details and the truth about what happened to him that night, and we are grateful for the team that worked tirelessly to prosecute this case and the jury for their time and attention. While the trial is concluded, our commitment to Stone lives on. We will not rest until hazing is eradicated on all university campuses."
Rex Elliott and Sean Alto, attorneys for the Foltz family, released the following statement:
"The jury's verdict sends a clear message; hazing is a crime, and those who partake in it will be held accountable. In addition, the Greek organizations and universities that create environments where hazing thrives must also be held accountable for their culpable inaction. Krinn, Henrickson, and the six other young men convicted in this case mirrored learned behaviors that should have been stopped years ago. Until people in power step up and end hazing or good, more wonderful families will be in the same position as the Foltz family—forced to sit in a courtroom replaying the excruciating last moments of their son's completely unnecessary and senseless death."
Thursday, May 26
:
Trial expected to wrap up
9:30 a.m.
This is expected to be the final day of trial. Here's how it will play out:
Sgt. Scott Frank, who responded on the night of Foltz's death, will take the stand again for cross-examination from defense attorneys;
The defense has confirmed it plans to bring no witnesses;
Attorneys will do their closing arguments;
Then, the judge will read jury instructions before deliberations.
9:45 a.m.
Henricksen's attorney, Eric Long, presses Frank on confirmation bias. He's trying to show he searched for information on Foltz's death that confirmed his beliefs about the case.
Long reads interview transcripts between Frank and active PIKE members, where Frank brought up the pressure to drink and the bottle being given at the big-little event.
Long argues Frank brought up these ideas to suspects in the case before they even said it themselves.
Frank says he brought these theories up based on what other witnesses and those involved told him. But, Long says Frank kept re-iterating to actives that someone would be held accountable for Foltz's death, while suggesting to pledges that they were forced into the process.
He points to Henricksen's testimony on trying to keep new members safe, saying that information never made it into Bowling Green's police report.
Long says that no new members told Frank they had been instructed to drink their bottle at big-little night. Frank grimaces, saying some new members were under the impression they had to drink their whole bottle.
10 a.m.
Long now points out that Frank went looking for Henricksen, knocking on the door of a house where Henricksen no longer lived. He says Henricksen ultimately reached out to Frank, who agreed that Henricksen was pretty transparent and told him a lot about the fraternity.
10:30 a.m.
Long questions Frank on what his investigation found relating to Foltz's drinking habits. He asks about texts showing Foltz reportedly blacked out when he went to visit friends at Ohio State University previously.
"Did you uncover in your investigation a previous incident where Stone drank a whole bottle of alcohol," Long asks.
"I don't recall," Frank said.
This has been a common reply to Long. He then asks then if Frank only read some of the texts in his investigation.
Prosecutors frequently object to Long's line of questioning with Frank.
Long shows a Snapchat photo of Foltz drinking a bottle of Smirnoff Ice on his roommate Wade McKenzie's Snapchat. He then shows another photo of Foltz reportedly drinking a bottle of liquor.
Frank testifies he didn't do any further investigation based on these photos.
Long says there's been testimony that Foltz wasn't taking his anti-depressant or anxiety medication. He asks if Frank ever investigated whether or not Foltz could have been self-medicating with alcohol.
The State of Ohio offers no redirect. Frank steps down.
The state will rest its case after this, calling no further witnesses.
11 a.m.
The jury is taking an early lunch. Court will resume at 1 p.m.
However, attorneys and the judge will meet for the next hour or so to go over jury instructions.
3 p.m.
After a lunch break, Wood County Common Pleas Judge Joel Kuhlman read his instructions to the jury. He told them they must decide beyond a reasonable doubt that Jacob Krinn and Troy Henricksen are guilty to convict them.
The judge said the jury they must treat several stipulations as undeniable facts. First, Stone Foltz's cause of death is ethanol intoxication, and that's been stipulated to being true by the defense and prosecution. He also instructed jurors that they can find Henricksen guilty if he was "complicit" in the alleged criminal acts, even if he didn't do them or wasn't present for each element of those acts.
Kuhlman's instructions lasted for more than half an hour, discussing terms the jury should know and how they should approach those terms. He's also reading the charges each defendant faces and why.
Stone Foltz's parents continued Thursday to sit on the front row behind the prosecution, as they've done throughout this trial. Krinn's family and Henricksen's family members have been sitting in the front and second rows behind the defense.
3:15 p.m.
Closing arguments in the trial have begun Thursday afternoon. Prosecutor Pamela Gross spoke to the jury first.
"If you want to be a PIKE, you have to do PIKE things," she said. She told the jury they've heard lots of testimony from multiple new members and active members in the fraternity to show this.
She argued to the jury that force doesn't have to be physical and overt. She said it can be subtle and psychological.
Gross pointed out that Stone Foltz didn't leave the fraternity event, despite having a family obligation, because he felt he had to stay and recite the preamble.
He told his girlfriend the big-little event was the "last thing he has to do to get into PIKE."
Gross reminded jurors of Dr. Parks' earlier testimony in which he explained how it's hard to turn away from the initiation process because you've invested time and energy.
Gross argues force doesn't have to be physical and overt. She says it can be subtle and psychological.
Moving on to Henricksen now, Gross argues how Henricksen is complicit in each of the criminal acts the charges imply. She points out how he knew the culture of drinking at PIKE, telling police and the university it was no big deal for him to drink a bottle of Jameson.
Gross argues Henricksen ensured bigs would get their bottles for littles for big-little reveal, that he planned the time and location of the event, and that he was upset when *his* orders weren't followed (when new member Shane Hackett dropped Stone off, not an active).
Gross closes her argument with "If you want to be a PIKE, you're expected to do PIKE things. Stone Foltz did PIKE things, and now he's dead."
4:15 p.m.
4:45 p.m.
Shamansky argues that the state has not a shred of evidence showing Krinn coerced Stone to drink. Their closest argument is that Krinn is heard encouraging Stone with "That's my boy" on a Snapchat video during big-little. "Really?" Shamansky asked.
Shamansky argues Stone already made up his mind about drinking before attending the event, referencing prior testimony from Grant Hartnett where Stone said "I'm going to beat the bottle before the bottle beats me." He says Krinn isn't responsible for that mindset.
5:30 p.m.
Long argues charges were filed because someone died, and someone had to be held accountable, regardless of whether Troy Henricksen actually committed any crime.
He pointed out Henricksen was following orders when he instructed Garrett Horde to delete the new members' group chat. He says Henricksen was concerned with consequences from the university, not criminal charges.
Long also says new members like Grant Hartnett testified they thought big-little was fun and didn't think of themselves as victims until they talked to police.
Long ended with a plea to the jury not to convict an innocent man.
6:30 p.m.
In his rebuttal, Dobson's explaining how new members just wanted to belong, and this created a power dynamic. He says this isn't wrong. He says he's the one in power as chief prosecutor in his office. But as a result, he can't abuse that power dynamic. He can't ask for free food or cleaning.
Dobson says we've heard testimony as to how finishing the bottle didn't matter to getting into the fraternity, how everyone gets voted in regardless. Dobson argues the new members didn't know that. He says this is the environment in which hazing lives.
The defense team looks on as Dobson argues his rebuttal. At this point, closing arguments have been happening for almost four hours.
6:45 p.m.
Dobson says you couldn't not drink at big-little without an excuse. He says Shane Hackett is the exception that proves this rule.
He points to Hackett ultimately telling Henricksen why he wasn't drinking, to make sure it was okay.
He also says the defense wants to make Stone seem like a big drinker. He points to how Stone was Googling how to drink a lot of alcohol before the event, something a big drinker should already know. He says Stone told his mom and girlfriend he wasn't looking forward to big-little.
7:00 p.m.
Dobson says he's been driven to find justice for the Foltz family. He says once the jury finds the defendants guilty of hazing, finding them guilty of involuntary manslaughter naturally flows.
7:15 p.m.
At this point, Krinn is beginning to glance over at the jury much more frequently. They, too, are also looking over at the defense table more often. Minutes are counting down until this is in the jury's hands.
7:30 p.m.
Dobson argues the defense wants jurors to believe this was just a tragic accident, instead of the abuse of the imbalance of power that was created by actives like Krinn and Henricksen. And with that, Dobson concludes.
8:35 p.m.
The jury has returned to the courtroom and requested to conclude for tonight. They will return to deliberate at 8:30 a.m. Friday.
Wednesday, May 25
:
State expected to rest its case
9 a.m.
The state's first witness Wednesday is Dr. Gregory Parks from Wake Forest University. He's a psychology expert the prosecution is hoping to use to bolster their argument.
Parks studied hazing dynamics and hazing itself since 2002. He says he started studying this at the University of Kentucky because he felt little was discussed about hazing in a meaningful way.
Parks has done clinical studies on what drives hazing. He says this is central to his work at Wake Forest. He's also written books, published articles on the subject and has testified in numerous cases related to hazing.
The state has asked Parks to be recognized as an expert on the subject and Judge Kuhlman was prepared to do so, but the defense has requested a sidebar.
9:30 a.m.
The judge excuses the jury for a 10-minute break to work out issues with prosecutors and defense attorneys. It appears the defense is requesting a Daubert hearing, which is when a judge must evaluate whether an expert's testimony and evidence is admissible.
The defense is questioning the relevance of Park's testimony and his declaration as an expert.
Krinn's attorney, Samuel Shamansky, says Park's testimony "muddies an otherwise clean trial."
Wood County prosecutor Paul Dobson says this court already denied a motion for a Daubert hearing for both Troy Henricksen and Daylen Dunson regarding Parks. He says Shamansky has not filed for the same.

Henricksen's attorney, Eric Long, responds by saying when the court denied the dual motions for a previous Daubert hearing, it did point out issues of relevancy could be raised. Long is concerned the prosecution is trying to set "their definition of hazing" before jury instructions that could differ.
The judge points out the issue of proofing the witness fairly and how each side wants to do it their way. He says the court was prepared to admit Parks as an expert in the psychology of hazing, but not law. Kuhlman is now taking 15 min. to review materials.
10:15 a.m.
The judge has entered the courtroom. He believes the state has provided a foundation to call Parks as an expert witness, but he says Shamansky can cross-examine him on his qualifications.
The judge says we will talk about hazing as it relates to Parks' study and not as it relates to the law of the State of Ohio. He says Parks is qualified as a psychology expert on definition of hazing, but not legal definition.
10:30 a.m.
Shamansky says he has an objection "to every single word that comes out of Dr. Parks' mouth" and wants the court to put a continuing objection on the record so he doesn't have to object every second.
Long says he fears Parks will testify to studies done by other people to form a basis for the idea that new members can't say no as it relates to hazing. The judge had said previously Parks' testimony would be limited to facts of the case and his specialized knowledge.
Ultimately, Parks testifies before the jury.
Parks says what most people don't understand about hazing is the idea it's easy to walk away when things get rough, and if they don't walk away, then they clearly consented to activities.
Parks tells the jury social pressure and alcohol play a role. He says if there is a culture of drinking in the fraternity, alcohol is often part of the process of socializing new members. These new members often realize drinking needs to be done to be accepted.
He explains that this doesn't have to be an expectation from a fraternity on a national level, but it can come from a local chapter. Parks says research suggests new members learn what they must do to facilitate a relationship with active members of the organization.
He also suggests the duties actives require of new members to join (cleaning, buying food for actives, etc.) becomes a grooming process where actives realize what they can get away with and expect over time.
Parks says new members tend not to report incidents to authorities because they often don't recognize those events as hazing, or they may fear repercussions for doing so.
He points out that new members often feel they can endure enough to make it to the initiation process and notes that younger people tend to be more easily influenced than those closer to their 30s and 40s. Parks says as new members learn what they must do to join the fraternity and invest their time in activities to join, it can condition them to accept more extreme behavior later on in the process.
11 a.m.
Dobson says it's been testified that new members didn't have to drink to join PIKE, and asks for Parks' insight.
Parks says it comes down to whether new members knew that, and they whether they believed it. Are there examples the fraternity can point to? The best way for the fraternity to convince new members they don't have to do whatever activity it may be is to not have that activity, he says.
With respect to new member educators, Parks says the practice of not telling new members about events (like details of big-little) happens for two reasons: it prevents reporting and the new member may decide they don't want to engage in those activities.
Parks testifies that people will tolerate hazing to be a part of what they consider a high-value or high-status organization.
11:30 a.m.
Shamansky is on the cross.
He asks Parks when he was first qualified as an expert to testify in court, pointing out that he was only qualified in one previous court case where he took the stand.
Parks says he's never practiced as a licensed clinical psychologist. Shamansky points out the fact that Parks never conducted interviews with subjects in this case.
However, Parks points out there are different types of psychologists and that doesn't bar him from conducting research.
Shamansky points to Parks' earlier testimony about whether new members knew they didn't have to do an activity, or believed they didn't have to do an activity to join the fraternity. He says Parks never asked those questions of the subjects in this case.
In doing an empirical study, Parks did quantitative research by conducting surveys. Shamansky points out that he never did qualitative research by interviewing fraternity members. Shamansky says Parks has a hands-off role as a hazing expert and relies on others' work.
His main point is that Parks has never studied BGSU nor has he conducted interviews with those involved in this case within his research.
12 p.m.
Long, on the cross, points out the elements of choice, among other things. He asks Parks if he's suggesting people don't have free will because they're not psychologically capable of saying no.
"I'm not saying that," Parks said.
Long says psychological pressure doesn't mean someone loses their ability to choose. Parks says that's correct.
Long asks if there's a line at which people might just say no when the required activities from a frat might become too extreme. Parks testifies that some people never draw that line, doing and suffering incredible things.
3 p.m.
After lunch, Bowling Green Police Sgt. Scott Frank, who responded on the night of Foltz's death, took the stand.
He testified that after speaking with Foltz's girlfriend, who told police Foltz had been at a fraternity event, police went to 318 Main St., where they met Aaron Lehane, who denied any fraternity event and involvement.
Frank told the court that officers then went to the fraternity's on-campus house along with BGSU campus police officers. There they met Jacob Krinn, who also denied attending a big-little event.
Prosecutors played a 12-minute video from the officer's body camera, which showed officers asking active fraternity members about social media posts regarding the event and asking what those fraternity members knew about the event.
Repeatedly, active members, including Krinn, denied knowing what was happening that night.
Tuesday, May 24
:
Former Pi Kappa Alpha president and former BGSU Assistant Dean of Students testify
9:30 a.m.
Daylen Dunson is the state's first witness to take the stand Tuesday. He was the former president of Pi Kappa Alpha. Multiple active members have mentioned him so far in their testimony.
Dunson is one of six others who has pleaded guilty in this case. Dunson pleaded guilty to reckless homicide, tampering with evidence, obstructing justice, obstructing official business, hazing and failure to comply with underage alcohol laws.
Daylen Dunson, Niall Sweeney, Aaron Lehane, Jarrett Prizel, Ben Boyers, and Canyon Caldwell are scheduled to be sentenced June 16. So far, we've heard testimony from everyone except Ben Boyers.
Dunson says at his big-little reveal, his big gave him a bottle of Captain Morgan and a mixer. He also testifies that attendance at big-little was mandatory for pledges.
For his little, Dunson says he got him the same bottle of Captain Morgan. Prosecutors ask what would happen to littles if they didn't finish their bottles. Dunson says they would still be initiated into PIKE.
On the night of March 4, 2021, Dunson says he only went to Stone Foltz and the other pledges' big-little reveal for about 20 minutes. He says he didn't want to drink that night with class in the morning and went to his then girlfriend's place after.
10:30 a.m.
Dunson reads texts a PIKE member sent him, saying Stone Foltz was turning purple and unresponsive around 11:30 that night. Dunson ultimately asked if anyone was with Stone and said the situation wasn't good. He relayed the message to the actives' group chat.
Dunson reads through messages in that chat. Active members asked Jacob Krinn why he left Stone that night and what Stone's condition was when Krinn left him at his apartment.
One active named Ethan replied in the group chat, "Grow tf up. Everyone killed a bottle, [If he] can't handle it, see ya. Can't make the cut."
Then another active replied, saying the point was that someone should have stayed with Stone.
Dunson says he then issued a command of action as president. He told frat members to pray on Stone, delete any social media posts if they were out past 9 p.m., to stop talking to Stone's girlfriend Maddie, among other things.
He says he feared repercussions from police and the university with a new member in the hospital. Dunson says he called their frat's chapter advisor for advice. He says the advisor immediately stepped down and told Dunson he couldn't do this.
Dunson also says Maddie called him, trying to figure things out. He says she told him she wouldn't snitch and was trying to see what happened to Stone. Later, Dunson testifies they didn't want Maddy ratting them out for underage drinking.
He says active members were talking about taking down their Facebook chat.
"This page might need to disappear, lots of [expletive] on it," Benjamin Boyers said.
Dunson says he instructed Troy Henricksen to take down the pledges group chat also.
Bowling Green State University placed the Pi Kappa Alpha chapter on immediate suspension shortly after that meeting, Dunson says.
10:45 a.m.
Krinn's attorney, Samuel Shamansky, cross examines. He asks Dunson whether anyone forced the littles to drink. Dunson says no.
Like his other cross-examinations, Shamansky points out it was the littles' personal choice to drink, and Dunson agrees.
Henricksen's attorney, Eric Long, asks whether Dunson was aware his client told his co-pledge educator Garrett Horde to delete the pledges' group chat because Henricksen was having trouble deleting it from his phone.
Dunson says he was unaware. Long asks if Henricksen was on the call with members of the chapter's executive board, BGSU and national PIKE leadership. Dunson says he wasn't sure.
On redirect, Prosecutor Dobson points out that Dunson felt compelled to drink at his big-little event, because everyone else was.
Dobson points out how lack of knowledge can be coercive, how no one said no because they didn't know what would happen.
On redirect, Shamansky points out that Dunson was a grown man with free will at 19 years old at his big-little event. Shamansky asks whether Dunson drank because he had to or whether he wanted to.
Dunson says he wanted to.
11 a.m.
Stacey Allen, BGSU's then-assistant dean of students, has taken the stand.
In that position, she oversaw the operations of Greek life on campus and worked with fraternity and sorority programs.
She explains how anti-hazing efforts and alcohol safety training was a part of her office. The goal was to make sure students engaged with organizations on campus safely.
Allan testifies that Troy Henricksen served as Vice President of member development for the Interfraternity Council (IFC) during her time as assistant dean of students in 2019. Allan's office led an anti-hazing campaign with multiple events and speakers.
The state shows a picture where Henricksen participated in a "Falcons Against Hazing" event. Students were asked to write down their values and show how hazing contradicts those values.
Henricksen, shown in a picture, apparently wrote "I value memes" on a white board.
12:50 p.m.
Jeremy Zilmer is the state's third witness today. He served as the associate dean of students for BGSU during Stone Foltz's death.
Zilmer says he interviewed Jacob Krinn, along with outside counsel BGSU hired, as part of an investigation into the big-little reveal party after Stone was in the hospital. The prosecution plays audio from that interview.
You hear Zilmer asking Krinn how the big-little night went. Krinn describes how the littles were blindfolded with their ties and taken down to the basement of the house known as Bando. Krinn says he was waiting for Stone in the basement.
When dropping Stone off at his apartment later, Krinn says he knocked on all his roommates' doors and no one answered. He says Stone was lying on the couch snoring when they left. Krinn ultimately went back to Bando, and then to Ziggy's, a local bar.
1:30 p.m.
Prosecutors ask Zilmer if he also interviewed Troy Henricksen as part of the university's investigation. He says he did. This interview was done in person at BGSU, unlike Krinn's, which was done over Zoom. The state is now playing that audio.
Henricksen tells Zilmer he joined PIKE in fall 2017. He describes his big-little night much like other testimony we've heard. He was blindfolded, and his big gave him a bottle of Captain Morgan. He says there was no pressure to finish the bottle and was not told to drink.
Henricksen says "Me personally, I've done PT after drinking a bottle of Jamison, but that's just me." And reiterates littles were told to potentially avoid morning classes in case they weren't morning people.
Zilmer asks Henricksen where this idea of finishing the family bottle comes from. He says pledge classes have felt this pressure in perpetuity it seems. Henricksen doesn't answer the question, but talks about how he's in the military and his big is enlisted as well. His tone sounds confident as he describes them both finishing bottles of Jamison before PT and what's normal for their relationship.
3 p.m.
Dr. Thomas Blomquist of the Lucas County Coroner's Office is the state's final witness today. Before getting started, the state and defense read certain facts to the jury, stipulating them as true.
This is the first testimony Stone's parents are not present to hear in the courtroom. Stone's aunt still sits in the front row.
The doctor says Stone's brain was starved of oxygen and vomit was observed around his mouth and lungs. He says fatal ethanol intoxication can be found as low as .22. Stone's blood-alcohol level registered at .394 at Wood County Hospital.
3:30 p.m.
Shamansky begins his cross-examination. He asks Blomquist about his office's scene investigators. The Lucas County Coroner sends investigators to figure out information that could be useful to their death investigation.


Monday, May 23
:
Stone's friends, girlfriend and ER doctor testify
9 a.m.
Aaron Lehane is the state's first witness to take the stand in the second week of the hazing trial in Stone Foltz's death. He was one of the PIKE roommates living in the "Bando" house, which is where the big-little reveal party was held last year.
Lehane says he was nervous to drink his family bottle during his big-little event, and that he wanted to impress the active members and leadership at the Pi Kappa Alpha fraternity. Lehane ultimately dropped out of BGSU to join the Marine Corps.
He goes on to read texts between himself and a girl he was talking to at the time. Lehane told the girl how nervous he was for the reveal, and that he may need her help.
He testifies that the night of his big-little reveal, he was the first to finish his family bottle of Old Crow whiskey, which took 15 minutes, saying he threw up "more times than I can count."
Lehane says most littles were given a fifth to drink, which is 750 ml. However, one little was given a bigger bottle. He says there was a line drawn on that little's bottle indicating where he was to stop drinking.
The state says Stone Foltz was given a 1,000 ml bottle to drink at his big-little event, which is the equivalent of a liter.
So far, there have been no testimonies that indicate a line was drawn on Foltz's bottle. The state says he finished it in 30 minutes.
10 a.m.
Lehane says he met Foltz that night, and later saw Jacob Krinn congratulating him for finishing his bottle.
Later, he says he heard Foltz wasn't doing well and grew concerned, asking if he was OK.
He returned to the Bando house and talked to police, learning they would be back to investigate.
Lehane says he started to panic and began to clean up from the party. When police returned with a warrant, they were unable to confiscate any bottles of alcohol, as the housemates had already cleaned it all up.
10:15 a.m.
Krinn's attorney, Samuel Shamansky, has no questions for Lehane.
Henricksen's attorney, Eric Long, moves in for cross-examination.
Long says Henricksen would say pledges didn't have to do certain things if they didn't want to, like keeping a fire burning for 55 hours. But, this would result in frustration from other actives because the did have to do those things. Lehane agrees.
He testifies that Henricksen was not involved in any conversation about cleaning up evidence after the party. Lehane says that in cleaning up, frat members were not concerned about being charged with crimes. Instead, they were concerned about Pi Kappa Alpha being kicked off of campus.
Lehane ultimately pleaded guilty to obstructing justice, obstructing official business, hazing and failure to comply with underage alcohol laws.
11 a.m.
Now, the prosecution and defense are debating the relevancy of playing the 911 call made in Stone Foltz's death. The prosecution wants to play it to highlight the causation of Stone's death. But the defense disagrees, feeling the emotional call would be prejudicial to the jury.
Judge Joel Kuhlman is now taking five minutes to listen to the 911 audio in his chambers to determine whether it can be played to the jury. Both defense attorneys and prosecutors are huddled in separate circles, discussing.
11:30 a.m.
Wade McKenzie is the state's second witness of the day to testify. He was one of Stone Foltz's three roommates. He says Stone was a good person who you could tell "was raised right."
McKenzie says on the night of March 4, 2021, he came home to find Stone lying on the couch. He saw a glass of water nearby and a trash can. He says he thought he would be babysitting Stone that night and decided to call Stone's girlfriend to help out.
McKenzie says he checked and Stone was breathing, but then once Stone's girlfriend and her friends came over, they noticed Stone's face turning purple. McKenzie's voice wavers slightly. They then called 911.
McKenzie did testify no one called him to say Stone was dropped off at home or that he would need to be taken care of.
11:45 a.m.
She says she got a call from Wade McKenzie telling her Stone was in trouble. When she got to Stone's house, EMS was there. She says she then started trying to contact Stone's family.
Wells becomes emotional as she recounts the night. She says she went to the Wood County Hospital, eventually getting ahold of Stone's dad. She says she was able to tell him Jacob Krinn was Stone's big and that his last location was 318 Main St. Wells saw this on Snapchat.
Noon
On cross, Shamansky asks Wells what Krinn could hear her saying when she called him. She said "I could hear him, he couldn't hear me." Shamansky then presses whether Krinn really was unconcerned with the situation, if he couldn't hear what she was saying.
1:20 p.m.
Borja is describing what Stone was doing to join Pi Kappa Alpha. She says she would hold up the PIKE preamble so he could practice reciting it. She remembers the night he had to stay to recite it to active members, and says Stone was very anxious about not being able to get it.
1:45 p.m.
She remembers telling them something was wrong with Stone, and hearing someone in the background saying "He'll get his stomach pumped and be fine." She told them Stone was going to die, and the line went dead.
2 p.m.
Brian Gutman is an EMT with the BG Fire Division and the state's fifth witness. He testifies what he found when he arrived at Stone Foltz's apartment that night more than a year ago.
Gutman says they were dispatched for an unresponsive male. He says Stone's color looked good, a sign of good CPR, but he says first responders couldn't find a pulse. Eventually they had to intubate, and found vomit in Stone's mouth and lungs.
2:15 p.m.
He says Stone had very low blood pressure — first reading was 50/30. They gave him IV fluids and norepinephrine. Eventually, Dr. McDermott found Stone's ethanol or alcohol level to be 394 milligrams per deciliter.
Ultimately, Dr. McDermott testifies Stone suffered respiratory arrest secondary to alcohol intoxication. He believes because Stone was so intoxicated, he was unable to keep breathing. It could be because Stone rolled over into a pillow and couldn't move, or any number of reasons.
Stone arrived around midnight March 5, 2021, to Wood County Hospital. Three hours later, Dr. McDermott made the call to have him life-flighted to Toledo Hospital for more specialty care. Dr. McDermott steps down with no questions from Long or Shamansky.
Friday, May 20
:
Scott Steck, Joe Maggi and Jarrett Prizel testify
9 a.m.
Jarrett Prizel, of Olean, NY, is the state's first witness on the stand Friday. He served as assistant new member educator in the PIKE frat, where Troy Henricksen was new member educator. Multiple pledges have mentioned him in their testimony. He pleaded guilty to reckless homicide and hazing.
Prizel pleaded guilty in April to one count of reckless homicide, a third-degree felony; and eight counts of hazing, a misdemeanor of the fourth degree.
Prizel was initially charged in the case with involuntary manslaughter, a felony of the third degree; eight counts of hazing, a misdemeanor of the fourth degree; and six counts of failure to comply with underage alcohol laws, a misdemeanor.
10 a.m.
Prizel said Jacob Krinn appeared proud of Stone Foltz once half of Stone's one-liter bottle of whiskey was finished. Prizel recorded this video of Stone after he drank his alcohol. You can hear clapping and cheering. A trash can sits near Stone for him to throw up in.
At this point, Stone's parents are visibly emotional watching videos of their son and how active members of PIKE were interacting with him. In one video, Stone sits on the couch, very still, after finishing his bottle. An active member says, "you a mannequin, bro?"
Prizel said he stayed with his little for about an hour after the event. They went to a bar then to Prizel's apartment. Prizel wanted to "make sure he was okay." When Prizel left Pavone, he said he was walking. The state is trying to show Krinn didn't do the same for Foltz.
10:30 a.m.
Krinn's attorney, Samuel Shamansky, cross-examines Prizel, pressing him on expectations to drink during big-little. Prizel says no one told littles to drink. Shamansky brings up a little who did not finish his bottle: Jack Murphy. Prizel said drinking was not required to get into PIKE.
11 a.m.
Henricksen's attorney, Eric Long, now cross-examines Prizel. He's trying to show that littles were told to come to new member educators like Henricksen and Prizel with problems, and the littles did not.
Prizel says attending big-little events was required, but drinking was not.
Long tries to show that Henricksen was not singularly responsible for planning the big-little event, and other fraternity members like the president had a hand in it. He also questions whether the encouragement to drink was designed to overcome someone's will to say no.
On the redirect, the state tries to illustrate the idea of coercion even if it isn't explicit.
Wood County Prosecutor Paul Dobson asks Prizel if he was told to talk to BGSU and an attorney the day after Foltz's death. Prizel says they asked him to, but it wasn't required.
Dobson asks why Prizel went. Prizel says it's because he didn't know what would happen if he didn't go.
Dobson asks if the lack of knowledge is coercive. Prizel says yes.
He then asks if the power imbalance is coercive. Prizel says yes.
1 p.m.
After a break for lunch, Joe Maggi takes the stand.
Maggi was not in Foltz's pledge class. Other witnesses have explained that two classes were rushing around the same time because COVID-19 had delayed things.
1:45 p.m.
The prosecutor shows a video and asks Maggi who it is and what is happening. Maggi identifies the person as Stone Foltz and says he's throwing up after drinking his bottle at the big-little event on March 4, 2021.
On cross examination Shamansky asks Maggi about what he told police. Maggi says he didn't think Stone was drunk enough to go to the hospital. Maggie says he wouldn't have hesitated to call 911 if he thought Stone did need help.
2 p.m.
The state calls Scott Steck, its third witness of the day. He's from Foltz's hometown of Delaware. He says he didn't drink much before rushing PIKE.
Steck says he drank a lot of his bottle at his big-little event because he didn't want to be looked down on for not drinking; this is despite Pritzel telling and other pledges they didn't have to do anything the didn't want to.
He says he got a one-liter bottle of Evan Williams for his little, Shane Hackett, because it's the family bottle Krinn gave him.
But, Shane Hackett wasn't drinking that night. He was part of a diversion program and had a drug test in the morning. Steck says frat members were messing with Hackett for not drinking, saying it would be out of his system in time, etc. Steck, at one point, had to move Hackett to the laundry room because people wouldn't leave him alone.
Steck says that later that night, he, Shane Hackett, Jacob Kin, and Jacob Krinn helped Stone Foltz into Hackett's car. He says Hackett drove them all to Foltz's apartment. Steck says he could tell Foltz was getting rapidly more intoxicated and that Foltz threw up all over him in the car.
The group sat with Foltz inside the apartment for 30 minutes. Steck says Krinn knocked on all the doors in the apartment and no one else answered.
The prosecutor asks Steck why they left him there alone.
"None of us had any reason to believe anything was wrong. Jacob [Krinn] said he was all right," Steck says, noting that the group deferred to Krinn because he was older.
2:30 p.m.
At this point, Stone Foltz's family is crying on the front row on the left side of the courtroom. Watching the videos and hearing testimony has been visibly hard on them. Stone's mother exits the courtroom with her husband and mother, sobbing.
A prosecutor asks Steck what Krinn said to him during Stone's big-little in 2021. Steck said Krinn pointed to Stone and said, "He's more of a man than you." He was allegedly referencing the fact that Steck didn't finish his bottle at big-little reveal in 2020, but Stone did in 2021.
3 p.m.
Shamansky now cross-examines, asking Steck what he told police after Foltz went to the hospital. Steck told police he saw Stone was breathing normally and "would have freaked out if something was wrong."
Shamansky points out that Steck was friends with Stone, and would have acted regardless of anything Krinn said. Steck agrees. Shamansky points out Steck didn't defer to Krinn, he decided on his own Stone was OK.
3:30 p.m.
The state now calls Canyon Caldwell, another active in Pi Kappa Alpha. He previously pled guilty to obstructing official business and hazing.
He is describing processes within the fraternity, like cleaning up and getting signatures to join.
He says his big, Ben Boyers, gave him a bottle of whiskey at his big-little event and said the goal was to finish it, but it wasn't a big deal if he couldn't.
Caldwell still says he poured a quarter of his bottle out in secret.
After the party, Caldwell says he was watching "Surf's Up" with his roommates when they heard something was wrong with Foltz. Caldwell lives in Bando, the off-campus house where the big-little event occurred.
Police knocked on their door and said they'd be back in the morning to interview.
Caldwell says his roommates immediately began to clean up and that Ben Boyers would be back to collect the bag of trash before police came back. The understanding was, according to Caldwell, was this bag had evidence related to underage drinking.
3:45 p.m.
On cross, Shamansky asks if Jacob Krinn ever told them to clean up or helped them, Caldwell says no.
Long pushes for whether Troy Henricksen helped clean up after the party at Bando or attended. Caldwell says no.
4 p.m.
Court adjourns until Monday.
Thursday, May 19
:
Jacob Kin, Mitchell Meyer and Hunter Hendrix Testify
9:45 a.m.
Jacob Kin, a former pledge, is on the stand.
He describes a night in February 2021 when he and other new members were kept into early morning hours until they could recite the PIKE preamble. He says many struggled to do this since it was a difficult thing to remember.
10 a.m.
Kin said his big gave him a 750 ml bottle of Captain Morgan, his family bottle, because it's the same brand of liquor his grand big gave his big. He says he was one of the first pledges to finish his family bottle the night of the reveal.
11 a.m.
Kin does agree it was his decision, and his decision alone to join PIKE. He said "yes" when Krinn's attorney, Samuel Shamansky, asked if it was his choice to drink his bottle at big-little reveal.
Henricksen's attorney, Eric Long, is on the cross. He's asking about whether pledges were physically forced to stay when reciting the preamble and whether anyone asked to leave. Kin said no.
Long presses whether any new member was ever told their membership to PIKE was in jeopardy or whether any member was cut, if they didn't do what the actives asked them to do. Kin said he couldn't say for certain.
11:45 a.m.
Now, Mitchell Meyer is on the stand. He was also in Stone Foltz's Pi Kappa Alpha pledge class. He's explaining how new members would clean up for actives at a local bar where they worked (Ziggy's) to get their signatures to join the frat.
Meyer also discussed how there was a rumor in the fraternity about how their pledge class was "soft."
12:45 p.m.
Like Kin, Meyer testified his big also helped him finish his family bottle at big-little reveal — something the state says Krinn did not do for Foltz.
3:30 p.m.
Prosecutors call one final witness for the day. Hunter Hendrix, another former Pi Kappa Alpha pledge, is called to answer questions about the night when Foltz consumed high-alcohol-content liquor at an initiation event.
Wednesday, May 18
:
Shari Foltz, Niall Sweeney and Grant Hartnett Testify
9:15 a.m.
Court is back in session and the prosecution called its first witness - Shari Foltz, Stone's mother.
9:50 a.m.
Shari Foltz says when Stone texted her about the big-little reveal party at Pi Kappa Alpha, he explained there would be a lot of drinking and that he "wasn't looking forward to it." Shari says she had no concept of what "a lot of drinking" meant.
10 a.m.
Shari Foltz discovered something was wrong when she woke up around midnight March 4, 2021, to many texts and calls. When Shari talked to Bowling Green Police, they told her "Stone's had an accident." She says she threw the phone at her husband Cory, knowing something was wrong.
When they arrived at the hospital, Cory and Shari Foltz found their son unresponsive, with tubes hooked up to his body. Life Flight was there, and doctors and nurses were everywhere, she says.
By the weekend, Shari Foltz says she realized her son wasn't going to wake up. Only 10% of his brain was working.
11:30 a.m.
Niall Sweeney, a member of Pi Kappa Alpha, is the state's second witness to take the stand. He explains the process of becoming a fraternity member, noting that a new member educator would work with new members. It was Troy Henricksen who served in this role at the time of Stone Foltz's death.
Sweeney testified in messages to fellow PIKE members that if the pledges couldn't finish their bottle of alcohol, he'd force it down their throats. In a later message he softened, saying, "Maybe not that extreme but you know the vibes."
Stone Foltz did finish his one-liter bottle of Evan Williams given to him by his big, Jacob Krinn, and ultimately died from alcohol poisoning. The state is trying to build their hazing case, in part, around this expected culture of binge drinking.
11:45 a.m.
Jacob Krinn's attorney, Samual Shamansky, starts his cross-examination of Niall Sweeney. He's asking him about whether he ever discussed these fraternity expectations and traditions with other members. Sweeney admits he was initially untruthful with BG police about Foltz's death.
Sweeney also acknowledges pledges could skip events like the big-little reveal and still rise to positions of leadership in the frat. Shamansky works to undermine previous statements Sweeney made — like Krinn "bragging" about getting his little, Stone Foltz, drunk.
12 p.m.
Troy Henricksen's attorney follows to cross.
Sweeney says Henricksen coordinated the big-little reveal, but didn't ultimately attend. Sweeney admits how bigs and littles interacted was a personal choice and there were no fraternity stipulations.
12:15 p.m.
Prosecutor Paul Dobson is re-questioning Niall Sweeney. He points out that personal choices are not without consequences: Sweeney was subpoenaed to testify. He could make a personal choice not to come but would face consequences.
Similarly, Wood County Prosecutor Paul Dobson says pledges could do anything they wanted with their bottles at big-little reveal, but asks what would happen if they didn't drink it. Sweeney says they'd probably be called soft.
Sweeney says he and his housemates stepped up to host the off-campus big-little reveal party because Troy Henricksen asked them to step up.
2:30 p.m.
The state is now calling its third witness Grant Hartnett to the stand. He is a BGSU student from Sylvania, Ohio. He was a freshman in August 2020.
He says he always wanted to join PIKE because it seemed cool with the athletes on campus. He got a bid to join, and met Stone Foltz during the pledging process. Hartnett says he didn't know Jacob Krinn or Troy Henricksen before pledging.
Hartnett says Stone had good style, was quiet, and someone "you want to be around." He testified Stone did not appear to have problems with drugs or alcohol. The two quickly became friends.
Hartnett reads a text where pledges were asked to go clean up a Ziggys, a local bar where active frat members worked. He explains that active members would require new members to complete tasks like this in order to join.
Hartnett says Troy Henricksen and Jarrett Prizel were unhappy when he, Stone Foltz, and others couldn't recite PIKE's preamble from memory — a frat rule.
The night of the big-little event, Hartnett says he had a terrible feeling all day because he had read a story about a student in Virginia dying from alcohol poisoning. He knew he would have to drink that night. His voice shakes when he says he didn't tell his parents, but his sister.
Both attorneys cross-examine Grant Hartnett, and both hone in on his choice to attend the reveal party despite his misgivings.
They point out he chose to attend the same way he chose not to shave his genitals before the party, a rumor Hartnett says was going around. Defense attorneys also pointed out Hartnett chose not to call off class the next day — something littles were to do due to heavy drinking.
Hartnett did push back saying he felt he had to do these things to be accepted into the fraternity. Even though his big helped him finish his bottle of alcohol, he says the expectation was that littles were to finish their bottles as fast as possible.
Tuesday, May 17
:
Opening Statements
8 a.m.
Jury selection continues Tuesday morning.
It is revealed that Bowling Green State University Dean of Students Christopher Bullins and Chief Health and Wellness Officer/ Hazing Prevention Coordinator Ben Batey sent a message to the campus community regarding the beginning of the trial in the hazing death of Stone Foltz:
"Last year, our community was deeply impacted by the tragic death of Stone Foltz. Throughout the past 14 months, we have come together to support one another and move forward as a community built on care.
This week, the criminal trial against two individuals related to Stone's death begins. Six other individuals have pled guilty to felonies in connection to the events surrounding Stone's death. The recollections of the events leading up to Stone's death may be very difficult to hear and could freshly awaken the grief all of us carry.
Above all, during this challenging period, our thoughts continue to be with the Foltz family.
The tragedy of Stone's death has forever shaped our community. It continues to be on each one of us - every student, faculty, staff and community member – to ensure Stone is never forgotten.
We are proud of the ways our community has continued to step up. You have recognized misconduct and leveraged reporting tools earlier. You have had a greater willingness to forego anonymity and support the investigation process. You have assisted us in holding individuals and organizations accountable, and time and again, you have proven BGSU will be a national leader in eradicating hazing.
Under the University's Code of Student Conduct and our zero-tolerance Anti-Hazing policy, hazing is never acceptable.
Our actions impact one another, and together, we must support one another, respect one another, and continue to foster a community that cares for each of us."

2:30 p.m.
A jury has been selected for the trial of Troy Henricksen and Jacob Krinn in Wood County Common Pleas Court.
Opening statements are expected Tuesday afternoon.
5 p.m.
In opening statements, a Wood County prosecutor argues both Troy Henricksen and Jacob Krinn facilitated BGSU sophomore Stone Foltz's death in March, 2021 by planning a fraternity event and giving him a bottle of liquor with the expectation he should drink all of it to earn the right to belong to Pi Kappa Alpha.
In his opening statement to the jury, the defense attorney argues Foltz's death was "a terrible tragedy in search of a crime." He says that no one physically compelled Foltz to drink.
Monday, May 16
:
Jury Selection
Jury selection begins for two former fraternity brothers accused in the death of the BGSU sophomore could begin with opening statements as early as Tuesday.
Both of the former Pi Kappa Alpha fraternity members, Troy Henricksen and Jacob Krinn, are accused of facilitating Foltz's death in March 2021.
Six other men charged in Foltz's death have already taken plea deals
Foltz was a 20-year-old BGSU student. He was attending an off-campus Pi Kappa Alpha fraternity event where new members "littles" received mentors from the older fraternity members. Court documents show those older members gave new members liquor and told them to drink the whole bottle.
Foltz allegedly drank all or nearly all of his bottle before he was dropped off at his apartment and found unresponsive by his roommate and other friends. They called 911 and tried to save his life, but Foltz ultimately died March 7, 2021.