TOLEDO, Ohio — A "Leader in Action" is someone who has made a difference in their classroom and community - and no one personifies that more than Leslie Fish!
Fish, a cosmetology teacher at Whitmer High School, is the newest winner of the Leaders in Action campaign.
She was greeted with a classroom interruption by Tim Miller and Ariyl Onstott, complete with balloons and a plaque that she can hang in her classroom or at home to make sure she always remembers how much she is appreciated.
Fish won the award for not only being a great teacher, but for raising money for a parent who was battling cancer and feeding families during the pandemic.
"She had put a Facebook post up that said they didn't have any money and they didn't have any time to go get food. So I ordered 25 Little Caesers pizzas and drove it all to their houses; just to help them out, make them smile," Fish said.
Fish's sister Khrissy Gilderson nominated her.
These were the emotional details she wrote in her nomination:
"I would like to nominate Leslie Fish, a cosmetologist teacher at Whitmer High School . She exemplifies the true meaning of an educator. The true definition of an educator is someone who gives intellectual, moral and social instruction. Mrs. Fish goes above and beyond her calling. She impassions her students not only in the classroom but in daily life. She is compassionate and caring for all of her students. During the pandemic she personally delivered food to her students. She donated her own time for a fundraiser to help cut hair for a local child who was suffering with cancer. She was able to do all of this as a widow of three young children. If you are looking for a Leader in Action, look no further. It would be near impossible to find someone who strives harder than Mrs. Fish!"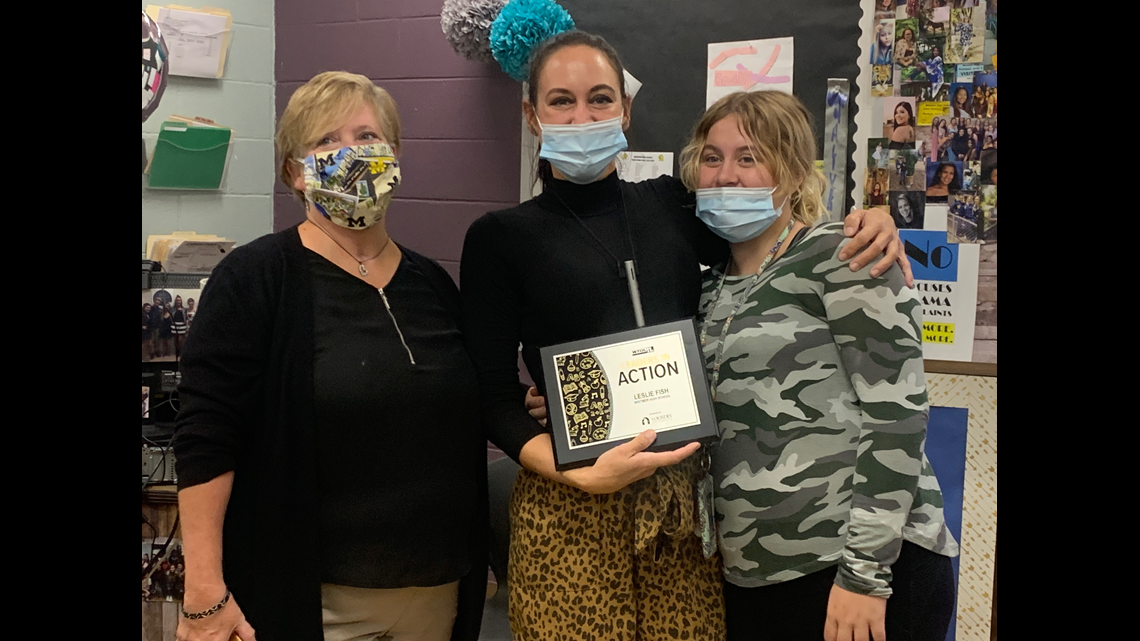 Joining in on the fun as the surprise announcement was made was Leslie's daughter and mother-in-law.
There are many qualities that make someone eligible to be named a 'Leaders in Action:' it is someone who is called to serve their community, someone who is resilient in the face of adversity and who puts others before themselves.
A true leader is someone who acts, not because they are being recognized, but because it's the right thing to do.