Sunday Morning Forecast
Today: Sunny and comfortable
Monday: Dry and warm
Next week: Stormy weather ahead
Temperatures sit in the mid 60s this morning under sunny skies. Expect a mild morning as temperatures rise into the upper-80s again today. A few clouds will move in this afternoon, but still expect a bright sunny day.
By tonight temperatures will still hang around the lower 80s by sundown. Overnight lows will drop into the lower 60s tonight.

Monday: Monday is Independence Day and it will be another bright and sunny day but the heat will crank up even more as we start the week.
High temperatures will soar to 90°! It will still be a good day to enjoy some outdoor activities! Monday evening will feel warm with temperatures in the 80s even after sunset.

Tuesday: Monday night into Tuesday, storms will start to move in our area with heavy downpours possible at times. Expect thunderstorms to roll through each day through Thursday.

The first weather disturbance will arrive Monday night into Tuesday, delivering rain and thunder. Rounds of rain and storms will continue through Thursday.
While none of these days will be a total washout, downpours and thunderstorms could deliver needed rainfall for gardeners and farmers and strong to severe weather risk.

Dry weather will finally return into next weekend. Download the WTOL 11 weather app for the latest 10-day forecast to stay up-to-date on this active weather pattern!


High temperatures mean hot cars: Keep you, your kids and your pets safe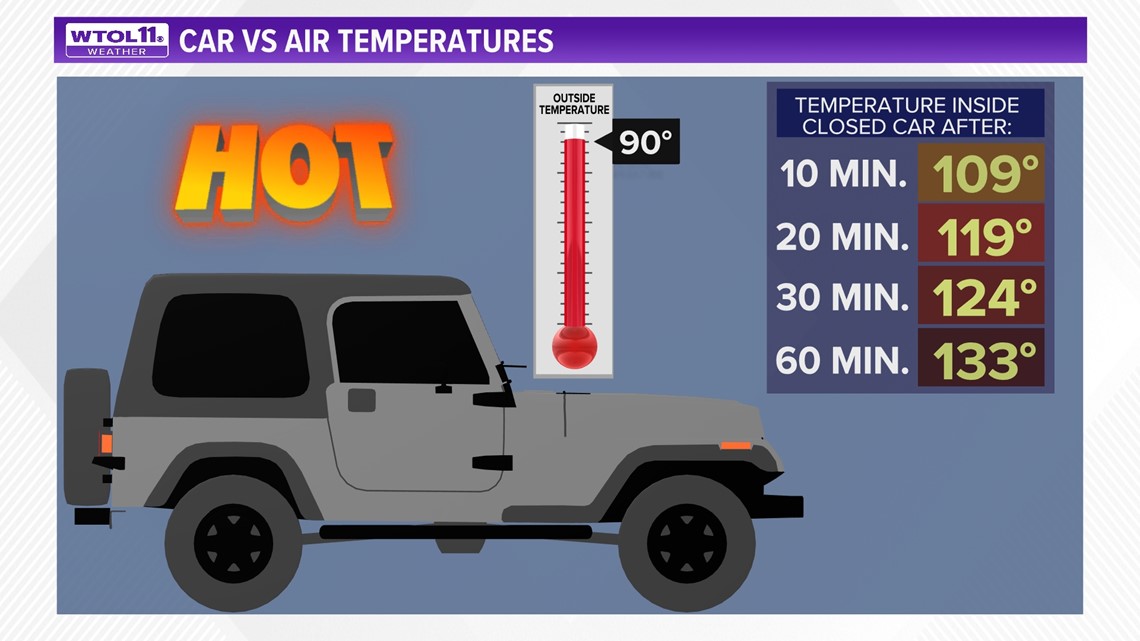 Algae Forecast
WTOL 11 Weather team breaks down what to know for our spring storm season
For storm watchers and weather enthusiasts, the onset of spring means one thing - severe weather season. From tornado preparation to derecho definitions, the WTOL 11 Weather team is here to make sure you're prepared for this potentially perilous season.

WTOL 11 meteorologist John Burchfield breaks down how the weather app works for you.
Want more from WTOL 11?
➡️ Get a fresh start to your morning and wrap up your day with the latest news and your WTOL 11 Weather forecast delivered right to your inbox!
WTOL 11's Your Morning Blast and Your Evening Blast deliver stories from northwest Ohio, southeast Michigan and beyond to keep you informed.