CLEVELAND — It's officially MAC Tournament week and the WTOL 11 Sports team is in Cleveland you bring you the latest.
In the Men's Tournament, the Toledo Rockets are the #1 seed and Bowling Green is the #6 seed. In the Women's Tournament, the Bowling Green Falcons are the #1 seed. We will have information updated here throughout the tournament.
12:56 p.m.: BOWLING GREEN FALLS IN THE MAC TITLE GAME
Central Michigan is the MAC Tournament Champ. They beat BGSU 77-72. Bowling Green's magical run comes to an end in the title game. This young team will have to wait to see if the NCAA gives them an at-large bid now.
12:24 p.m.: GOING DOWN TO THE WIRE
Central Michigan is leading BGSU 68-67 with 4:34 left in the 4th quarter
12:29 p.m.: HEADING TO THE 4TH QUARTER
Central Michigan 61, Bowling Green 60 - End of 3rd quarter. The bad news for BGSU: Hampton & Hempfling both have 4 fouls.
12:23 p.m.: HERE COME THE FALCONS
BGSU is on a 12-0 run to take a 56-55 lead late 3rd quarter.
12:10 p.m.: CMU OFF TO HOT START IN 2ND HALF
Bowling Green is in some serious trouble for the first time today. CMU is up 53-41 halfway through the 3rd quarter.
11:46 p.m.: FALCONS AND CHIPS TIED AT HALFTIME
Bowling Green 34, Central Michigan 34 - Halftime.
Falcons had a 12 point lead with 6:18 left in the half. CMU finished strong.
Elissa Brett and Kadie Hempfling lead BGSU with 9 points each.
11:25 a.m.: FALCONS OFF TO A QUICK START
Bowling Green 16, Central Michigan 11 - end of 1st quarter Falcons have had 6 different players score already.
11:00 a.m.: MAC WOMEN'S BASKETBALL CHAMPIONSHIP GAME
The BGSU women are on the floor and it's time to play. The Falcons are trying to punch their ticket to the NCAA Tournament for the first time since 2011.
7:08 p.m.: ROCKETS FALL IN MAC SEMI'S
Ohio defeats Toledo 87-80. More to come shortly...
6:28 p.m.: ROCKETS RUNNING OUT OF TIME
Toledo is down 61-50 with 11:34 left. Marreon Jackson is doing his best to keep the Rockets season alive. He's got 19 points. Toledo is going to need a huge comeback late.
6:00 p.m.: TOLEDO DOWN 12 AT HALFTIME
The Rockets are struggling at halftime. They're down 43-31 and shooting just 23% from three. They've got 20 minutes to get it turned around.
5:45 p.m.: ROCKETS DOWN LATE FIRST HALF
Toledo is trailing Ohio 35-25 with 3:34 left in the 1st Half. Ohio has a 19-13 advantage in rebounds. Marreon Jackson has 6 points for Toledo but he's going to need some help.
5:00 p.m.: ROCKETS SET FOR MAC SEMIFINAL
It's time for tip-off here in Cleveland. The Toledo Men's Basketball team is set to battle Ohio in the first semifinal of the night. Follow along as the Rockets try to punch their ticket to the MAC Championship game.
3:00 p.m.: FALCONS SET FOR SHOWDOWN WITH CENTRAL MICHIGAN
The BGSU women will face-off against Central Michigan in the MAC championship game on Saturday at 11 a.m. The game will be televised nationally on CBS Sports Network.
Noon: FALCONS WILL PLAY FOR THE TITLE
BGSU knocks off Buffalo 80-67 and will play Saturday for the MAC Tournament championship and an automatic berth in the NCAA Tournament.
11:26 a.m.: FALCONS HOLDING STRONG AFTER 3 QUARTERS
Bowling Green is leading Buffalo 54-46 after 3 quarters. Elissa Brett has 16 points. Lexi Fleming is up to 11 points in the game for BG.
10:45 a.m.: FALCONS LEAD AT HALFTIME
MAC Women's Semifinal: Bowling Green 34, Buffalo 26 - Halftime Elissa Brett has a game-high 12 points & 8 rebounds. Madisen Parker has 9 points. Kadie Hempfling has 7 points.
10:22 a.m.: FALCONS TAKE EARLY LEAD
After 1 quarter, Bowling Green leads Buffalo 19-15. Kadie Hempfling has a game-high 9 points. Madisen Parker has come off the bench and hit a couple three's to give BGSU the early lead.
9:52 a.m.: FLEMING WARMING UP FOR FALCONS
Lexi Fleming left the Quarterfinal game with a shoulder injury and did not return. She's on the floor now warming up for BG and it appears she will play in today's game.
Friday, March 12 - MAC Semifinals
We've made it back to Rocket Mortgage Fieldhouse for the MAC Semifinals. The BGSU women will take on Buffalo at 10 a.m. Follow along here for updates.
10:08 p.m.: HUGER SAYS HE ISN'T LEAVING BGSU
I asked Michael Huger about the speculation that he could be taking another college basketball job. He shot that down. See the tweet below for video.
9:06 p.m.: BGSU IS ELIMINATED
And that's gonna do it...BGSU is eliminated in the MAC quarterfinals. Bowling Green took a 61-59 lead with 4:48 left...Akron closed the game on a 15-6 run.
8:53 p.m.: Akron on a 10-2 run
After BGSU took a 61-59, Akron has gone on a 10-2 run to take a 69-63 lead with less than 3 minutes to go.
8:41 p.m.: BGSU TRIMS LEAD LATE IN 2ND HALF
Akron is clinging to a 57-53 lead with 7:41 left. BGSU's Daeqwon Plowden has put the team on his back. He's got 22 points. He scored 15 straight points for Bowling Green in this second half.
7:56 p.m.: FALCONS HANGING AROUND AT HALFTIME
It's halftime and Bowling Green trails 34-26. The Falcons shot just 31% from the field and Justin Turner only has 2 points, but BG is still in this thing...
7:38 p.m.: FALCONS STRUGGLING IN FIRST HALF
BGSU trails Akron 19-12 with 6:32 left in the first half. The Falcons are 4-20 from the field and 0-7 from three.
7:17 p.m.: SLOW START FOR BGSU
It's been a rough start for the Falcons. They're 0-6 from the field and they're trailing Akron 8-0 with 15:50 left in the first half.
6:45 p.m.: FALCONS WARMING UP AHEAD OF GAME AGAINST AKRON
Justin Turner was injured in their last game of the regular season and came out of the locker room minutes after the rest of the team to join shootaround.
3:30 p.m.: ROCKETS POSTGAME REACTION
Toledo head coach Tod Kowalczyk showed plenty of emotion after defeating Ball State. He said that he has started to appreciate every single win even more.
1:26 p.m.: SURVIVE AND ADVANCE
Toledo avoids a scare in the MAC Quarterfinals. The Rockets win 91-89 in OT to advance to the MAC Semi's.
1:09 p.m.: ROCKETS AND CARDINALS HEADING TO OVERTIME
12:57 p.m.: ROCKETS HOLDING SLIGHT LEAD LATE
Toledo leads Ball State 77-75 with 0:51 left
12:21 p.m.: SLOW START TO 2ND HALF
The Rockets have scored just 7 points in the first 8 minutes of the 2nd half. They're 6-20 from three as a team.
Toledo 48, Ball State 46 - 11:58 left in the 2nd half
11:50 a.m.: TOLEDO CLOSES HALF STRONG
Toledo leads Ball State 41-34 at halftime. Marreon Jackson is Toledo's leading scorer with 9 points.
Toledo is shooting 51.6% from the field. Ball State is shooting 34.3% as a team.
11:30 a.m.: BALL STATE RALLIES BACK
The Cardinals have rallied back to tie the game up at 22 with 7:53 left in the first half.
11:09 a.m.: TOLEDO GETS OFF TO A FAST START
The Rockets are red-hot to start this game. Spencer Littleson & Marreon Jackson have both hit a three early.
10:45 a.m.: TOLEDO MEN GET SET TO TIP-OFF AGAINST BALL STATE
The No. 1 seeded Rockets take on Ball State at 11 a.m. in the MAC Quarterfinals.
1 p.m.: BGSU WOMEN ADVANCE TO SEMIFINALS
The No. 1 seeded Bowling Green State University women are moving on to Friday's MAC semifinal game with a 63-47 victory over the Eastern Michigan University Eagles.
12:48 p.m.: BGSU LEADS WITH 4:41 IN THE GAME
The Falcons have taken a 51-40 lead over EMU with 4:41 left to go in the fourth quarter in Cleveland.
12:44 p.m.: FLEMING RETURNS TO SIDELINES
12:33 p.m.: BGSU LEADING SCORER INJURED
Lexi Fleming was hit hard while going out of bounds by an EMU player and suffered a likely shoulder injury. She grabbed at her shoulder appearing to be in a lot of pain and headed to the locker room. Fleming is the Falcons' leading scorer with 16.9 points per game.
12:19 p.m.: FALCONS SEIZE THE LEAD
The Falcons are on a 15-4 run to start the second half and have taken a 36-35 lead after being down 10 late in the first. BGSU closed the gap to grab the lead with 3:26 left in the third.
11:46 a.m.: BGSU IN UNCHARACTERISTIC TROUBLE
No. 1 seed BGSU is in some trouble here. They're down 10 with 1:54 left in the first half. BG is shooting 26% from the field and 18% from 3. They've had some wide-open looks that just haven't fallen. Very uncharacteristic of this team.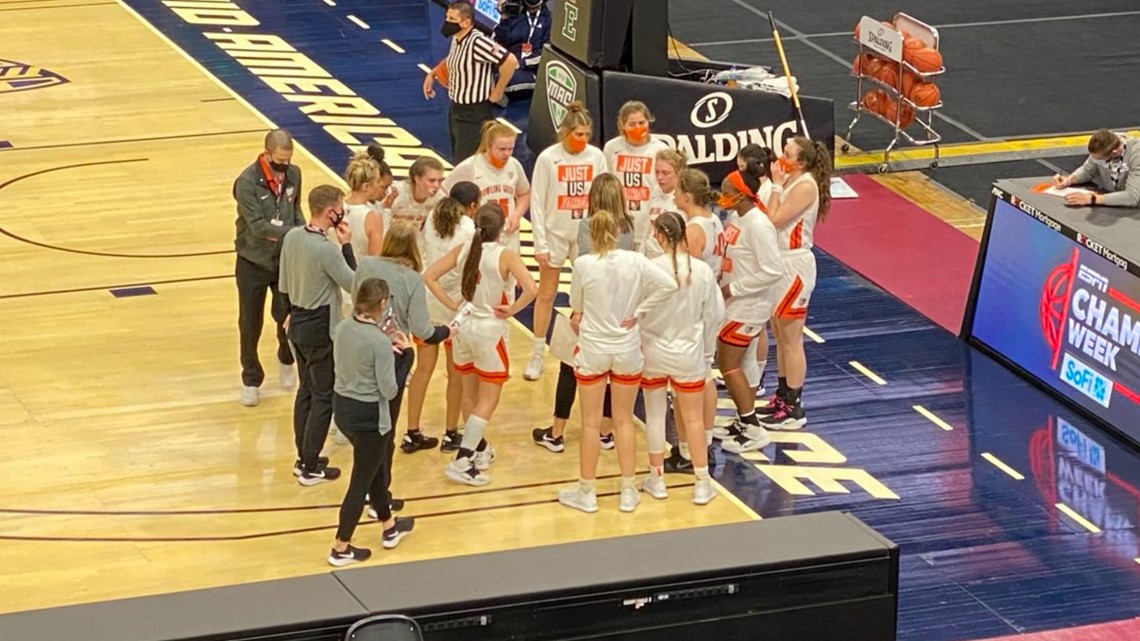 11:05 a.m.: ALL-CONFERENCE AWARDS
The MAC All-Conference Awards have been announced.
On the Men's side, Toledo is well-represented. Marreon Jackson is the Player of the Year. Tod Kowalczyk is the Coach of the Year. Ryan Rollins is the Freshman of the Year. Spencer Littleson was named to the 2nd Team All-MAC and the All-Defensive team.
For Bowling Green, Justin Turner was a first-team selection. Daeqwon Plowden was a Third-Team selection. Trey Diggs was the Sixth Man of the Year. Kaden Metheny and Josiah Fulcher were named to the All-Freshman team.
11 a.m.: #1 BGSU WOMEN TIP OFF VS. #8 EASTERN MICHIGAN
BRACKETS AND SCHEDULES
MAC Women's Tournament
Game 1: No. 1 Bowling Green vs. No. 8 Eastern Michigan, 11 a.m. (ESPN+)
Game 2: No. 4 Buffalo vs. No. 5 Kent State, 30 min following Game 1 (ESPN+)
Game 3: No. 2 Central Michigan vs. No. 7 Northern Illinois, 30 min following Game 2 (ESPN+)
Game 4: No. 3 Ohio vs. No. 6 Ball State, 30 min following Game 3 (ESPN+)
Game 5: Game 1 winner vs. Game 2 winner, 10 a.m. (ESPN+)
Game 6: Game 3 winner vs. Game 4 winner, 30 min following Game 5 (ESPN+)
Championship game: Game 5 winner vs. Game 6 winner, 11 a.m. (CBS Sports Network)
MAC Men's Tournament
Game 1: No. 1 Toledo vs. No. 8 Ball State, 11 a.m. (ESPN+)
Game 2: No. 4 Kent State vs. No. 5 Ohio, about 1:30 p.m. (ESPN+)
Game 3: No. 2 Buffalo vs. No. 7 Miami, about 4 p.m. (ESPN+)
Game 4: No. 3 Akron vs. No. 6 Bowling Green, about 6:30 p.m. (ESPN+)
Semifinal: Game 1 winner vs. Game 2 winner, 5 p.m. (CBS Sports Network)
Semifinal: Game 3 winner vs. Game 4 winner, about 7:30 p.m. (CBS Sports Network)
Championship Game: 7:30 p.m. (ESPN2/WatchESPN)