TOLEDO, Ohio — There have been zero gun-related deaths in Toledo since Febuary 3 according to Toledo Mayor Wade Kapszukiewicz.
That marks the longest stretch since spring of 2019, before the COVID-19 pandemic.
Still, one group demanding action says gun violence is remains too high.
In the past several months the group, led by four former Toledo mayors, has worked to create a 12-step action plan that has gained the attention from other leaders.
The former mayors came together on Saturday to spread the word about the issues of gun violence in the city, joined by other community leaders at Park Church in south Toledo.
They say their plan was created with the help of over 200 residents hopes to combat violence in the city. Former mayor Mike Bell said they have all they need right here instead of asking for outside help from outside groups.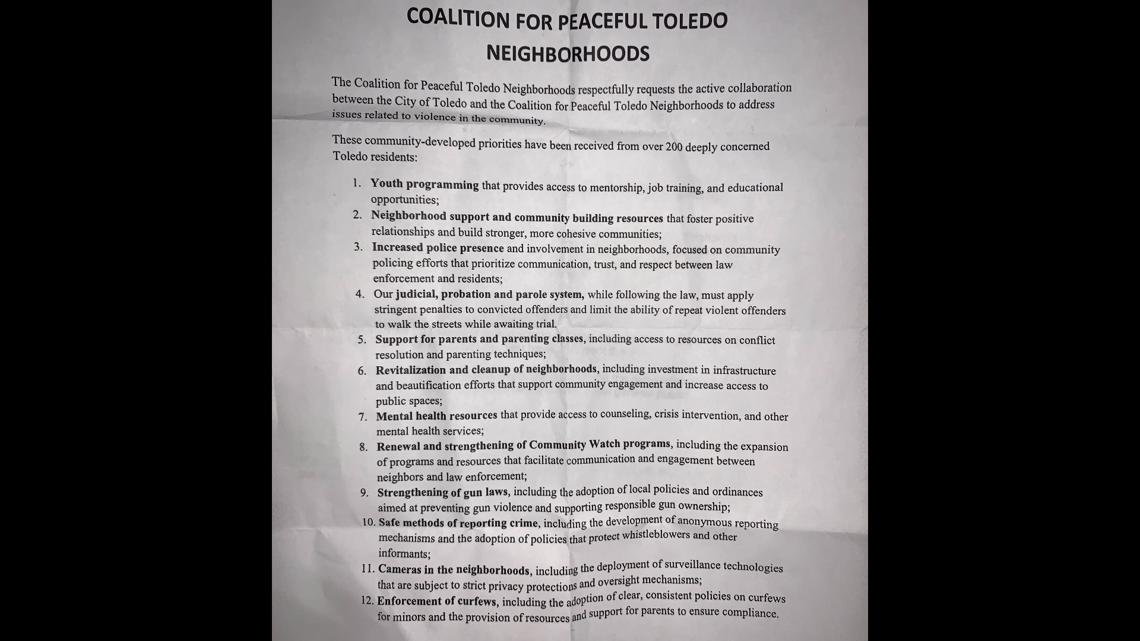 In February, Toledo City Council welcomed comments and questions from the public on a potential partnership with Cities United, a group that would work with the city on coordinating existing, local public safety groups in a renewed effort to reduce gun violence.
"I don't know how any group that you're paying is going to come up with more than what we've already come up with," said Bell. "The only thing that we're doing now is spending money to come up with something that we already know."
The Coalition for Peaceful Toledo Neighborhoods' plan addresses things like curfews, increased police and neighborhood supports, as well as strengthening gun laws. One of the big things the mayors address in the plan is youth and family programming.
Former mayor Donna Owens said keeping youth accountable is key both in the judicial system, but more importantly, at home.
"You have to have consequences if you're in a home; mother, father and children. If the child misbehaves what do you do, you have to correct them," said Owens.
Former mayor Carty Finkbeiner said in order to stop gun-violence from continuing, high powered weapons need to be taken out of the general public's hands all together.
"In my opinion, we ban mobile firing weapons, machine guns from anybody and anybody but law enforcement and the United States military," said Finkbeiner.
The rest of their plan deals with implanting block watch programs back into the neighborhoods and making sure law enforcement engages more with the community.