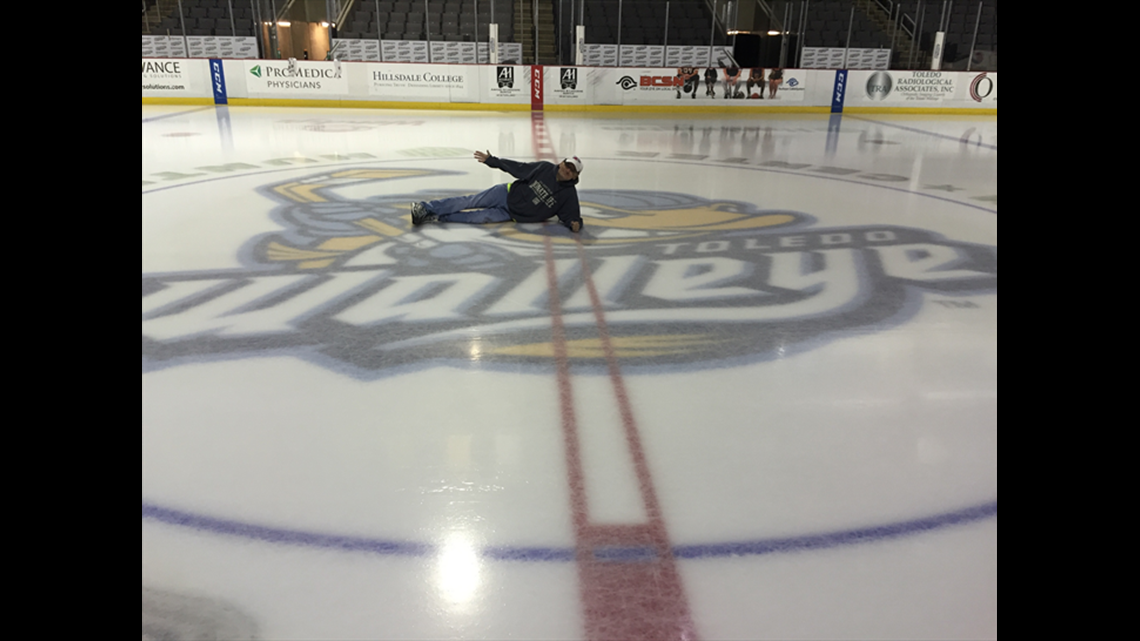 TOLEDO, OH (WTOL) - Harvey Steele, host of popular radio show "Shores and Steele" on Cumulus Toledo's K-100 has passed away at Flower Hospital. He was 60 years old.
Harvey's daughter Kara said he was admitted to the hospital with a blood sugar of 1,000, more than ten times what it should be. He passed away on December 28.
"My sister was on one side of the bed, I was on the other, were each holding one of his hands. He shouldn't have been able to talk, but he said, 'I just love you guys,'" Kara said.
Harvey was adopted when he was three months old from The Cradle in Chicago. Kara said there weren't enough clothes at The Cradle at the time when Harvey was adopted, so he was sent home in a yellow dress.
Harvey's family said he wanted to be on the radio since a young age.
Kara said Harvey got his start reading the news on Eastern Illinois University's campus radio station, and then broadcasting his high school's football and basketball games, leading to a very successful career at K-100, "Today's Best Country" station in Toledo.
In 1981, Harvey was hired at WTOD in Toledo. His family said he planned to move to a bigger market, but Toledo became home.
Thus, "Shores and Steele" was born.
Steele's co-host, Gary Shores, says his friend was a fun loving guy.
"He was 60, but he was going on 17," said Shores.
In addition to his lively personality, Steele was also a helper.
"He would constantly promote charity events going on in our community, charity walks, spaghetti dinners...he liked to help people who needed help the most," said Shores.
"Shores and Steele" would go on to be the number-one show in the area for 20 years, even receiving recognition by the Country Music Association.
Harvey's life was truly a unique one. It almost looked like it would be over 20 years ago.
Steele was given one week to live in 1997, as his end-stage liver disease was taking away his strength. Miraculously, Steele was able to receive two life-saving liver transplants. The first one was a failure but the second was a success, giving him another chance at life.
After Steele was once again able to live his life, he volunteered for Life Connection of Ohio, an organization that promotes organ donation. He used his radio show as a platform to advocate for organ and tissue donation, as living proof that it does save lives.
There are more than 3,000 people in Ohio alone waiting for life-saving organs. Kara said organ, eye and tissue donations rates have steadily increased in northwest Ohio over the years, largely because of her father's efforts.
"He was like the face of organ donation. He lived 20 extra years because someone said yes to organ donation. He did a lot in his 60 years of life, but he did the most in his last 20. He took that gift and he ran with it," Kara said.
Kara said that her father's journey inspired her to work at Life Connection of Ohio to continue life-saving work. Kara works as Director of Community Services, and nominated her father for The National Donor Memorial Award for Excellence, which he won in 2016.
The award honors those who exceptionally advocate for organ, eye and tissue donation. According to Life Connection of Ohio, Harvey was the first organ transplant recipient to earn the award.
"I am humbled by this recognition, but the true heroes of organ, eye and tissue donation are the donors and the donor families, people who at the worst time of their lives thought of others and allowed their loved ones to give the gift of life," Harvey said when he accepted the award.
Steele's radio partner Gary Shores released the following statement on K-100's Facebook page following Harvey's passing:
Shores said all Harvey wanted to do with his life is make a difference and help people.
"I think we're all pretty numb, we're in shock. It's just such a loss. Harvey was such a huge person in this community. The things he did for charity, the things he did to help people. It is a big loss I think everybody's going to feel," Shores said.
Harvey's daughter Allison announced on K-100 Friday morning that Harvey would have been a grandpa, as she is expecting her first daughter Elizabeth.
Kara said Harvey loved three things: hockey, radio and the gift of life.
Sot Friday night's Walleye game, there will be a moment of silence observed in Harvey's memory. Kara said she plans to be there for the game.
"He was one of the good guys," Kara said. "He was a great person, who just did so much good in our community and we'll continue to do that in his name."
In lieu of flowers, Steele's family asks that donations be made to The Harvey J. Steele Memorial Fund through the Toledo Community Foundation.
If you want to make a gift online, please visit www.toledocf.org and designate "The Harvey J. Steele Memorial Fund."
Checks can be made out to "The Harvey J. Steele Memorial Fund" and sent to the Toledo Community Foundation at 300 Madison Avenue, Suite #1300, Toledo, OH 43604.

A celebration of Steele's life will be held on Wednesday, January 3rd, from 12 - 8 p.m. at Walker Funeral Home (5155 W. Sylvania Avenue, Toledo).
The public is welcome to attend.
Read the full obituary detailing Harvey's life and contribution to Toledo below: