LANSING, Mich. — Gov. Gretchen Whitmer issued a 'stay home, stay safe' executive order on Monday morning for all Michigan residents starting at 12:01 a.m. on Tuesday, March 24. The original order was set to expire on April 13, but the governor has extended it several times.
Under the latest revision, the order is in place until June 12 at 11:59 p.m., but the governor has relaxed some of the restrictions.
What does the order mandate?
The order suspends "in-person operations that are not necessary to sustain or protect life." Michigan residents are directed to stay in at home unless they are a part of an essential workforce, spending time outside or performing tasks that are necessary, like going to the grocery store or the hospital.
This extends to banning all public and private gatherings of any number of people who are not a part of the same household. However, this was relaxed in the latest iteration, allowing groups of 10 or less to gather.
If anyone does leave their house for essential functions, they are asked to adhere to social distancing measures including remaining six feet apart from each other.
The order issued on April 24 also mandates that all Michiganders wear masks in public.
What am I allowed to do?
The order mandates that Michigan residents need to stay home unless they are doing one of the following:
To engage in an outdoor activity, like walking, hiking, running. People still need to remain at least six feet apart from anyone outside their household. Outdoor recreation includes walking, hiking, running, cycling, boating, golfing, or other similar activity, as well as any comparable activity for those with limited mobility.
To perform jobs if they are critical infrastructure workers or in industries that have been allowed to reopen.
To perform necessary government activities
To perform tasks necessary to their health and safety, including getting medication or seeking medical or dental care
To obtain necessary services and supplies, including groceries, takeout food, gasoline, medical supplies and any other products. However, people are urged to use delivery services as much as possible and limit the number of household members who leave the house.
To care for a family member or a family member's pet in another household
To care for minors, dependents, the elderly, persons with disabilities, or other vulnerable people
To visit an individual under the care of a healthcare facility, residential facility or congregate care facility
To attend legal proceedings or hearings for essential or emergency purposes as ordered by a court
To work or volunteer for a business that provides food, shelter or other needs for economically disadvantaged people or other individuals in need, like people with disabilities.
To attend a funeral, provided no more than 10 people are in attendance.
To attend a meeting of an addiction recovery mutual aid society, provided that no more than 10 people are in attendance.
To view a real-estate listing by appointment, as permitted under section 11(g) of this order.
To participate in training, credentialing, or licensing activities that are permitted
For individuals in Regions 6 or 8, to go to a restaurant or a retail store.
To go to a retail store by appointment, as permitted within the order.
To attend a social gathering of no more than 10 people.
Where can I travel?
Here is where individuals are allowed to travel:
To return home from outside the state
To leave Michigan to go home elsewhere
Between two residences in this state, including moving to a new residence.
To travel under a court order, including transporting children under a custody agreement
All other travel is prohibited, including to vacation rentals.
What workforces are exempt from the order?
The executive order says that "critical infrastructure workers" are exempt from the order. Here's what industries that applies to:
Health care and public health.
Law enforcement, public safety, and first responders.
Food and agriculture.
Energy.
Water and wastewater.
Transportation and logistics.
Public works.
Communications and information technology, including news media.
Other community-based government operations and essential functions.
Critical manufacturing.
Hazardous materials.
Financial services.
Chemical supply chains and safety.
Defense industrial base.
Child care workers
Workers at designated suppliers and distribution centers
Workers in the insurance industry, but only if their work cannot be done remotely.
Workers or volunteers for businesses or operations that provide food, shelter and other necessities for economically disadvantage or otherwise needy individuals.
Workers who perform critical labor union functions, including those who administer health and welfare funds and those who monitor the well-being and safety of union members who are critical infrastructure workers
Workers at retail stores who sell groceries, medical supplies and products necessary to maintain the basic operation of residences. This includes convenience stores, pet supply stores, auto supplies and repair stores, hardware and home maintenance stores and home appliance retailers.
Workers at laundromats, coin laundries, and dry cleaners
Workers at hotels and motels, provided they do not offer gyms, pools, spas, dining, entertainment facilities, meeting rooms, or like facilities.
Workers at car dealerships who are necessary to facilitate remote sales or leases, deliver cars to customers, but showrooms should remain closed.
Workers who are necessary to allow a business maintain its operations are also exempt from the order. Whitmer said businesses must determine which workers are required to conduct basic minimum operations, but she urged companies to take it seriously. Businesses need to make such designations in writing.
Businesses that do still have workers going in are required to adopt social distancing practices and other mitigation measures including:
Restricting the number of workers at the premises
Promote remote work as much as possible
Keep all workers on the premises at least 6-feet apart
Increase standards of cleaning to limit exposure to COVID-19
Adopt policies to prevent workers from entering the premises if they display respiratory symptoms or had contact with a COVID-19 patient
Industries that are allowed to perform resumed activities under recent orders:
Workers who process or fulfill remote orders for goods for delivery or curbside pick-up.
Workers who perform bicycle maintenance or repair.
Workers for garden stores, nurseries, and lawn care, pest control, and landscaping operations.
Workers for moving or storage operations.
Workers who perform work that is traditionally and primarily performed outdoors, including but not limited to forestry workers, outdoor power equipment technicians, parking enforcement workers, and outdoor workers at places of outdoor recreation not otherwise closed.
Workers in the construction industry, including workers in the building trades (plumbers, electricians, HVAC technicians, and similar workers).
Workers in the real-estate industry, including agents, appraisers, brokers, inspectors, surveyors, and registers of deeds, provided that:

Any showings, inspections, appraisals, photography or videography, or final walk-throughs must be performed by appointment and must be limited to no more than four people on the premises at any one time. No in-person open houses are permitted.
Private showings may only be arranged for owner-occupied homes, vacant homes, vacant land, commercial property, and industrial property.

Workers necessary to the manufacture of goods that support workplace modification to forestall the spread of COVID-19 infections.
Workers necessary to train, credential, and license first responders (e.g., police officers, fire fighters, paramedics) and health-care workers, including certified nursing assistants, provided that as much instruction as possible is provided remotely.
Workers necessary to perform manufacturing activities. Manufacturing work may not commence under this subsection until the facility at which the work will be performed has been prepared to follow the workplace safeguards described by the state.
Workers necessary to conduct research activities in a laboratory setting.
For Regions 6 and 8, beginning at 12:01 am on May 22, 2020, workers necessary to perform retail activities, described as:

The selling of goods and the rendering of services incidental to the sale of the goods (e.g., any packaging and processing to allow for or facilitate the sale and delivery of the goods).
To exclude those places of public accommodation that are closed under Executive Order 2020-69 and any orders that may follow from it.

For Regions 6 and 8, beginning at 12:01 am on May 22, 2020, workers who work in an office setting, but only to the extent that such work is not capable of being performed remotely.
For Regions 6 and 8, beginning at 12:01 am on May 22, 2020, workers in restaurants or bars, subject to the capacity constraints and workplace standards like limiting capacity and implementing cleaning practices. Nothing in this subsection should be taken to abridge or otherwise modify the existing power of a local government to impose further restrictions on restaurants or bars.
Workers necessary to prepare a workplace to follow the workplace standards and to otherwise ready the workplace for reopening.
Beginning at 12:01 am on May 26, 2020, workers at motor vehicle dealerships, provided that showrooms are open only by appointment.
Beginning at 12:01 am on May 26, 2020, workers necessary to perform retail activities by appointment, provided that the store is limited to 10 customers at any one time. For purposes of this order, retail activities are defined:

As the selling of goods and the rendering of services incidental to the sale of the goods (e.g., any packaging and processing to allow for or facilitate the sale and delivery of the goods).
To exclude those places of public accommodation that are closed under Executive Order 2020-69 and any orders that may follow from it.
Workers at suppliers, distribution centers, or service providers whose in-person presence is necessary to enable, support, or facilitate another business's or operation's resumed activities, including workers at suppliers, distribution centers, or service providers along the supply chain whose in-person presence is necessary to enable, support, or facilitate the necessary work of another supplier, distribution center, or service provider in enabling, supporting, or facilitating another business's or operation's resumed activities. Suppliers, distribution centers, and service providers that abuse their designation authority under this subsection shall be subject to sanctions to the fullest extent of the law.
What regions have partially reopened?
Michigan is divided into eight regions that a task force is using to assess how and when to partially reopen more businesses.
Region 1: Monroe, Washtenaw, Livingston, Genesee, Lapeer, Saint Clair, Oakland, Macomb, and Wayne.
Region 2: Mason, Lake, Osceola, Clare, Oceana, Newaygo, Mecosta, Isabella, Muskegon, Montcalm, Ottawa, Kent, and Ionia.
Region 3: Allegan, Barry, Van Buren, Kalamazoo, Calhoun, Berrien, Cass, Saint Joseph, and Branch.
Region 4: Oscoda, Alcona, Ogemaw, Iosco, Gladwin, Arenac, Midland, Bay, Saginaw, Tuscola, Sanilac, and Huron.
Region 5: Gratiot, Clinton, Shiawassee, Eaton, and Ingham.
Region 6: Manistee, Wexford, Missaukee, Roscommon, Benzie, Grand Traverse, Kalkaska, Crawford, Leelanau, Antrim, Otsego, Montmorency, Alpena, Charlevoix, Cheboygan, Presque Isle, and Emmet.
Region 7: Hillsdale, Lenawee, and Jackson.
Region 8: Gogebic, Ontonagon, Houghton, Keweenaw, Iron, Baraga, Dickinson, Marquette, Menominee, Delta, Alger, Schoolcraft, Luce, Mackinac, and Chippewa.
So far, regions 6 and 8 have partially reopened, with retailers and restaurants allowed to resume operations with certain restrictions.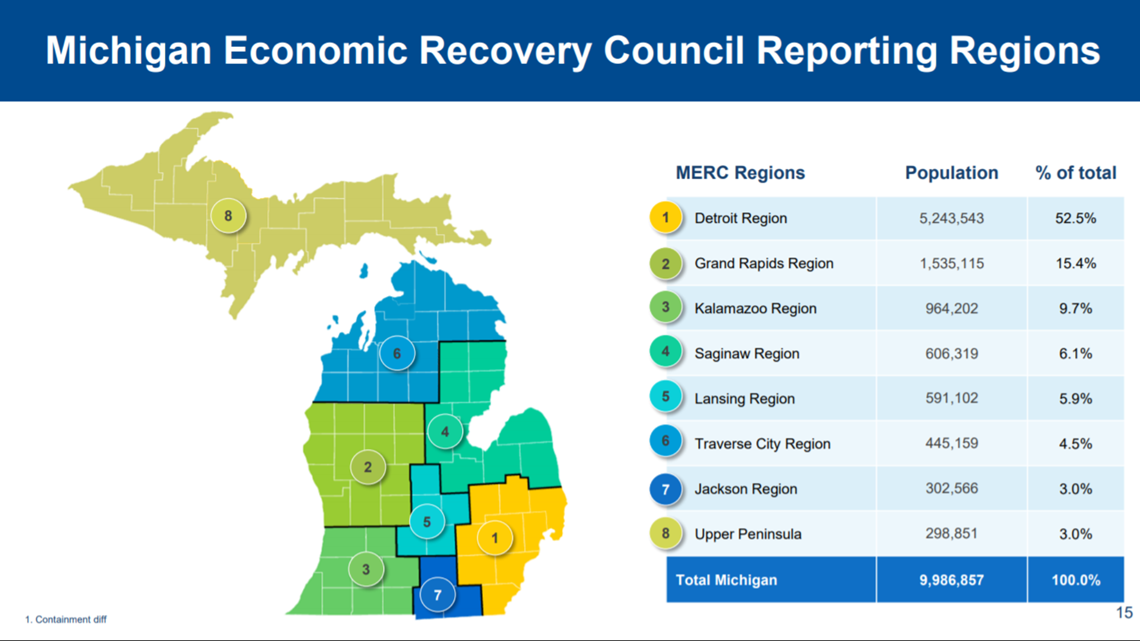 What government functions are still operating?
All non-essential government functions are suspended. But work done by critical infrastructure workers is still allowed that includes:
Law enforcement, public safety and first responders
Public transit
Trash pickup and disposal
Activities necessary to manage and oversee elections
Operations necessary to enable transactions that support the work of a business's or operation's critical infrastructure workers
The maintenance of safe and sanitary public parks so as to allow for outdoor recreation.
What regulations do grocery stores have?
Any store that remains open needs to comply with regulations within the order. That includes:
Establish lines with markings to indicate safe social distancing between customers.
Consider establishing curbside pick-up to reduce in-store traffic.
For stores of less than 50,000 square feet, limit the number of people in the facility (including staff) to less than 25% of occupancy limits.
For stores of more than 50,000 square feet, limit the number of customers to 4 people per 1,000 square feet of floor space.

Large stores must create two hours a week of dedicated shopping time for vulnerable populations, which includes: people over 60, pregnant women, and those with chronic conditions like heart disease, diabetes, and lung disease.
STATE RECOMMENDATIONS FOR COVID-19
Patients with confirmed infection have reportedly had mild to severe respiratory illness with symptoms of:
Fever
Cough
Shortness of breath
The best prevention for viruses, such as influenza, the common cold or COVID-19 is to:
If you think you have been exposed to COVID-19, call your health care provider. If you do not have a health care provider, call the nearest hospital.
Wash your hands often with soap and warm water for 20 seconds. If not available, use hand sanitizer.
Avoid touching your eyes, nose, or mouth with unwashed hands.
Cover your mouth and nose with a tissue or upper sleeve when coughing or sneezing.
Avoid contact with people who are sick.
If you are sick, stay home, and avoid contact with others.
Stay at least 6 feet away from others when in a public setting.