TOLEDO, Ohio — Saturday Evening First Alert Forecast:
- Cool and crisp Saturday night
- Sunny and cool Sunday
- Midweek rain showers possible
- Turning even cooler late week

Did you feel the cooler breeze today?
The cold front that swept through this weekend will leave behind an October chill.
Temperatures tonight will dip down to the mid-40s as those fair-weather cumulus clouds clear out.
If you live northwest of Toledo, like Bryan or Hillsdale, you could feel morning temperatures in the low 40s!
Sunday will bring bright sunshine and cool temperatures. You'll still feel that brisk breeze out of the northwest but see much more blue in the sky.

The sunny and cool weather will continue into the workweek.
Monday will bring brilliant sunshine and highs in the mid-60s.
Temperatures will gradually warm up near 70 degrees by midweek.
Our next chance for rain showers will hold off until late Wednesday into Thursday as a low-pressure system and cold front move through the Great Lakes.
You'll feel some cold rain showers and possibly hear a few cracks of thunder.
Behind that front, high a chilly west wind will develop as temperatures will drop down to the upper 50s late week!
Next weekend looks bright and sunny with an autumn chill.
This cooler weather pattern will bring out the fall color this week!
Higher autumn temperatures
Why so late on the Fall colors? Halfway through Fall and we have recorded our ALL-TIME WARMEST start to the season, and it wasn't even close. We also had our 3rd wettest start to the season.

Here are the top 10 warmest starts to Fall ( 9/1 to 10/15) on record. Notice 4 of the 10 warmest have happened in the past 5 years. This is a detectable shift in our overall climate to warmer Autumn weather.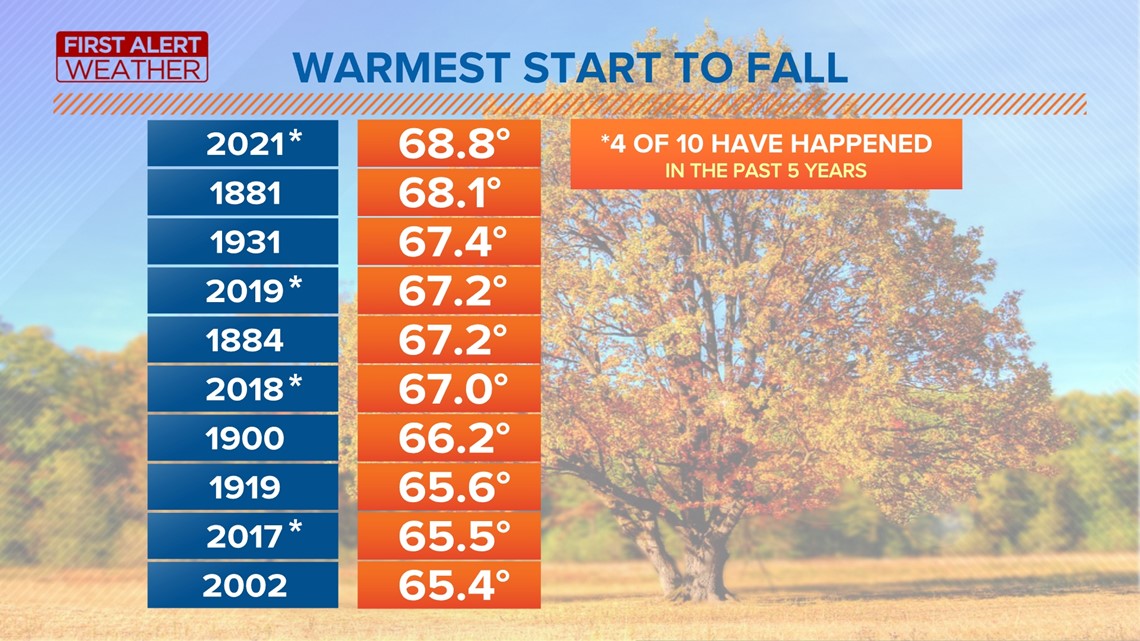 This season has been extremely wet too. The fall season alone is the 3rd wettest on record with 9.82" of precipitation. That is +5.61" above normal.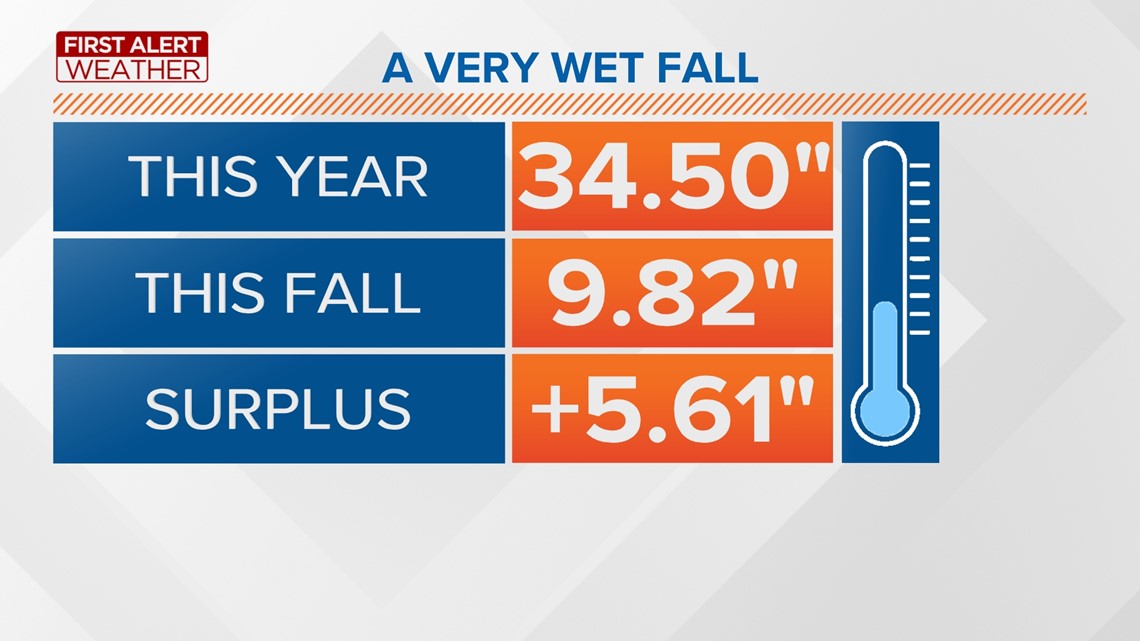 Fall foliage!
Here's where we stand for fall colors this year! Our fall color is just starting and would be described as "spotty."
It is very likely we are at least 2 weeks (possibly 3 weeks in spots) from the full peak.
We will be past peak by the end of the month and into early November.
Send us your fall photos by texting 419-248-1100 or by submitting them through our free WTOL 11 News app!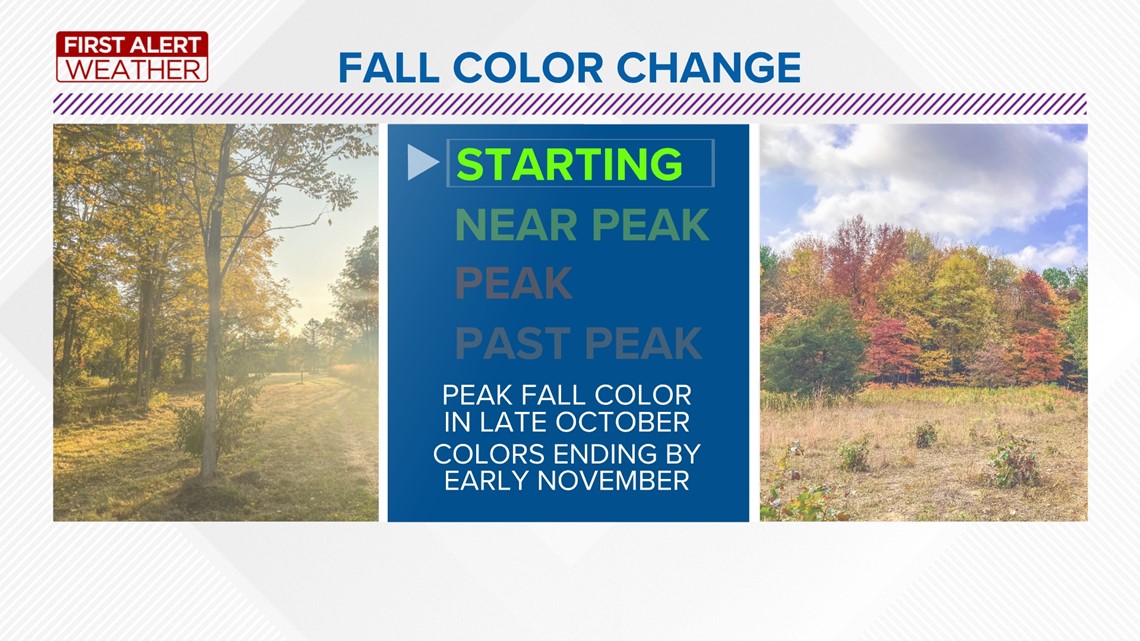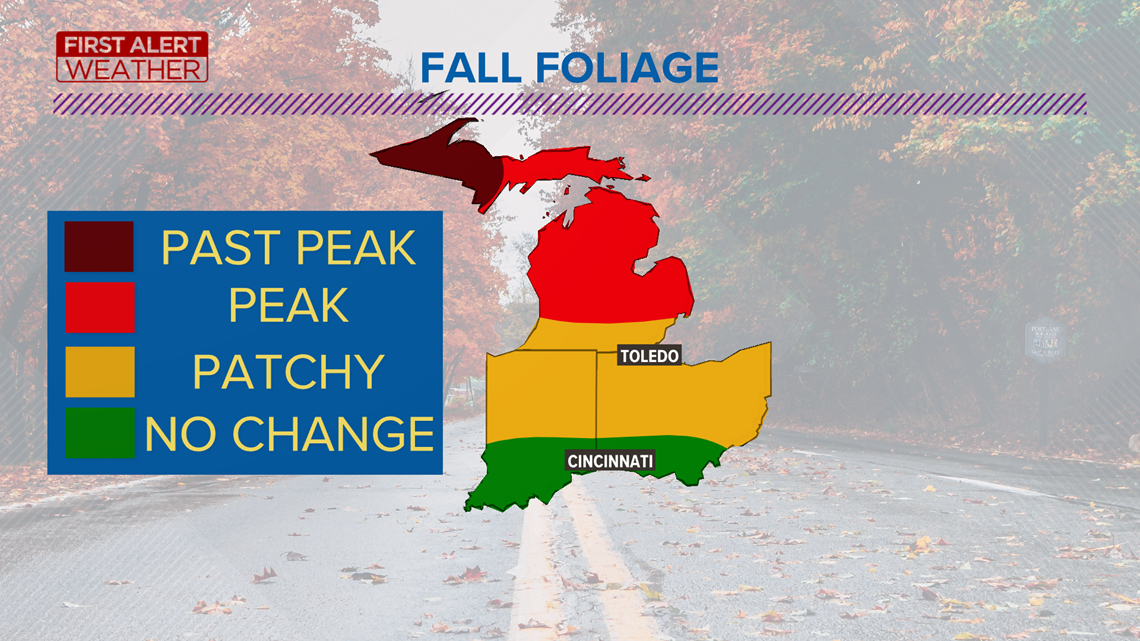 Download the WTOL 11 First Alert Weather app for the latest updates right to your phone! Just click this link for exclusive videos and local coverage from our First Alert Weather Team.
If you're on the fence, First Alert Chief Meteorologist Chris Vickers explains (with enthusiasm) why you should get our free app, rather than spend money on a copy of Farmers' Almanac!