TOLEDO, Ohio — Temperatures will rebound to near 30° Sunday afternoon as sunshine returns! A bit more cloud cover is possible east of Toledo, a sign of incoming snow.

While the blockbuster winter storm that will dump over a foot of snow on parts of the Mid-Atlantic will miss us to the east, it will still bring some minor local impacts.
Snow showers will develop Sunday night after midnight in eastern Ohio. Erie and Huron counties will begin to see snowfall into Monday morning. Light accumulations of an inch or two are possible east of the I-75 corridor.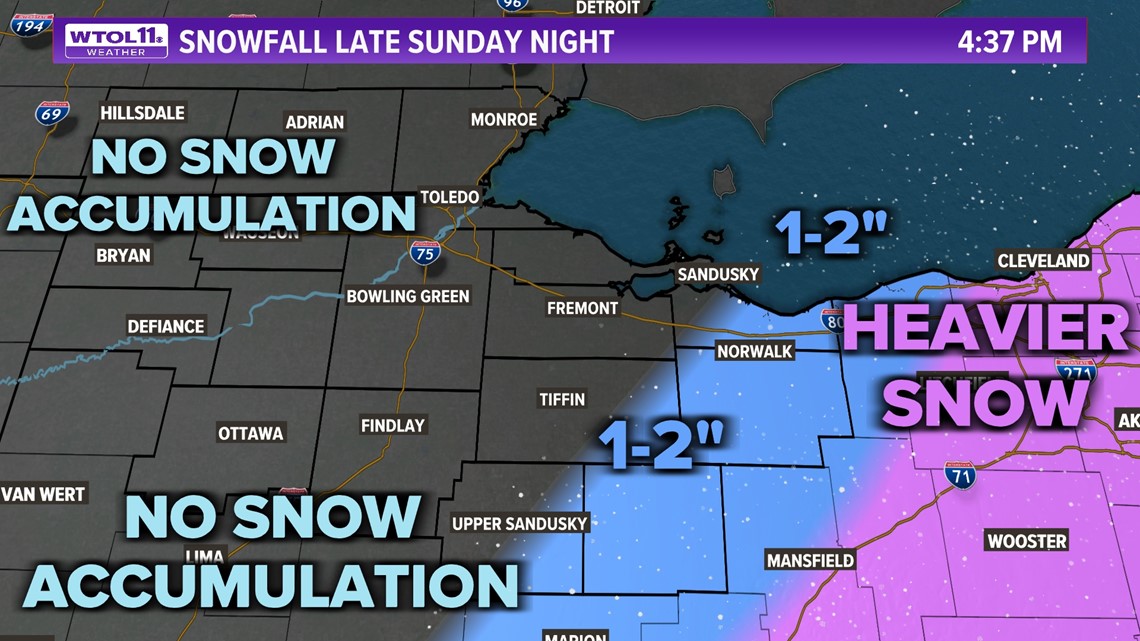 The grass will remain bare in the Toledo metro, but a few snow flurries are possible Monday.

Milder weather will arrive through midweek as temperatures reach the mid to upper-30s Tuesday and Wednesday!
You'll see a mix of sunshine and winter clouds. Tuesday will bring calm conditions, but a gusty northwest wind will pick up on Wednesday.
A cold front will usher in a winter chill on Thursday as high temperatures drop to the low-20s!
Chilly, but not unusual for this time of year, highs in the 20s and lows in the teens will continue into next weekend. Download the WTOL 11 weather app for the latest 10-day forecast!
WEEKEND WINTER STORM
A powerful winter storm will almost completely "boomerang" around northwest Ohio and southern Michigan. This winter storm will bring MAJOR impacts to many areas all around us, but not here locally.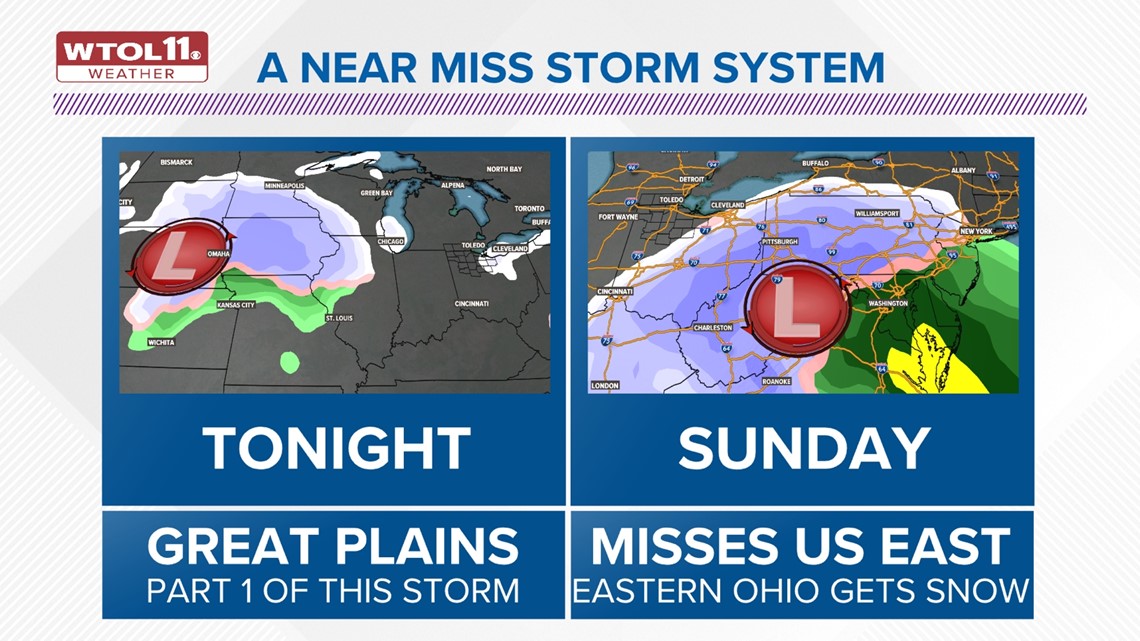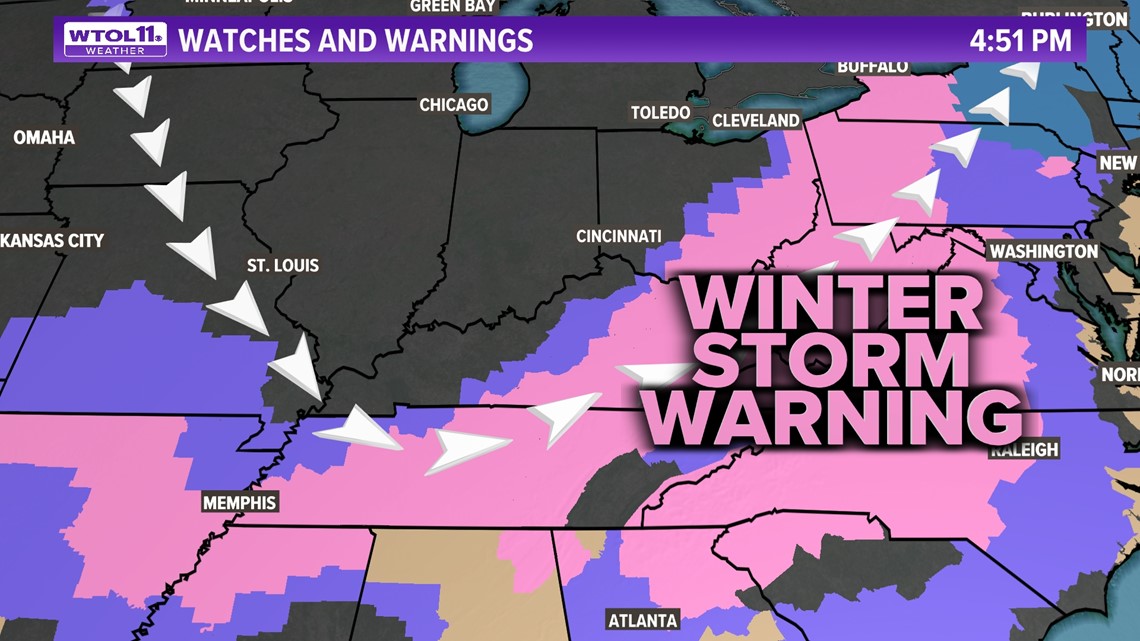 WINTER SO FAR
Here is a tally of our winter precipitation and snowfall for the season and how it does (or should we say doesn't?) stack up: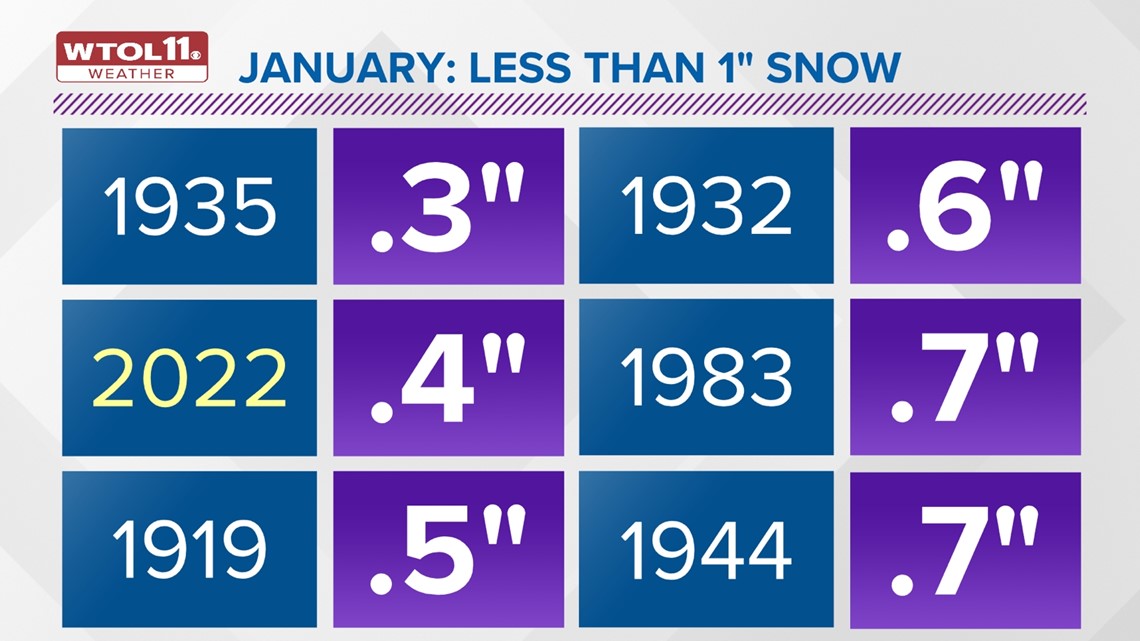 Winter weather outlook: What influences a winter season?
Few things get more attention than the chill of another winter season ahead. Sure, the snow no doubt will be falling, to the glee of some and the despair of others. The mounds of snow and piles will grow, but recently, only a few Winters have been memorable.
The question is, how will this winter season measure up!
The WTOL 11 Weather team has been researching months of data. Let's dive into what may shape the winter season ahead with Chief Meteorologist Chris Vickers.
Download the WTOL 11 Weather app for the latest updates right to your phone! Just click this link for exclusive videos and local coverage from our WTOL 11 Weather Team.
If you're on the fence, WTOL 11 Meteorologist John Burchfield explains why it's a good idea to open the WTOL 11 Weather app for your forecasts instead of putting your trust in social media.