TOLEDO, Ohio — The WTOL 11 Weather team is forecasting a return to wintry weather for the end of January.
An ALERT Day has been issued for Wednesday, Jan. 25, for the potential of more significant snow accumulation, a wintry mix and the colder more typical winter chill.
We want you to be the FIRST to know the details our WTOL 11 Weather team can tell about this possible upcoming storm.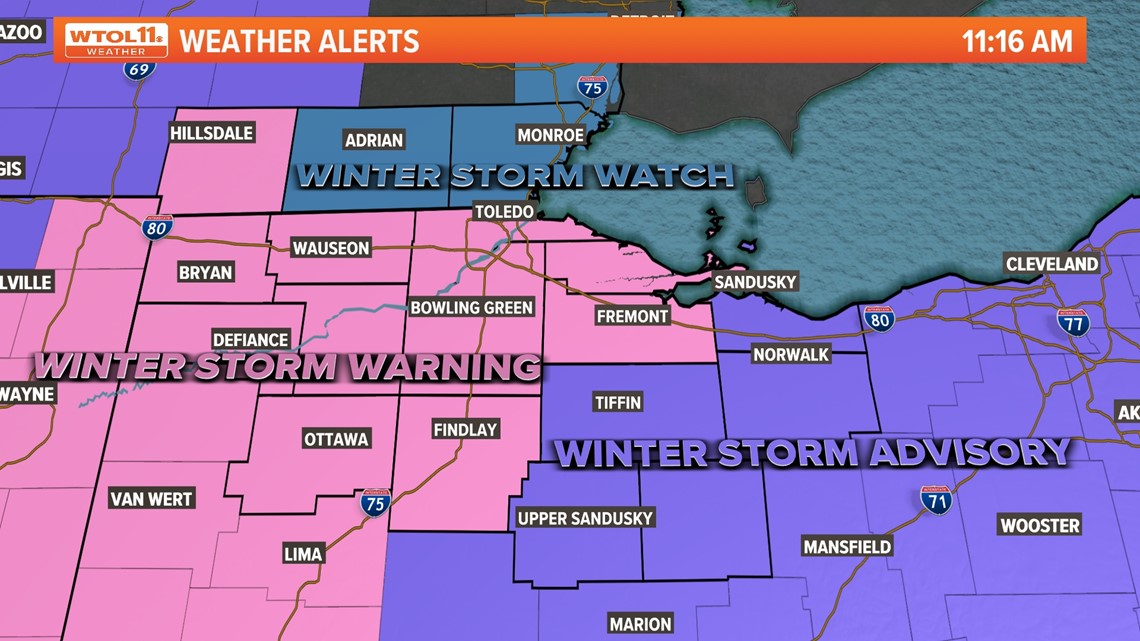 Here are the 3 Things to Know about the WTOL 11 ALERT Day on Wednesday:

#1 - This will be the biggest snowfall of the season. But that isn't saying much. The entire winter season snowfall before Sunday stands at only 3.1 inches which is a miniscule 20% of normal snowfall to date. On just a normal season, we would have received 16 inches of snow by this point in January.
4 to 7 inches of snow are possible for most of northwest Ohio. Areas in the southern and northern portions could easily receive 3 to 5 inches of snow. With a system such as this one that has many of the ingredients for heavier snow.
As of Tuesday, the WTOL 11 Weather Team has forecasted between 4 and 7 inches of snow in northwest Ohio, and three to five inches of snow in southeast Michigan and areas southeast of Findlay. Accumulation totals can change as the storm approaches. Stay with us for the latest. Thank you for your trust in the WTOL 11 Weather team.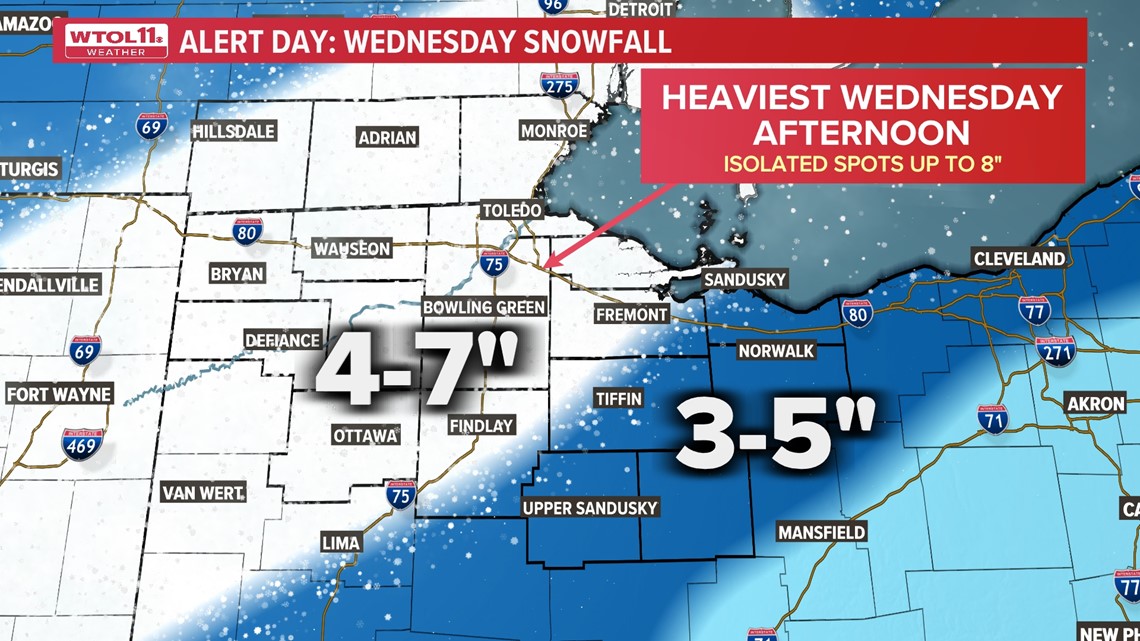 #2 - This system will bring anything from snow to a wintry mix. It all depends on the track the storm eventually takes. We now have better data, and good track of where this snowstorm will line up as we go into Wednesday morning. Computer model outputs have locked in on snow starting Wednesday morning, with snow lasting the entire day.

Keep in mind the eventual track of this storm may bring sharp differences in the amount of snow across our local viewing area. The WTOL 11 weather team does expect most areas will get at least 3 inches of snowfall.
The best advice this Wednesday is to stay alert throughout the day, as heavier snow moves in the afternoon just the evening commute starts. Visibility will be reduced throughout the day due to the larger flakes.

#3 - Winter cold is set to return. Well, it has been overdue. This has been the 3rd warmest start to January in recorded history. This month it is averaging 10.5° above normal. This very well could be the beginning of the expected "pattern flip" not only in temperatures but in snowfall pattern headed into February.
The WTOL 11 Weather team has been expecting for weeks in late January and early February. The colder weather may last only a few weeks into February.
HOW DOES THE WTOL 11 WEATHER TEAM FORECAST A WINTER STORM?