FORT MYERS BEACH, Fla. — Kalie Marantette's trip to Florida after Hurricane Ian isn't as a reporter on assignment for WTOL 11.
It's as a granddaughter, helping her grandmother salvage what she can from her home of 30-plus years in a neighborhood hit hard by the Category 4 hurricane on Sept. 29, 2022.
With a cellphone camera and her mother as a photographer, Marantette documents the recovery efforts by not just her family, but an entire community left devastated by the strength of the storm.
Monday, October 3

I'm here in Fort Myers Beach, Florida right now. Just a few days after hurricane Ian hit.
I'm here because my grandma's house was hit hard and my mom and I drove down here to get her and salvage what we could from her house.
I just want to show you guys what the next few days might look like for me here.
At her canal, you can see her siding laying there.
This is her house, her garage. It's pretty destroyed.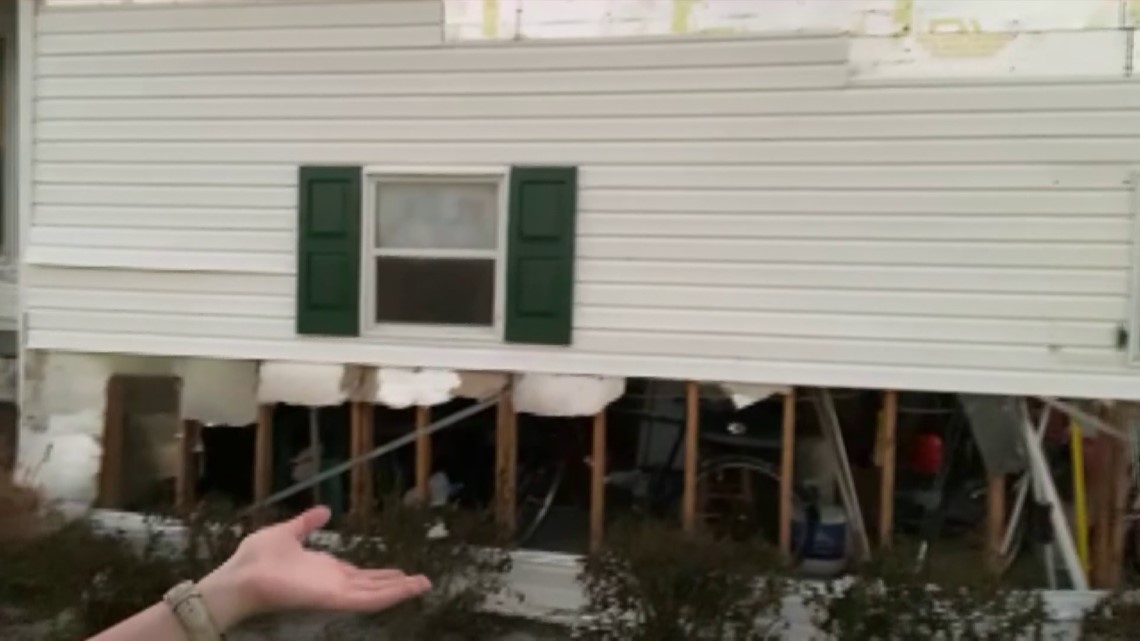 FEMA and the National Guard are across the street heading out water and some food. We just got some water from them.
This is a look at the inside of her house.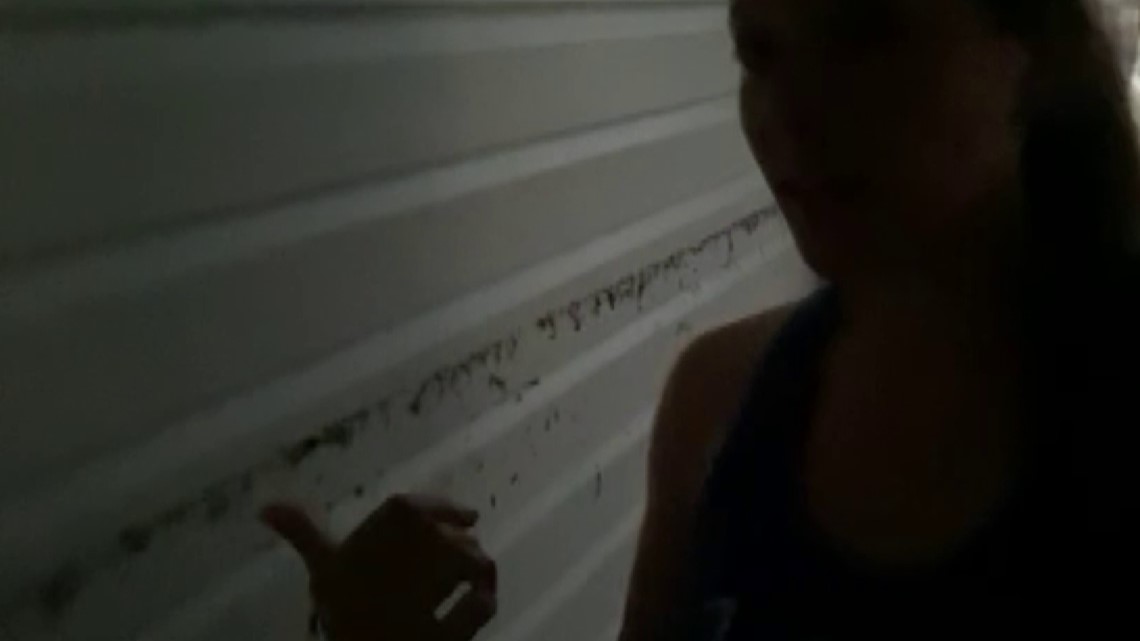 There was 4 feet of sewage in here and you can see the line here. It's about shoulder height on me, so it might have been a little higher than 4 feet.
Thankfully the water is gone and we are going to try to take what we can. But pretty much every drawer, everything we open up has sewage water in it.
My grandma's 89 and she's had this house for more than 30 years so it's been very hard for us but I will give you guys updates for the next few days that we are here.


Tuesday, Oct. 4

I'm in Ft. Myers Beach, Florida. It's been six days since Hurricane Ian hit.
We've been working all morning to get everything that's wet and damaged outside. So I want to show you more of my grandma's house now that it's daylight.
Inside we were able to get a lot of the furniture out. We're going to start ripping up the carpets since it's all damaged.
What I thought was really cool was that we were able to save all these old family photos. They were in the bottom of a cabinet on the bottom shelf.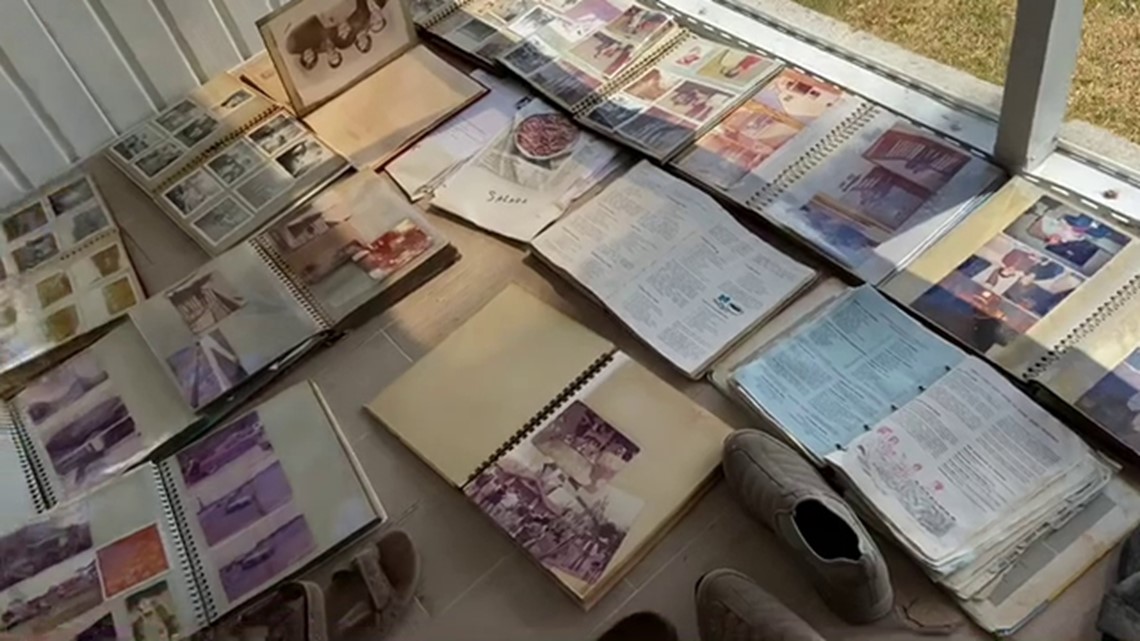 They're actually okay, they're a little wet. We left them out here to dry. Some of these things are irreplaceable so that's great news that we were able to save that.
I want to show you a little bit in here as well. We're trying to take trips to the storage unit with things that we can save. It's still a little muddy in here, but we were able to clean. You can see better today the sewage line that was here. This is where to sewage was in her house.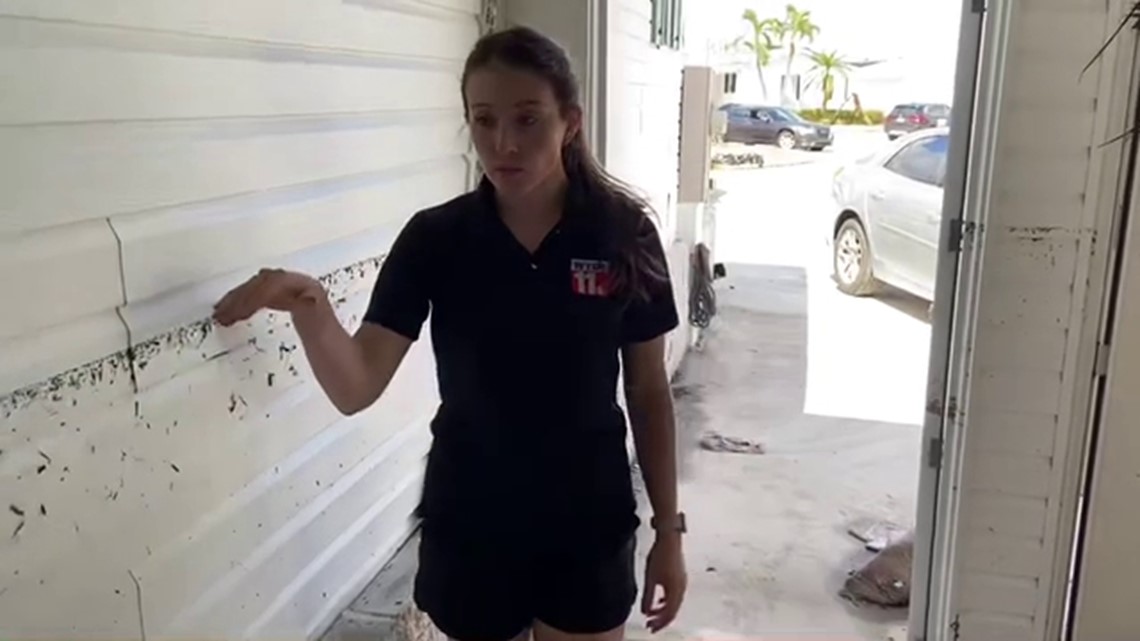 We just learned that there was a neighbor down the street whose house caught on fire. The power is off. We don't have power yet.
Most of the streets are blocked off around the area.
I want to show you where the tennis courts were and what it looks like now. There is some wood and aluminum siding that came from one of the houses here.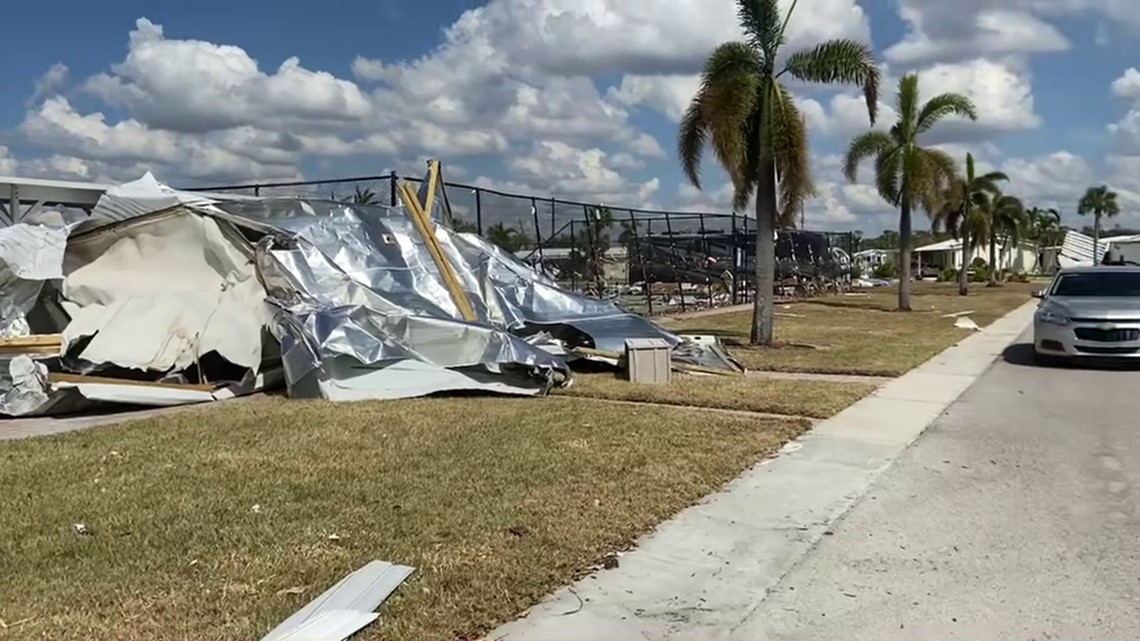 And if you look down here where the pool entrance used to be, this is what it looks like now. Two boats on top of each other.
It's been hard for our family. I have pictures of myself in this pool when I was a baby and now it's gone.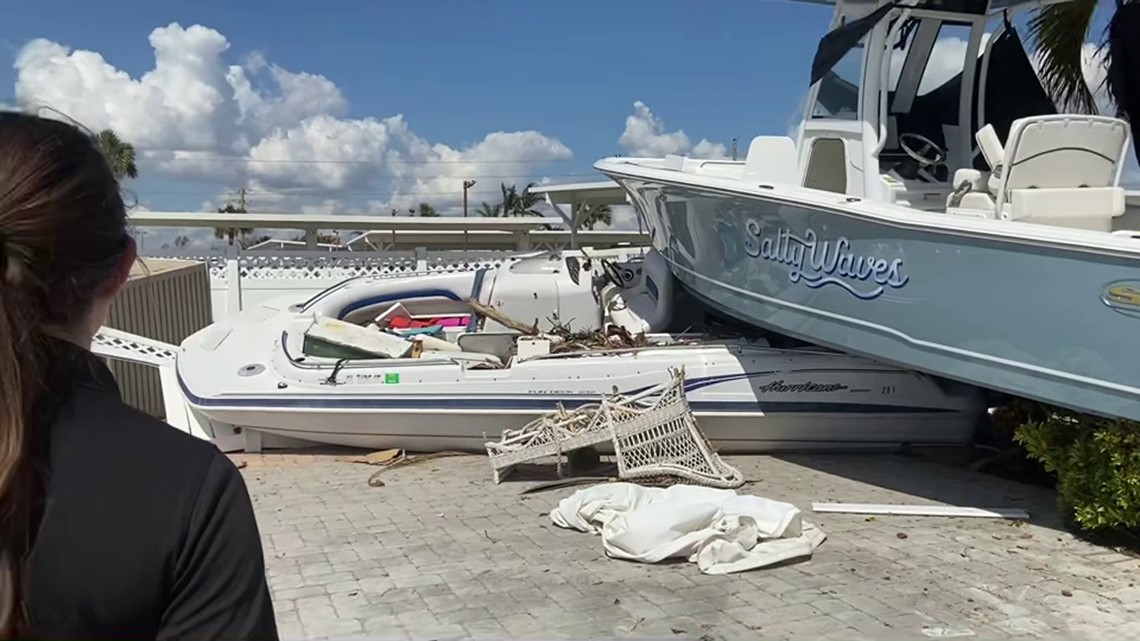 It's day three of being here in Fort Myers Beach. This is a look at my grandma's cul de sac. You can see people are throwing out everything that was damaged in their house.
Here's some of my grandma's stuff we've had to throw away.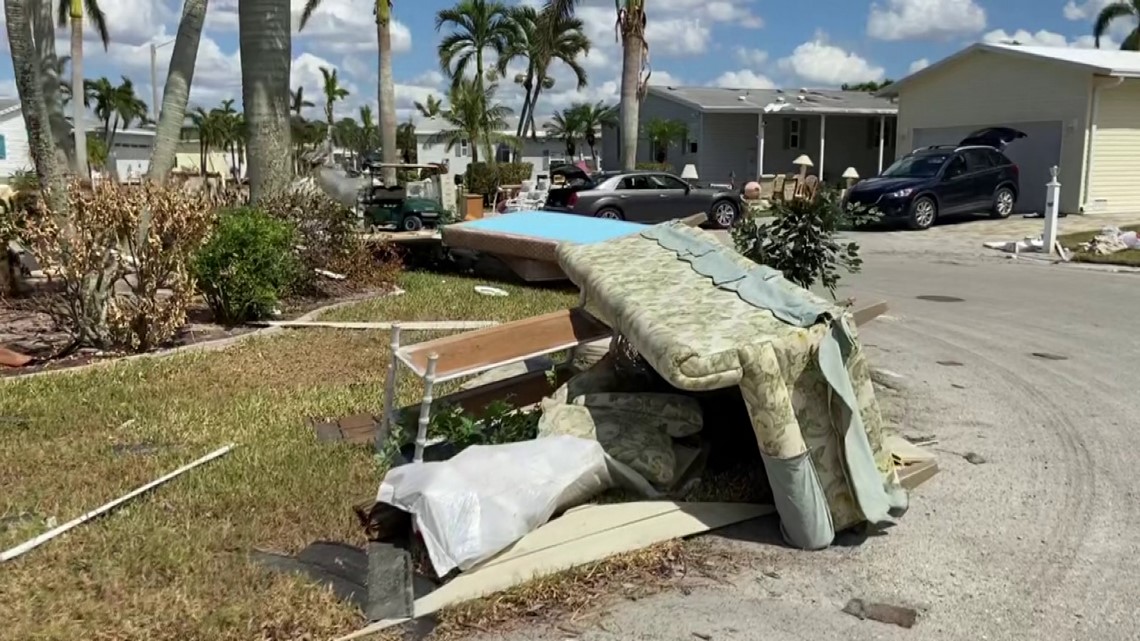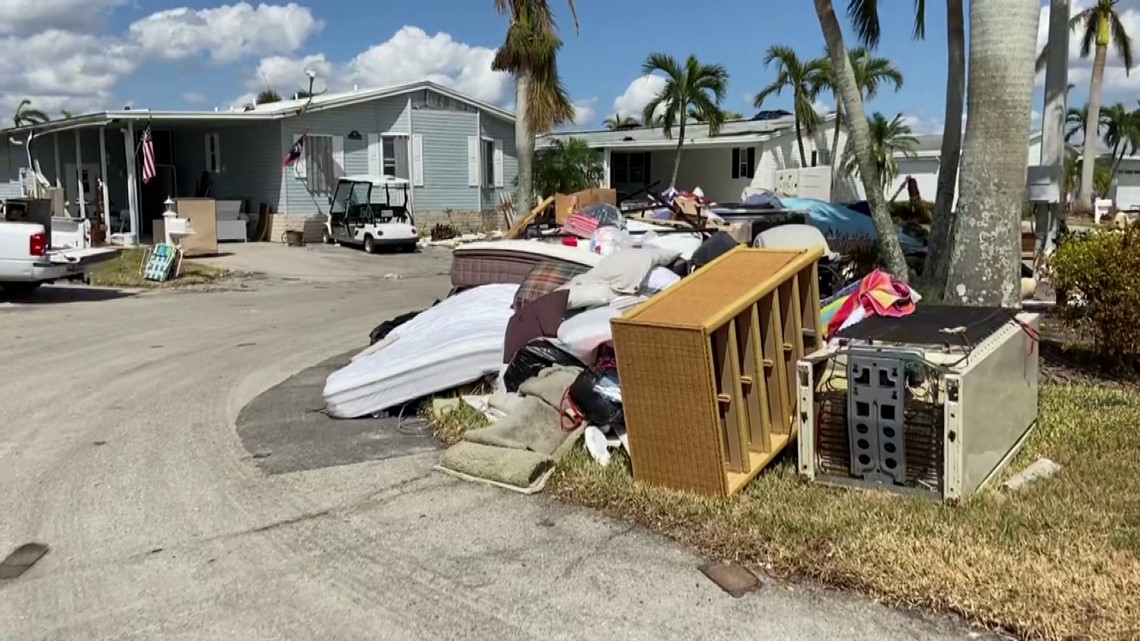 Pretty much every cul de sac and outside of people's houses looks like this because everything was damaged.
I got to speak to Mary Sue French, who lives further south. French's mom died of a heart attack in the last hurricane, and she came here to help her 90-year-old dad.
"I was terrified initially. We live in Naples and we had an impact there, but it was nothing like what we had here. As soon as I pulled into the development I saw the damage, I knew that we were going to have significant damage and work to do," French said.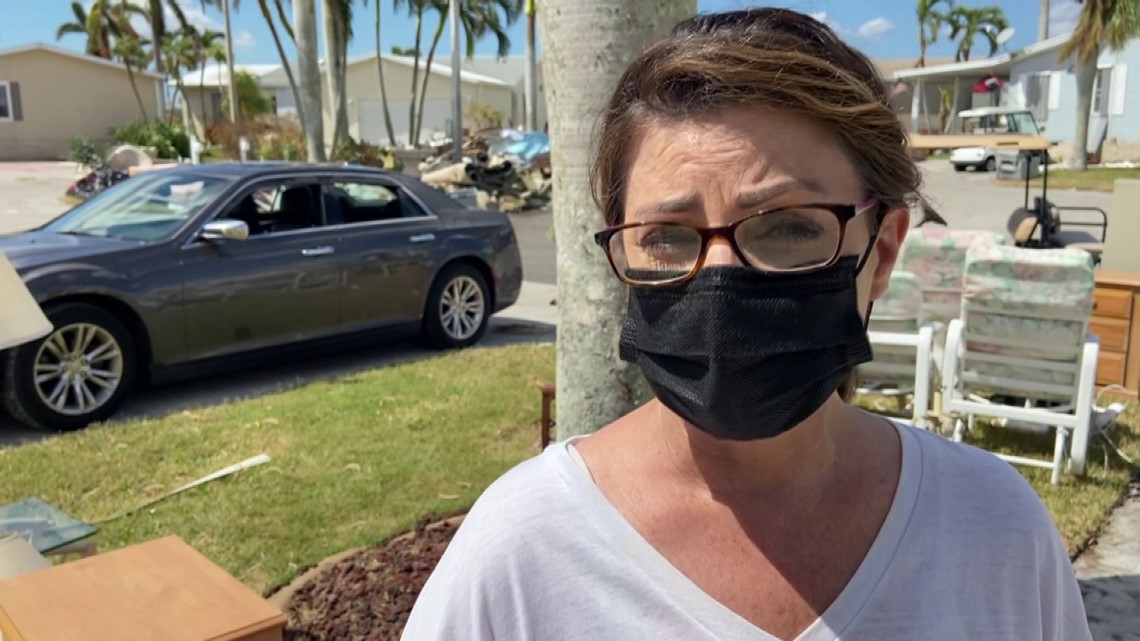 "The flood surge that came through this neighborhood has been devastating in terms of property and in terms of just the stress and difficulty of cleaning it up," she said. "I was shocked honestly. Fort Myers Beach here, this location, has been just devastated."
I want to show you a couple of the homes that I think got the worst damage in my grandma's area.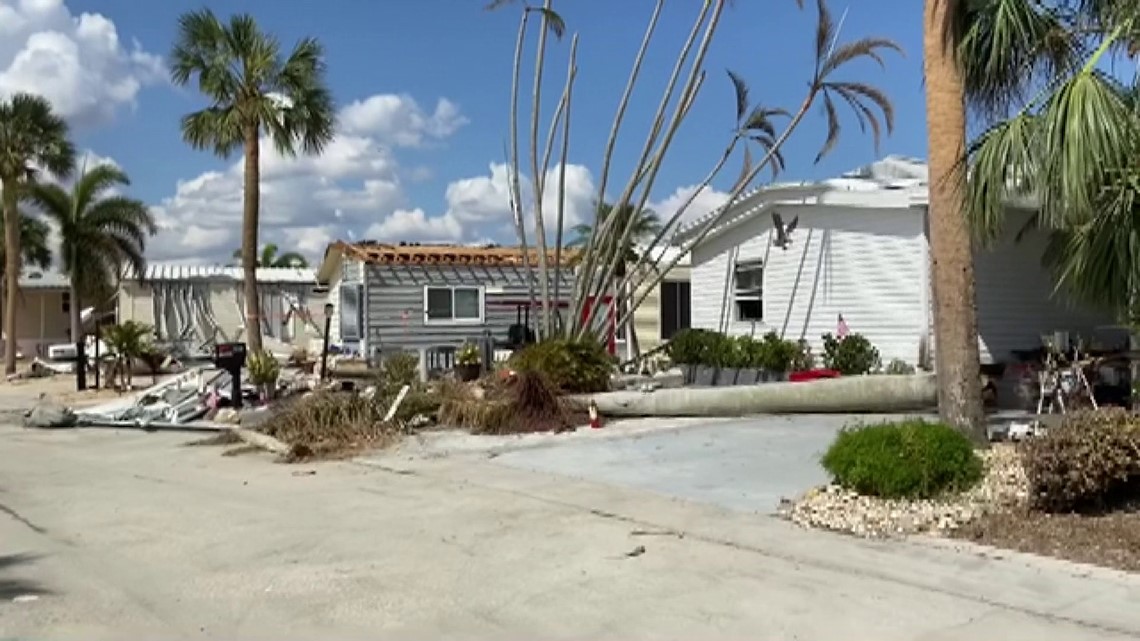 Over here, some of the roof is gone. Lots of people just trying to figure out what to do next. Some people are packing up their RVs and leaving and getting out.
There are lots of boats and homes, siding gone. People are trying to take stuff out of their homes, what they can get, what made it.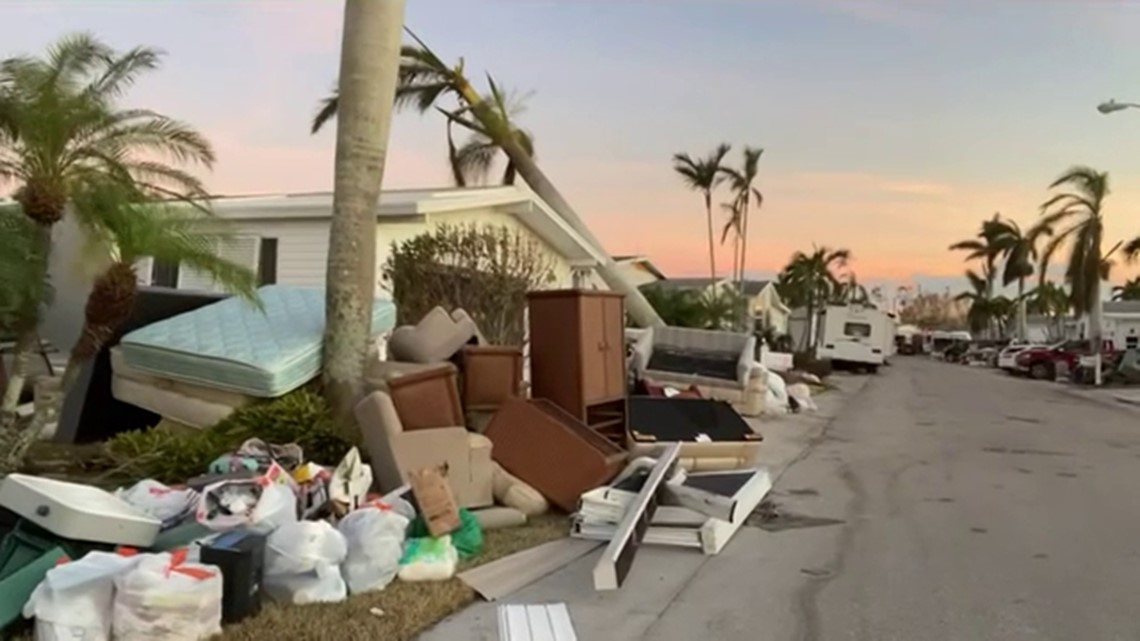 A lot of unanswered questions here, but I spoke to the park manager earlier.
"I've been through [hurricanes] Charlie, Irma, Wilma. Never seen anything like this in my life and those were pretty bad," he said. "So, this is it. This is the apex for me."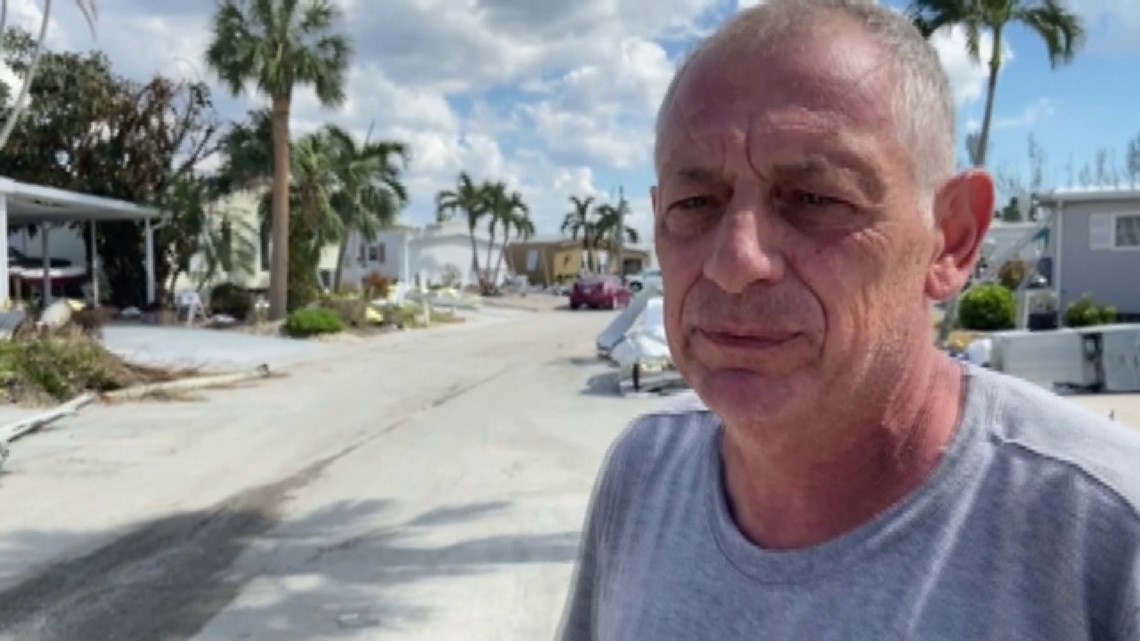 A lot of neighborhoods and communities are blocked off and they're only letting residents in.
There is someone at the front of this park asking what your address is and who you're related to here because they don't want people coming in and stealing or just coming around and looking at the damage because it is so bad.
In another neighborhood, there's a sign out front that says "residents only, looters will be shot."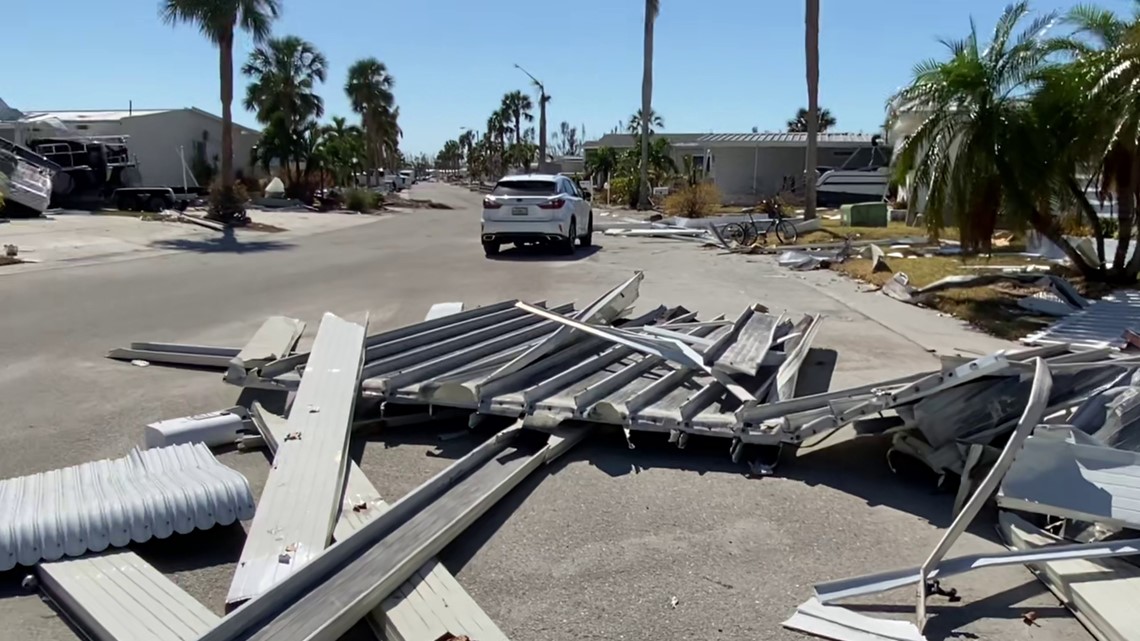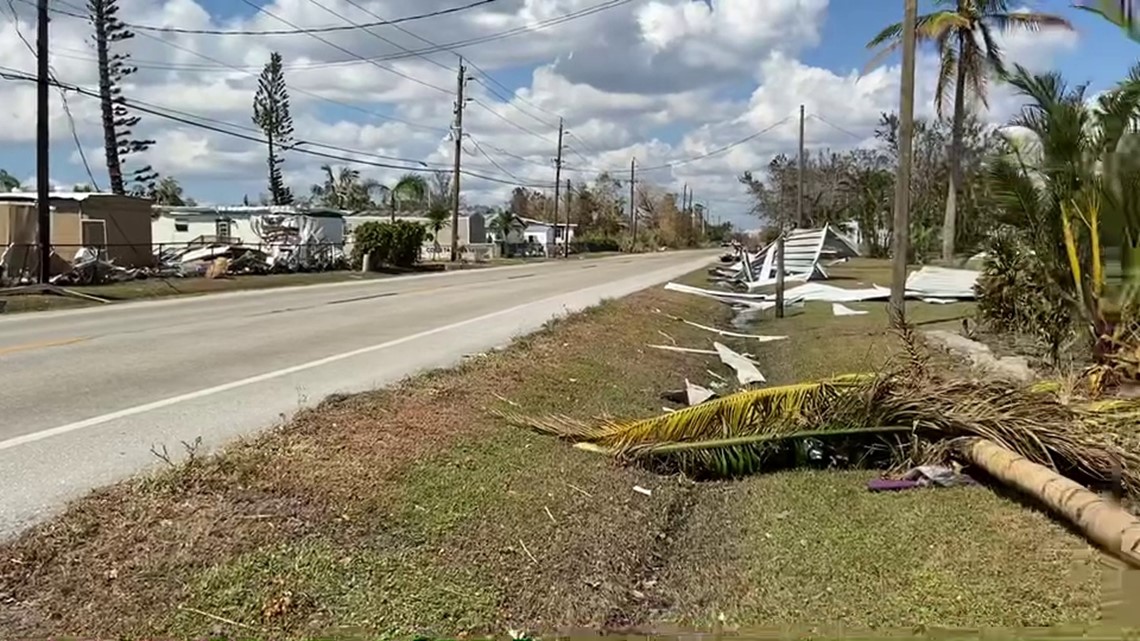 My grandma, just like a lot of other people around here, has been on hold with the insurance company.
They said they would bring someone out a few days ago but they're just so backed up that they can't get to us.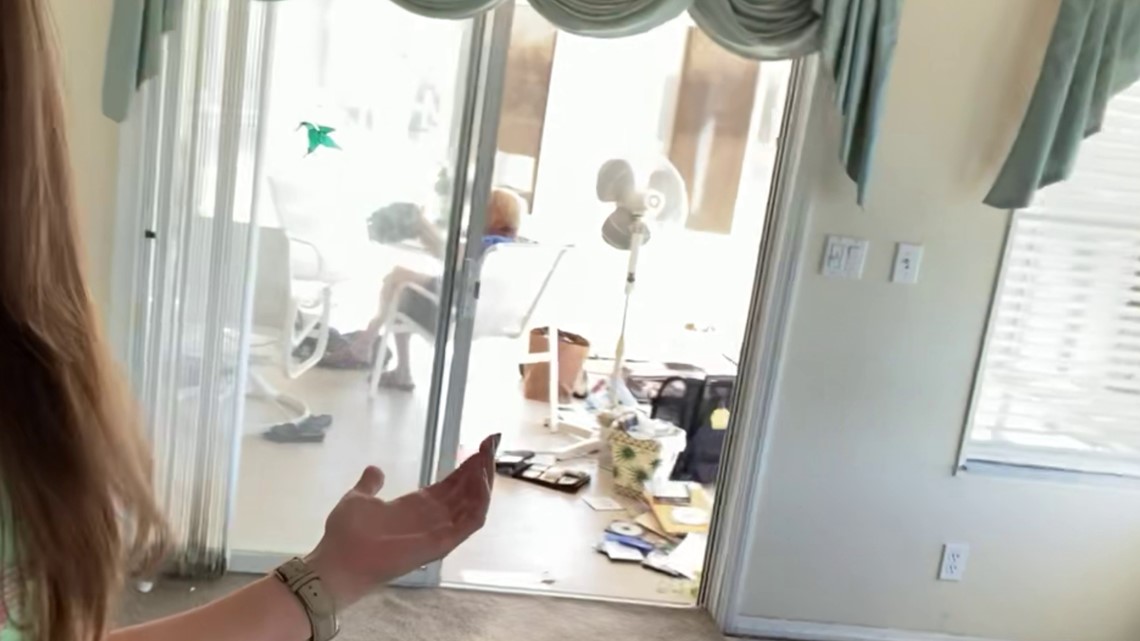 The bad thing about it being a week now since the water hit, is that things are starting to mold.
I just opened this drawer and everything is still full of water. Everything is stuck because all the wood is starting to expand. So we're kinda in a race against time here.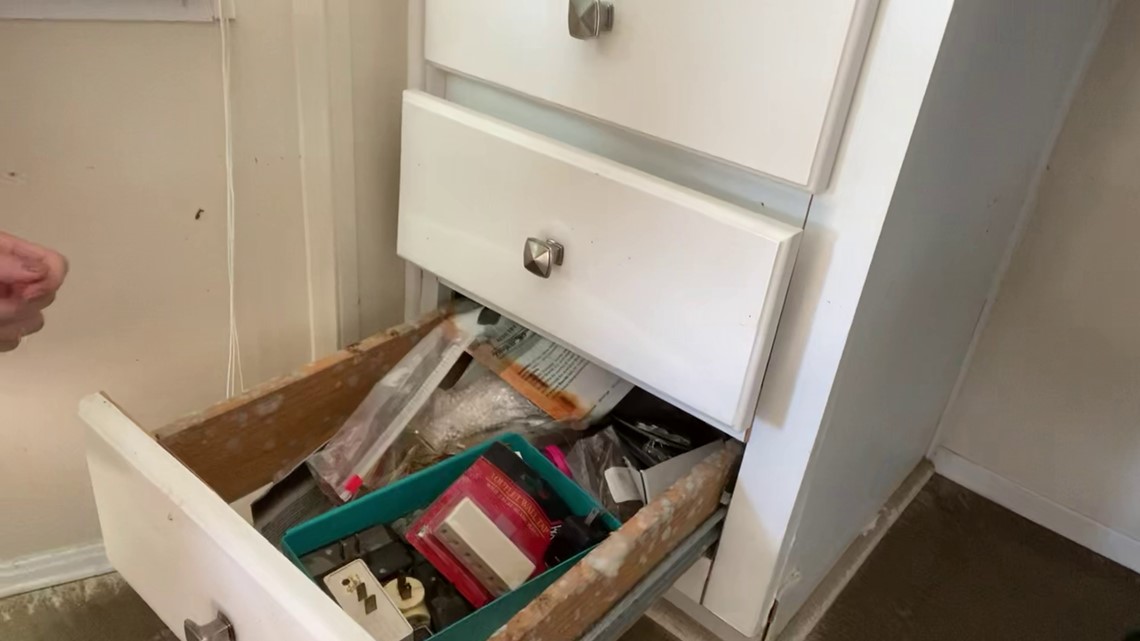 The walls are starting to crack so we really need an insurance adjuster out here.
Here's another look at my grandma's neighborhood. So much siding and debris on the ground. More boats in homes. A lot of these houses don't even have roofs anymore.
There were actually two people that ended up dying in this subdivision, from the hurricane.
I'll continue to give you updates over the next few days.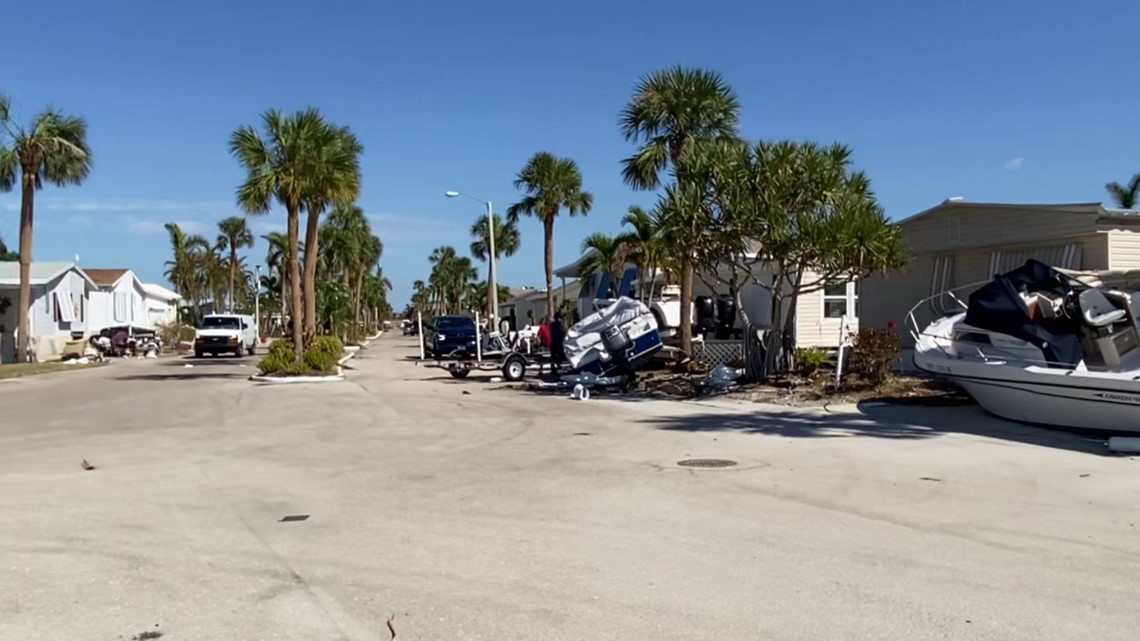 I'm still in Fort Myers Beach, Florida. I've been here since Monday helping my grandmother. Thankfully she's okay, but her home is not.
Right now there's a National Guard helicopter flying overhead with a shipping crate.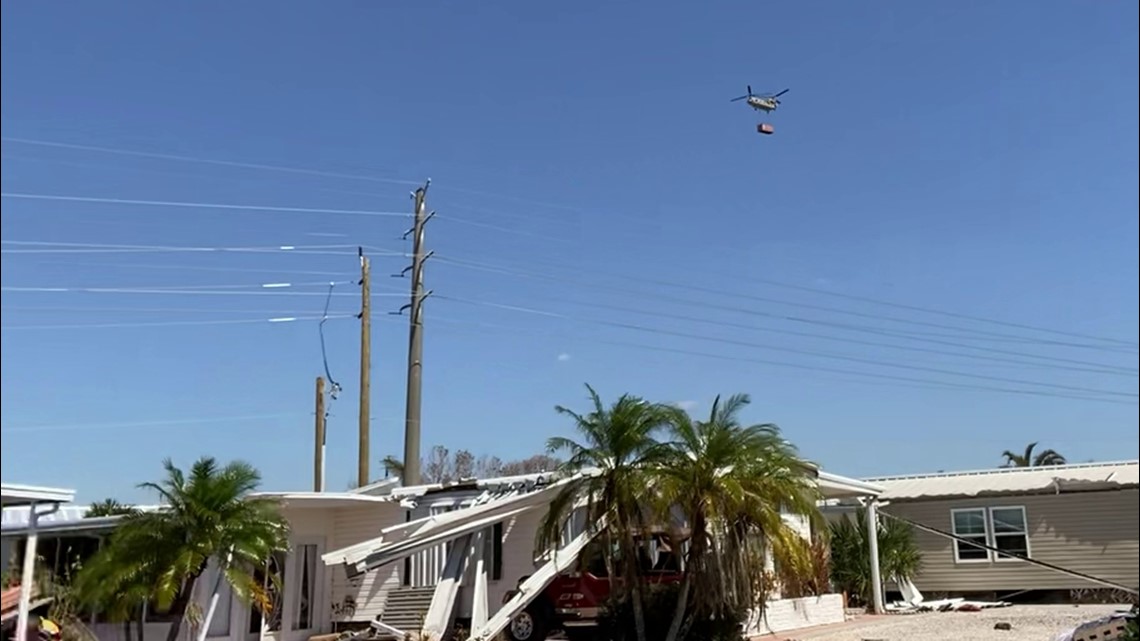 We're not sure where that shipping crate is being brought to, but National Guard has been flying overhead dozens of times a day.
I want to show you the main area where people are bringing the things that got destroyed in their homes.
This is what used to be our tennis courts and it has now been turned into a makeshift junkyard. Furniture, beds and everything in between. Things that are wet and starting to mold and grow mildew.
People aren't sure where to bring it, so they're bringing it here.

My grandma is still trying to cope with everything that's happened. She got on a plane yesterday to go stay with my aunt who lives in Las Vegas for a little while. My mom and I are still trying to figure out what's next here.
An insurance adjuster never came. We were on hold with FEMA for hours. We applied for crisis relief but no one ever showed up so we don't know if the house can be saved or not and we've lost a lot. I know I've only seen a fraction of the devastation here.
Honestly, I don't want to see the rest because it's very hard to wrap your head around. We actually had to show my grandma's ID with her address to be able to get down the street because police have so many different areas blocked off. It's been hard to realize just how bad things are.
If you know any groups or organizations that are helping people in Fort Myers, I know people here can use it. They can use any help they can get.
My mom and I are driving home tomorrow. 20 hours. So hopefully we'll make it there safe.
This will be one of my last updates.
For now, in Fort Myers Beach, Kalie Marantette, WTOL 11.
MORE FROM WTOL 11: