Tuesday's FIRST ALERT DAY left thousands without power in northwest Ohio and southeast Michigan.
Damage reports are rolling in as strong winds topple trees and down wires.
As of Wednesday morning, power is being quickly restored to those who lost power. Stay updated on the status of your power outage on the Toledo Edison website.
If you're somewhere safe, send us what you're seeing through our free WTOL 11 News app or by texting a pic or video to 419-248-1100.
3:50 a.m.
There are a little more than 1,500 Toledo Edison customers without power in Lucas County, a majority of those being in Toledo. Power is expected to be restored anywhere from 9 a.m. to 6 p.m. Stay updated on the status of your power outage on the Toledo Edison website.
2:00 a.m.
The 1400 block of Huron is blocked by a tree down across the road.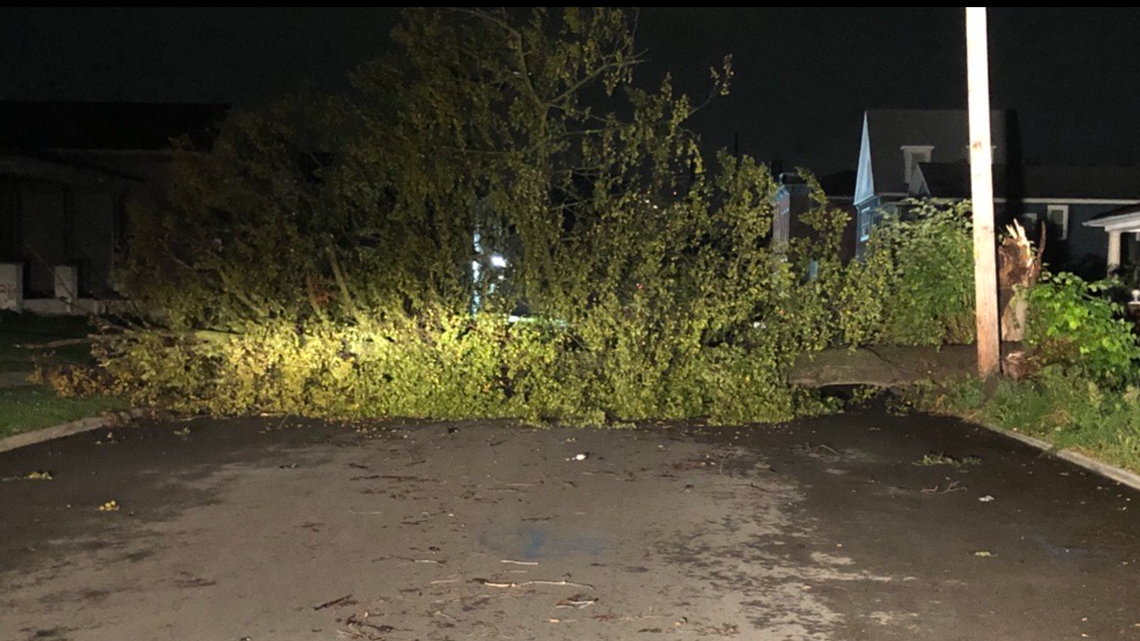 Bush St. between Huron and Erie St. is also not passable due to large tree limbs laying in the street.

10:50 p.m.
A FLASH FLOOD WARNING has been issued for the Toledo metro until 3:45 a.m. Rainfall of 1-3" has been reported with an additional 1" possible.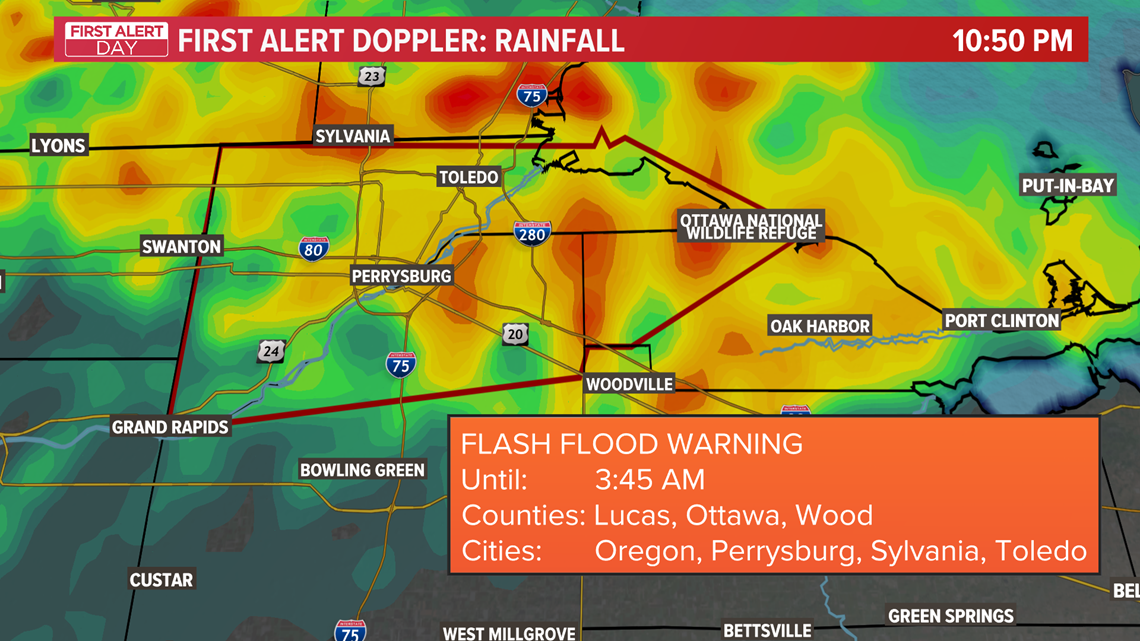 10:45 p.m.
According to the FirstEnergy outage map as of 10:45 p.m., 22,949 people were without power throughout the state, with the vast majority of 19,931 reported in Toledo and another 1,043 in Washington Twp.
Power is estimated to be restored to most areas of Lucas County by 1:30 a.m.
10:42 p.m.
80.48% of Washington Twp. FirstEnergy customers are without power.
Washington Twp. officials report a large area has had the power turned off and residents are requested to stay in their homes. Fire and police are working through the damage.
10:30 p.m.
Reports of downed trees and flooded roadways across the Toledo area.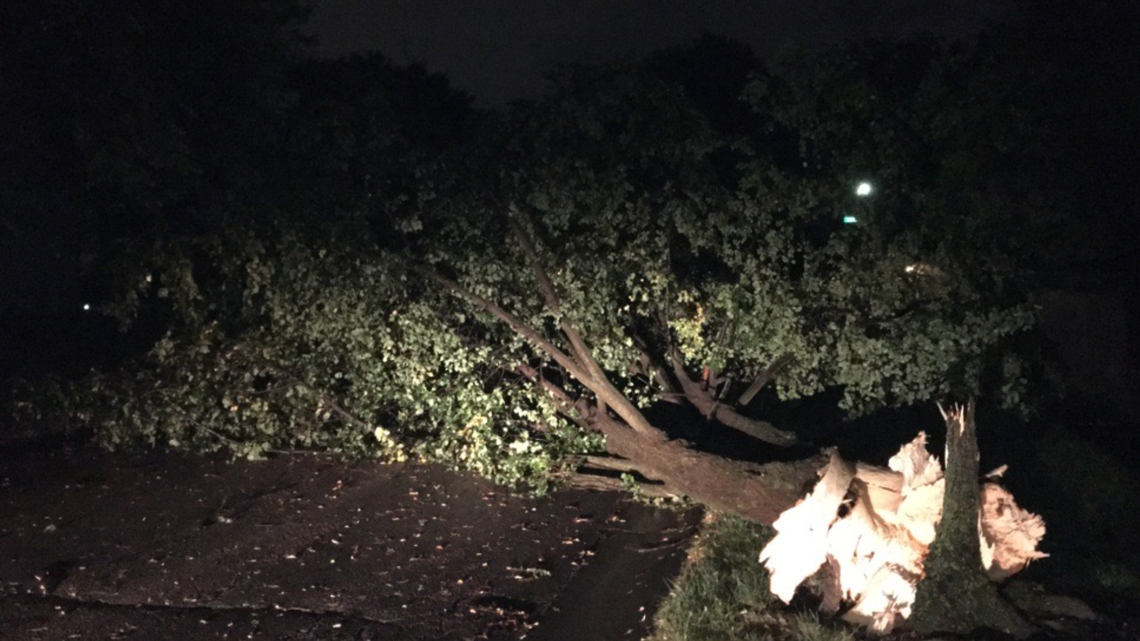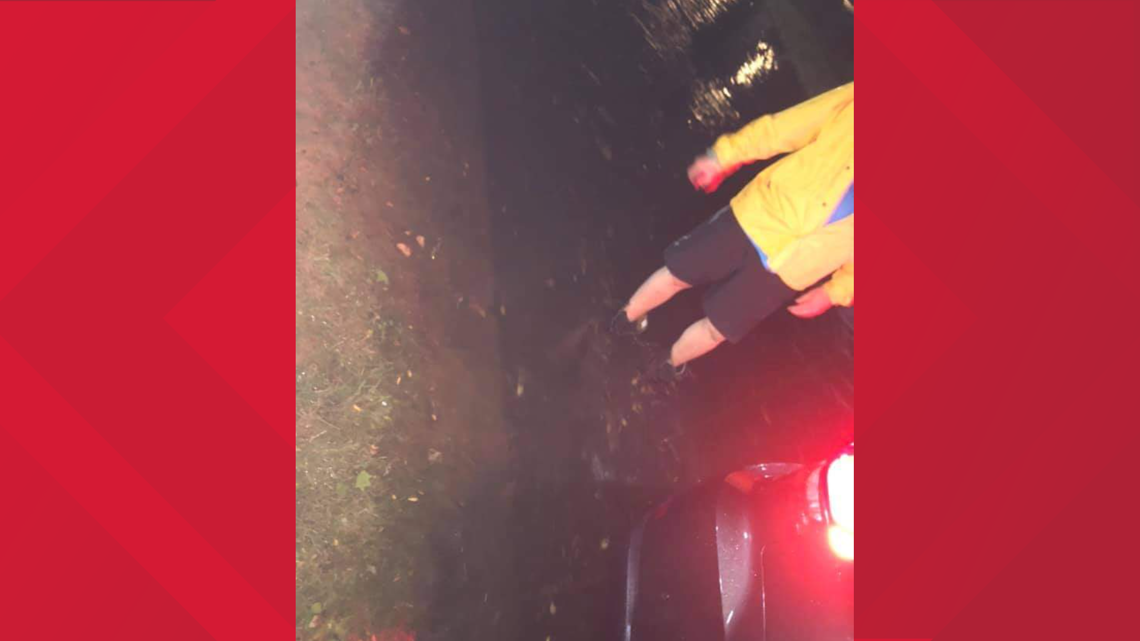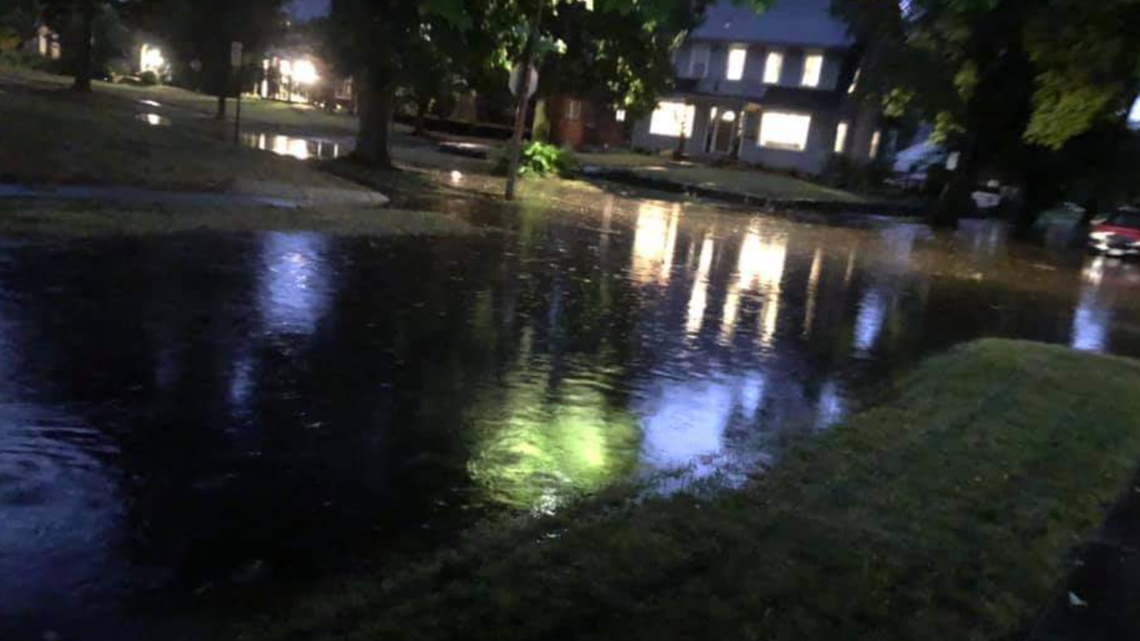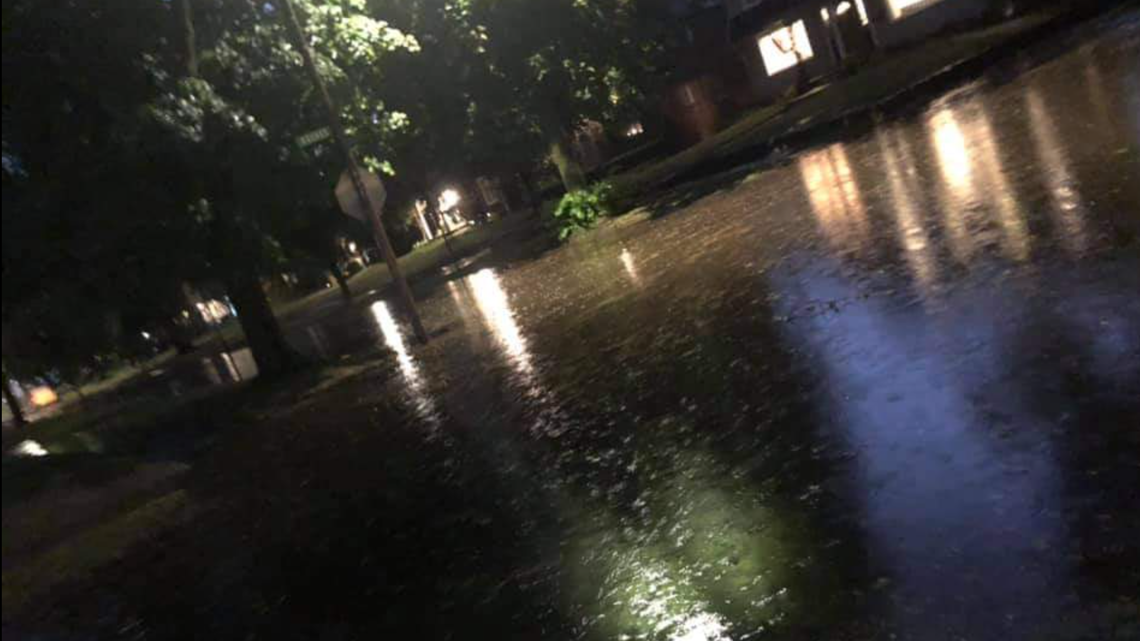 10:15 p.m.
More than 15,000 people have lost power in Lucas County alone as a line of severe storms sweeps through the area Tuesday night.
The areas of Laskey and Jackman, the Old West End and Point Place bore the brunt of the outages.
10:07 p.m.
Wind speed of 68 mph recorded at Toledo Executive Airport.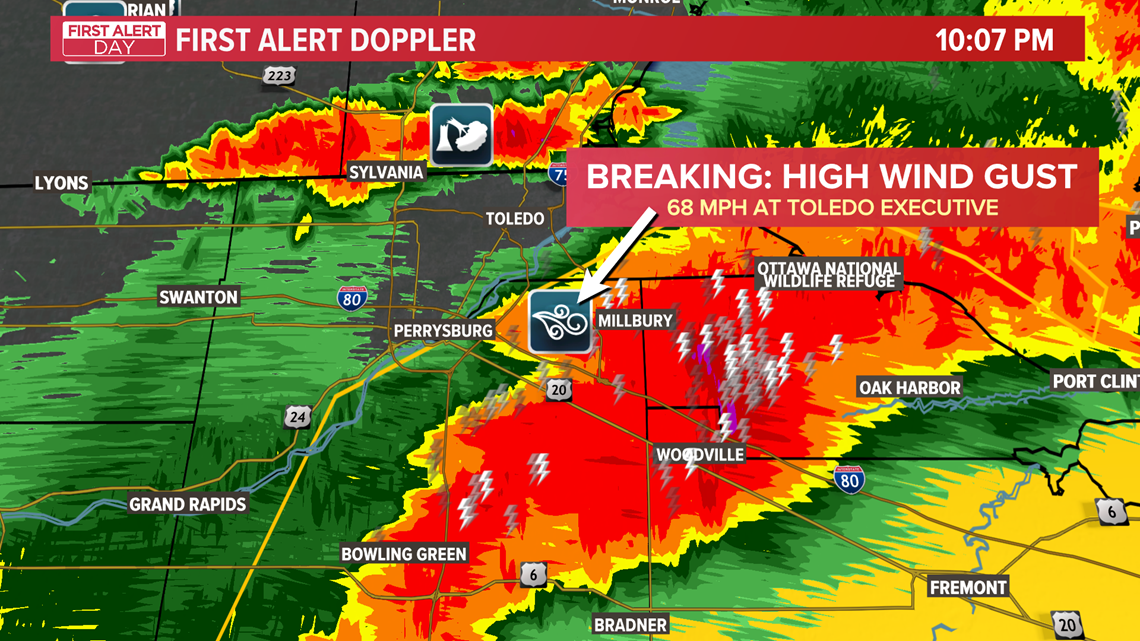 Viewer Zachary Prielipp reports feeling the first of several gusts near Angola and Crissey roads in Springfield Township.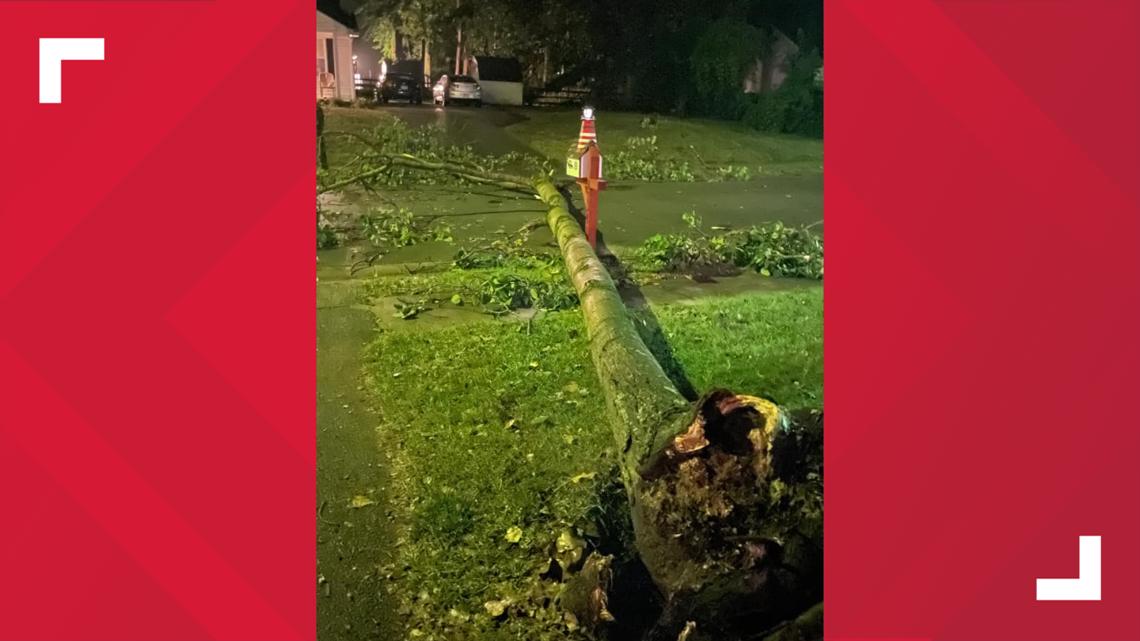 9:45 p.m.
What to know and what to expect: A live update from WTOL 11 First Alert Chief Meteorologist Chris Vickers as the storms begin to move through.