TOLEDO, Ohio — The autumn landscape is turning colorful, a telltale sign of mid-October.
Toledo along with much of northwest Ohio and southeast Michigan typically reaches peak color in mid-to-late October. We're now just a few days away from the most vibrant autumn colors.
But does climate change play a role in fall foliage? We'll answer that question in this week's edition of Climate Friday.
You may recall last year's record fall season when leaves didn't start changing until the end of October. Halloween rolled around and most of the leaves were still green.
In 2021, leaves reached peak color in early-November. The weather played a big role in that historic autumn. Due to sunny and warm conditions in the early autumn, chlorophyll production continued into late-October, keeping the bright green pigment in the leaves.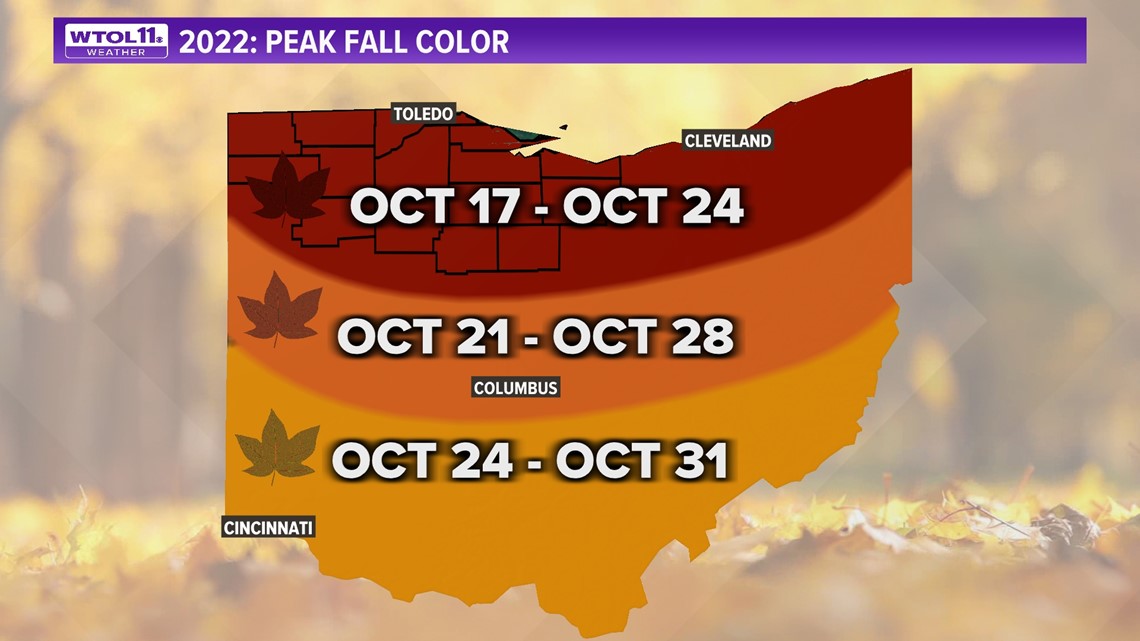 By November, cooler days finally set in, ushering in more fall color. This year's fall season has been more traditional due to the mild, sunny days and cool, crisp nights. We're just days away from the peak of fall colors.
Climate change is warming and shifting the autumn season. In the past decade alone, October has warmed by 2.4 degrees in Toledo. Overnight lows in October have warmed up by nearly 3 degrees.
This warming trend has shifted back the fall season, causing leaves to remain green well into October. Chilly fall nights slow down chlorophyll production, allowing other pigments to shine through. Due to climate change, milder nights have delayed the cessation of chlorophyll production, obscuring the colorful pigments until later in the season.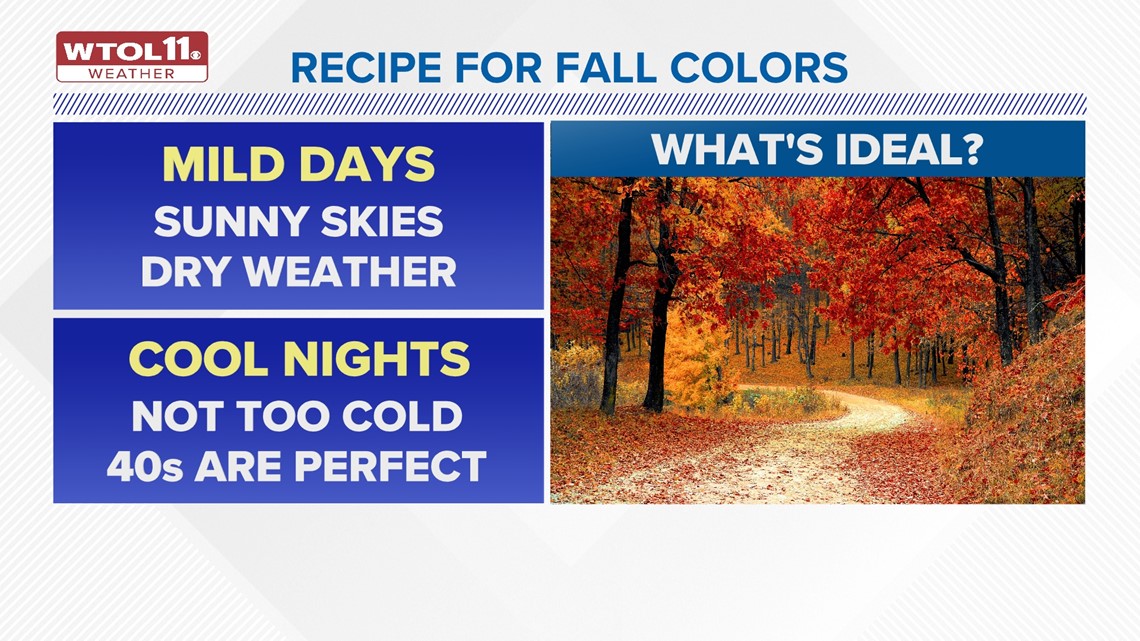 Scientists have determined that October temperatures are the biggest predictor of the vibrancy of fall colors. The fall months will continue to grow warmer in the future, delaying the onset of fall foliage. Due to climate change, fall foliage will become later in the season with a shorter, duller peak.
Changes in the leaf peeping season have impacted the tourism industry, financially burdening the businesses that rely on it for revenue. Across the eastern United States alone, fall foliage tourism accounts for $30 billion per year.
Nationally, the financial implications of fall foliage hold even greater weight. Seasons with delayed or muted fall colors result in fewer tourists and less revenue.
Studies have shown that popular foliage destinations, like Michigan, Vermont, and Maine, are facing changes in the autumn season that have impacted tourism. Even parts of northwest Ohio and southeast Michigan have experienced shifts in fall colors that have affected tourism.
Climate change will reduce fall tourism as the foliage season grows later and dimmer. But even with global warming, some fall seasons will continue to bring beautiful colors. Those years will bring needed revenue for the tourism industry and help offset the broader trend of climate change delaying colors of fall foliage.
Overall, the impacts of climate change on fall tourism could be in the magnitude of billions of dollars. Time will tell if these observed trends and changes continue into the future.
In the coming years and decades, fall foliage will generally peak later in the season. This year, vibrant colors are already here, and the autumn landscape will look spectacular for the next few weeks.
Send your fall photos to the WTOL 11 weather team and stay tuned for next week's Climate Friday Newsletter.