TOLEDO, Ohio — Have you noticed the hazy sky this week? Even with sunshine in the forecast, western wildfire smoke has clouded up the horizon with a murky appearance.
In this week's edition of Climate Friday, we will analyze the impacts of western wildfire smoke on our weather here at home and break down the effects of climate change on wildfires.
Canadian wildfires have burned around a million acres this month, evacuating tens of thousands of residents from their homes. Blazing in the provinces of Alberta and British Columbia, these fires have spread rapidly due to dry, warm, windy weather conditions.
This trifecta of meteorological ingredients has enabled fires to proliferate this spring. Persistent drought has made it difficult for firefighters to extinguish the flames.
Thankfully rain is expected this weekend for much of western Canada, which could at least temporarily alleviate the worst of the impacts. Rainfall of an inch or two will fall within the next week across parts of the Canadian Plains, although the heaviest rain is expected east of the hardest hit areas in the provinces of Saskatchewan and Manitoba.
While rain can offer brief respite from the wildfire smoke, any thunderstorm activity associated with precipitation can ignite new fires due to lightning strikes. Overall, a temporary downtick in wildfire activity is expected through the end of May and start of June, but summertime fires will likely redevelop in the coming months, both in Canada and the United States.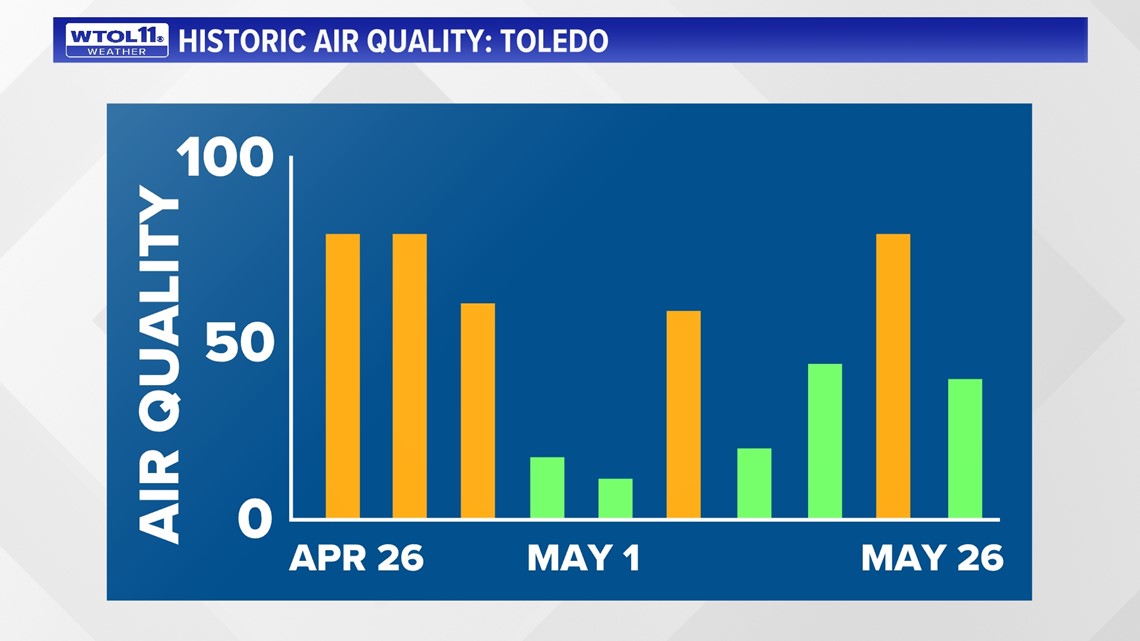 So how has this smoke impacted our weather here at home? The jet stream - the conveyor belt that guides our weather patterns - has transported smoke aloft in the atmosphere all the way to the Great Lakes. Even though Alberta is around 2,000 miles away from Toledo, the jet stream has enabled the influx of smoke high up in the atmosphere.
Despite the smoke aloft, surface air quality has remained fairly good. AQI measures the quality of the air you breathe. A lower number reflects cleaner air, whereas a higher number indicates more particulate matter in the atmosphere.
After a brief AQI spike from 50-70 at the end of April, the air cleared off for the start of May. AQI jumped slightly again through the middle of the month due to small amounts of this wildfire smoke mixing downward to the ground-level.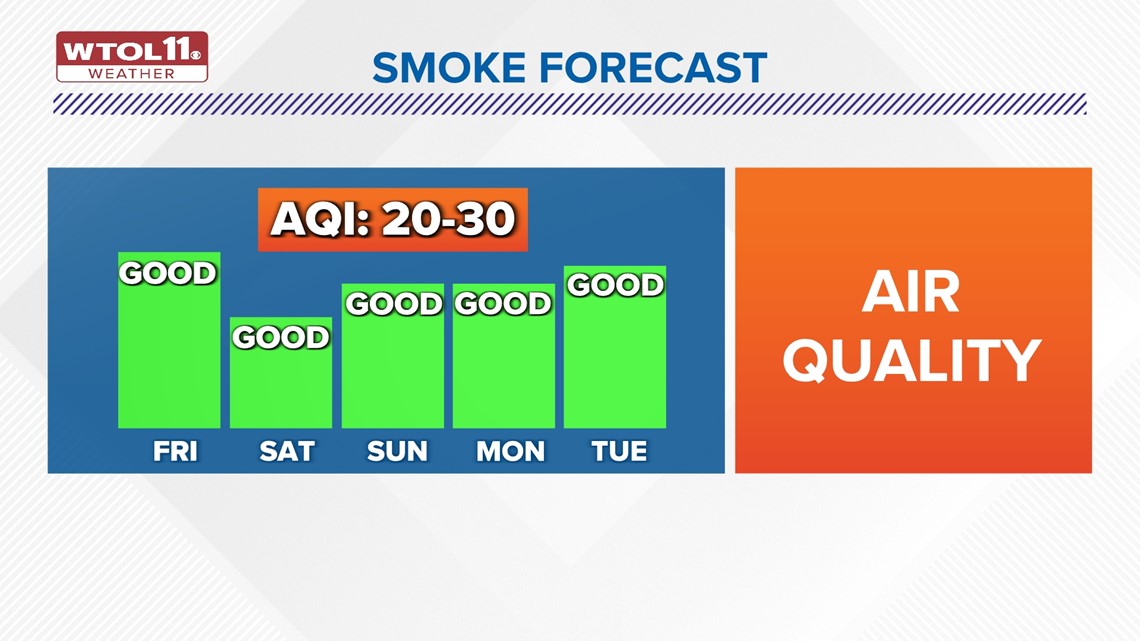 The cold front that swept through Wednesday and dropped temperatures improved air quality, and AQI levels are expected to remain in the ballpark of 20-30 through the holiday weekend. In other words, you don't need to worry about heavy pollution or particulate matter for your holiday weekend plans.
If you have a respiratory condition or sensitive lungs, you may have minor discomfort from extended outdoor time. But most individuals will have no issues with the air quality.
In summary, wildfire smoke generally remains high up in the atmosphere, but can occasionally move downward, marginally impacting air quality.
So how is climate change impacting wildfire frequency and intensity? Hot and dry weather conditions are growing more common and intense, enabling fires to form and spread more readily.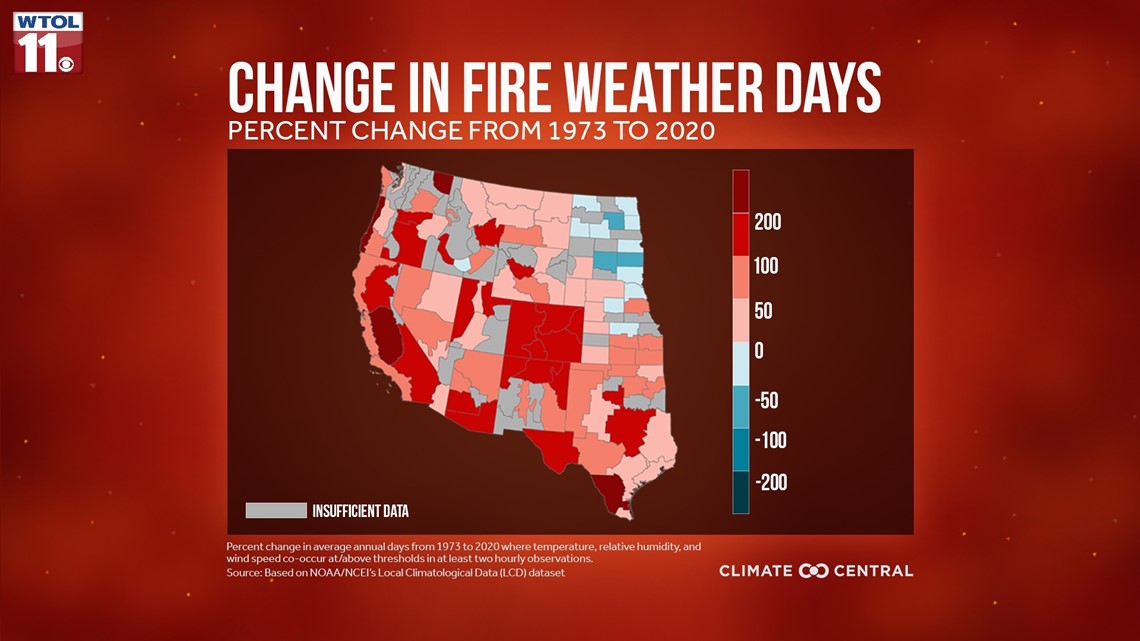 Whether a fire is natural or manmade, it can proliferate rapidly due to favorable weather conditions such as persistent drought. The impacts of climate change on wildfires has been studied in peer-reviewed research, including a study published in the journal Environmental Research Letters.
This research took a longitudinal look at Canadian and American wildfires dating back to 1986. The researchers pinpointed causes of fire initiation and growth, attributing 37% of burn area to a select group of 88 fossil fuel producers.
This burn area equates to a geographical region the size of Ireland. Due to massive emissions, wildfire development and spread is more rapid than it would otherwise be naturally.
Another study from 1992 to 2012 found that 84% of wildfires are started by humans. Anthropogenic forces are also worsening wildfire spread, and research has shown that two-thirds of wildfires are exacerbated by climate change.
Due to an uptick in the hot, dry weather conditions that favor wildfire spread, burn area associated with western wildfires has increased.
Overall, climate change has made wildfires more frequent and quick-moving. As hot and dry weather becomes more commonplace, wildfire risk will increase. Time will tell how this summer pans out, but western wildfire smoke may continue to impact our sky here in the Midwest, creating a murky and hazy appearance.