TOLEDO, Ohio — October is well underway and the green leaves of summer have started to transition to vivid yellows, oranges, and reds.
Colorful foliage is a beautiful part of the autumn season, but does climate change play a role in fall colors? In this week's edition of Climate Friday, we're focusing on fall colors.
During the summertime, the chlorophyll pigment produced in leaves gives them a bright green color. Trees also produce other pigments, like beta-carotene (orange) and anthocyanin (purple), but they are overshadowed by the green chlorophyll.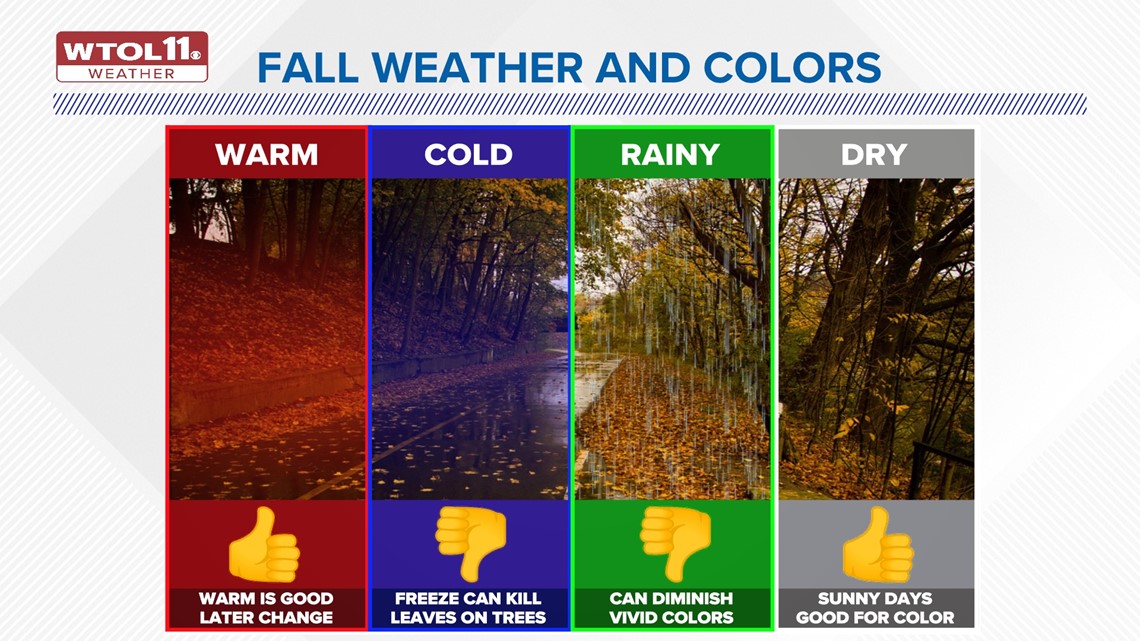 As temperatures begin to drop in late September, trees gradually slow down the production of chlorophyll, allowing colorful pigments to reveal their vibrant colors. The cooler fall nights are the primary contributor to chlorophyll cessation.
Our recent stretch of cooler nights has started the transition to vibrant hues, and we're just about two weeks away from the brightest colors. In northwest Ohio, fall foliage typically reaches peak color in mid-October. You'll enjoy vivid fall colors over the next several weeks.
So how does the weather impact fall foliage, and does climate change play a role? You may recall last year's record-setting fall season. Exceptionally warm weather caused an unusually late changeover due to the continued production of chlorophyll.
At this point in October 2021, all the leaves were still green. The transition of fall colors didn't occur until early November, a record-setting phenomenon due to the weather.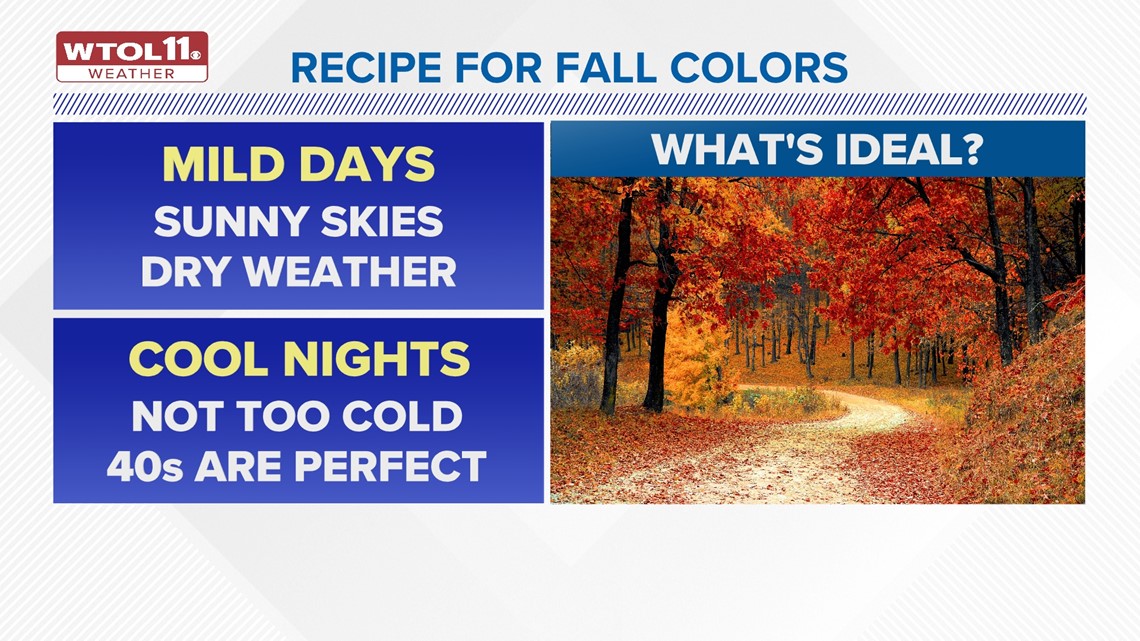 This season, we've gotten many mild, sunny days (but not too hot) and cool, crisp nights (but not below freezing). These ingredients will make for a colorful fall season.
How does climate change impact fall foliage? Global warming is making the fall season much warmer on average. This warming trend allows chlorophyll production to continue well into October, delaying the onset of fall colors.
Essentially, Mother Nature tricks the trees into thinking its still summer. In the coming years, peak fall color will become even later in October. Additionally, the peak of fall colors is becoming shorter, and the window to enjoy autumn leaf peeping is growing more brief due to rapid changes in seasonal weather.
When the weather turns from hot and summery to frigid and wintry in a short period of time, green leaves die in the cold weather before changing over. A hard freeze after a mild fall can damage and kill leaves before they've turned colorful. Due to climate change, the fall foliage season is becoming later and shorter.
Over the next few weeks, you'll notice some big changes in the leaves. We're just two weeks away from the peak of fall foliage. Send the WTOL 11 weather team your fall photos and stay tuned for next week's Climate Friday.