These "cold boxes" were manufactured in China, and contain process materials to turn into gasses both for the smelting of metals and to produce medical grade O2, Argon and Nitrogen.
According to TDOT, they are non-hazardous.
The boxes will be traveling from the Lucas County Port to North Star Steel, requiring a slow-rolling closure overnight along the route.
The transport vehicle can't go faster than 15 mph, meaning traffic will be slowed and roads continuously closed and reopened as it moves through.
Traffic will not be able to drive past the oversized vehicle, TDOT representatives said.
Here's the route the vehicle is expected to take:
Lee Street to Front Street
Front Street to Oak Street
Oak Street to Woodville Road
Woodville Road to Summit Street
Summit Street to Monroe Street
Monroe Street to Bancroft Street
Bancroft Street to Detroit Avenue
Detroit Avenue to Nebraska Avenue
Nebraska Avenue to Westwood Avenue
Westwood Avenue to Hill Avenue
Hill Avenue to Byrne Road
Byrne Road to Airport Highway
Airport Highway to City Limits at Holland Sylvania Road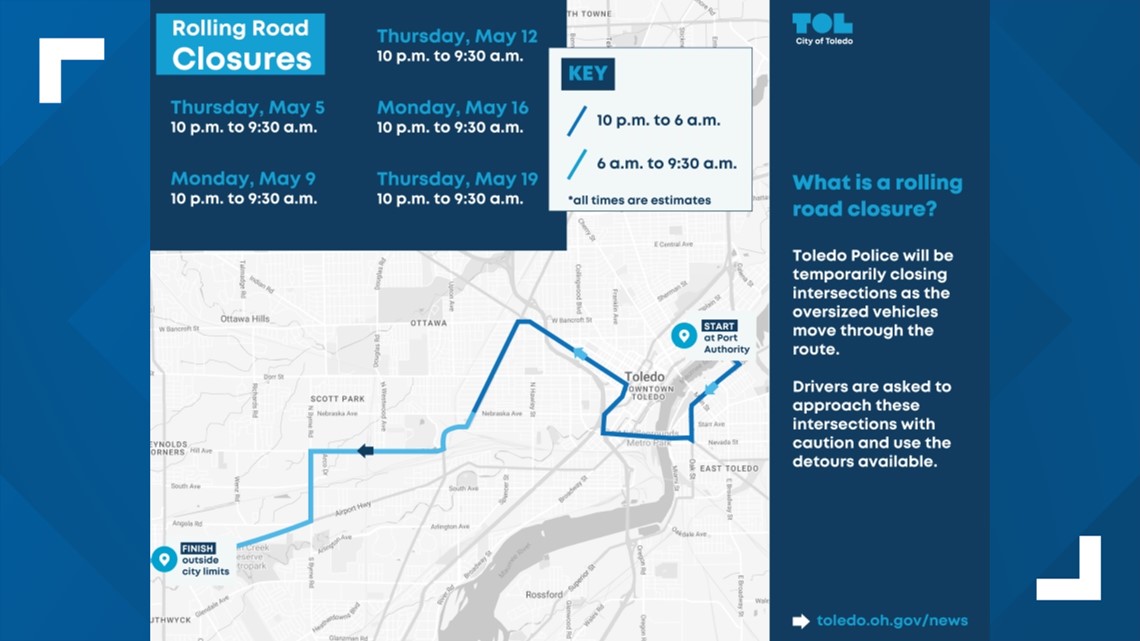 Here's the estimated schedule:
Thursday, May 5 from 10 p.m. to 9:30 a.m.
Monday, May 9 from 10 p.m. to 9:30 a.m.
Thursday, May 12 from 10 p.m. to 9:30 a.m.
Monday, May 16 from 10 p.m. to 9:30 a.m.
Thursday, May 19 from10 p.m. to 9:30 a.m.
The transport is being conducted in partnership with ODOT and Toledo Lucas County Port Authority.
MORE FROM WTOL