OHIO, USA — If you own lake-front property, the state of Lake Erie may be directly affecting your finances. Even if you don't, the lake's water quality largely affects the economic health of Ohio.
Residents of the Lake Erie watershed area and beyond have become increasingly aware of the shallowest Great Lake's water quality in recent years. In June, the NOAA forecasted the Lake Erie algae blooms will be smaller than last year, but not necessarily less toxic. Just earlier this week, scientists spotted the bloom forming in western Lake Erie, where it is most concentrated near Toledo.
As a hub for tourism and employment, the worrisome state of the lake during summer months can be cause for medical, environmental and economic anxiety.
Harmful algal blooms are large, toxic masses of algae that grow in Lake Erie each summer starting in mid to late July. Although HAB return annually, their size and toxicity are exacerbated by phosphorous in pollutants such as urban and farm runoff.
The presence of phosphorous causes harmful algae blooms to grow out of control and produce toxins in the water. The toxins can damage the quality of drinking water and exposure can be especially dangerous for young children and pets; swimming is often not recommended during these periods due to the health risks.
While the effects of HAB on health and the environment have been well documented, researchers David Wolf, Sathya Gopalakrishnann and H. Allen Klaiber explored the financial and economic impact of the Erie situation.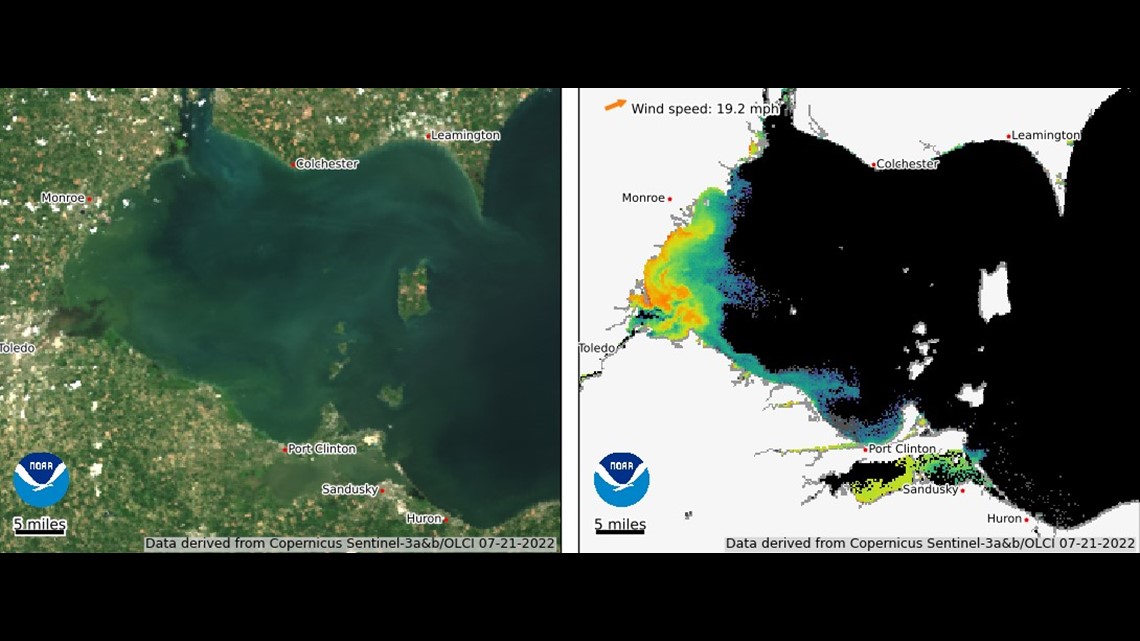 Their research, which was published in the American Journal of Agricultural Economics in January, found for every 1 μg/L (micrograms per liter) increase in harmful algae blooms (HAB) in Lake Erie, homeowners near the lake can expect their property values to decrease by 1.7 percent, or $2,205.
The researchers compared the sale of homes from 2003 to 2015 alongside the water quality from each year. Homes from seven Ohio counties along Lake Erie's shore were included in their analysis.
Not only did they find that the quality of water was directly related to the value of properties on the lake shore, they also found that homeowners were less likely to list their properties for sale during periods of particularly bad HAB.
The cost of HAB doesn't just fall on property owners: the Lake Erie region of Ohio is a more popular tourist destination than most might think. According to Wolf et. al, Lake Erie tourists spend more than $15 billion dollars annually, generating $1.9 billion in state taxes. It also supports over 100,000 tourism-related jobs.
The shipping and fishing industries are also hugely profitable for the state economy. An unhealthy, toxic lake has the potential to not only reduce the number of tourism dollars coming into the state and the number of jobs available to residents, but also the viability of consumable fish and other lake-related products.
Scientists and environmental activists alike stress the impact of HAB on the ecosystem: plants, animals and human health. Yet the the relationship between Lake Erie and the state of Ohio is also an "econo-system." With fewer jobs, less money and slower production, quality-of-life conditions like infrastructure and education are in danger due to a lack of funding.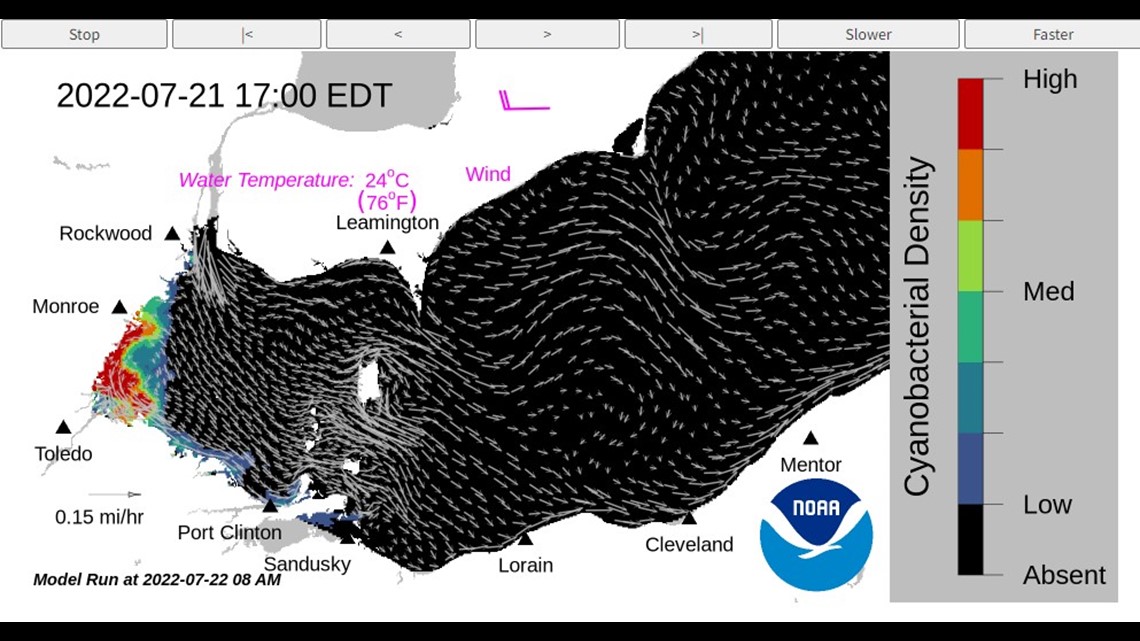 Researchers warn home and business owners not to lose hope. Though they report that residents near Lake Erie feel the algae is something they'll have to live with forever, like the invasive zebra muscle species, data suggests an increase in water quality is not only possible, but also economically beneficial.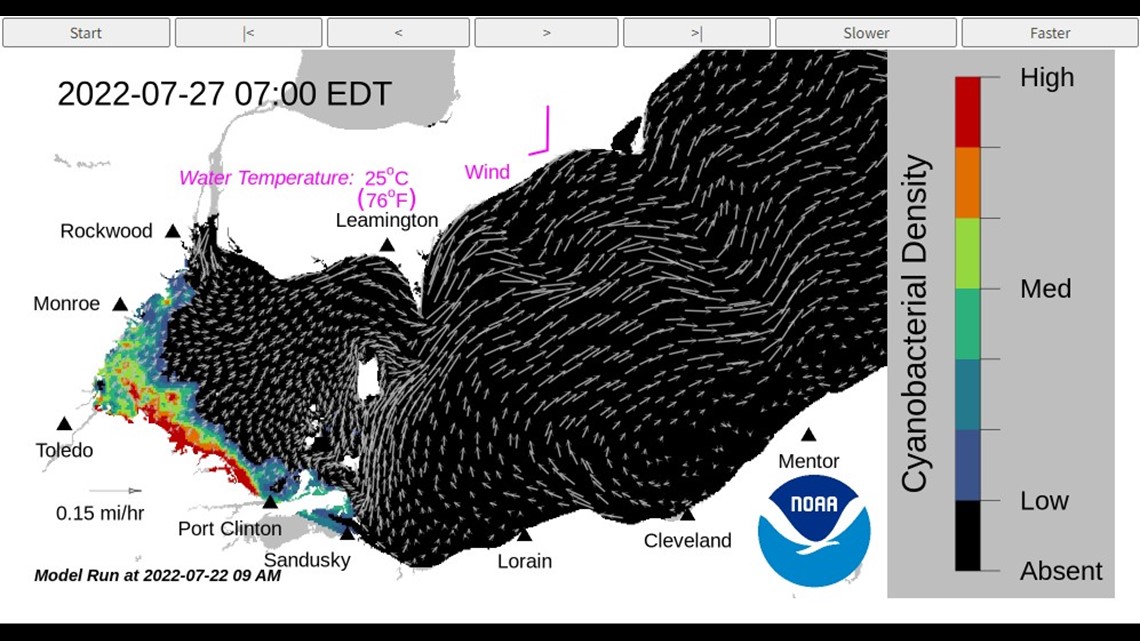 Wolf et. al report that a 40 percent reduction in phosphorous loadings into Lake Erie during just the month of June each year would improve water quality and increase the values of lake shore properties by an average of $7,589 per property, or a combined total of $265 million for all properties.
At the same time, if no policy action is taken to improve water quality, the total loss in value of near lake properties would decrease by a combined total of at least $394.5 million in the coming years, or about $25 million per year.
The 40 percent phosphorous reduction mentioned in the study is the goal established by the Great Lakes Water Quality Agreement. Researchers state that even if lake phosphorous levels aren't reduced by 40 percent by 2025, a smaller fraction, such as 10 percent or 20 percent could have significant economic benefits.
The study also calculates that meeting the phosphorous-reduction quota and thereby raising regional property values would more than cover the cost of current federal Lake Erie cleanup efforts.
The researchers write that positioning Lake Erie's water quality as an economic issue in addition to and ecological issue will offer a new perspective to policy makers who worry about the cost of lake cleanup and repair: doing nothing will be far more expensive than restoring Lake Erie's water.