SEATTLE — The Seattle Sounders FC are the 2019 Major League Soccer champions with a 3-1 win over Toronto FC at CenturyLink Field on Sunday.
Kelvin Leerdam scored his first career postseason goal on a deflected shot in the 57th minute, substitute Victor Rodriguez connected in the 76th and Raul Ruidiaz added the capper in the 90th to give the Seattle Sounders a 3-1 victory over Toronto FC on Sunday in the MLS Cup for their second title in four seasons.
Toronto only scored once late in the game with a goal from Jozy Altidore in the third minute of stoppage time.
Seattle Sounders right wing Victor Rodriguez was named MVP of the match.
The city will hold a championship parade for the Seattle Sounders this Tuesday at noon at Westlake Park. More details will be announced soon.
This was the first time Seattle has hosted the MLS Cup Final. However, today's match was the third championship game between Seattle and Toronto in just four years.
PHOTOS: Seattle celebrates Sounders 2019 MLS championship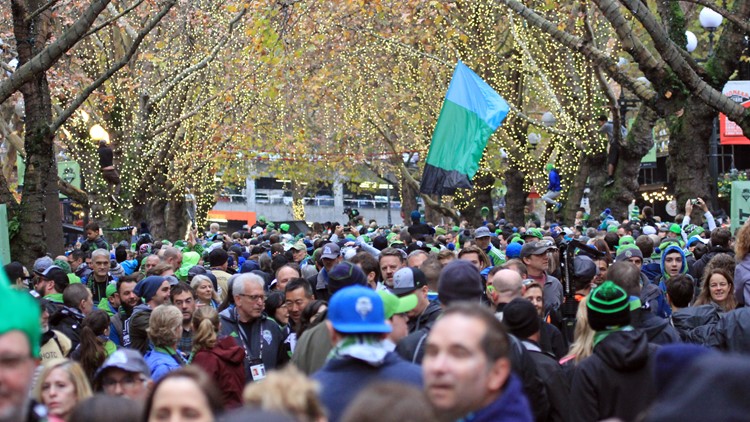 Seattle became the sixth franchise in league history with multiple titles. The Sounders joined Houston, Sporting Kansas City and San Jose with two titles. The LA Galaxy have five, and D.C. United four.
Seattle Sounders fans packed into Pioneer Square Sunday morning for a rally and 'March to the Match.' The rally at Occidental Park in Pioneer Square started 90 minutes before kick-off before the crowd marched to CenturyLink Field around 11 a.m.
"I remember the western alliance days back in the 80s when 800 people for a Sounders game was a big crowd," said one fan attending the march. "I didn't think I'd live long enough to see something like this...70,000 people to see us play for the national championship, it's just amazing."
Local rapper Macklemore performed at the rally to hype up fans before the big championship game. Macklemore, Ciara, and Russell Wilson recently celebrated part-ownership in the Seattle Sounders FC.
Preparations and celebrations were well underway all weekend as the Seattle Sounders prepare to host Toronto FC in the MLS Cup Sunday afternoon.
On Friday morning, the team flag was hoisted high over the Space Needle by former Sounders Chad Marshall and Brad Evans, members of the 2016 MLS Cup Championship. Seattle's skyline has also been lit up green this weekend in celebration.
Across Seattle, blue and green are starting to pop up. Photos of Seahawks stars in SoDo had Sounders scarves on them. Even the Fremont Troll was photographed wearing one.
"We're used to playing in front of big crowds," said Head Coach Brian Schmetzer. "Our fans have always supported us. It's going to be a big, big event, the energy in the building, I know, is going to be tremendous."
"This will mean millions of dollars to our community," said Ralph Morton, executive director of the Seattle Sports Commission. "It's a huge opportunity for us to fill hotels and restaurants, to bring vitality to the city."