CLEVELAND — Cleveland Browns All-Pro defensive end Myles Garrett took center stage on Thursday at the Cleveland Visitors Center as he revealed the latest #VoicesofCLE public art installation, in collaboration with Downtown Cleveland Alliance (DCA), Destination Cleveland and Greater Cleveland Sports Commission.
The new multi-paned work, commissioned by Garrett, is by local artist Glen Infante. His credits include LeBron James, Nike, CNBC, New Balance, Honda, Cleveland Cavaliers, The Golden State Warriors, The Cleveland Browns, Ohio State Buckeyes, Rock & Roll Hall of Fame, and the iconic Prince mural. He's the also creative behind the popular apparel brand, Ilthy.
Infante's #VoicesofCLE pieces have been showcased throughout the city center, including at Public Square.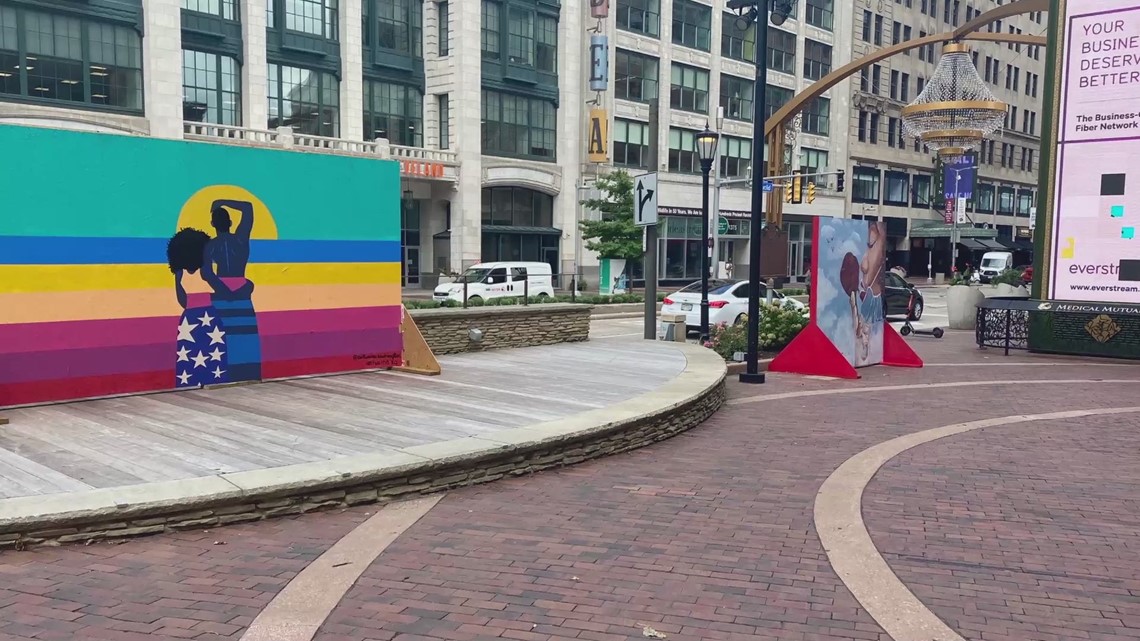 The #VoicesofCLE project from the Downtown Cleveland Alliance is an initiative that calls on local artists, especially of color, to amplify their voices. It provides a platform for "freedom of expression and encourages healing while also sparking conversation and action, here and now, as we unite to move Cleveland forward," according to the DCA.
Involved from concept to completion, Garrett personally selected Infante to create the "Cleveland is the Reason" mural, inspired by Cleveland icons of sports, culture, and rock 'n' roll. "When you think of Cleveland, we often think about these popular personalities who helped shape the culture of our city," says Infante. "I wanted to make sure that those who found success in their respected fields were being recognized and thanked for their accomplishments."
Garrett was honored as the Browns' 2020 Walter Payton Man of the Year, which recognizes NFL players for their commitment to the community in addition to their on-field excellence. Since joining Cleveland as the No. 1 overall pick in the 2017 NFL Draft, he has posted 42.5 sacks in 51 career games. He has twice been named All-Pro and is a two-time Pro Bowl selection.
Editor's Note: The below video of Glen Infante is from a previously published story