CLEVELAND — The Cleveland Browns may be in the midst of preparing for Sunday's game against the Miami Dolphins at FirstEnergy Stadium, but that does not mean there is no time to have a little fun.
Wide receiver Odell Beckham Jr. and quarterback Baker Mayfield have a good relationship, both in the locker room and on the field, and the Pro Bowl pass catcher decided to join his signal-caller's weekly press conference after Wednesday's practice at team headquarters in Berea.
Toward the end of the press conference, Beckham Jr. asked if Mayfield had anything to say about the offense hitting its stride and him playing well? Mayfield gave the question the Heisman stiff arm and quickly moved onto the next topic.
"Can I have a real question?" Mayfield asked reporters as he cracked a wry smile. "I am not answering you."
All kidding aside, it does seem like the offense has turned a corner after a slow start to the season.
Mayfield went the first half of the 2019 regular season without throwing for multiple touchdowns in any game, and in seven of those contests, he committed at least one turnover.
But as the Browns have started winning games, Mayfield has maintained possession of the ball, not throwing any interceptions or committing any fumbles over the last three weeks and delivered multiple touchdown performances in wins over the Buffalo Bills and Pittsburgh Steelers.
"Obviously, it starts with not turning the ball over -- knock on wood with that," Mayfield said. "Just taking care of the ball. Putting our guys in the best position to win. Getting the ball out quicker. Extending plays when we have to, but ultimately, just doing my job of being a distributor, getting the ball in their hands and letting them make the plays.
"We are all doing our job better because we are more focused on doing the little details right. It starts with me. We need to continue to improve each week."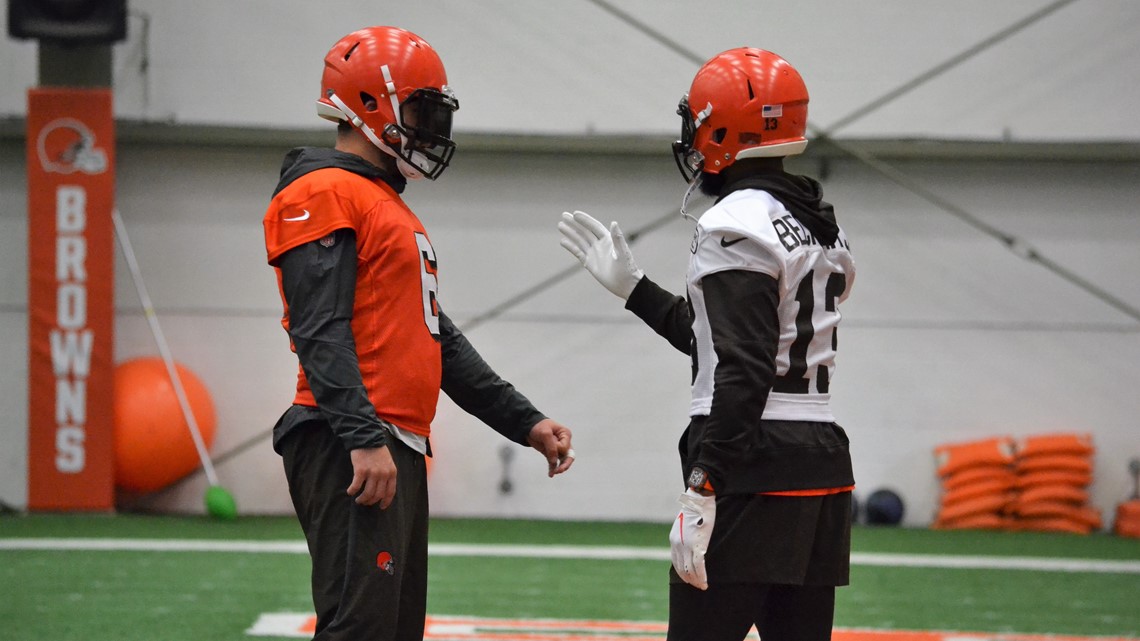 In addition to his on-field successes, Mayfield has stepped up as a leader and a captain, especially in the wake of Myles Garrett's indefinite suspension, which is something he promised nearly two years ago.
Before Mayfield was selected by the Browns with the No. 1 overall pick in the 2018 NFL Draft, he made a statement at the NFL Scouting Combine about him being the one quarterback who could reverse the fortunes of a long-suffering franchise.
"I just think it's the things that I have gone through a lot in my life of, 'what do you do when adversity hits?'" Mayfield said following Wednesday's practice. "It has made me a little bit more knowledgeable of things like this. Nothing specifically that I have done is exactly this moment, but I have had experience facing adversity and a lot of these guys have as well.
"Somebody in this locker room has always faced adversity at some point in their life. It is just about being that person every day that this team needs in the position I am in being a captain and showing the way and setting the standard, like the things I have been talking about. I would not necessarily say that I am made for this moment. I think I was made to come here in Cleveland and try and set the standard and culture each and every day."