Band of the Week: Perrysburg High School Marching Band
It's another football season - or for many in the area, marching band season - and we're excited to again feature a different band and halftime show each week.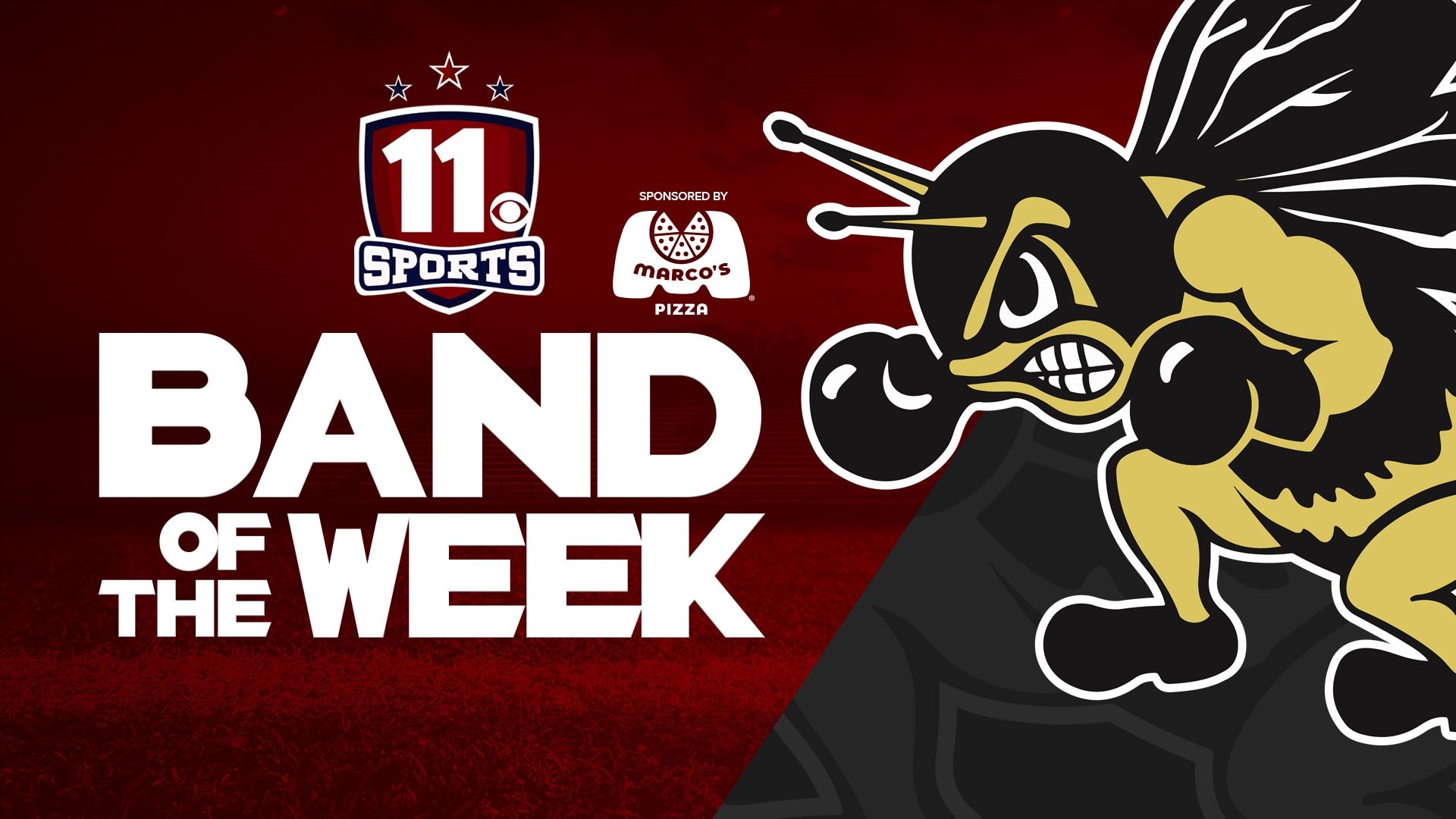 Those Friday night lights are burning bright and local high school marching bands are ready to shine with their halftime shows.
Band members work just as hard, if not harder, than the football players on the field. Musicians from across our area bring the noise before, during and after games.
That's why WTOL 11's Band of the Week is back for a third year to take some time and recognize bands during this year's Big Board Friday.
You can also catch replays on the WTOL 11+ channel on Roku and Fire Stick.
PERRYSBURG MARCHING BAND
:
WEEK 4
Now, we're going to Perrysburg.
The Yellowjackets are a marching band of 130 members, with an additional 60 in the total band program.
Known as the "Pride of Perrysburg," the band adds a lot of energy and enthusiasm to all of the home and away football games.
"It feels good for the amount of work that we put in," said Perrysburg senior Jacob Stierman. "I'm excited and I hope it's a big morale boost for everyone to just keep pushing until the end of the season, keep rehearsals going and just hype everyone up for the football game. It means a lot."
Practice with new members and student leadership staff starts in the heat of the summer on July 31. Band camp rehearsals this year began on Aug. 2.
The marching band rehearses twice a week after school and has taken its talents far outside of Perrysburg.
They go to Walt Disney World every four years to march down Magic Kingdom's Main Street. The last trip was in November 2022.
"My favorite band memory is probably when we got to march at Disney," said Perrysburg senior Sydney Gankosky. "I got to go on a huge trip with a bunch of my friends that I've known for as long as I've been in band."
The music department as a whole brings its talents together, too, as the orchestras and choirs join the band for a "Crystal Concert" every other year that features all of the performing ensembles in the high school. A total of about 550 students come together during the 70-minute prism holiday concert, which will be happening three times in December 2023.
WTOL 11 is proud to present Perrysburg High School as our fourth Band of the Week! Check out their full show below!
FREMONT ROSS MARCHING BAND
:
WEEK 3
This week's stop is in Fremont.
The Fremont Ross Marching Little Giants are a band of 122 members strong, many of whom are student leaders who develop their leadership skills in roles such as section leaders, squad leaders and assistant squad leaders. There are seven band officers:
Drum Major Quentin O'Brien
Band President Ayden Moore
Band Vice President Evan Beardmore
Band Secretary Alyjah Jones
Band Treasurer Taeva Hampton
Band Junior rep Elandra Cooley
Band Junior rep Gavin Jones
The band, in its 101st year in Fremont, is steeped in tradition. Previous directors were brought back last year to celebrate the 100th year of the band during an alumni band night.
The Little Giants take a page out of Ohio State University's marching band playbook, imitating the "Skull Sessions" that serve as a longstanding tradition. Three times a year during football season, the band marches from Fremont Ross High School to the Don Paul Stadium just over half a mile away.
"It makes me happy that all of our hard work is finally paying off and we're getting recognized for what we do," Hampton, a senior squad leader, said.
The band has been closer to the Skull Sessions than just imitating them, though. Annual reward trips show appreciation to the members for their hard work, and one year, the band went to a clinic session at OSU and performed at a Skull Session. Fremont Ross has also performed at the Rock and Roll Hall of Fame in Cleveland and went to Washington D.C. over Memorial Day weekend. They will be performing at the Anthony Wayne Marching Band Festival in late September.
"It feels very proud. I feel proud of our band. We work really hard," Beardmore, a senior, said.
The drumline begins practice in late July with a four-day percussion camp. Then, all of the students participate in a 10-day band camp that ends with a preview day at the Don Paul Stadium.
"I just think Fremont Band is the best band in the land," Moore, a senior, said.
WTOL 11 is proud to present Fremont Ross High School as our third Band of the Week! Check out their full show below!
WAUSEON MARCHING BAND
:
WEEK 2
This week, we head to Wauseon.
Sixty members make up the band, which has been a 20-time OMEA marching band state finals performer.
The band is an integral part of the school culture and the Wauseon community as a whole, incorporating more than just the high school since 50% of the middle school student body is also in the band.
Senior saxophone player JoAnne Hite said being in the band brings a sense of pride from being part of a larger family.
"The excitement. Feeling like I'm a part of something," Hite said. "I could never play football, but being in the stands and being there, it's just such a cool experience."
The family puts in the work for its community, too. The music department has been making donuts in the Fulton County Fair for the past 60 years. Community members, school administrators, bus drivers and music department parents and students all chip in to help make donuts 24 hours a day and support the Wauseon music program.
The band supports each other and the members adapt to what different performances might need, too, thanks to strong senior leadership and students willing to change and learn new instruments.
The group has played in New York and Pennsylvania as part of a performance tour.
Members will be decked out for Friday's performance in new uniforms that debuted a few weeks ago. Music boosters purchased the new uniforms for the band for the first time in 18 years.
While the look might be fresh, Friday's performance will be a throwback when Wauseon takes the stadium to the 1960s.
"We are performing a 60s show," senior trumpet Autumn Garcia said. "Some songs from the Beatles, we have 'Hey Jude' in there. 'I Get Around' by the Beach Boys. It's a great show this year."
WTOL 11 is proud to present Wauseon High School as our second Band of the Week! Check out their full show below!
SPRINGFIELD MARCHING BAND
:
WEEK 1
Audrey Hiser, a senior drum major, said bands play an important role in Friday night football.
And the 97 members that make up the Springfield High School band put in the work and then some.
"It just feels really great because usually the bands kind of get overlooked. We don't get that much credit for how much we actually do," Hiser said. "We put a lot on the field and we take a lot of time to be here and make our show look amazing. It's just nice to get noticed for it."
The band is more than just a band, too. They're a family that supports each other. The band's student leadership sets the standards and helps other members improve as performers and achieve their goals.
"We're very happy to see you guys out here doing this for us," said Maddy Stebbins, senior drum major. "I think I speak for everyone when I say thank you for doing this."
The group isn't all work, though. They'll be having fun with their Disney trip they take every four years, which is set to happen next year.
On Oct. 7, the Springfield Band Showcase will feature bands from the surrounding area and beyond in a competitive event.
WTOL 11 is proud to present Springfield High School as our first Band of the Week! Check out their full show below!
MORE FROM BIG BOARD FRIDAY: