BOWLING GREEN, Ohio — Today, there is significant movement in the push to save BGSU baseball. The odds are long, there is no question about that, but alumni from the last 40 years have started a huge push to save the program.

This morning, the current team showed up to clean out their lockers, and they were greeted by over 30 alumni who were all there to show their support for their former coach Danny Schmitz.

"It really means something, because as a coach, you never really know," said Danny Schmitz who has spent the last 30 years as the head baseball coach at BGSU. "They love this program, they love this university. They give BGSU credit for where they're at in their stages in life, and that's pretty darn good, that's a good feeling."

"It's a little bit of hyperbole or exaggeration, but it feels like a family member passed away," said former Falcon Andy Hudak. "Something that was such a big part of your life, is kinda how it felt."

"This is pure devastation," said former Falcon Kevin Leady. "A lot of us reached out to each other immediately. Too many memories here for this to happen. A lot of people are sad. Initially, I don't think a lot of people even know what to think. We started talking and a lot of people are just extremely upset about the whole process."

Right now, there is a committee set up to fundraise. They're working at an accelerated pace to raise money. As for today's surprise meeting, the former Falcon baseball players wanted to show their old coach just how much he has meant to their life.

"I sent him a message, and he taught me a lot about toughness," said Leady. "I told him tough times don't last, tough people do. He's very, very tough. He was hard-nosed when he played and when he coached. That's one thing I can take from the program is toughness."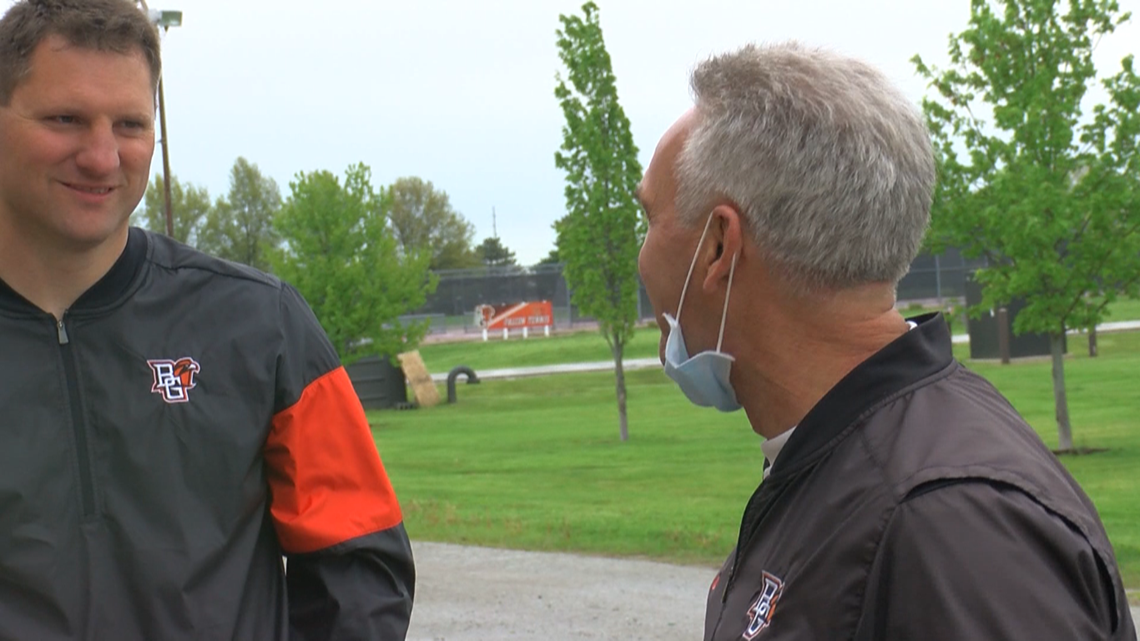 "Basically, this program helped me map out my life," said Hudak. "It made me who I am. The successes, the failures, the challenges I went through here, and Coach Schmitz's support, the programs support, really made me the man that I am today. I'm proud to say that. It's a big deal."

"I turn the corner coming from the parking lot and see all the alumni out here and showing their support for our players and our program," said Schmitz. "It's still tough, but it definitely softened the blow. Just makes you feel good to know they have that much pride in this program, and how much they love this program, and how much they love this university. We had guys that traveled quite a distance to get here this morning, so we are so appreciative of that."

For more information on how to help save the program email savebgsubaseball1@gmail.com.