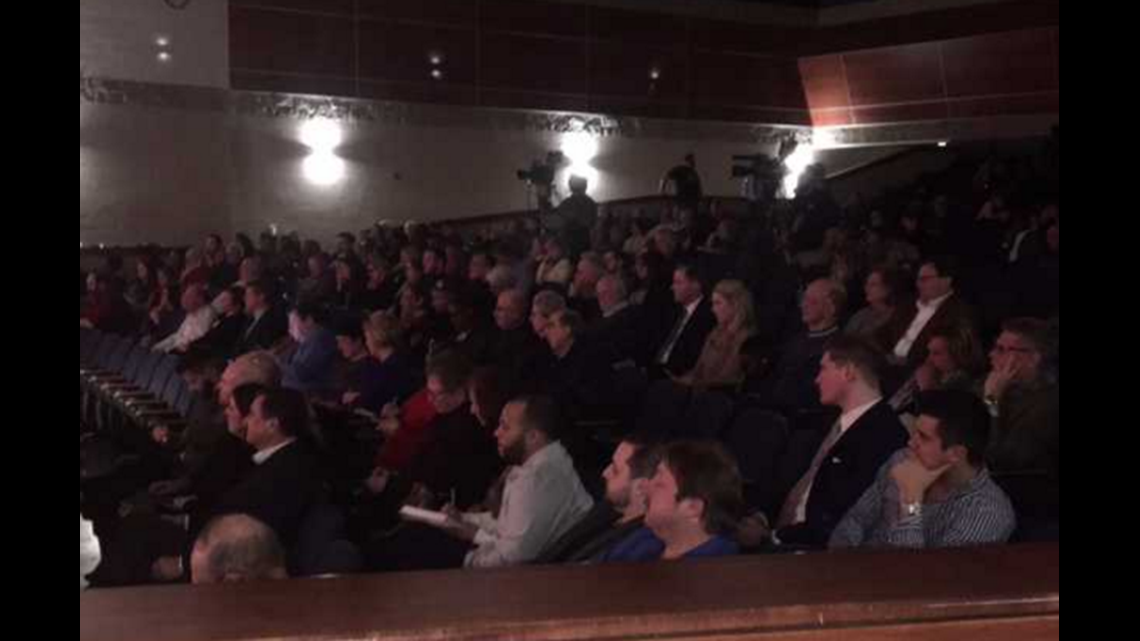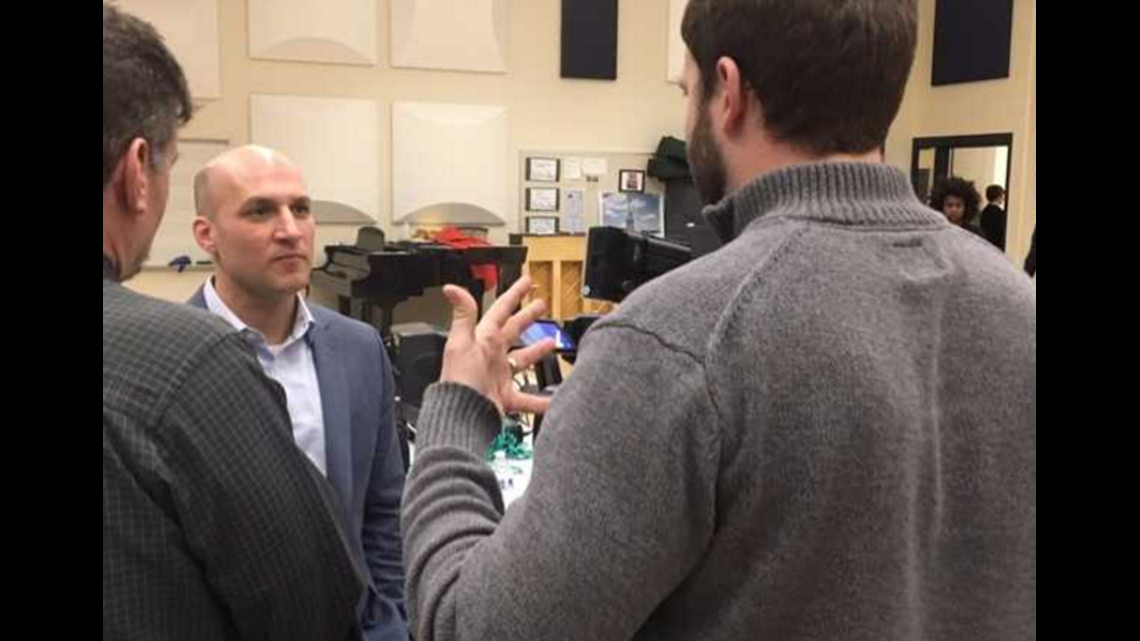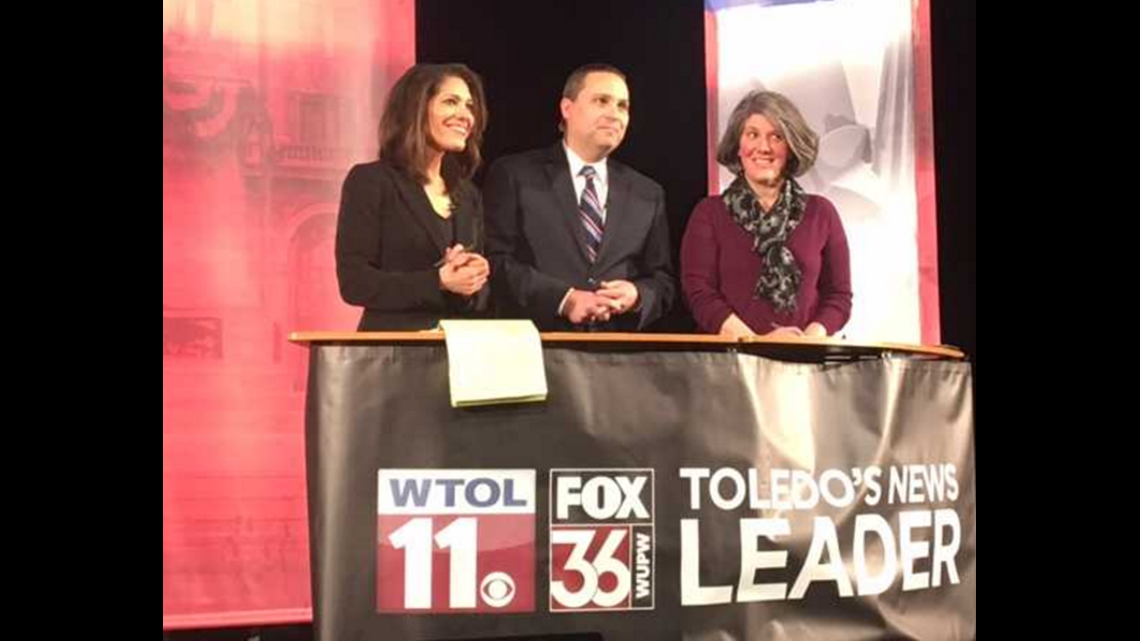 TOLEDO, OH (WTOL) - The first Ohio Democratic Primary Debate for Governor in 2018, hosted by WTOL 11, was held at Bowsher High School Wednesday evening.
Before the Ohio Democratic Gubernatorial Debate even began, it was rumored that it would be an interesting and exciting discussion.
Anchor Jerry Anderson moderated the 90-minute forum and WUPW anchors Viviana Hurtado and Tim Miller were on the panel asking questions to the candidates.
Nearly 45 minutes before things kicked off,  the four candidates. Joe Schiavoni, Justice Bill O'Neill, Richard Cordray and Dennis Kucinich, met with Jerry on stage to draw for opening statement order, podium standing order and closing statements order.
Viewing from the audience, the candidates stood from left to right: Kucinich, O'Neill, Schiavoni and then Cordray.
As the candidates provided their opening statements, they laid out a foundation of their focus and topics that they are each passionate about.
"I want to be your Governor because I'm sick of watching working families struggle," Schiavoni said as he began the opening statements. "It's time for a change."
Justice O'Neil expressed his concerns with Cordray by explaining many conversations they have had in the past few months.
He explained how he mentioned to Cordray about building a network of hospitals that will save individuals involved in the heroin and opioid epidemic and the legalization of marijuana in Ohio, along with the release of non-violent criminals from prison. All topics mentioned resulted in positive feedback from the audience.
According to Justice O'Neil, Cordray said no to all of these proposals.
"You're out and I'm in," Justice O'Neil ended his opening statement.
After, it was Cordray's turn. He laid out what he and running-mate Betty Sutton, want to focus on.
"We know we can make a better Ohio," Cordray stated. "We stand with the #MeToo movement. We defended worker's rights. Betty and I will create an example for Ohio."
Lastly, Kucinich's opening statement reflected on his childhood and his parents trying to make ends meet.
"Free college education for two years," Kucinich noted. "Ban on assault weapons."
After opening statements, the questions began to roll from WUPW anchors Viviana Hurtado and Tim Miller and The Blade Editorial Reporter Wynne Everett. Numerous comments and rebuttals between the candidates made the debate an entertaining one to watch.
"Richard, please. You are Prince Richard of the Ohio Democratic Party," Justice O'Neill said to Cordray early in the Debate. "The leaders of the Democratic Party do not like me and I welcome their dislike."
Viviana mentioned that all four candidates are white males and asked how minority voters and residents will be represented and heard. That led to the candidates agreeing that minorities will not be left out.
There was also conversation regarding gun reform, fracking, infant mortality rate in Lucas County and Lake Erie.
The candidates each gave their viewpoints and explained how they will work with the legislation and create a Democratic Party that will work with and for the people of Ohio, including our workers.
Their closing statements followed:
Schiavoni: "We're not investing in our people. If you vote for me on May 8, I promise you I will work for working families every day."
Kucinich: "We need an Ohio Care Plan. I want to lead the way so that young people will be able to go to college for free for two years. Ohio should have an assault rifle ban."
Cordray: "You deserve a leader that will focus on the concerns you talk about around your kitchen table. We need to show America there is a better way."
Justice O'Neill: Provided three options of what will happen May 8. "I'm the next Democratic Governor for Ohio."