TOLEDO, Ohio — President Donald J. Trump brought his first campaign rally of 2020 to Toledo today, with a 7 p.m. Keep America Great rally at the Huntington Center. Vice President Mike Pence also joined him for the event.
Follow our rolling blog of things seen and heard throughout the day here (read from the bottom to the top for a snapshot of the entire day):
President Trump said for 2020, "at stake are the values of America. You can have a country that goes to hell very very fast. Only this way can we save the America we love and drain the Washington swamp once and for all. With your help we will lift millions more of our citizens from welfare to work. We will create a safe and sane system of immigration. We will have trade deals and achieve breakthroughs in medicine and end the AIDS epidemic in America within 10 years.
"We will defend privacy, free speech, religious liberty and the right to keep and bear arms. We support defend and protect the Constitution of the United States. We stand with the incredible heroes of law enforcement. We believe in the dignity or work and the sanctity of life. ... We believe that children should be taught to love our country and know our history, and to respect our great American flag. We will always live by the words of our nation's motto, 'In God We Trust.' We stand on the shoulders of generations of Ohio patriots. Ohio is the state that gave us American heroes and legends like Thomas Edison and Neil Armstrong and John Glenn.
"Proud citizens like you helped build this country. Ladies and gentlemen of Ohio, the best is yet to come."
WATCH THE FULL RALLY:
8:39 p.m.
"We are aggressively combating the opioid epidemics. And it's bad. In 2018, drug overdose deaths in Ohio fell by, listen to this, 22%. It's not good enough but 22."
"We have restarted the Army tank plant in Lima. When I came in they wanted to close everything. I went to Lima where they make the tanks and all of these armored vehicles. I said these people are amazing. You can't close this, you'd never reopen it again. Where are you going to build tanks? What are we going to do, send it over to China for tanks? We gotta make our own tanks.
"We're going to be expanding our military. Who's gonna make our tanks? I said you can't close this plants. Now we're making almost 500 tanks (a year). That was something I did that I'm very proud of. I overrode a lot of people who wanted to close it."
8:31 p.m.
"The radical Democrats have never been more extreme than they are now. They are stone-cold crazy. They have horrible policies. They stick together and they are horrible people. ... The Democrats are taking their cues from Socialist Bernie Sanders and that group, AOC, Omar, and Talib. They're the leaders of the party. And Pelosi meets them and she shakes, and she quivers. But you know where the leader of your party is? You. You're the leader of your party."
"Virtually, every top Democrat also now supports late-term abortion, ripping babies right from the mom's womb, right up until the moment of birth. That is why I have asked Congress to prohibit late-term abortion because Republicans believe that every child is a sacred gift from God."
8:21 p.m.
"Far left politicians support deadly sanctuary cities. These jurisdictions release dangerous violent criminal aliens directly onto your streets, where they are free to rob and kill Americans. We stop it. They want open borders, can you believe it?"
"Thanks to Democrat policies, MS-13 gang members were allowed to infiltrate our country. They terrorize their victims kill them with machetes. You know why? It's more painful than a gun.
"Republican stand for law, order and justice. We are removing these illegal criminals and gang members from our country by the thousands. Illegal crossings are down 75% since May. We have ended catch and release. These are the policies we inherited.
"You read it today. We won the lawsuit. The wall is being built. We are releasing $4 billion of military construction funds to build the wall. ... We've already built over 100 miles of wall. By the end of next year, we're going to have the wall built. They overturned a horrible decision form the lower court - you can now fund the rest of the wall. Fifth Circuit Court of Appeals."
8:18 p.m.
"The home of Jeep. How good is Jeep?"
"Our farmers. We love our farmers. They never complain. They say, 'The president is right and we're with the president.' Our strong action paid off and we'll sign the deal with China. We're taking billions and we're not paying for it. China devalued their currency. Our trade deficit has come down as a result of our actions. Steel mills across Ohio are roaring back to life. The steel industry now is investing $13 billion worth of new dollars across our nation. We are finally putting America first. America's comeback continues full speed ahead."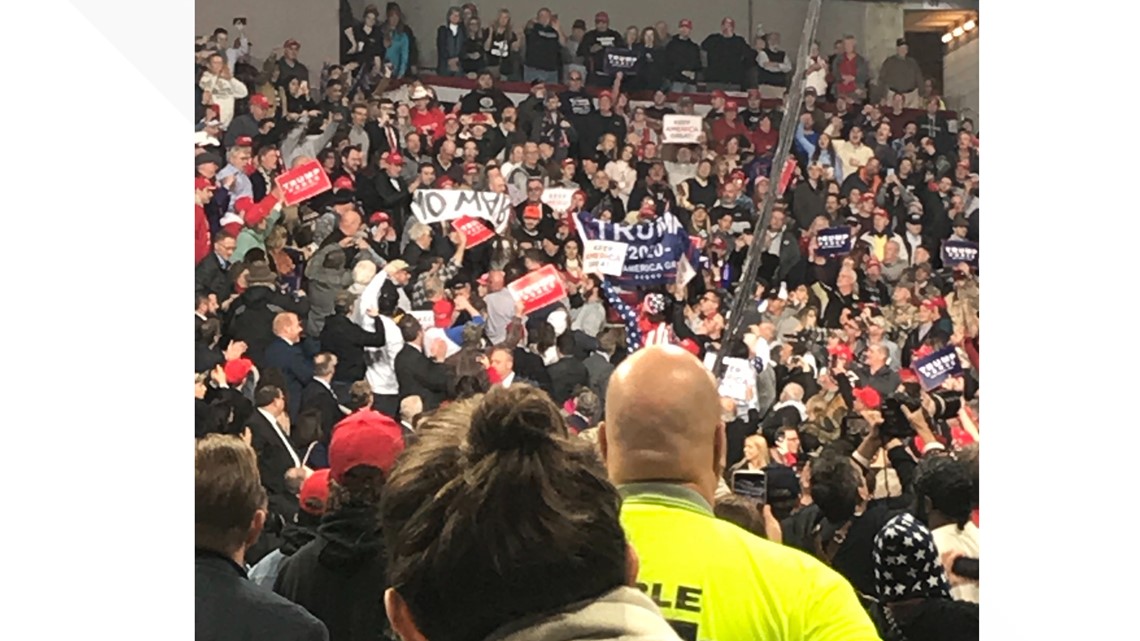 8:10 p.m.
WAGES FOR WORKERS; ENVIRONMENTAL ISSUES
"40 million American families are now benefiting from the Child Tax Credit of $2,200 a year. ... America lost 60,000 factories under the previous administration. I know it's true because I've said it 50 times and the fakers back there have never corrected me.
"Think of it - 60,000 factories closed. They went to Mexico, they went to China. ... They're all coming back. And right now, just in a very short period of time, we've added 12,000 brand new factories and many more are coming in. We've eliminated a record number of industry killing regulations. .. And total income gains for median income household will be over $10,000 a family."
"We are putting our miners back to work. What they do with clean coal today is incredible. And with the help of energy workers here in Ohio, we are the top producer of oil in the world. ... You have people who want to shut down the oil industry. We have every form of energy, but they want to cripple your state's economy. The voters of Ohio will never let that happen."
"Our air and our water is cleaner than it's been in 40 years. And, sadly, I can't say historic, because a couple of hundred years ago, there was no one here. I took us out of that horrible Paris Accord. Saved trillions and trillions of dollars that was put in there to hurt us."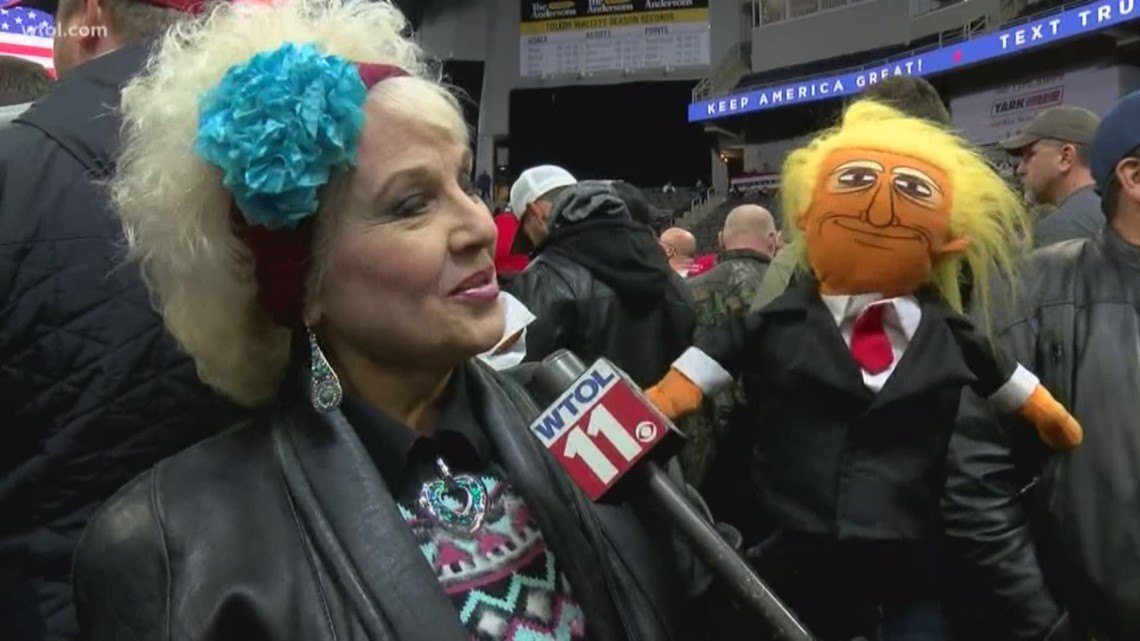 8 p.m.
"We have a lot of support. You know why? Because our country is doing so well. We went right to the top, since day one. We got high ratings in the debate. I should watch (the Democrats), but it's like watching death. Those debates are boring.
"You see where Pocohontas is doing badly? And Crazy Bernie is surging. And Biden can't tell the difference between Iran and Iraq. He's gotten it wrong three times. ... And his son, Hunter. Where's Hunter? Here's a guy made no money, got thrown out of the Navy, had no job, no nothing. Goes front that to making millions of dollars a year as soon as Sleepy Joe became vice president Ukraine took care of him, how about China? He was making a fortune. Where's Hunter?"
7:43
ON THE CROWD AND PROMISES KEPT
"Outside, you have thousands and thousands of people who want to get in. There's never been a movement like this," Trump said. "Maybe I'm wrong, but this is bigger than it was in 2016. In 2016, I said what I was going to do, but now I've completed promises."
"Right to try - with the great help of a lot of Republicans and some Democrats - we passed this. The drug companies didn't like it because they didn't want to take people that sick (for new treatments).
The Right to Try Act permits eligible patients to have access to eligible investigational drugs. An eligible patient is a patient who has: Been diagnosed with a life-threatening disease or condition.
"Today, we just hit the highest stock price in the history of our country. What it means to me is jobs. I can't really say 'Make' America Great Again ... what that sort of means is that we didn't get there. Now I have a new theme. It's called 'Keep America Great.'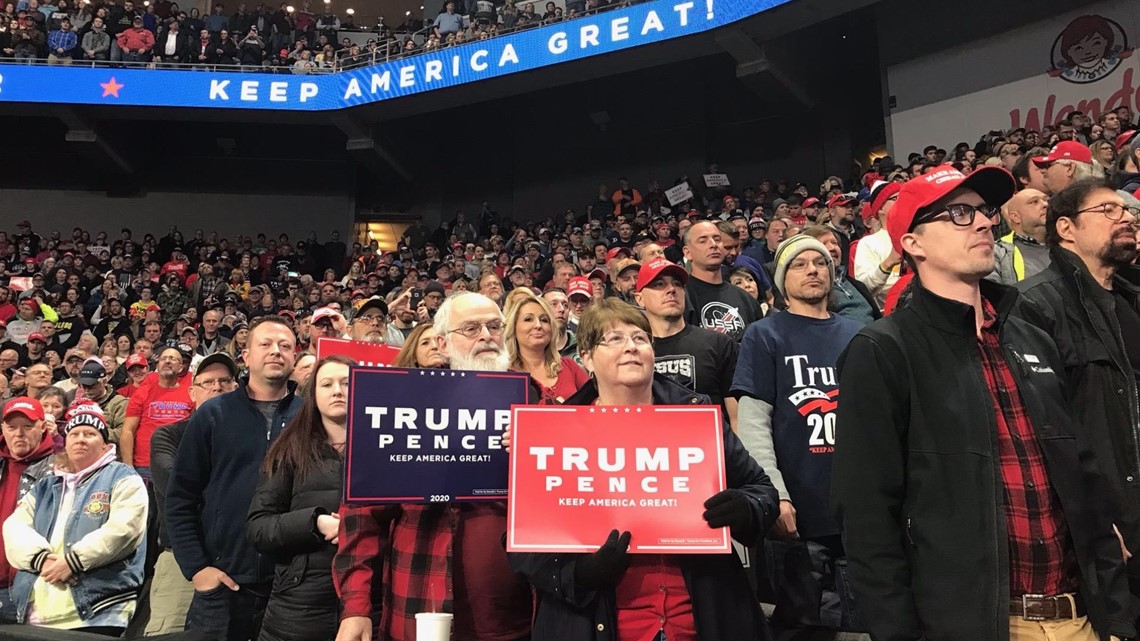 7:36 p.m.
DEMOCRATS AND THE 'FAKE NEWS' MEDIA
"That's a lot of corruption back there, folks," Trump said, pointing to the media in the back of the room. The audience yelled, "Pull their plugs."
President Trump also referenced the reactions of Democrats Speaker of the House "Nervous Nancy" Pelosi and Sen. Bernie Sanders to the death of Soleimani, and referenced impeachment issues, calling Adam Schiff, "Pencil Neck."
"Nine inches. He buys the smallest shirt collars he can, and they're loose," Trump said. "They want us to tell them (attack plans) so they can leak it to the corrupt media."
"This was the anti-Benghazi. This was the exact opposite. When they got to Benghazi, all they saw were burning embers. ... It was going to be another Benghazi. I saw that, I said, 'what's that about?' I called up our great generals and I said, 'Get them over there, now.' One of our leaders said, 'Sir, we'll have them there tomorrow.' I said, 'No. Have them in the planes now and get them there immediately.
"Soleimani was actively planning new attacks and he was looking very seriously at our embassies. We stopped him quickly and we stopped him cold. The US military eliminated Qassem Soleimani and ended his rampage. He was a bad guy. He was a bloodthirsty terror and he's no longer a terror. He's dead."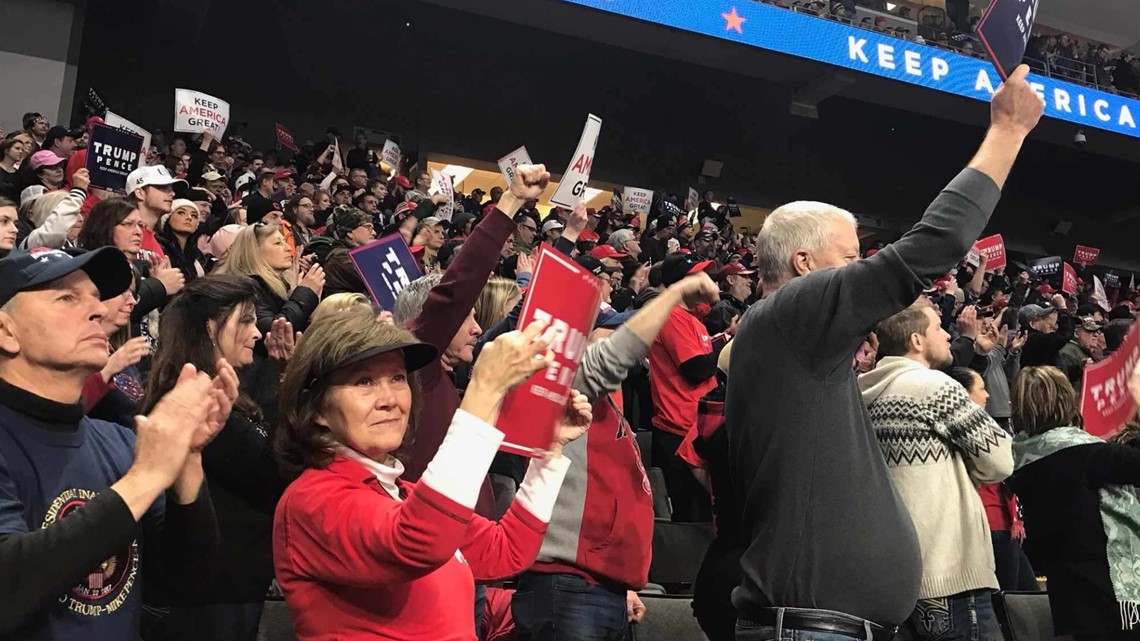 7:27 p.m.
Security escorts out a protester from the Huntington Center. A person had a sign referencing bone spurs and was loud. A small fight broke out and at least one person was escorted from the arena.
"That's OK, they'll go home to mommy," Trump said. "That's a beautiful thing. And don't we love our law enforcement?"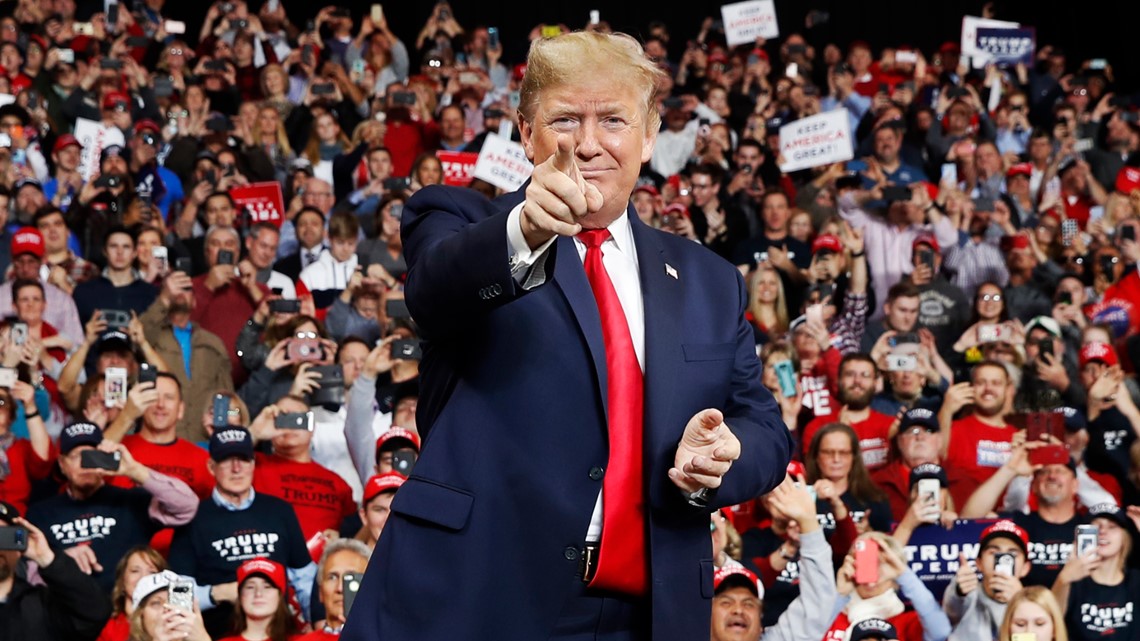 7:16 p.m.
President Donald Trump takes the stage to the strains of Lee Greenwood's "God Bless the USA."
"Hello Toledo! We love Toledo! We've been here a lot," Trump said.
"This is a great victory for the United States. It's an incredible agreement. ... So, $40 (billion) to 50 billion dollars of agricultural products and the manufacturers, and the car companies. We brought a lot of car companies into Ohio, you know that. A lot of them are coming in, a lot of them have already been brought in. They are coming in from Japan, they are coming in from all over the world. This is where they wanna be. They wanna be in the United States; that's where the action is.
"They are all coming back. I used to come around and talk about how everyone is leaving. They are all leaving. A lot of you are victims of that leaving. These companies would leave, they would go to Mexico, they'd go to Canada. They'd close up, they'd buy from China. Now, they are all coming back. New ones, old ones. They are all coming back. And many are coming right here to Ohio."
"And just in case you didn't know it, Ohio just had the best year, economically, in the history of your state. That's not bad. That's not bad. And this year's going to be even better."
ON THE MILITARY AND VETERANS
(We just had) $738 billion invested and we created the sixth branch of the armed forces - the Space Force, and everyone's excited about that. There's $2.5 trillion in new investments. our military is stronger and more powerful than every before," he said. "And speaking of our military, have we taken care of our vets with CHOICE, or what? ... Forty-four years and maybe most important of all is Veterans Choice. We pay the bill. What a difference it's made."
Veterans Choice is a program where veterans who do not live within 40 miles of a department hospital or face wait times of more than 30 days for care could seek private health care funded by the government.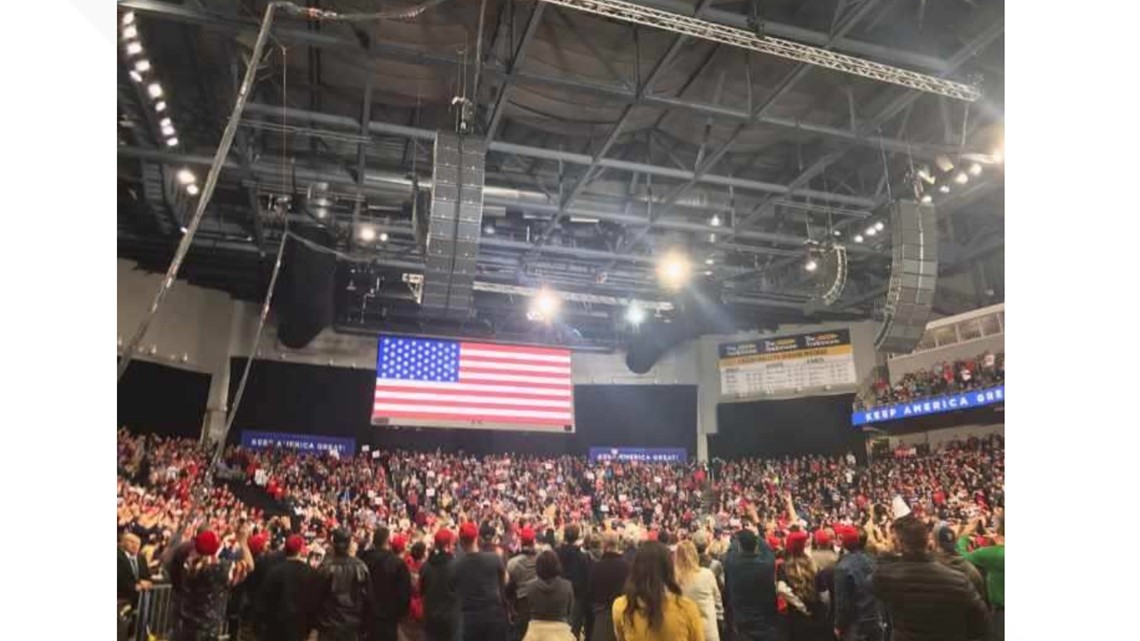 7 p.m.
Vice President Pence speaks. "I stand with President Donald Trump. When this president, as commander in chief, takes decisive action to defend American lives, we stand with President Donald Trump."
The crowd responds with a robust "U-S-A" chant.
"Ohio said yes to President Donald Trump in 2016, and I know Ohio is going to say yes to President Donald Trump for four more years in 2020," he said.
"When American lives where threatened by the most dangerous terrorist in the world, President Trump took action and Qassem Soleimani is gone. ... We suffered no American casualties, and it appears that Iran is standing down.
"That's what leadership looks like. That's the leadership of President Donald Trump," Pence said.
"So we've rebuilt our military, but to ensure we continue American dominance on sea, in air, on land and in space, President Trump launched the first new branch of our armed forces in 70 years - the United States Space Force has arrived."
"But this president also knows that national security starts with border security. Under his leadership we've made historic investments in border security. Apprehensions on our southern border are down by 70% and we've already started to build that wall." Chants of "BUILD THAT WALL" echoed throughout the Huntington Center.
6:40 p.m.
Thousands lined up outside the Huntington Center for President Donald Trump's first campaign rally of 2020.
6:30 p.m.
President Trump's motorcade has left Toledo Express Airport and is heading to the Huntington Center. Inside the Huntington Center, the responsive crowd is enjoying lots of music - we're told President Trump makes the playlists himself - and speeches. His campaign manager was throwing out hats to the crowd.
6 p.m.
President Donald Trump is arriving on Air Force One at Toledo Express Airport. He sent a tweet about Toledo while he was in the air.
Doors appear to be shut at the Huntington Center, with potentially no more people admitted. The capacity at the Huntington Center is about 8,000 people. Those who did not get in can watch the rally on a large screen outdoors nearby.
5:45 p.m.
Vice President Pence's motorcade is seen arriving at the Huntington Center.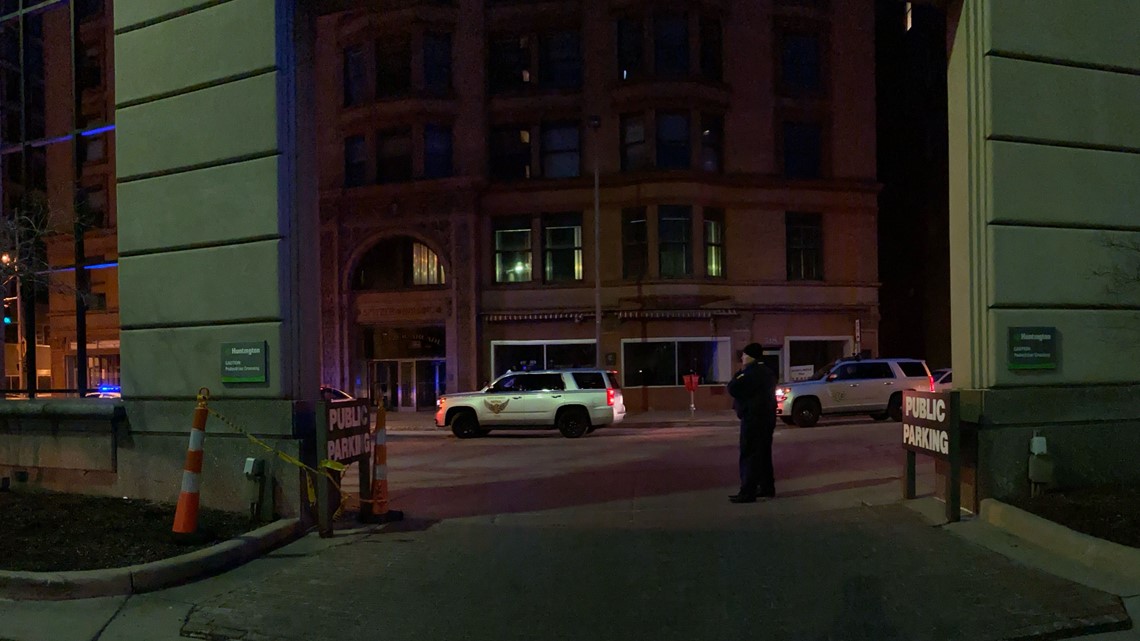 5:25 p.m.
People are still coming into the arena to get ready for tonight's Keep America Great rally. There is an hour and a half until the scheduled event start time.
State Rep. DJ Swearingen kicked off the rally with remarks. Swearingen, (R) - District 89, said his family used to vote exclusively Democrat, drawing boos from the crowd.
5:12 p.m.
CBS News reports that President Donald Trump has departed Joint Base Andrews to head to the Huntington Center in Toledo tonight for his first rally in 2020 as he deals with tensions in Iran and impeachment limbo on Capitol Hill.
5:02 p.m.
Vice President Mike Pence stops off at Schmucker's Restaurant to greet supporters.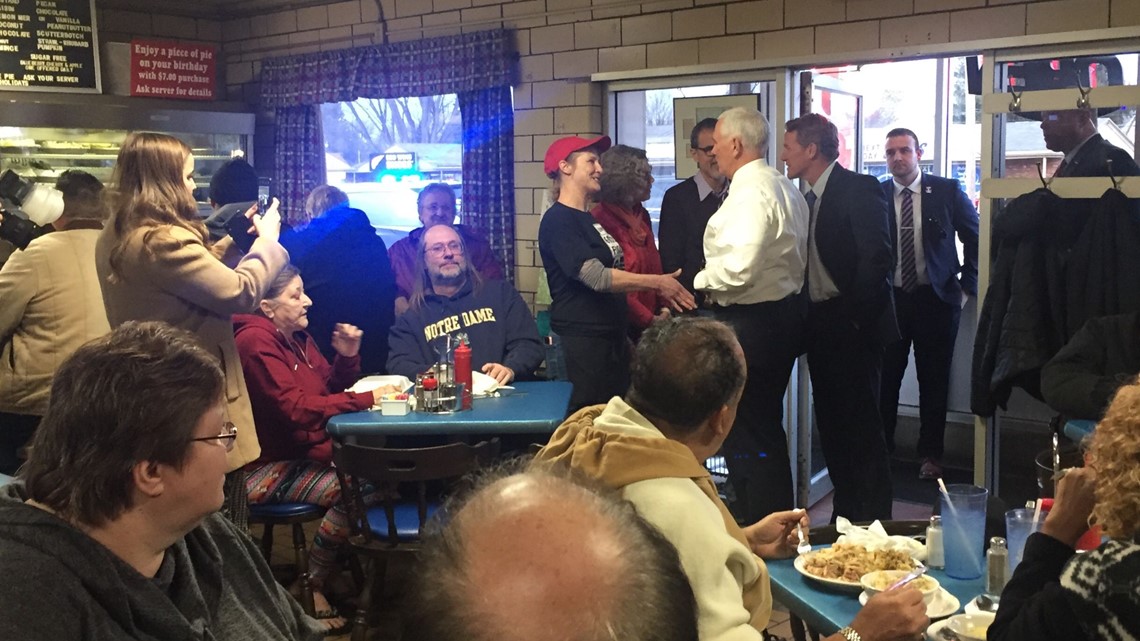 4:56 p.m.
Spotted in the Huntington Center: Samuel Wurzelbacher, aka "Joe The Plumber." Joe the Plumber came to public consciousness in 2008 when he asked then-candidate Barack Obama about his small business tax policy. He is now a prominent conservative activist, commentator, author, having penned the book "Joe the Plumber: Fighting for the American Dream."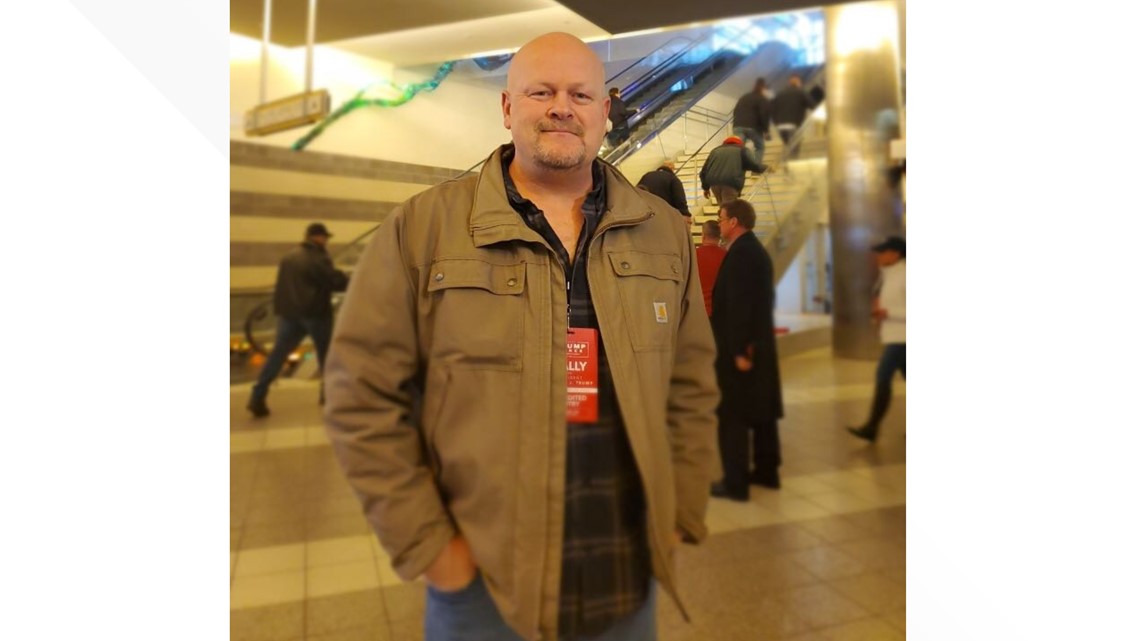 4:24 p.m.
Vice President Mike Pence arrives at Toledo Express Airport. He was greeted by Ohio Lt. Gov. Jon Husted after coming off the plane. His motorcade has left and is heading toward Toledo. He was greeted by supporters waving signs along the route as he passed through on Reynolds Road.
4:16 p.m.
We are just minutes away from when Vice President Mike Pence arrives at Toledo Express Airport. He's expected to land at 4:45 p.m.
4:03 p.m.
The Huntington Center is filling up with Keep America Great rally attendees. The doors are still currently open and people are still coming in. Pro-Trump shirts and merchandise, anti-socialism banners, and Space Force shirts are prevalent. The crowd is randomly picking up chants, including "CNN / Fake News."
PHOTOS: Inside the Huntington Center for the Keep America Great rally
3:37 p.m.
Demonstrating groups are out in full force right now in downtown Toledo. Groups include Make America Union Again and antiwar people seeking peace and encouraging people to "love thy neighbor."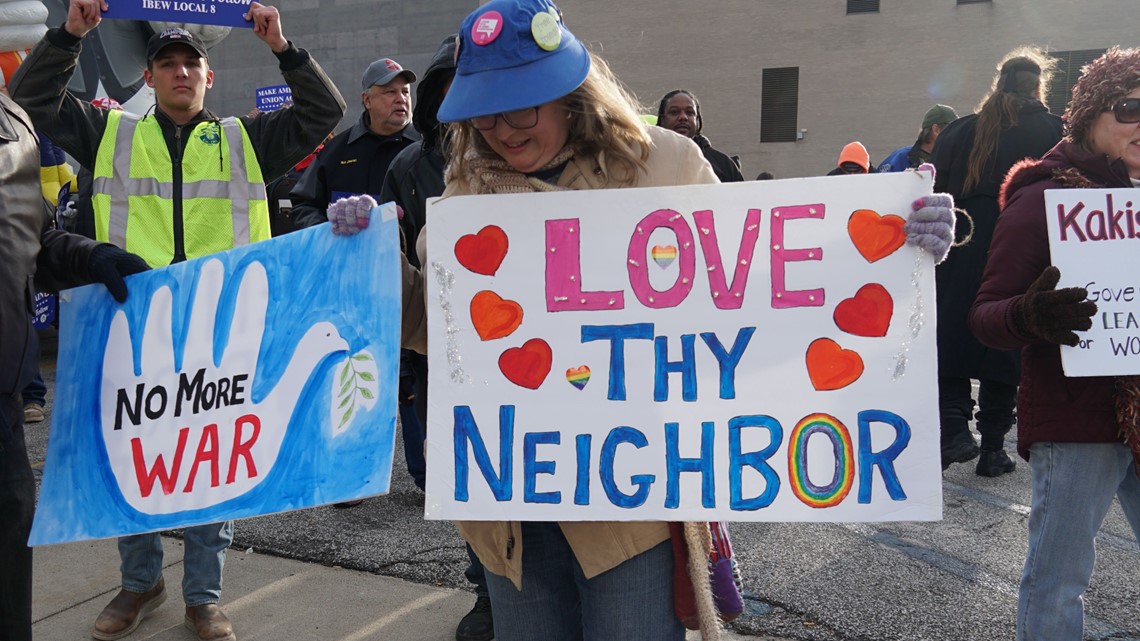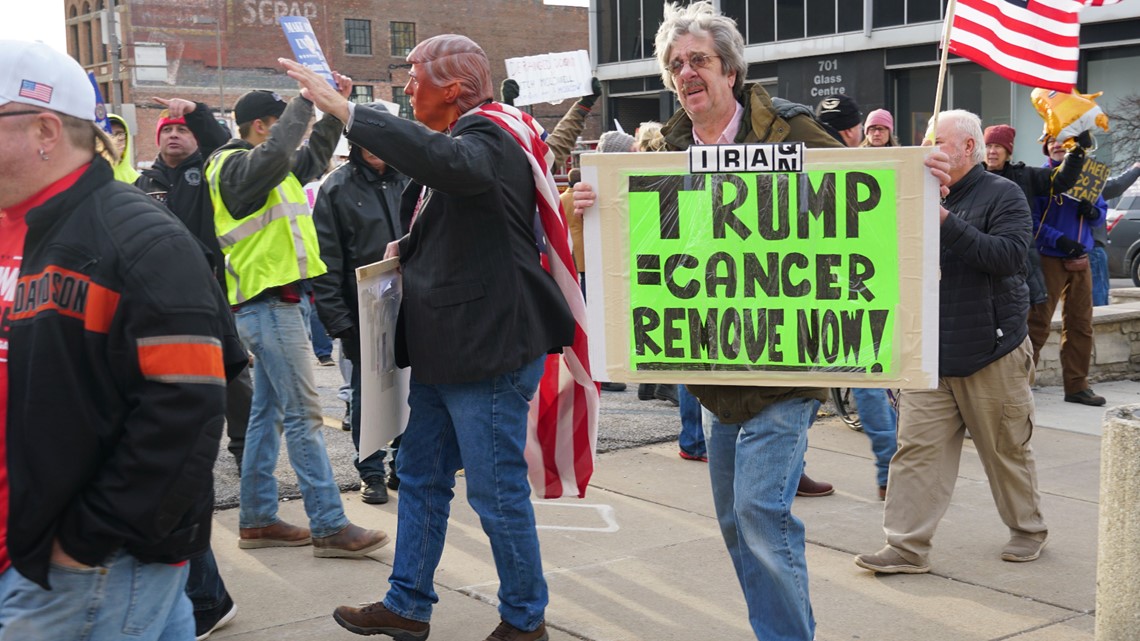 2:42 p.m.
Doors have opened a little bit earlier than the expected 3 p.m. time. Keep America Great rallygoers are heading in to the Huntington Center.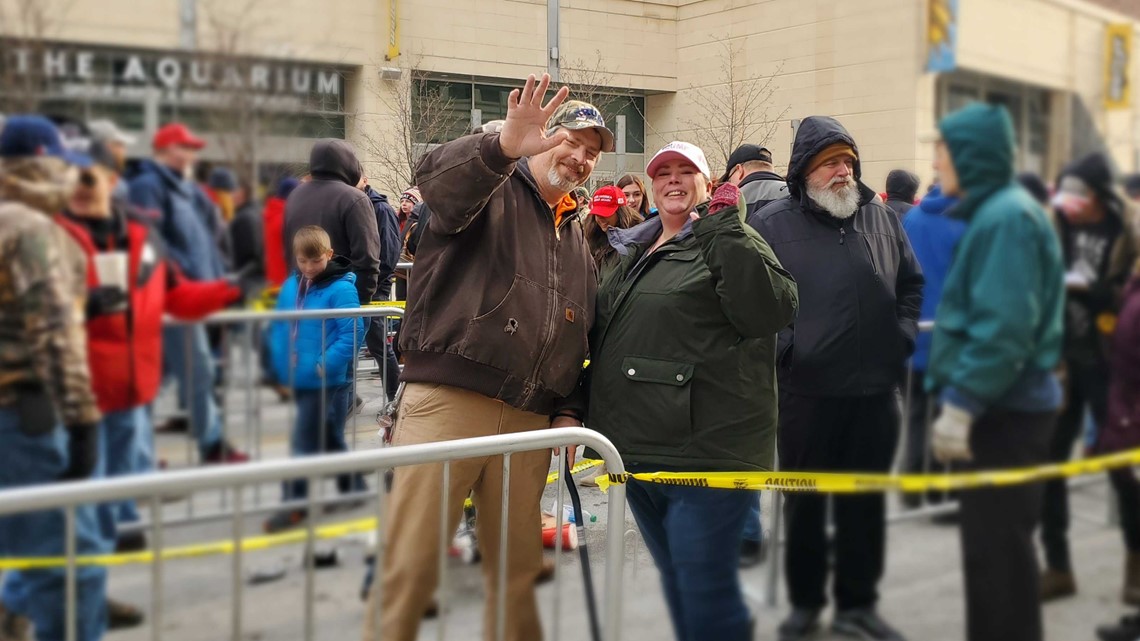 2:25 p.m.
State Rep. DJ Swearingen, (R) - District 89, will speak at the Keep America Great rally Thursday night. Swearingen is the former chairman of the Erie County Republican Party, a position he vacated to serve as state representative. He has filed to maintain his seat in the 89th District.
"I am honored President Trump's team asked me to speak at Thursday's rally," Swearingen said. "Keeping President Trump in office is a priority for 2020, and we are grateful the President wanted to come to Northwest Ohio to recognize his supporters. It will also be great to highlight the momentum in Erie and Ottawa counties to all of those attending."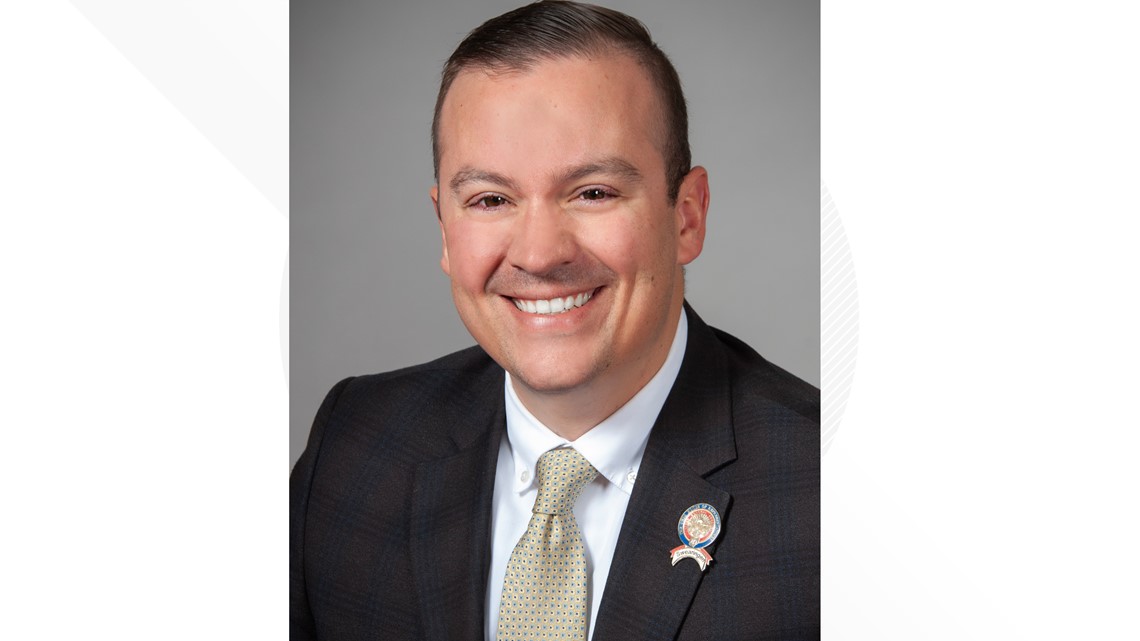 1:50 p.m.
Some of these supporters outside the Huntington Center are from Toledo, and are very excited to see President Trump coming here.
Others have traveled to get here - one of the "Trump buses" out here regularly travels around the country ferrying people to hear the president speak. We asked everyone the same question: What makes Trump different?
Teague Tafelski, who was waiting in line since 11 p.m. Wednesday, said, "He doesn't make outlandish promises. He limits himself to what he knows he can do. He's not going to come out here and sell us one thing and give us a little bit of it and say he did a good job."
Isaiah Goddard, who arrived at the Huntington Center at 1:45 a.m.,discussed Trump's kept promises.
"What makes him different is, OK, you know promises are being made and promises are being kept. You see a lot of record-breaking stuff happening, right? He says what he means and he means what he says because he cares about this country."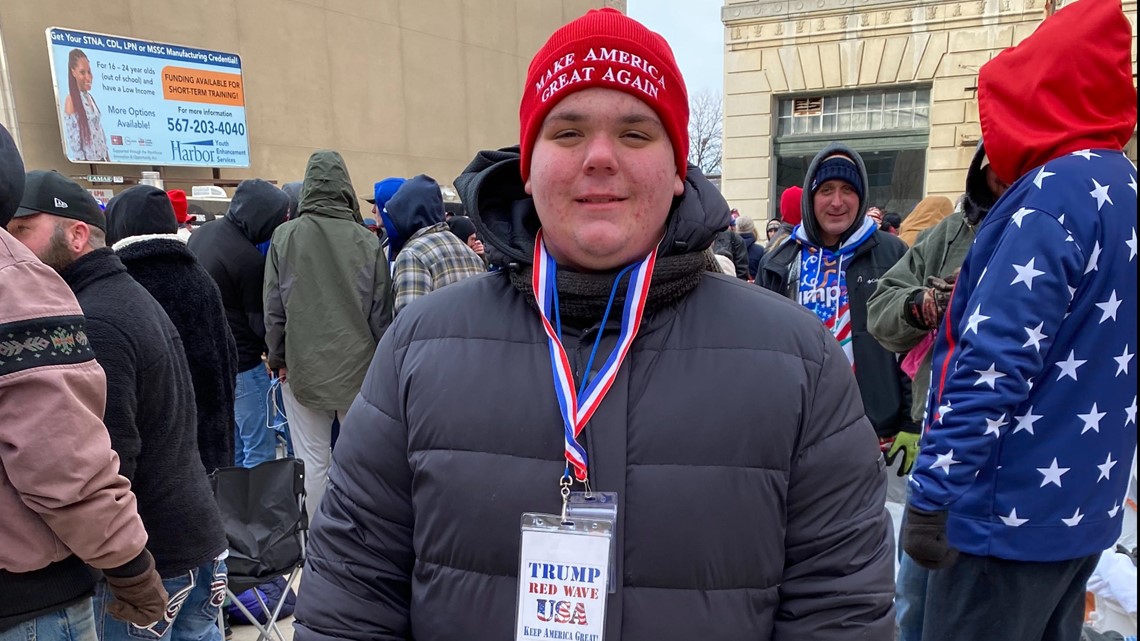 1:45 p.m.
As of now, TARTA does not expect any detours due to the presidential visit. "Pedestrian and vehicle traffic have increased along Erie street, but at this time we are not experiencing any delays," TARTA tweeted.
1:26 p.m.
Imagination Station is closing for the day at 3 p.m. because of the volume of people downtown for the Keep America Great rally. The science center will resume regular business hours at 10 a.m. Friday.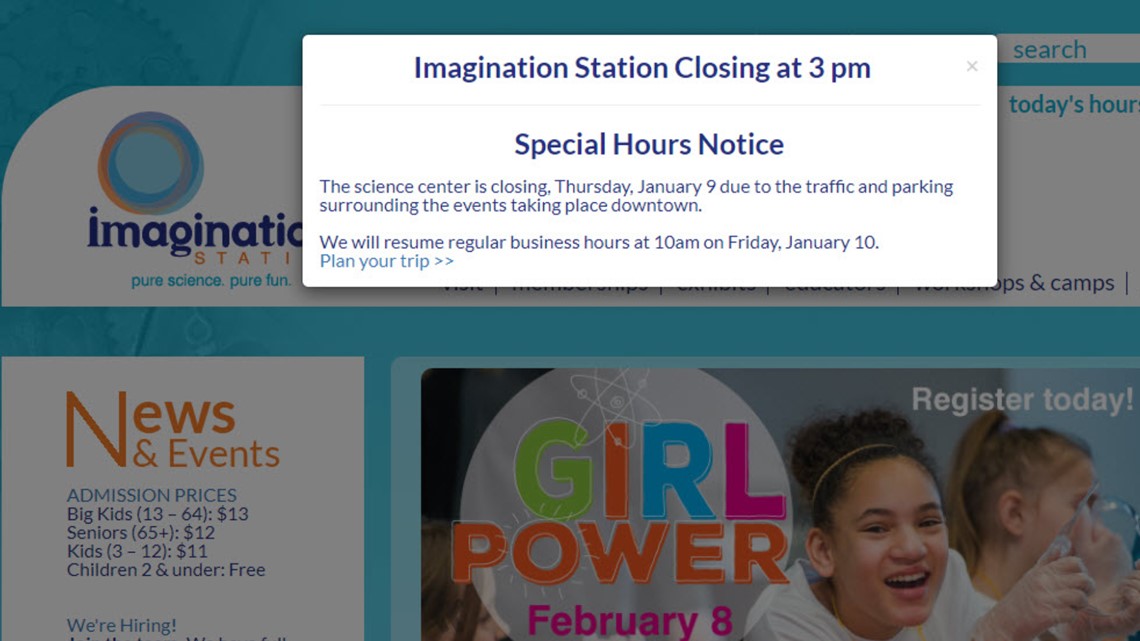 12:30 p.m.
The first person in line at the Huntington Center is Christina Fitchett-Hickson. She said she got here at 12:30 p.m. on Wednesday to be ready for her Keep America Great rally spot. Fitchett-Hickson is from Flint, Mich. She is at this rally with a group of friends, and they take turns holding each other's place in line so they can take bathroom breaks and move around. Fitchett-Hickson said she went to previous Trump rallies and didn't get in, so she took no chances and arrived as early as possible to get in the doors today.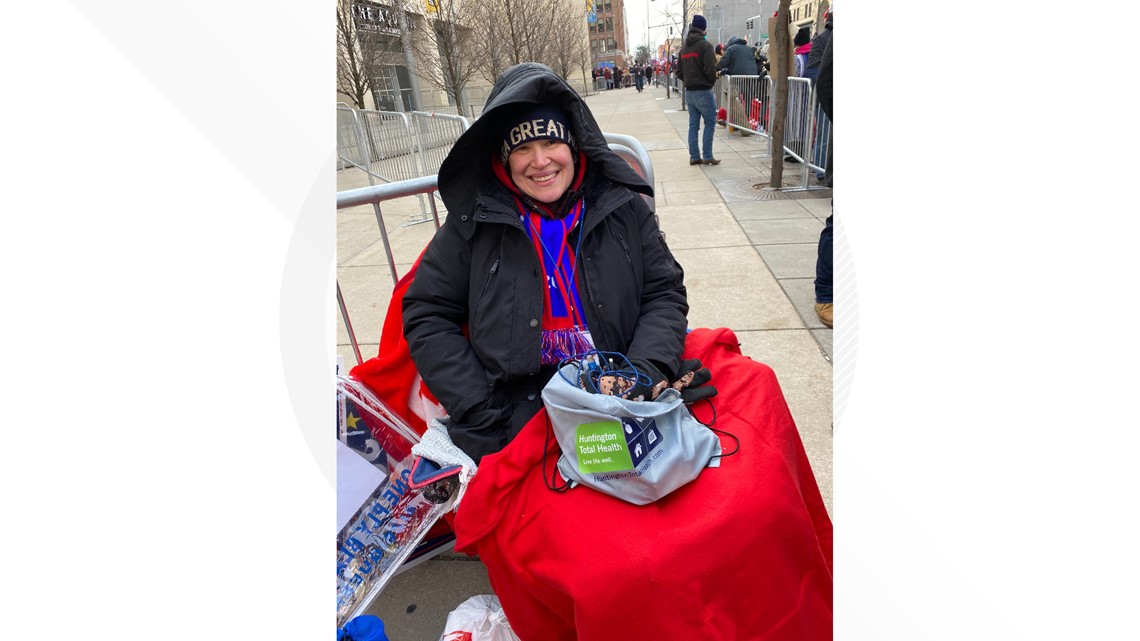 12 p.m.
U.S. Rep. Marcy Kaptur releases a letter addressed to President Trump ahead of his Toledo visit. The letter, in part, reads "Toledo reveres and champions the dignity of labor. Our motto is "Laborare est Orare," To Work Is To Pray." ... Toledo is a far cry from the America you know best, for ours is a a community well acquainted with struggle. Your home in Trump Tower sits along Manhattan's 5th Avenue, among the wealthiest communities in the world where median incomes exceed $133,000 ... Mar-a-Lago is similarly very wealthy. On the otherhand, Toledo sits along the Maumee River, the largest river flowing into the Great Lakes."
Read the letter in its entirety here:
11:44 a.m.
President Trump is discussing his proposed National Environmental Policy Act regulations and mentioned that, "I'm going to Ohio in a little while. We have crowds of people that for two and a half, three days, have been standing out in the cold. I don't know how they do it. They're strong people. But they've been our there and it's pretty much zero degrees. And it's a great state and we have a tremendous crowd. We look forward to that. I'll be leaving in a little while."
President Trump talks about Toledo crowd:
11:30 a.m.
The Trump Pence Keep America Great campaign sent out an email to all people who reserved tickets. The email reads:
We're looking forward to seeing you TONIGHT at President Trump's Rally in Toledo, OH!
We're anticipating a MASSIVE crowd at Huntington Center, so be sure to arrive early to get a good spot.
Date: Thursday, January 9, 2020
Rally Begins: 7:00 PM EST
Doors Open: 3 PM EST (be sure to arrive early)
Location: Huntington Center, 500 Jefferson Ave, Toledo, OH 43604
President Trump is expecting tonight's rally to be HUGE, and he can't wait to see you.
11 a.m.
People in line have a lot of time to express their opinions on President Trump and aren't shy about doing so. From hats, signs, buttons, gloves and shirts, the president's supporters are wearing their hearts and opinions on their sleeves.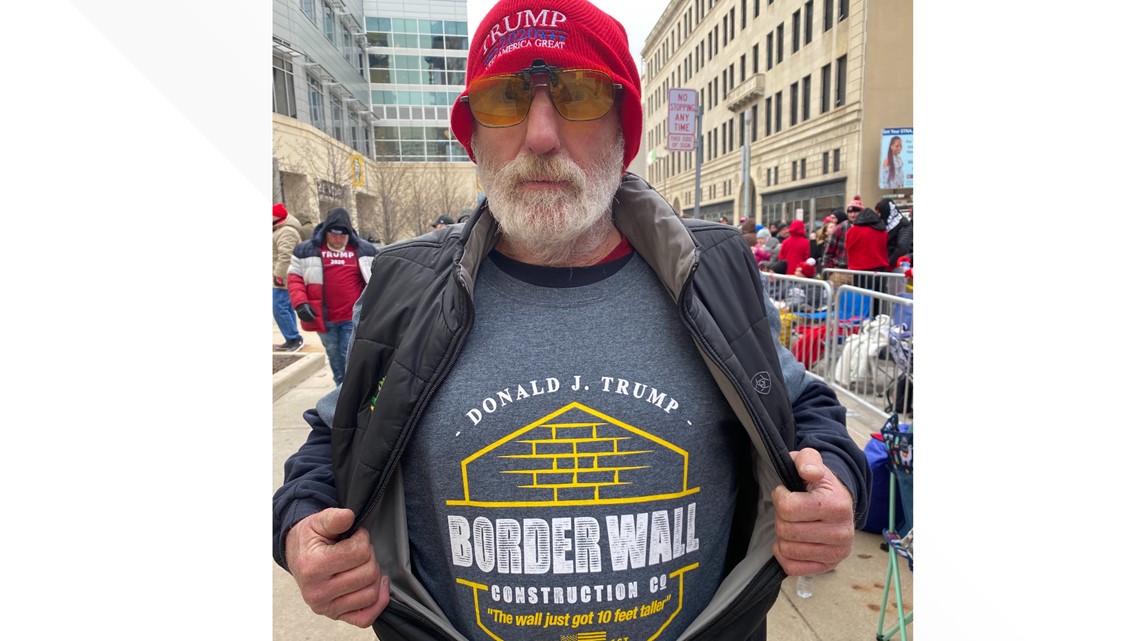 PHOTOS: Sights from outside the Trump rally
10:20 a.m.
The president retweeted a video showing supported camped out outside the Huntington Center, saying, "See you later!" The minute-long video amassed more than 1.4 million views in under 10 hours.
10 a.m.:
All streets around the Huntington Center are closed by at least 10 a.m. Those streets include:
Madison at St. Clair
St. Clair at Jefferson
Jefferson at Huron
Huron at Madison
WHERE YOU CAN PARK, WHAT ROADS ARE CLOSED:
8:18 a.m.
Supporters are lining up outside the Huntington Center - and some die-hards camped out overnight Wednesday - ready to get a prime spot for President Donald Trump's 7 p.m. Keep America Great rally. This rally is the first campaign stop of 2020 and Vice President Mike Pence is joining the president on this leg of the campaign.