FINDLAY, Ohio — UPDATE: The unofficial results are in regarding the Hancock Co. special election held Tuesday to vote on a tax levy for Findlay City Schools.
For the second time this year, the 5.9 mill operational levy was rejected by voters, with 54.45% voting against the levy.
The unofficial voting totals reflect in-person votes and absentee ballots received Tuesday, Aug. 4 by 7:30 p.m. The board of elections expects more ballots to come in to be calculated during the Official Canvass. Following certification of the Official Canvass, the board will conduct a state-mandated audit.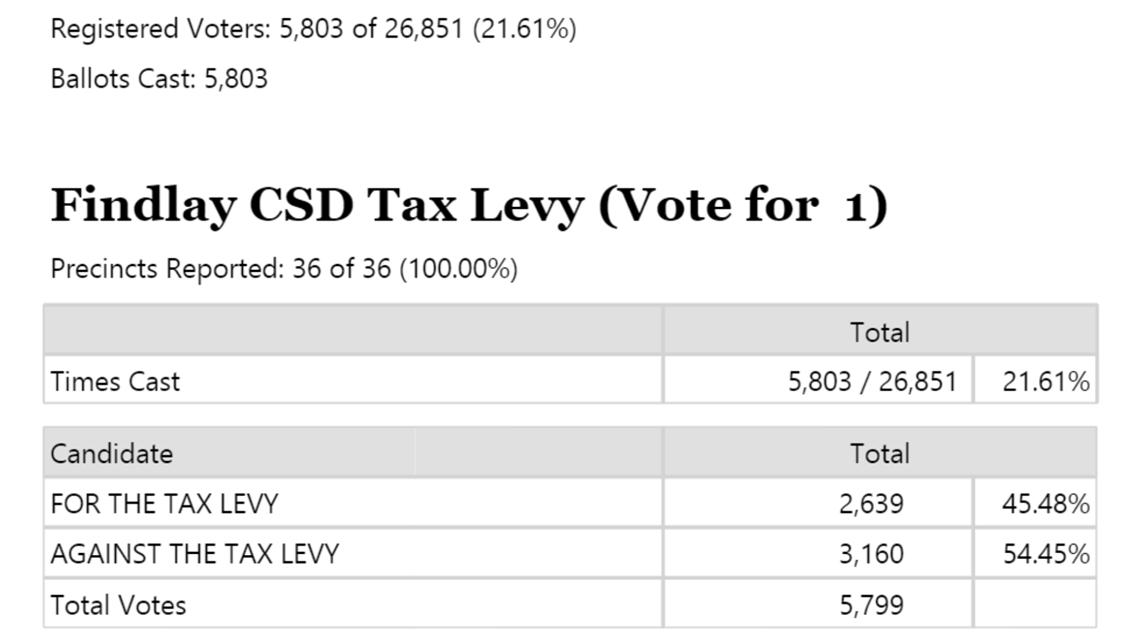 Amid the coronavirus pandemic, Findlay City Schools officials have worked hard to get this levy passed.
Since the primaries, the district has made some staffing cuts but has held off on cutting extracurricular activities for now.
Incoming superintendent Troy Roth said last week the district has gone without receiving new money from voters since 2004, and without the estimated $5 million a year from this operating levy, the district would have to make cuts to more staff positions and special student services.
"You know, we have all of these extracurriculars, we have AP courses, CCP courses, we have opportunities and we have all of the clubs and things and athletics that really set us apart. And I like to say that there's really something here for any kids for any interest, we have it," Roth said.
Roth said he believes the operational levy was voted down during the primaries because of the confusion over the April elections during the mandated stay-at-home order.
"We'll take the data and the results of this levy and we can tie that into our planning for the future. You're only voting for Findlay City Schools this time, so it'll be clear what our community will support," he said last week.
Roth added at the time that if the levy was voted down again, the district would be able to put the same levy back on the upcoming November ballot.