TOLEDO, Ohio — For a lot of us, fall begins as soon as the calendar hits Sept. 1. - which means Halloween is right around the corner.
So what will be the status of spooky season and trick-or-treat this year with the coronavirus pandemic?
"Halloween celebrations this year will not look like those in years past. Face coverings must be worn, social distancing should be practiced, large groups should be avoided. And stay home if you are sick," DeWine said during a coronavirus briefing on Sept. 17.
In the city of Toledo, plans were announced Thursday, Sept. 24 to go forward with trick or treating on Oct. 31 from 6-8 p.m. Residents are asked to observe COVID-19 guidelines established by local and state health departments.
Toledo-Lucas County Health Department Recommendations
The health department recommends that all communities host trick-or-treating activities on Oct. 31 from 6-8 p.m.
Officials with the department said this recommendation is to lessen the chances of potential exposure, while trying to keep everyone in Lucas County as safe as possible.
"Halloween festivities, in addition to other holidays, will be different this year due to COVID-19," said Dr. Eric Zgodzinski, Health Commissioner. "However, we feel it's important to have our community celebrate safely. The guidance TLCHD issued provides tips for trick-or-treaters, persons handing out treats, and those planning events."
A complete list of the recommendations can be found here.
CONFIRMED AREA TRICK OR TREATING
TOLEDO
Toledo's trick-or-treat will be Oct. 31 from 6-8 p.m.
OREGON
Oregon's trick-or-treat will be Oct. 31 from 6 - 8 p.m.
TEMPERANCE
There is a trunk and treat event scheduled for Friday, Oct. 23, from 6:30 p.m. to 7:30 p.m. at Forestview Lanes (2345 W Dean Rd, Temperance, MI). It's free and open to the public. You can register your vehicle to participate in the event by emailing to participate at communityevent2020@outlook.com.
There will be prizes for the best decorations and best costumes.
ROSSFORD
The city of Rossford is going forward with trick or treat plans on Oct. 31 until further notice, Mayor Neil MacKinnon III said.
The city will go forward with afternoon trick-or-treating on Halloween, from 1 p.m. to 3 p.m.
Mayor MacKinnon suggested the afternoon time after last year's trick-or-treat was moved due to inclement weather.
He says "unless they hear otherwise," he sees no reason why trick or treating cannot happen.
However, the Halloween Parade has been canceled for this year. Mayor MacKinnon made the announcement to his Facebook page, which reads, in part:
I've been informed by the School District that unfortunately the upcoming Halloween Parade has been cancelled due to our current pandemic. This event is actually considered a field trip and field trips are not allowed for at least the first semester of this school year due to our current health situation.
SYLVANIA
The City of Sylvania will trick-or-treat on Oct. 31 from 6 p.m. to 7:30 p.m. The city posted on their Facebook page safety guidelines to follow if you plan on participating.
MONROE
Door to door Trick-or-Treat for Monroe will take place this year from 6:30 - 8 p.m. on Oct. 31, at participant's discretion.
Those who do not wish to participate are asked to turn their porch lights off.
To make trick-or-treating safer this year, you should avoid direct contact with trick-or-treaters, give out treats outdoors if possible, set up a station with individually bagged treats for kids to take, wash hands before handling treats and wear a mask.
For more information and for a link to the CDC guidelines for this and other Halloween traditions, click here.
MAUMEE
The city of Maumee will hold trick or treat on Oct. 31 from 6 p.m. to 8 p.m.
PORT CLINTON
The city of Port Clinton has decided to postpone trick-or-treating activities until Saturday, Nov. 7 from 4 p.m. to 6 p.m., pending the findings of Nov. 5's State of Ohio COVID-19 report.
Due to Ottawa County's designation of COVID-19 level red, activities have been delayed. For as long as Ottawa County remains in "red" or higher, trick or treat will continue to be postponed at one week intervals. Once the level drops, trick or treat will take place that Saturday at the originally scheduled time.
The weekly evaluation process would continue until Thanksgiving, when at that point if Ottawa County remains in red, trick or treat will be canceled for this year.
BOWLING GREEN
Trick-or-treating in Bowling Green will be held on Oct. 31 from 6:30 p.m. to 8 p.m. The city said on Facebook that citizens planning on handing out treats should turn on their porch lights to indicate participation.
Those driving during the evening of Oct. 31 are asked to drive slowly and with caution, being mindful of the large number of pedestrians that evening.
On Monday, Oct. 26, the Wood Co. Sheriff's Office will also hold its annual trunk or treat celebration, with COVID-19 precautions in place. This year's event will be held in a drive-thru fashion from 6 p.m. to 7:30 p.m.
Participants must remain in their vehicles and the trunks of law enforcement agencies will be decked out, Halloween style. Costumes are encouraged.
The event is free and will take place at 1960 E. Gypsy Lane Road in Bowling Green, rain or shine.
FREMONT
The city of Fremont plans to hold a city-wide trick or treat on Oct. 31 from 5 p.m. to 7 p.m. Families are asked to follow the state's mask mandate, practice social distancing and avoid large groups. The city asks that if you are feeling ill on that day to please stay home. Additional guidelines could be put in place before the day arrives.
VILLAGE OF FOREST
The village of Forest will trick or treat on Oct. 31 from 6 to 7:30 p.m.
Inclement weather postponed trick-or-treating on the originally scheduled date.
WOODVILLE
The village of Woodville is also planning to have trick or treat on Halloween "unless the health department states otherwise," according to an event on the village's Facebook page.
The village says it's up to you whether you want your children to participate, and ask that social distancing guidelines are followed if you do decide to go.
NORWALK
The City of Norwalk confirmed on their Facebook page that trick or treat will take place on Saturday, Oct. 31 from 4 to 6 p.m.
PEMBERVILLE
Pemberville Mayor Carol Bailey said trick-or-treating will be Saturday, Oct. 31, from 5 to 7 p.m. The announcement asked participants to follow all CDC mandates.
PERRYSBURG
The city of Perrysburg will be trick-or-treating as planned on Saturday, Oct. 31 from 6 p.m. to 8 p.m. with the city asking that all residents follow safety protocols recommended by the State of Ohio. Face coverings and social distancing are encouraged.
Perrysburg officials caution that plans are subject to change at any time and will be announced through social media. WTOL will also continue to monitor these plans and bring you the latest if they are to change.
TIFFIN
Tiffin is planning to hold trick or treating as originally scheduled on Oct. 25 from 6 to 8 p.m. Mayor Aaron Montz said "residents should evaluate their own household and make the decision they feel most comfortable with in regards to participation."
VILLAGE OF WALBRIDGE
The village of Walbridge Trick-or-Treating is on with a time difference this year. The Village Council and Administration has planned for trick-or-treating to take place on Saturday, Oct. 31 from 3 to 5 p.m.
Leaders with the Village Council and Administration believe that daytime hours will promote greater social distancing efforts, safety, and hopefully will encourage more households to pass-out candy this year.


ROCKY RIDGE
The village of Rocky Ridge will hold trick or treat on Oct. 29 from 6 to 7:30 p.m.
Houses throughout the town will participate, as well as the fire station and houses on Woodside Drive.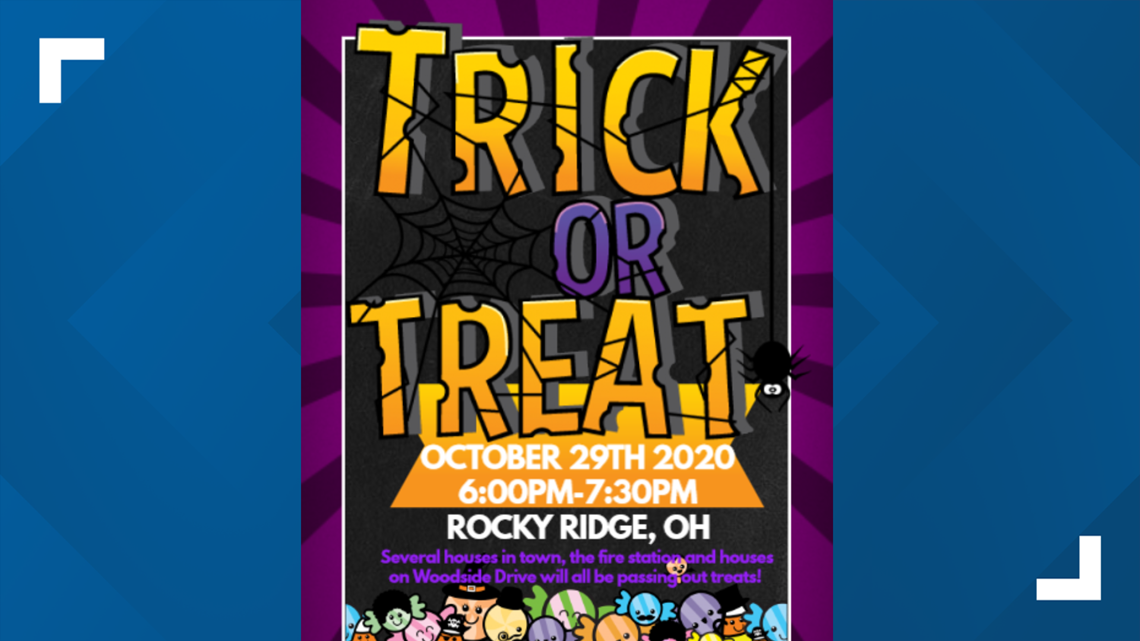 NAPOLEON
Trick-or-treating is on in the City of Napoleon.
The event is scheduled for Thursday, Oct. 29 from 6 to 7:30 p.m.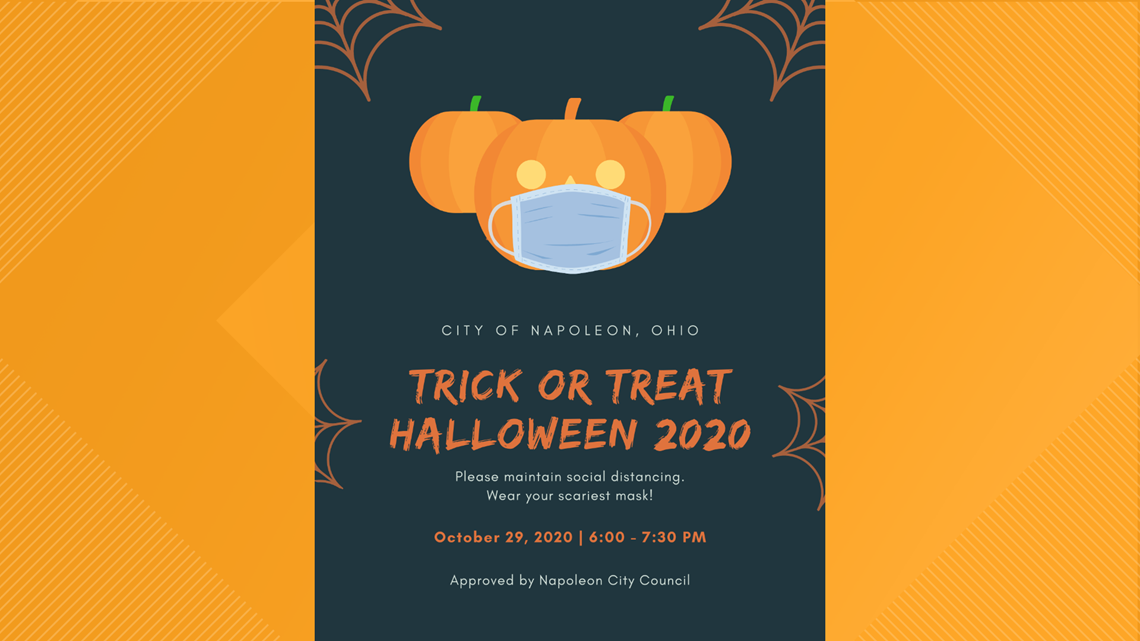 WHITEHOUSE
The Whitehouse Police Department announced that trick or treat in the village of Whitehouse will take place Oct. 31 from 6 to 8 p.m.
HASKINS
The Village of Haskins trick-or-treat is scheduled for Oct. 31 from 5 p.m. to 7 p.m. The village's Halloween Parade and Haunted Village Hall has been canceled this year.
The village council says parents are urged to use caution and best discretion if they choose to participate in trick-or-treating this year, as well as to follow the COVID-19 guidelines established by local and state health departments.
DUNDEE
The Dundee Police Department has announced trick or treat hours for Saturday, Oct. 31.
The village of Dundee will hold trick or treat between 5:30 to 7:30 p.m. on Oct. 31.
The annual Halloween Bash will not be taking place.
VILLAGE OF BLISSFIELD
The Village of Blissfield recommends that trick-or-treaters start collecting their candy from 5:30 - 7 p.m.
Homes that are accepting trick-or-treaters are advised to keep their lights off until after 7 p.m.
OAK HARBOR
Trick-or-treating is scheduled for Saturday, Oct. 31.
Downtown Oak Harbor: trick-or-treat from store to store from 5:30 p.m. to 6:30 p.m. Participants are invited to come in costume and bring their bag.
Residential trick or treating in Oak Harbor will take place on the same day, from 6 p.m. to 7:30 p.m.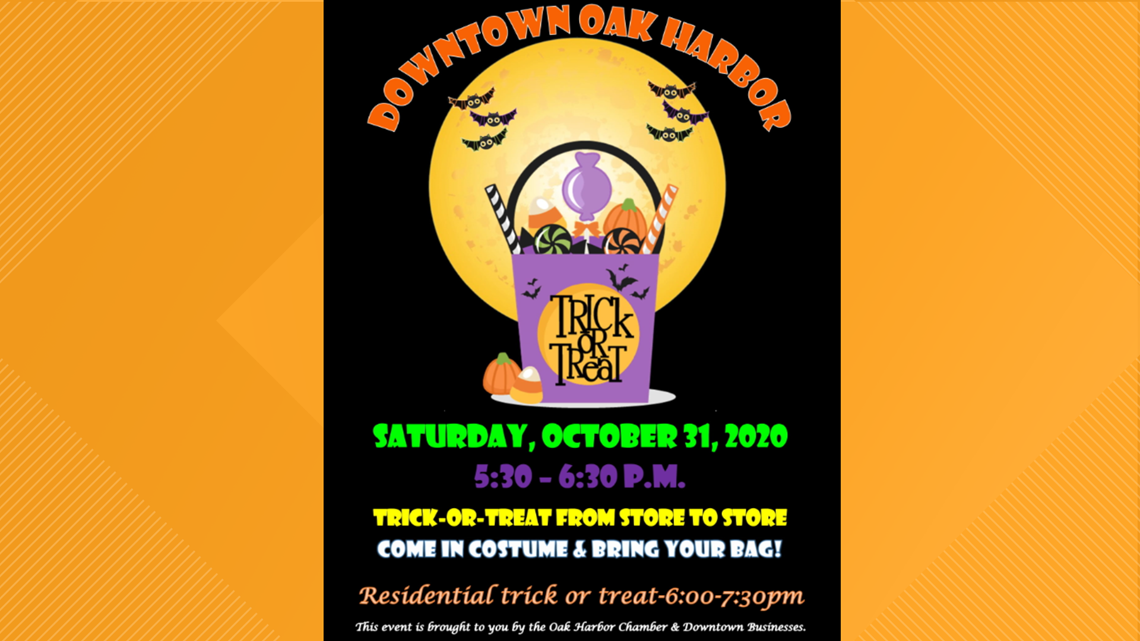 SANDUSKY COUNTY CHAMBER OF COMMERCE
To encourage supporting local business, the Chamber of Commerce of Sandusky County is hosting its Trick or Treat Candy Crawl throughout the entire month of October.
The chamber has mapped out ten businesses that are offering "tricks" and "treats" when you stop into their locations. The Candy Crawl map can be found here.
Visit each business on the map and see if they are offering a trick or a treat.
When you get to each location, there will be a QR Code set out for you to scan. Scan the QR Code and it will tell you if you receive a Trick or Treat at that particular location.
Be sure to check all participating businesses' operating hours before stopping in on the Candy Crawl!
The ten participating businesses on the Trick or Treat Candy Crawl are:
1. The Chamber of Commerce - 215 Croghan St. Fremont, OH 43420
2. Polter Real Estate - 205 S Front St. Fremont, OH 43420
3. Fremont Federal Credit Union - 215 Croghan St. Fremont, OH 43420
4. The Strand Concert Theater - 220 S Front St. Fremont, OH 43420
5. Renhill HR on Demand – 409 S Front St. Fremont, OH 43420
6. Howard Hanna Real Estate – 624 W State St. Fremont, OH 43420
7. Friendship Store – 914 W State St. Fremont, OH 43420
8. Edward Jones–Ken Kreilick – 2140 Enterprise Dr Ste A. Fremont, OH 43420
9. First National Bank (Fremont branch) – 1300 Oak Harbor Rd. Fremont, OH 43420
10. First National Bank (Clyde branch) – 122 E McPherson Highway. Clyde, OH 43410
Adults are also encouraged to stop in by themselves for some candy and fun!
For more information on the Candy Crawl and participating businesses, click here.
We are also checking with other municipalities and the health departments to see what their plans are for Halloween this year.
TRICK OR TREATING ELSEWHERE IN OHIO
Other Ohio communities are starting to decide yea or nay on this year's candy grab as well.
To the northeast, North Canton was among the first communities in the state to verify it was going ahead with traditional plans, and Hilliard near Columbus is also going through with trick or treat, though masks are recommended. That city said almost 90% of people who responded through its community engagement website felt that trick-or-treating can safely happen so the city is moving forward with some precautions.
Recommendations include wearing masks, adults handing out candy saying outside homes while wearing gloves, and not allowing anyone to grab candy directly from a bowl.
WHAT DO YOU THINK?
Do you think trick-or-treat should be held as normal this year? Sound off on our Twitter and Facebook pages and let us know what you think.
We will update the story with more information as we learn more from our area communities.