TOLEDO, Ohio — For a lot of us, fall begins as soon as the calendar hits Sept. 1. - which means Halloween is right around the corner.
So what will be the status of spooky season and trick-or-treat this year with the coronavirus pandemic?
Gov. Mike DeWine says his administration is working on guidelines for Ohioans to stay safe with the COVID-19 pandemic continuing.
"Halloween celebrations this year will not look like those in years past. Face coverings must be worn, social distancing should be practiced, large groups should be avoided. And stay home if you are sick," DeWine said during his Thursday coronavirus briefing.
DeWine says the state is developing guidance that will be shared soon on coronavirus.ohio.gov to help communities and families plan.
In the city of Toledo, plans were announced Thursday, Sept. 24 to go forward with trick or treating on Oct. 31 from 6-8 p.m. Residents are asked to observe COVID-19 guidelines established by local and state health departments.
WTOL has reached out to the Toledo-Lucas County Health Department and the Ohio Department of Health to see what additional guidance they may have on trick-or-treating.
CONFIRMED AREA TRICK OR TREATING
TOLEDO
Toledo's trick or treat will be Oct. 31 from 6-8 p.m.
ROSSFORD
The city of Rossford is going forward with trick or treat plans on Oct. 31 until further notice, Mayor Neil MacKinnon III said.
The city will go forward with afternoon trick-or-treating on Halloween, from 1 p.m. to 3 p.m.
Mayor MacKinnon suggested the afternoon time after last year's trick-or-treat was moved due to inclement weather.
He says "unless they hear otherwise," he sees no reason why trick or treating cannot happen.
However, the Halloween Parade has been canceled for this year. Mayor MacKinnon made the announcement to his Facebook page, which reads, in part:
I've been informed by the School District that unfortunately the upcoming Halloween Parade has been cancelled due to our current pandemic. This event is actually considered a field trip and field trips are not allowed for at least the first semester of this school year due to our current health situation.
SYLVANIA
The City of Sylvania will trick-or-treat on Oct. 31 from 6 p.m. to 7:30 p.m. The city posted on their Facebook page safety guidelines to follow if you plan on participating.
MAUMEE
The city of Maumee will hold trick or treat on Oct. 31 from 6-8 p.m.
FREMONT
The city of Fremont plans to hold a city-wide trick or treat on Oct. 31 from 5 p.m. to 7 p.m. Families are asked to follow the state's mask mandate, practice social distancing and avoid large groups. The city asks that if you are feeling ill on that day to please stay home. Additional guidelines could be put in place before the day arrives.
WOODVILLE
The village of Woodville is also planning to have trick or treat on Halloween "unless the health department states otherwise," according to an event on the village's Facebook page.
The village says it's up to you whether you want your children to participate, and ask that social distancing guidelines are followed if you do decide to go.
NORWALK
The City of Norwalk confirmed on their Facebook page that trick or treat will take place on Saturday, Oct. 31 from 4 to 6 p.m.
PEMBERVILLE
Pemberville Mayor Carol Bailey said trick-or-treating will be Saturday, Oct. 31, from 5 to 7 p.m. The announcement asked participants to follow all CDC mandates.
PERRYSBURG
The city of Perrysburg will be trick-or-treating as planned on Saturday, Oct. 31 from 6 p.m. to 8 p.m. with the city asking that all residents follow safety protocols recommended by the State of Ohio. Face coverings and social distancing are encouraged.
Perrysburg officials caution that plans are subject to change at any time and will be announced through social media. WTOL will also continue to monitor these plans and bring you the latest if they are to change.
TIFFIN
Tiffin is planning to hold trick or treating as originally scheduled on Oct. 25 from 6-8 p.m. Mayor Aaron Montz said "residents should evaluate their own household and make the decision they feel most comfortable with in regards to participation."
VILLAGE OF WALBRIDGE
The Village of Walbridge Trick-or-Treating is on with a time difference this year. The Village Council and Administration has planned for trick-or-treating to take place on Saturday, Oct. 31 from 3-5 p.m.
Leaders with the Village Council and Administration believe that daytime hours will promote greater social distancing efforts, safety, and hopefully will encourage more households to pass-out candy this year.


ROCKY RIDGE
The village of Rocky Ridge will hold trick or treat on Oct. 29 from 6-7:30 p.m.
Houses throughout the town will participate, as well as the fire station and houses on Woodside Drive.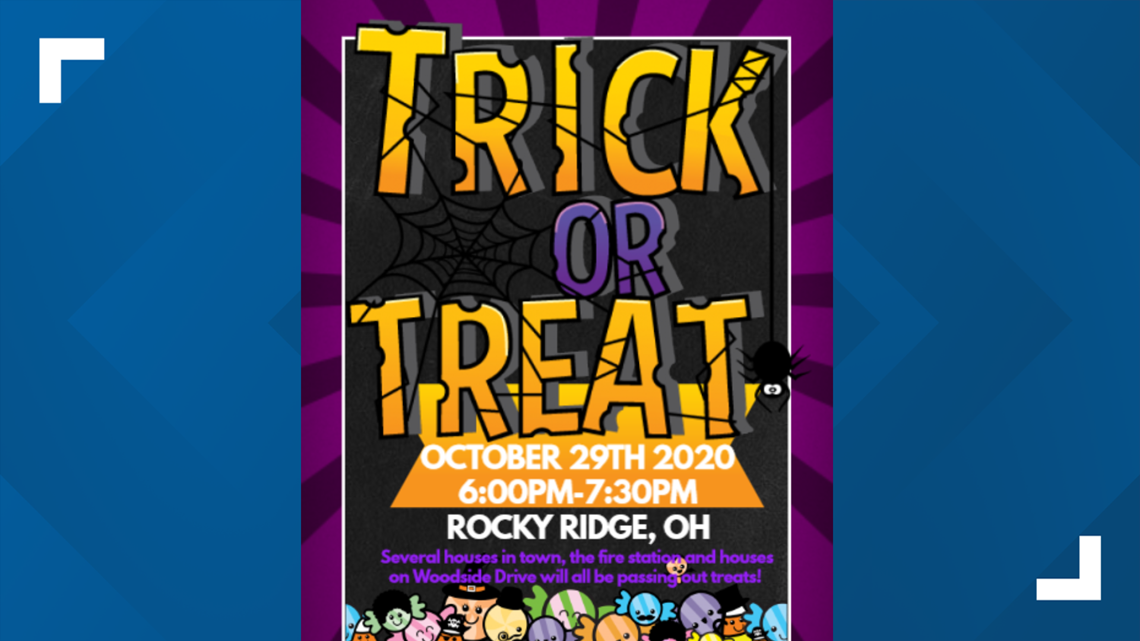 NAPOLEON
Trick-or-treating is on in the City of Napoleon.
The event is scheduled for Thursday, Oct. 29 from 6-7:30 p.m.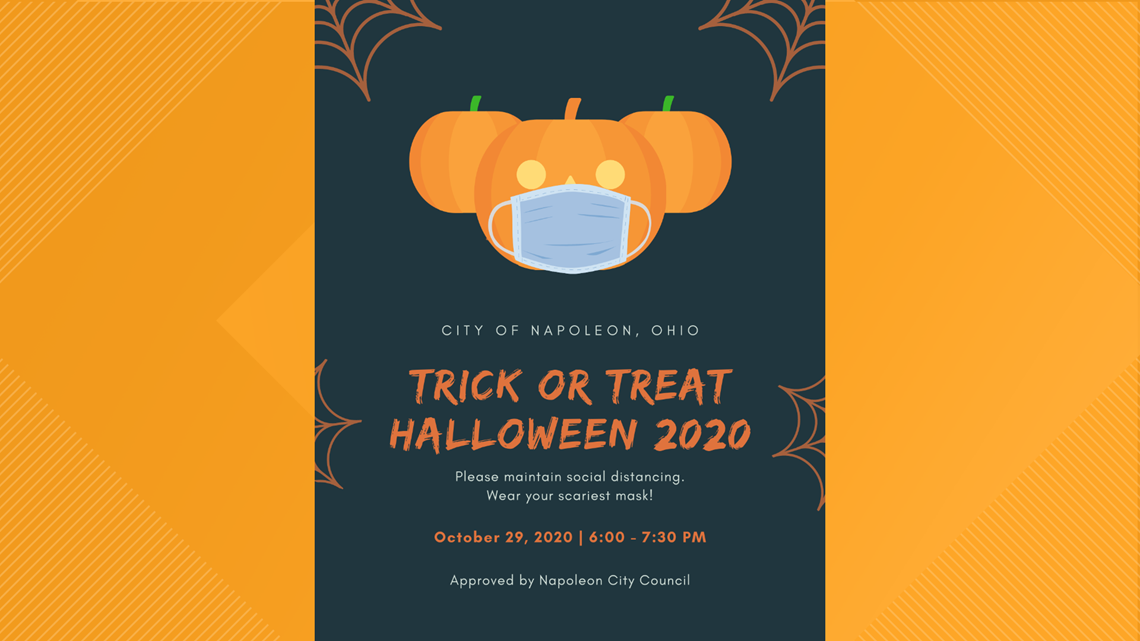 VILLAGE OF BLISSFIELD
The Village of Blissfield recommends that trick-or-treaters start collecting their candy from 5:30 - 7 p.m.
Homes that are accepting trick-or-treaters are advised to keep their lights off until after 7 p.m.


TOLEDO ZOO
Little Boo and Pumpkin Path will take place at the Toledo Zoo. The zoo announced the return of the popular events on Facebook. Little Boo is the zoo's trick-or-treat event.
Little Boo will be on Oct. 15 and 16 from 10 a.m.-3 p.m.
Pumpkin Path will be Oct.17 and 18 from 10 a.m.-4 p.m.
The event is rain or shine and limited capacity.
We are also checking with other municipalities and the health departments to see what their plans are for Halloween this year.
TRICK OR TREATING ELSEWHERE IN OHIO
Other Ohio communities are starting to decide yea or nay on this year's candy grab as well.
To the northeast, North Canton was among the first communities in the state to verify it was going ahead with traditional plans, and Hilliard near Columbus is also going through with trick or treat, though masks are recommended. That city said almost 90% of people who responded through its community engagement website felt that trick-or-treating can safely happen so the city is moving forward with some precautions.
Recommendations include wearing masks, adults handing out candy saying outside homes while wearing gloves, and not allowing anyone to grab candy directly from a bowl.
WHAT DO YOU THINK?
Do you think trick-or-treat should be held as normal this year? Sound off on our Twitter and Facebook pages and let us know what you think.
We will update the story with more information as we learn more from our area communities.