TOLEDO, Ohio — This story will be continuously updated before and during Tuesday's memorial service for TPD Officer Brandon Stalker. Refresh this story for the latest.
Toledo Police Officer Brandon Stalker, killed in the line of duty on Jan. 18, is being remembered, honored and mourned by his loved ones, brothers and sisters in blue, the Toledo-area community and beyond on Tuesday.
Stalker, 24, was shot and killed in the line of duty last week while working perimeter security at a standoff in central Toledo.
Stalker is the second Toledo police officer shot and killed in the line of duty in the last year. Officer Anthony Dia was killed by a gunman on July 4, 2020.
As it was after Dia's murder, support for Officer Stalker's family and his fellow police officers has been in full force in the days following the tragic shooting, even from people who never knew the 24-year-old.
4:30 p.m.
Toledo Police Chief George Kral thanks the community for the support and send-off for Officer Brandon Stalker.
12:45 p.m.
The funeral procession has entered Toledo Memorial Park, where Officer Brandon Stalker will be laid to rest in a private ceremony.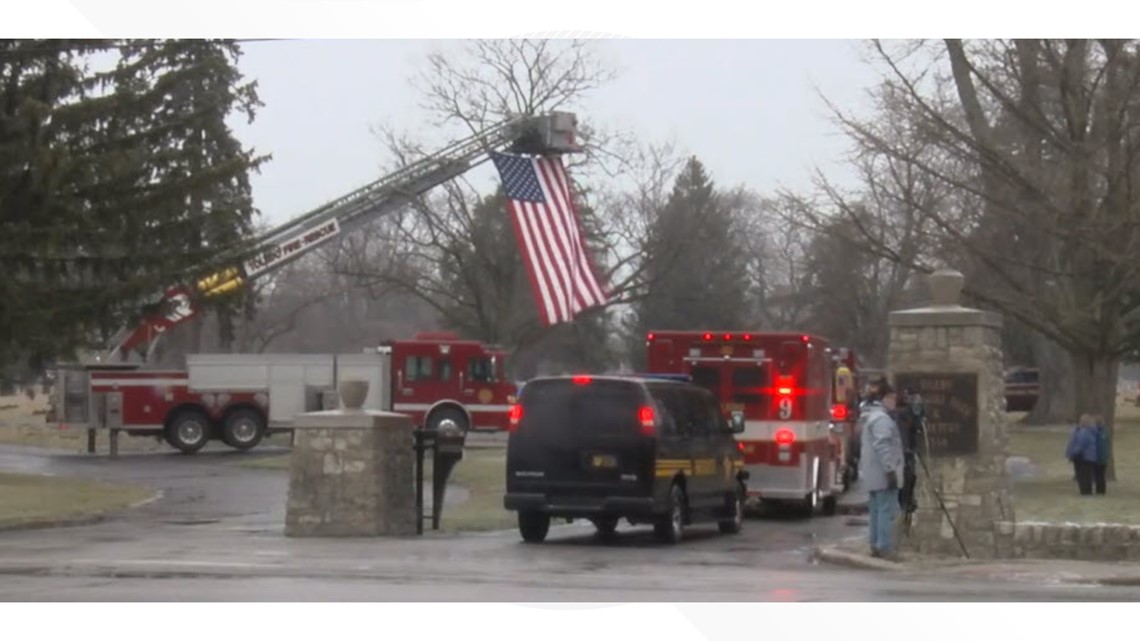 Noon
The funeral processional for Officer Brandon Stalker is underway, winding from Savage Hall on the University of Toledo campus, down Monroe Street to Toledo Memorial Park, 6283 Monroe St., for private services.
People are lining the route, waving American and thin blue line flags to support Toledo police and memory of the fallen 24-year-old officer.
Among those lining the route are middle school students from Christ the King middle school on Harvest Lane.
The graveside services at the cemetery are private and the public is encouraged to pay their respect by lining the route as the processional drives by.
The line of cars appears never-ending as they move from the University of Toledo along Monroe Street as law enforcement from across the state salute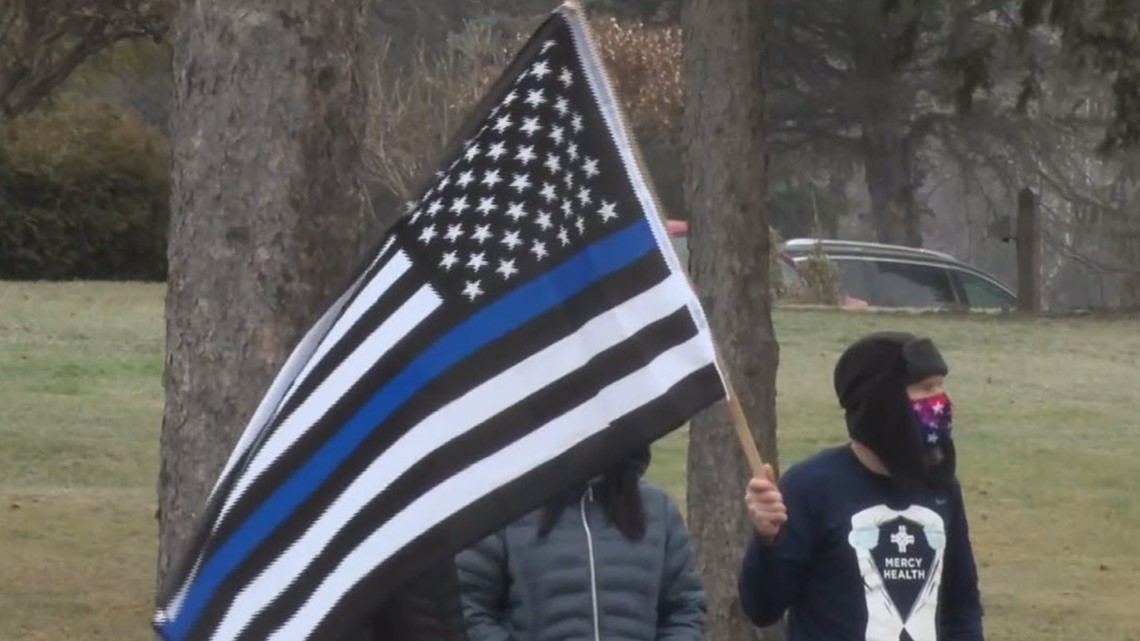 11:00 a.m.
Law enforcement officers in uniform start lining up for the procession route in honor of fallen Officer Stalker.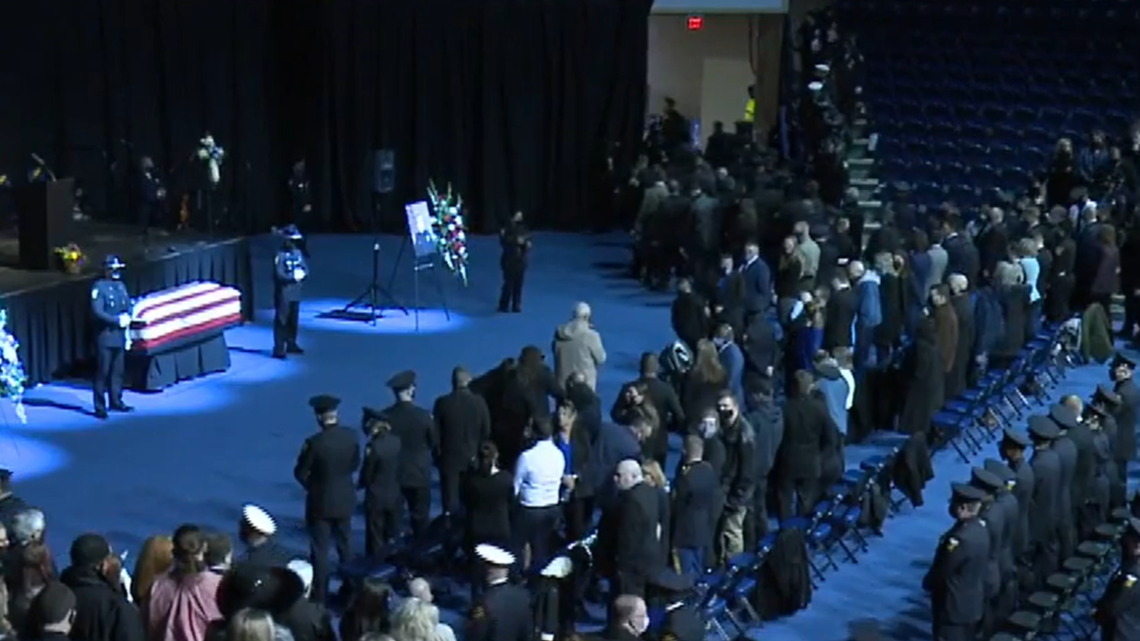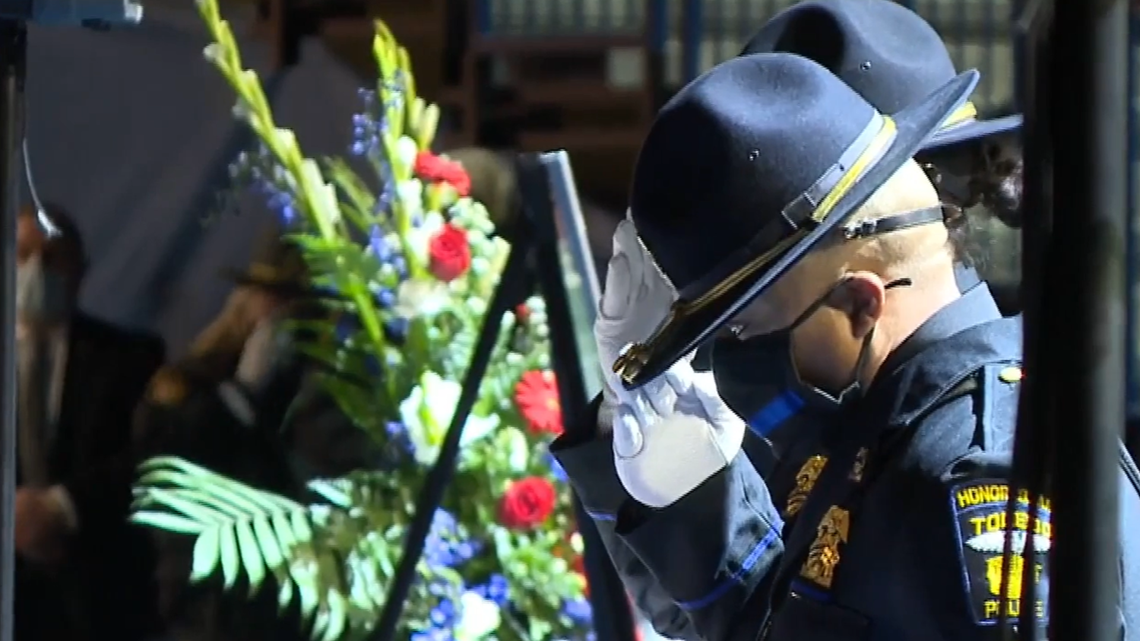 10:40 a.m.
American flags line Officer Stalker's processional route.
10:35 a.m.
Northpoint Church Senior Pastor Brad Wotring speaks at fallen Officer Stalker's funeral services at Savage Arena.
He read comments from Officer Stalker's fiancée, Ashley Ohmer. She said she is experiencing "a heartbreak I never knew possible." And added, "I should have been planning our wedding but instead I was planning his funeral."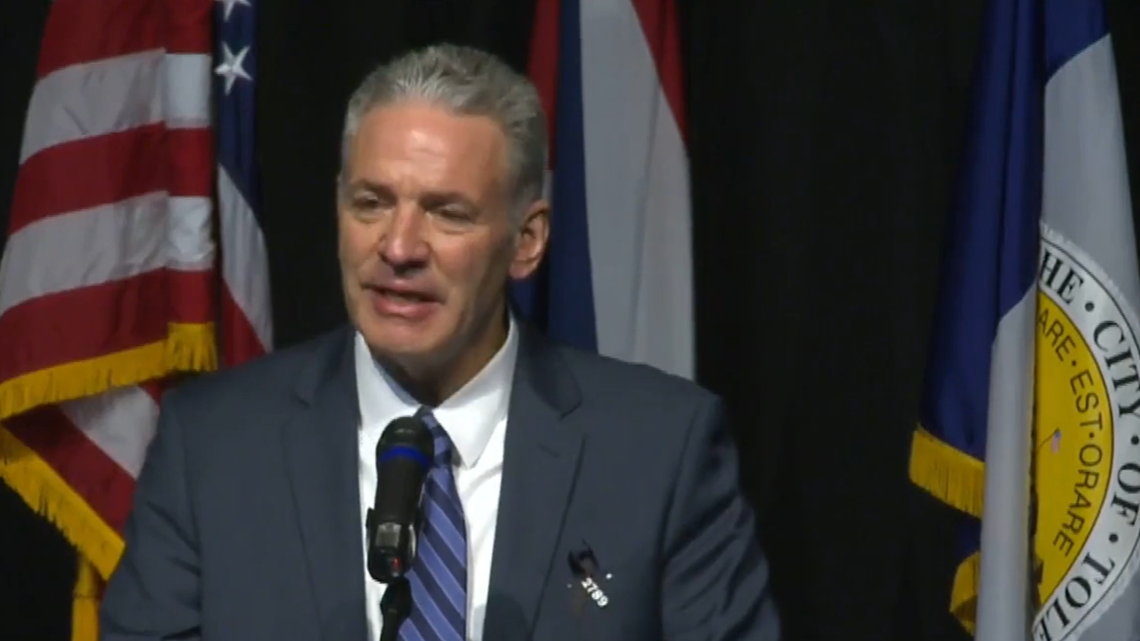 10:25 a.m.
Toledo Police Chief George Kral speaks in honor of fallen Officer Stalker.
"Officer Brandon Stalker was a hero. This is not debatable. He was a born and raised Toledoan who gave back to the community that gave so much to him. He loved being TPD," the chief said. "At his short tenure at TPD, he set himself to be a trusted go-to officer."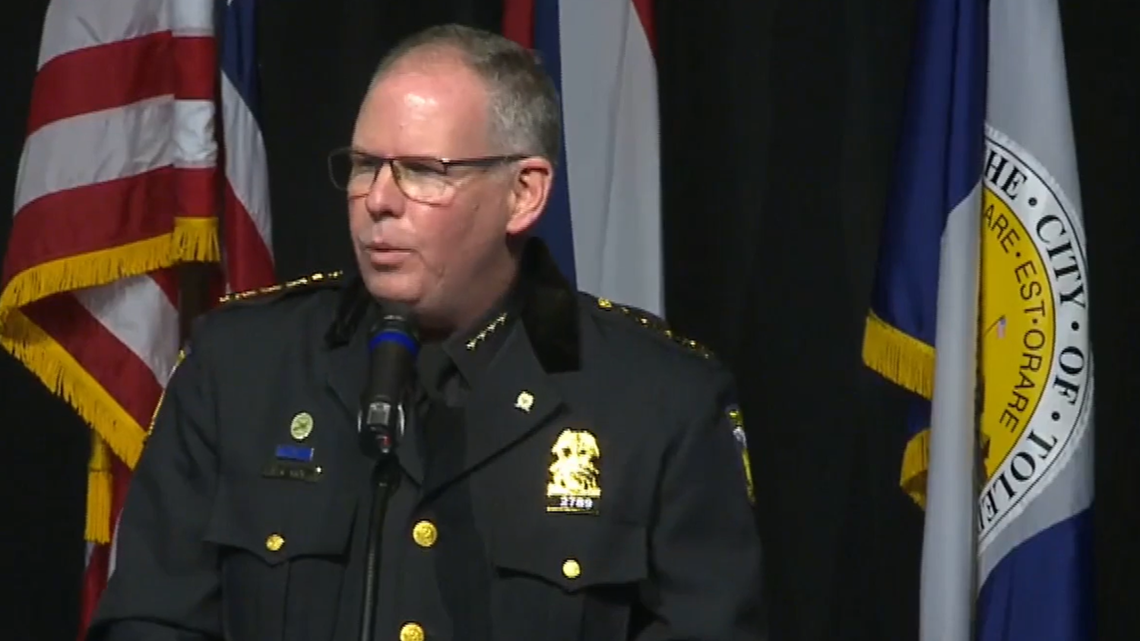 10:20 a.m.
Toledo Mayor Wade Kapszukiewicz speaks in honor of fallen Officer Stalker.
"While we will never see him again, physically, he will always be with us, inspiring us to be better, to do more, to serve others, and helping us face our fears by rising," the mayor said.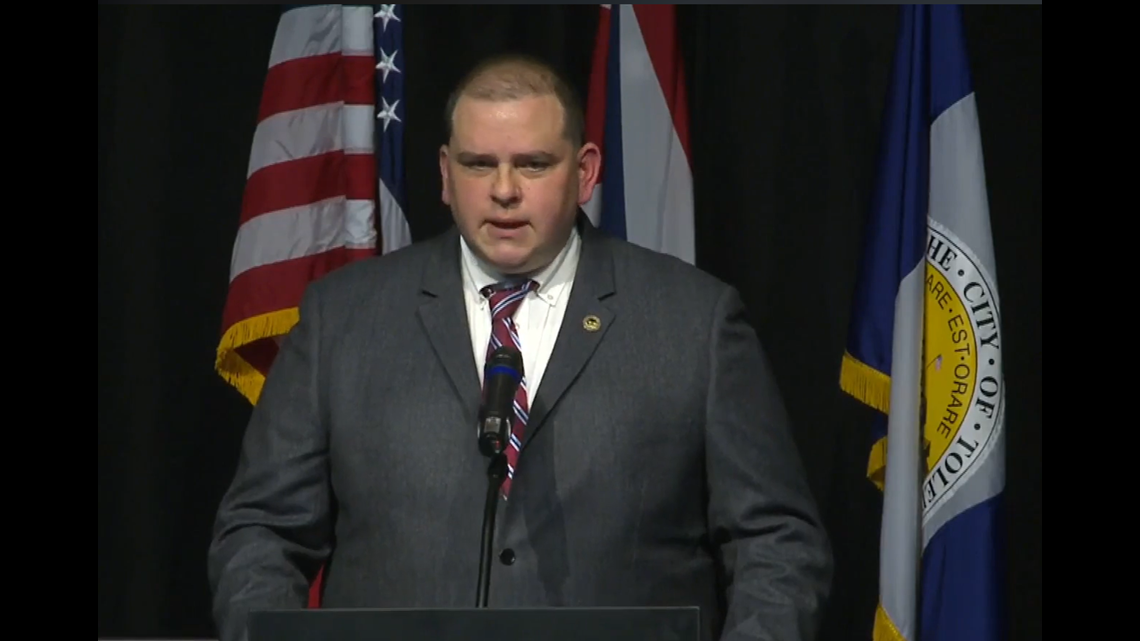 10:10 a.m.
Fallen Officer Staker's close friend and "unofficial little brother," Lance Cpl. Noah Zimmerman, speaks in his honor at Savage Arena.
"As a lot of may know, he would have taken time out of his day to help anyone that needed, no matter who you were. That's what made him so great at his job," he said.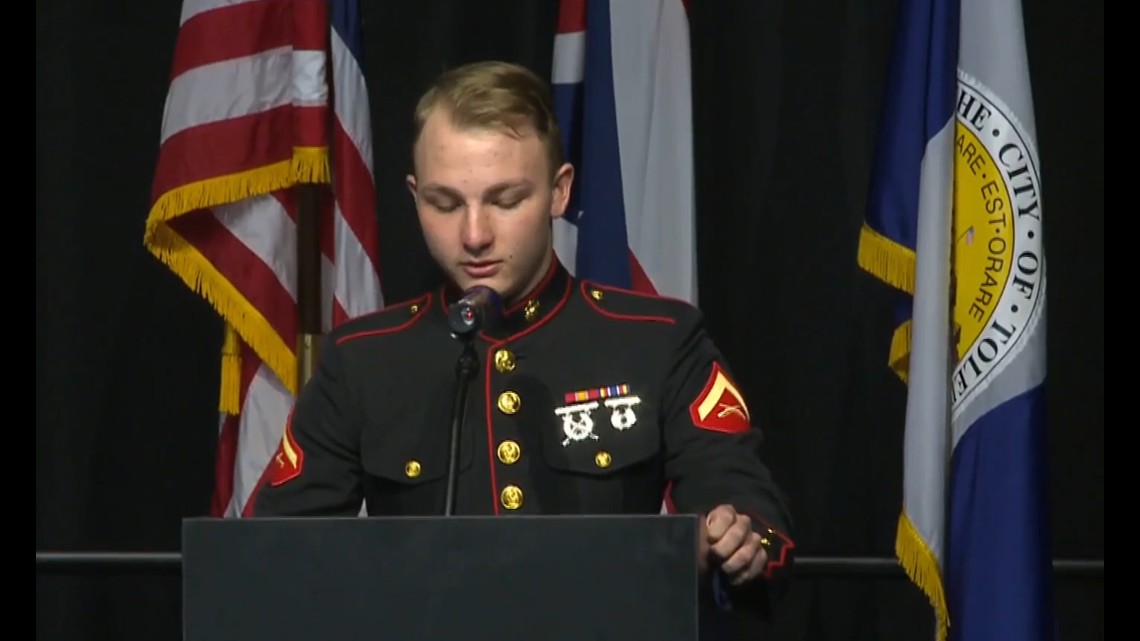 10:00 a.m.
Funeral services start at the Savage Arena. Musicians from Northpoint Church, and husband and wife Gabe and Morgan Spiegel, play Amazing Grace.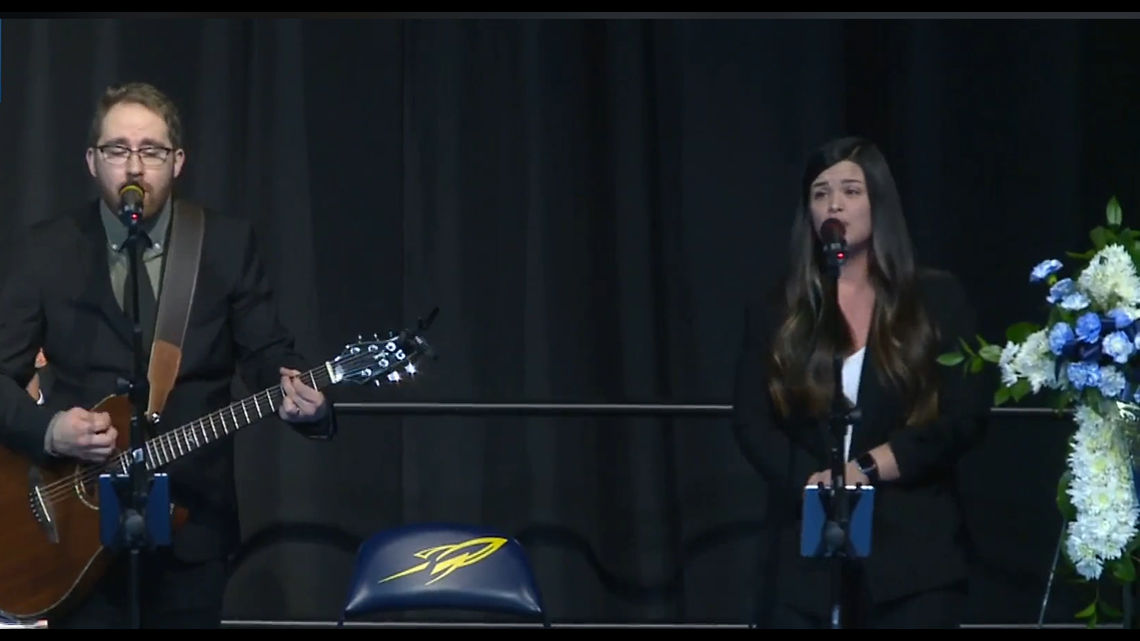 09:50 a.m.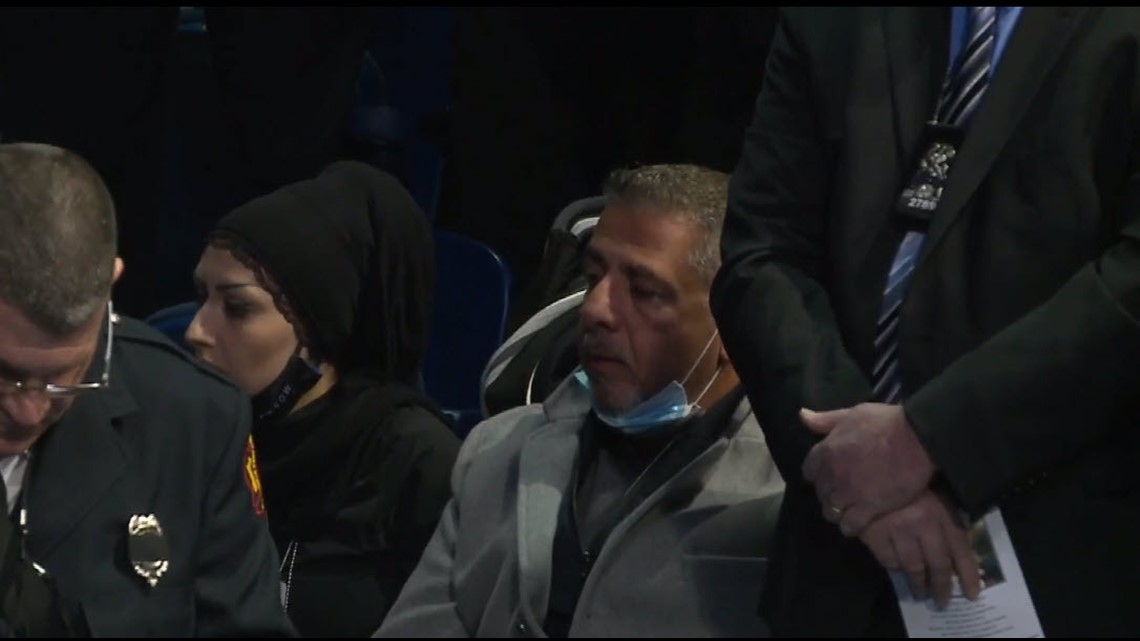 09:40 a.m.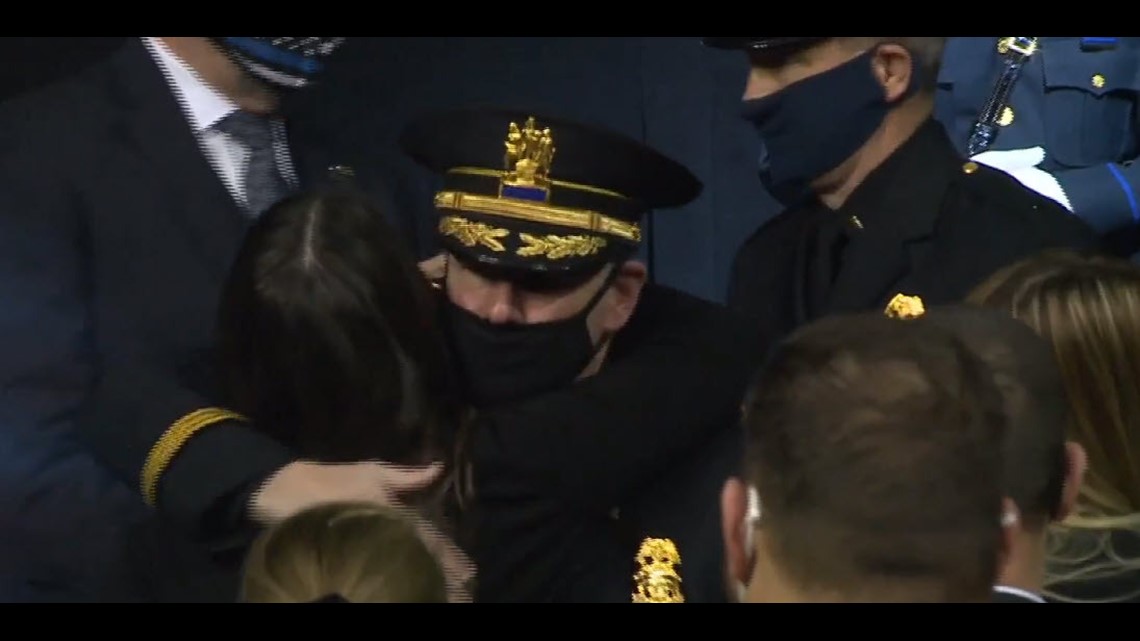 09:35a.m.
Police officers gather at Savage Arena to honor the life of fallen Officer Stalker.
Police Officer Brandon Stalker being honored and laid to rest Tuesday
09:30 a.m.
Fallen Officer Stalker's coffin is laid at Savage Arena for funeral services in his honor.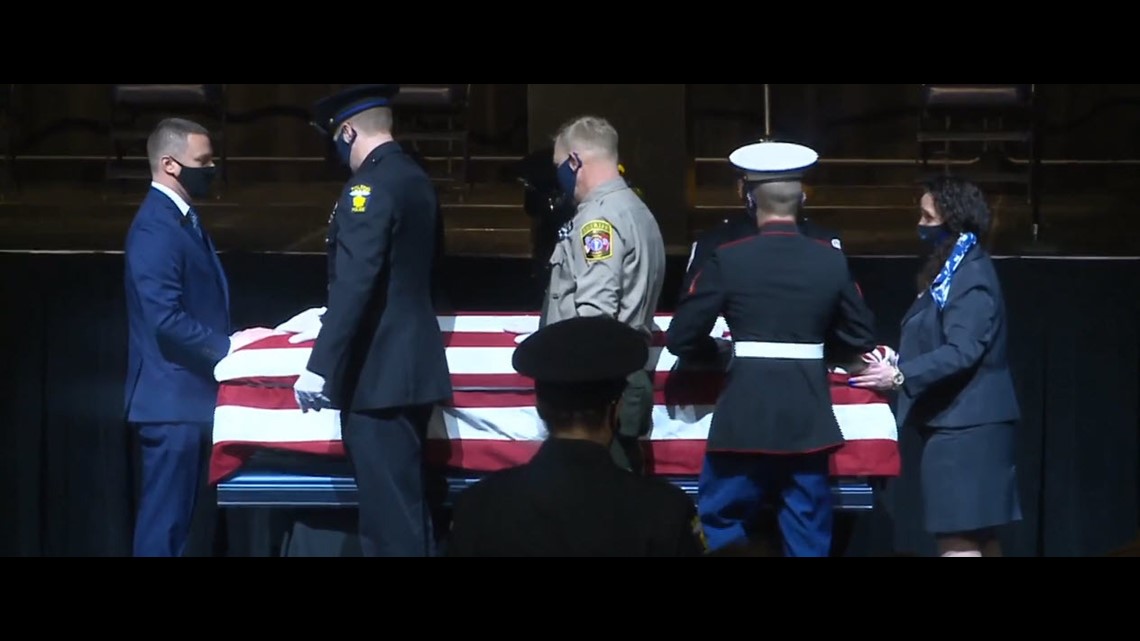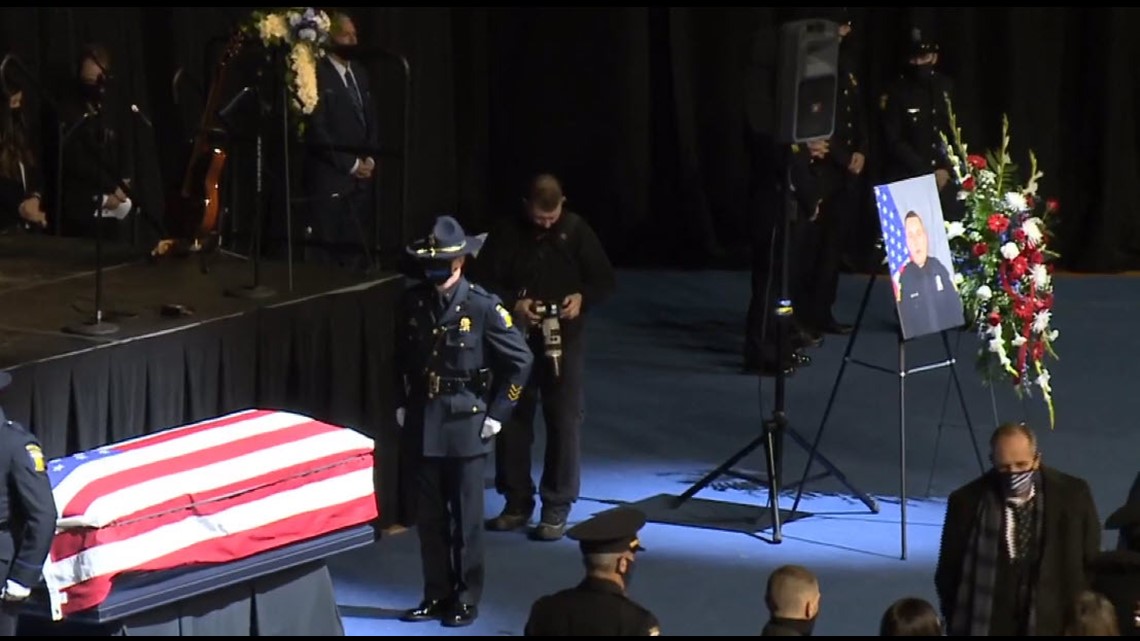 09:20 a.m.
The hearse carrying fallen Officer Stalker arrives at Savage Arena for funeral services.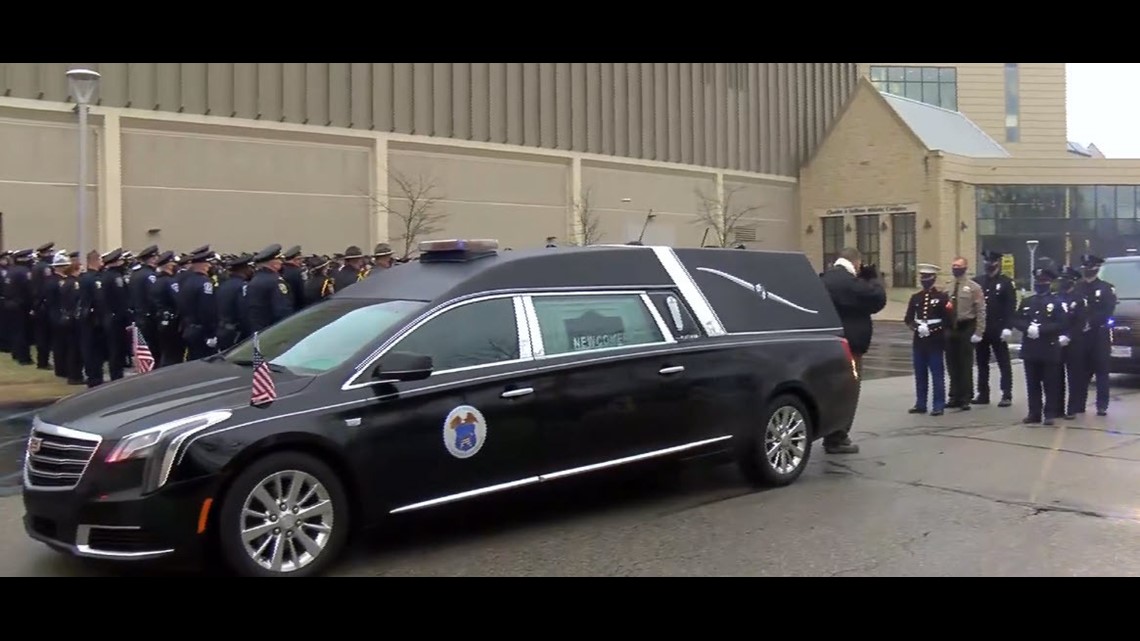 09:15 a.m.
Stalker's family makes their way into Savage Arena to remember and honor the fallen officer.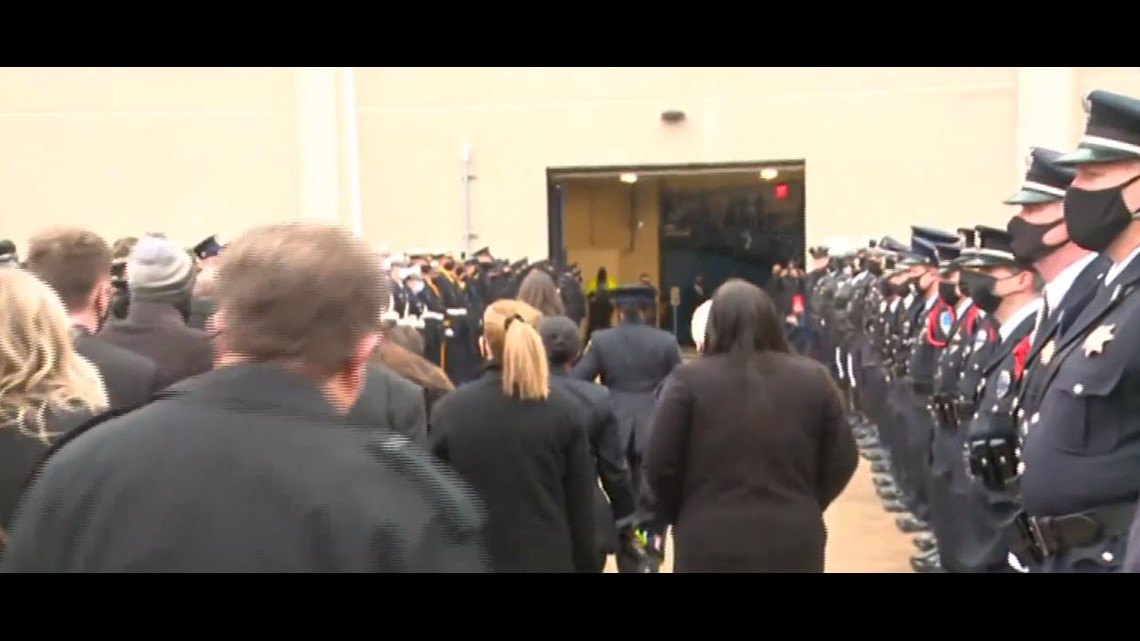 9:00 a.m.
Attorney General Dave Yost tweeted he will attend the funeral.
"I'm heading to Toledo to stand witness to his service and valor—and encourage his teammates," he said,
8:15 a.m.
Toledo police cars and other law enforcement are already lining up outside Savage Arena to begin a procession to get into the arena for the funeral service in honor of Officer Stalker.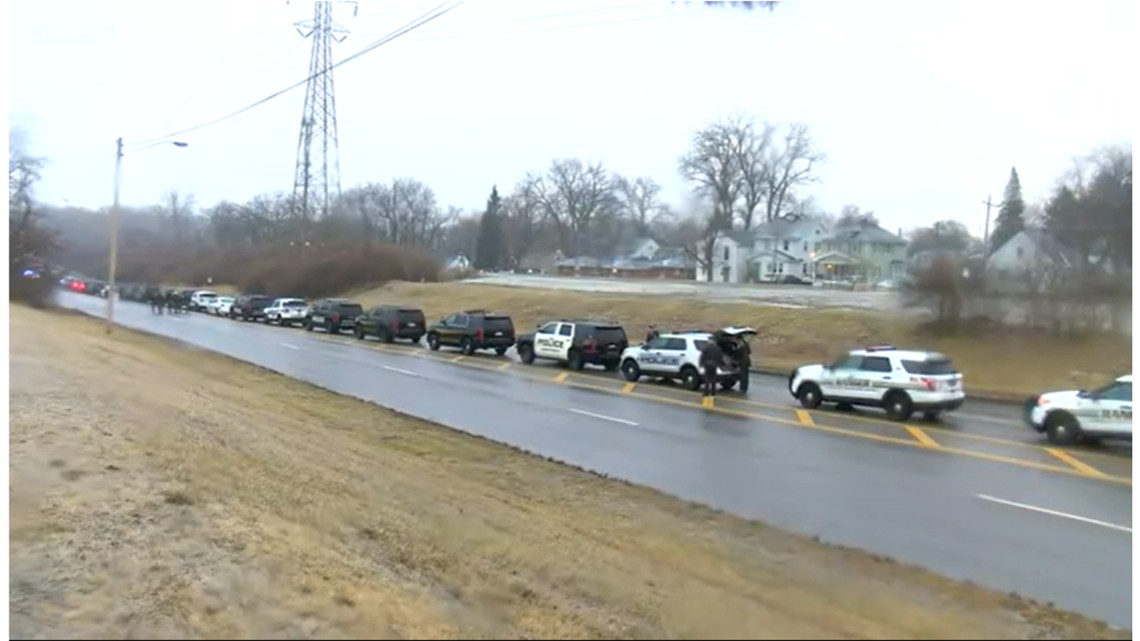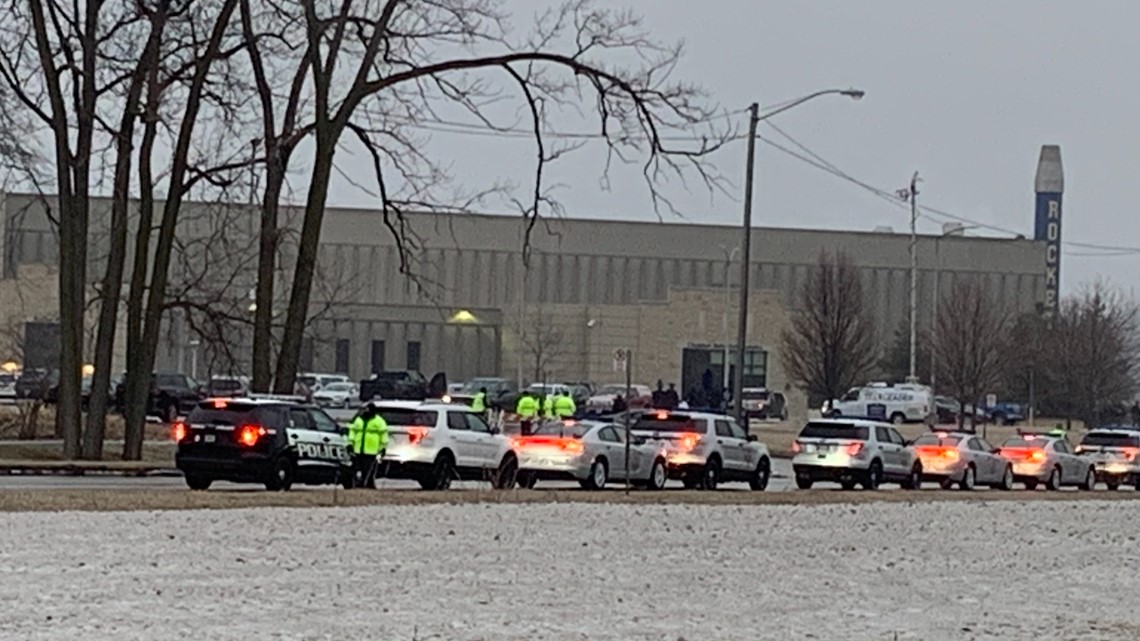 ROAD CLOSURES FOR OFFICER STALKER FUNERAL
Police say road closures will begin early on Tuesday, around 6 a.m. and will continue into late afternoon. Authorities are advising drivers to expect delays and detours. The department is thanking residents for their understanding in advance.
WHERE TO LINE UP FOR TPD OFFICER STALKER'S FUNERAL AND PROCESSION ROUTE
The funeral to honor Officer Stalker will be on Tuesday, Jan. 26 at 10 a.m. at Savage Arena. It will be open to the Stalker family, friends and law enforcement only.
If you want to show your support, you can begin to line the route at noon:
HOW TO DONATE TO OFFICER STALKER'S FAMILY
The Toledo Police Department released the following information regarding financial donations for the family:
"We at the Toledo Police Department thank you from the bottom of our hearts for all the kind words we have received. Officer Stalker leaves behind a loving fiancée and two children: aged 7 years-old and 3 months old.
"We have received many inquires about financial donations. The Toledo Police Federal Credit Union has opened an account in Officer Stalker's name. 100% of the donations will go to his family.
The address to the Credit Union is:
ATTN: Officer Brandon Stalker Memorial Account
PHOTOS | The life and service of Officer Brandon Stalker