TOLEDO, Ohio — Toledo Mayor Wade Kapszukiewicz and Toledo Police Chief George Kral spoke Monday regarding the protests in the name of George Floyd in downtown Toledo that turned violent on Saturday.
Earlier in the day, the Toledo Police Department issued a post on Facebook that acknowledged there may have been incidents of misconduct on behalf of officers, and that officers themselves were attacked during Saturday's events.
The mayor updated on the events of the weekend, saying he wanted to talk about moving forward as a community and said in general, Toledo did "pretty well" this weekend when compared with the level of violence that has hit other communities as a result of George Floyd protests.
He noted, though, that instances of police misconduct were reported and he is asking citizens to help the city understand better what happened on Saturday, as peaceful protests turned violent around 4 p.m.
"I am aware that there are those who believe an otherwise peaceful protest was marred by our police officers using the wrong kind of force or the right kind of force too quickly. There is a feeling by many that things began to go wrong by the decisions that police officers may or may not have made. There are others who believe that the force by police began after the protesters first started throwing bottles, rocks and vandalizing police vehicles."
SEND YOUR EXPERIENCES
The mayor said he knows there are stories on both sides and wants to review everything that occurred. He said he wants to hear from residents to help the city reconstruct the events of Saturday to help them understand better what happened.
The email address to send concerns is TPDconcerns@toledo.oh.gov and residents can also go to the Engage Toledo app to give input about what they saw. The city's safety director, Karen Poore, will be taking the comments.
Overall, the mayor did say he believed the weekend on the whole went well.
"I think Toledo did pretty well this weekend. While we were not perfect in a lot of ways, when you compare our experiences in our city to other cities, it is clear that the citizens of Toledo should be proud of their police department, for the professionalism they showed to achieve a generally peaceful weekend and citizens should be proud that they had a generally peaceful weekend."
"When I say generally peaceful, I am aware of what happened Saturday night and I am troubled by it. I do not advocate violence. So, sure, there is a part of me that is sad about some of the things that happened Saturday. It breaks my heart that there are people in our community who are frustrated enough that they feel the need to express themselves violently. I understand that we are a small part of a large country facing a big issue. ... In general, violence in all of its forms represents something going wrong."
PHOTOS | Protest in downtown Toledo demanding racial justice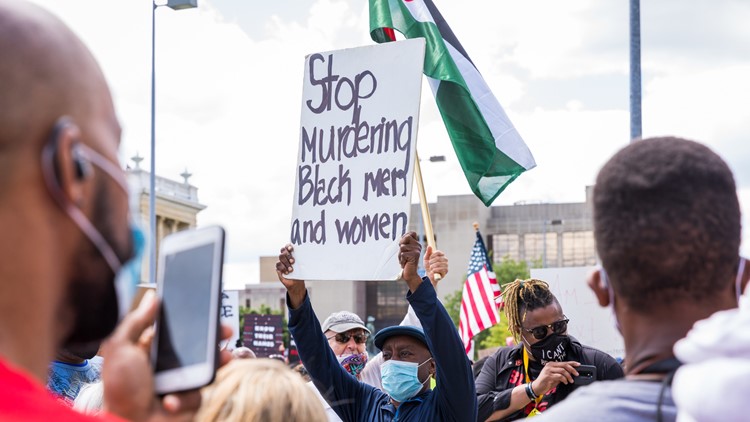 DAMAGE AND ARRESTS, OUTSIDE AGITATORS ALLEGED
In a news conference Saturday night, Kapszukiewicz had said he was led to believe that many of the bad actors in the violence were not from the community. On Monday, the names and hometowns of the 22 people arrested were released, and of the 22 people, 21 of them were from Toledo, with one person from Cleveland.
"There were not a lot of outsiders arrested, but that does not mean there were not a lot of outsiders who were instigating," Kapszukiewicz said. "I'm aware I'm falling into a stereotype when I go down this road. There is evidence that there was an unusual number of outside influences in this protest. There was an Antifa presence, which is unusual for our city. Here in Toledo ... perhaps they weren't caught."
Kral said he's spoken with other chiefs across the state and said there are professional agitators who are present. He said they also know what to do to raise tensions and not get arrested.
"I'm confident there were people here who were stirring the pot," Kral said. "We know anecdotally that there are people going around." He said if he can find and give evidence of these groups, he'll present it.
Kapszukiewicz said he didn't know if the agitators were pro one side or another, noting there are groups on all sides of the spectrum that benefit from a destabilized environment that want to capitalize on moments such as the passions inflamed by the George Floyd death and protests.
The arrest and damage summary also listed 24 buildings that sustained damage Saturday during the violent protest. The listing, which is not all-inclusive, was compiled by ConnecToledo.
"Among the national goals of the people seeking to bring justice to our community, the focus is on the Target company, which is headquartered in Minneapolis. There were a small amount of things looted - maybe a TV taken from that Target on Alexis. There was also a beauty shop next door that had some looting," Kapszukiewicz said.
MAYOR'S NEXT STEPS
The mayor discussed the "ongoing need for trust and transparency" to help the city move forward and he said he met with Kral and the city police unions for about 90 minutes on Sunday and black leaders over the last 48 hours. Some of the changes the mayor is planning to implement are:
The police department's internal affairs bureau will be moved out of the safety building into a neutral, non-threatening area, the mayor said, in order to help encourage conversation and trust in the community.
The police de-escalation and diversity training methods will be made available and public to groups who will visit the police academy to observe.
Police classrooms will be made public via streaming technology so the public can watch as de-escalation and diversity training is completed.
The city will immediately make available the results of the community survey that asks the community what they think of their police department. The results are from 2017-18. A new survey is due, Kapszukiewicz said.
The bias-free policing review will be made public for their review.
The entire TPD manual will also be made public on the city's website so they can see what the rules are, what's expected of residents and what's expected of police. On page 39, they can view the "continuum of force," which are the guidelines officers follow from verbal command to arrest.
The Civilian Police Review Board has members whose terms are expiring soon. The mayor is asking for people who are moved by the weekend's events to apply to be members of the review board.
"I'm viewing that board as essentially with no members on it. We're looking for 12 members to put muscle on the bone of the review board," Kapszukiewicz said.
CHIEF KRAL'S REMARKS
The appearance Monday was the first for Kral since the protests occurred, and Kapszukiewicz noted he was not available earlier for comment since he was on the front lines, at times wearing a gas mask.
"I want to start by reiterating what I said last week regarding the murder of George Floyd. In my opinion, it was a murder. It was unjust and unnecessary and does not reflect policing in this country," Kral said. "I hope the officers get the harshest penalty coming to them."
"We had a challenging weekend in Toledo. I want to compare Saturday to Sunday. On Sunday, there was a march that started at the mall, traffic was blocked off, people laid down in the street. Technically, that is illegal. But we let them do what they do and we protect their first amendment freedoms. No rocks were thrown, they got their message across and they left and so did we.
"We'll talk about Saturday. Again there were a couple of protests that were peaceful. Once that initial 3 p.m. protest broke up at 4, they went in separate directions, and that's when things started going south. A police vehicle was damaged and vandalized and we had to utilize pepperballs and mace to get the officers to safety," the chief said.
"I'm not going to apologize, it's my job to protect life and property. I promise you, if the protesters just yelled at us and called us names, we would have sat there and taken it. But the minute bottles, rocks projectiles, fireworks get thrown, we have to take action.
"I watched an Ohio State Highway Patrol trooper get hit right in the head by a metal canister. Councilman Sykes was there and he turned around and said, 'Chief give me five minutes.' He got the crowd back. Fifteen to 20 minutes later, there were bottles, rocks. M-80s and explosion on the lawn of the safety building. At that point, we decided to push the crowd south out of downtown with pepperball. And that's when the damage downtown started," Kral said.
The chief said from what's he's seen, the police didn't instigate the devolution of the protest. He noted if there is something that is showing this to not be true, he asks residents to send footage and photos to the email address the mayor outlined.