TOLEDO, Ohio — Democratic presidential candidate Joe Biden addressed a private event at the UAW Local 14 union hall on Jackman Road in west Toledo on Monday, taking shots at President Donald Trump over his response to the coronavirus pandemic and vowing to "build back better" using American labor.
Taking the stage in the parking lot, in front of several American cars, including Toledo's own Wrangler and Gladiator, Biden intoned, "Hello, Toledo! This feels like coming home. My dad was an auto guy. ... My state used to have the largest percentage of autoworkers in the nation."
Biden thanked both Toledo Mayor Wade Kapszukiewicz and U.S. Rep. Marcy Kaptur, as well as UAW Local 14 President Tony Totty and UAW Benefits Representative Kenyetta Jones for the introduction.
"My dad said, 'Joe, a job is about more than a paycheck. It's about your dignity, your respect. That's what a job's about.' A decent-paying job like the UAW provides," Biden said.
The former vice president did not wear a mask during his speech, and he underwent PCR testing for COVID-19 Monday and COVID-19 was not detected.
Biden took his shots at Trump, saying he was more concerned with the stock market than science when it comes to the COVID-19 pandemic, again levying the charge that the president knew how dangerous the disease was and chose to not tell the American public, so as not to panic the nation.
"Ask yourself: Why didn't he tell us? Why didn't he warn us? ... His reckless personal conduct since his diagnosis is unconscionable," Biden said.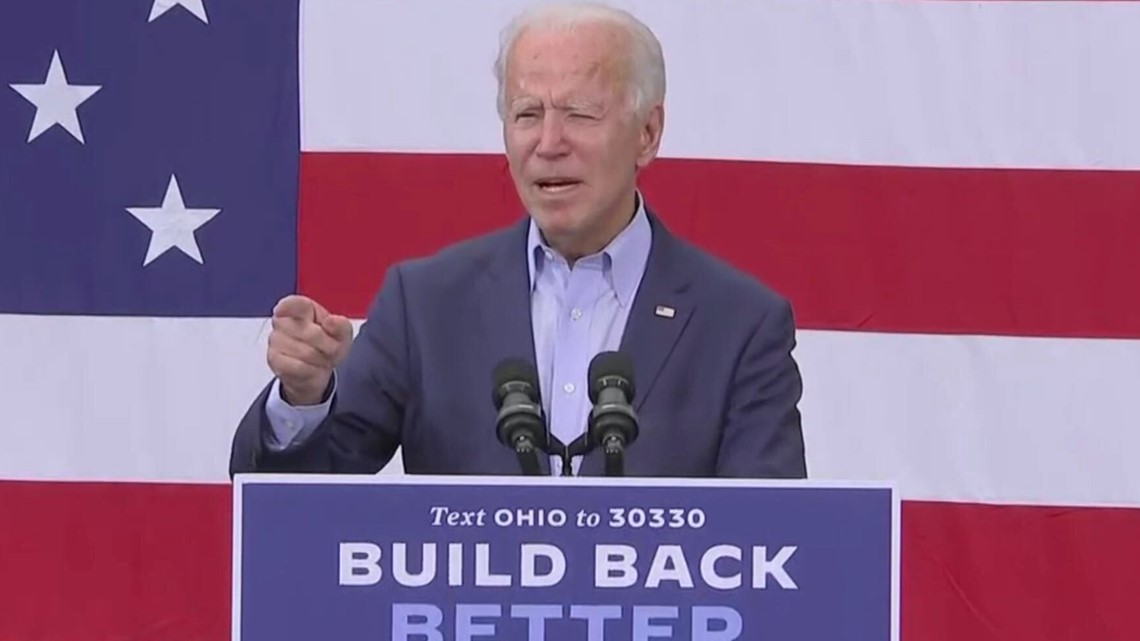 Biden also referenced an ad that Trump is running that Dr. Anthony Fauci says quoted him out of context and seems to praise the president's response to the virus. Fauci said he was not referring to the president's response to the coronavirus when he said, "I can't imagine that anybody could be doing more."
"President Trump is recovering from the coronavirus, and so is America," the ad's narrator says. "Together we rose to meet the challenge, protecting our seniors, getting them life-saving drugs in record time, sparing no expense." After that, Fauci's comment is mentioned.
During Monday's speech, Biden also addressed what he called the economic pain that working families across the state have felt as a result of President Trump's "broken promises to workers" from the closure of GM's Lordstown plant to his threats of thousands of Ohio jobs by calling for a Goodyear boycott. and discuss his commitment to creating good-paying manufacturing jobs in Ohio and all across the country.
Against the backdrop of the UAW, Biden addressed the bailout of the auto industry conducted by the Obama administration, saying that auto workers weren't responsible for the problems in the industry, but rather it was management "screwing it up."
During the speech, there was lots of honking and cheers whenever Biden mentioned "union power" and "made in America." Quite a few people poked their heads out of their sunroofs, dancing in their cars, waving signs.

At times, the counter-protesters assembled down the street could be faintly heard yelling "four more years."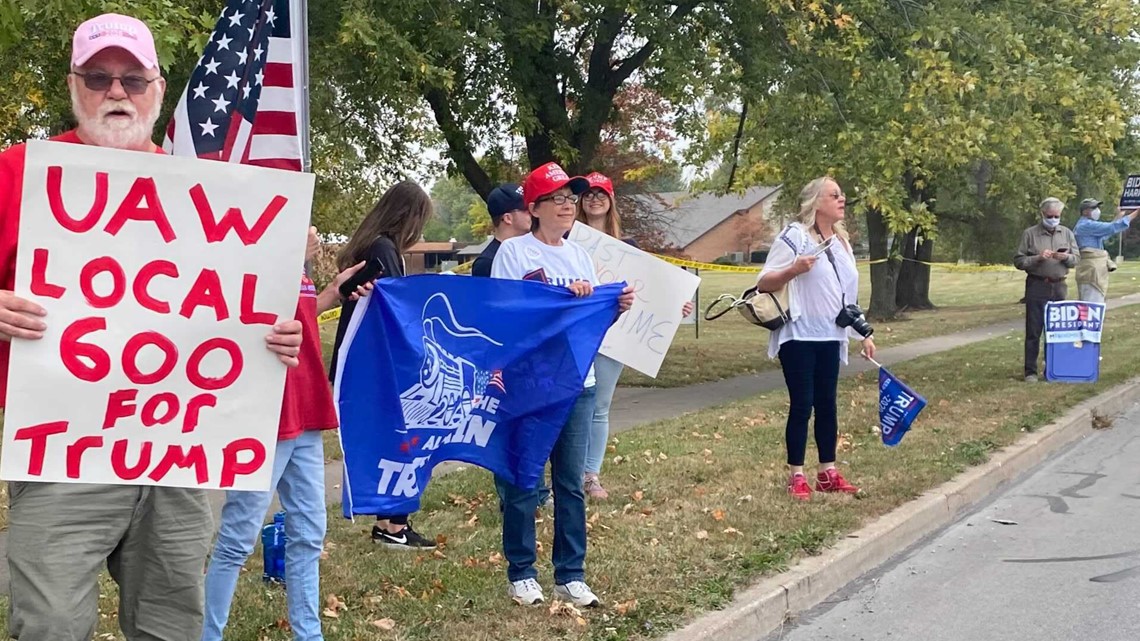 "My Build Back Better plan is built against a simple concept: It's time to reward work, not wealth," Biden said. "My plan would create 18.6 million jobs in the next four years - 7 million more than the president's plan."
He again asserted he would not raise taxes on anyone making less than $400,000 and said that "tens of millions" in the middle class will see a tax cut. He also seeks to have corporations "pay their fair share" to generate $1.3 trillion.
He promises that every single federal contract will use American products "from beginning to end."
The list of promises outlined by Biden also included:
High-speed broadband in every American home
Rebuilding crumbling schools
Rebuilding infrastructure and roads
He also said all of his promises would be using American union jobs.
And while he wants to see more electric vehicles on the road, he says that union auto jobs would be needed to accomplish building these "vehicles of the future."
Biden ended his speech with an optimistic tone, looking to unite a fractured nation.
"Nothing is beyond the capacity of the United States of America. We're the only country in the world that comes out of every crisis we've been in stronger than we went in," Biden said. "We can do anything that we need to do if we do it together."
PRE-RALLY EVENTS
Kenyetta Jones comes to the podium.
"We've seen our share of a lot of tough times (in Ohio), but we keep fighting. ... Thankfully those jobs did come back because President Barack Obama and Vice President Joe Biden believed in our community. Joe Biden understands that what happens to the auto industry happens to America."

The podium is disinfected in between each speaker, each of whom has worn a mask during their remarks.
U.S. Rep. Marcy Kaptur makes remarks in front of the crowd, gathered in cars.
"Joe Biden not only has been here before, he has always fought for us," Kaptur said.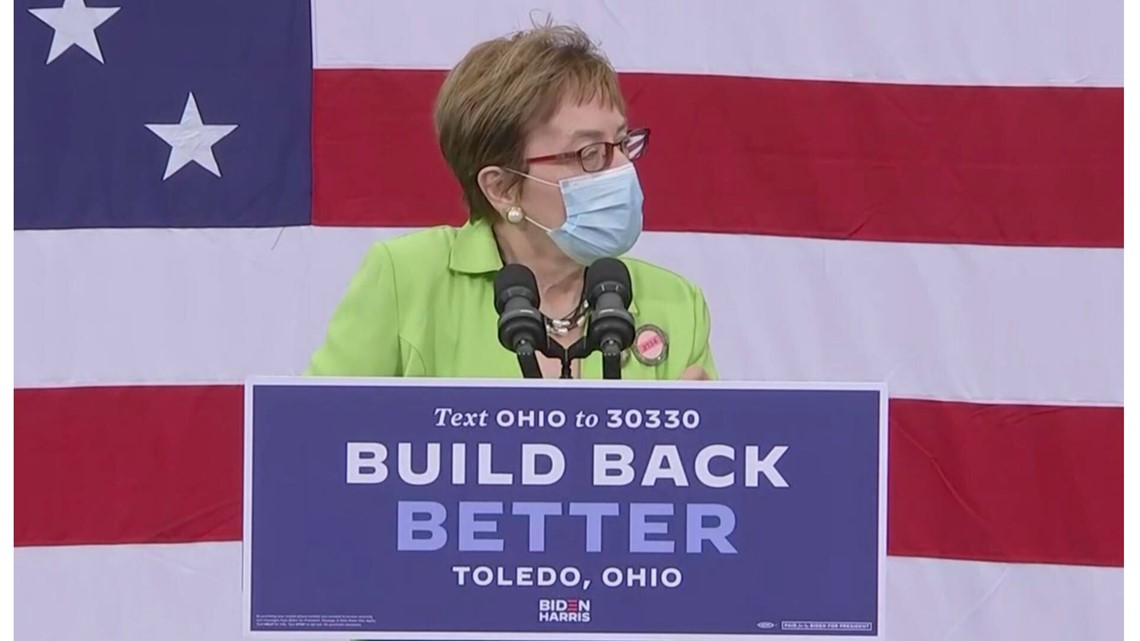 "It will be my honor to not only vote for Joe Biden but to work for him and Sen. Kamala Harris to build back better," she said, as car horns honked.
The motorcade for former Vice President Joe Biden has been spotted heading toward the UAW hall.
The campaign has confirmed the speakers for today's program:
U.S. Congresswoman Marcy Kaptur (D-OH)
The longest-serving woman in the history of the U.S. House of Representatives, Kaptur serves Ohio's Ninth Congressional District. A native Toledoan with working-class roots, Kapur's family operated a small grocery store and her mother later served on the original organizing committee of a trade union at the Champion Spark Plug factory in Toledo.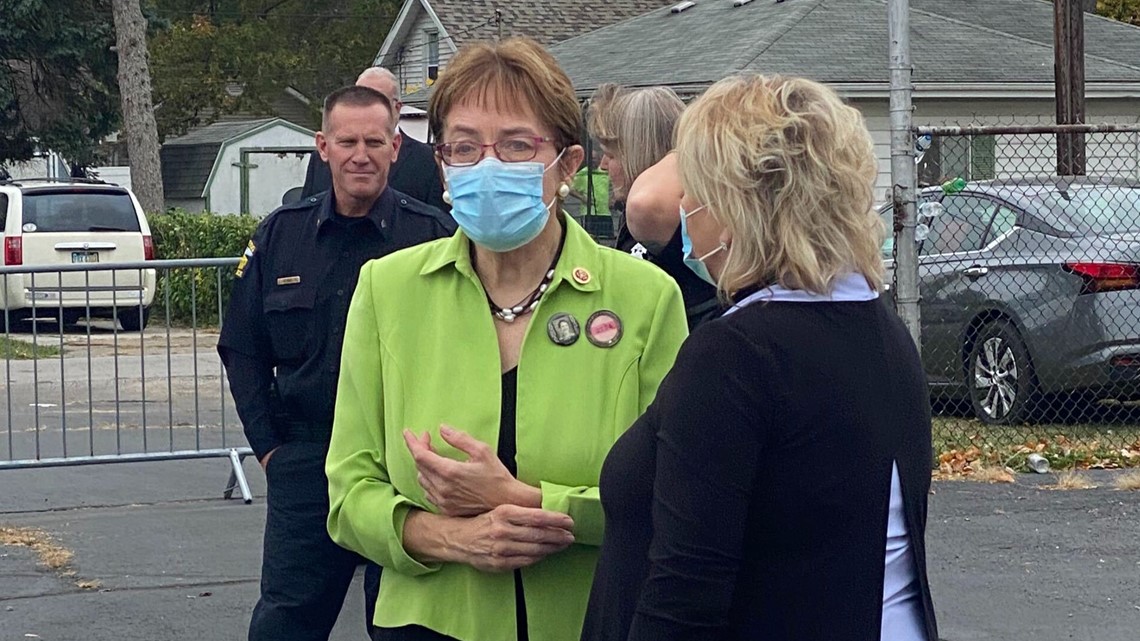 UAW Benefits Representative Kenyetta Jones
Born and raised in Toledo, Jones attended graduated from Libbey High School, received her associate and bachelor's degrees from the University of Toledo and her master's in Public Administration from Indiana Wesleyan University. Jones has been employed by GM Powertrain for 34 years and serves as UAW Local 14 Benefits Representative.
Also attending the vice president's speech today:
Toledo Mayor Wade Kapszukiewicz
UAW Region 2B Director Wayne Blanchard
UAW Local 14 President Tony Totty
UAW Local 12 President Bruce Baumhower
UAW Local 14 Executive Board Member Jeff King
The campaign confirms the former vice president's event will be a "drive-in" style event, where attendees can sit in their cars and tune into 98.5FM to hear the speech.
Cars are parked in front of the stage, some sporting signs of support for Joe Biden.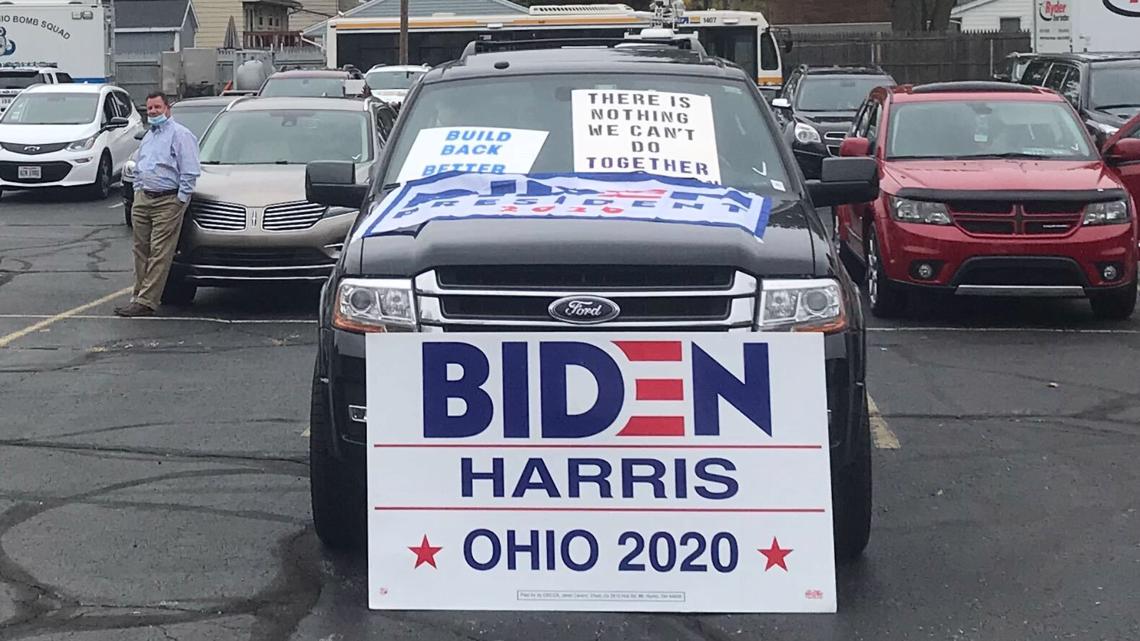 Supporters of President Donald J. Trump are gathering across the street from the UAW Local 14 venue on Jackman Road where former Vice President Joe Biden is to speak at 1:15 p.m.
Supporters are waving Trump flags and American flags to show their support for the president, who is rejoining the campaign trail Monday in Florida. The president's rally in Florida is the first away from the White House since he was diagnosed with COVID-19. Trump tweeted Sunday that he is "immune" to the coronavirus and "can't give it." The White House has not released his negative test results.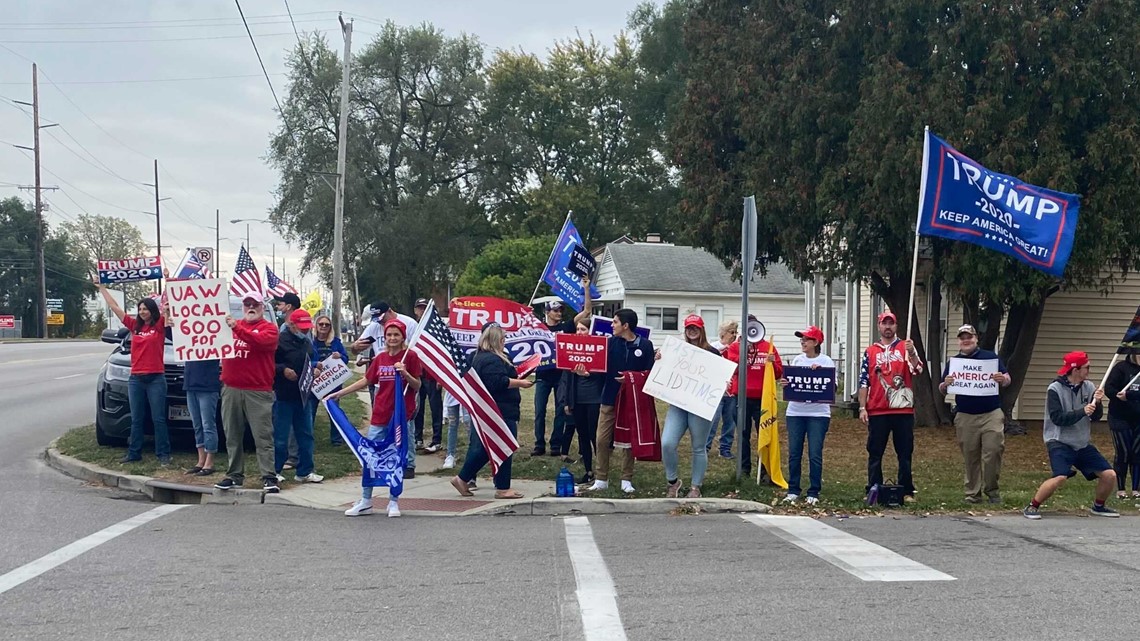 Biden's plane has left the airport. Meanwhile, the press plane has mechanical problems and is grounded. It's unclear whether the press will be able to make it to either the Toledo visit or the Cincinnati stop in time.
Washington Local Schools notes that access to Jackman Elementary School will be altered due to the visit by Joe Biden today.
"Joe Biden will be visiting UAW 14 on a campaign stop today, Monday, October 12. Please access Jackman Elementary School using Rowland Rd.
"Northover Rd to Rommany Dr will be closed for security measures for the presidential candidate."
Barricades are up outside the Local 14 where Biden is set to speak this afternoon. The event is not open to the public.
Those who have tickets are getting their temperatures checked in a line of cars.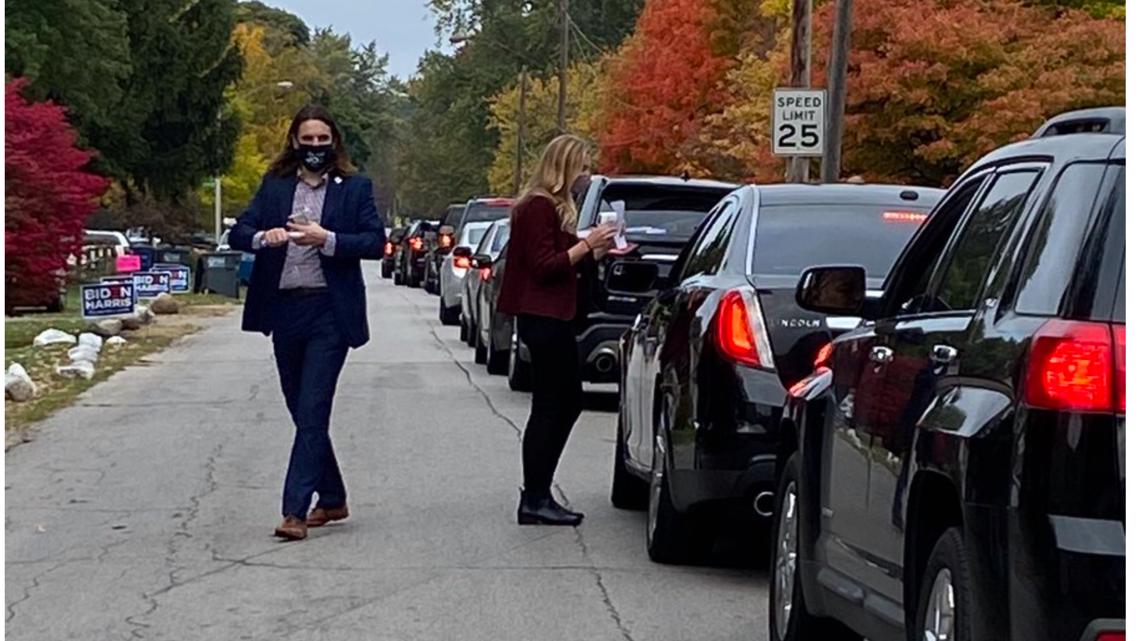 The vice president's motorcade arrived at the New Castle Airport, five miles south of Wilmington, Delaware.
Biden, wearing a mask and blue suit, stepped out of his SUV a few minutes later.
He took two questions, including whether Judge Amy Coney Barrett's Catholic faith should be considered by the Democrats in the U.S. Senate.
"No. Her faith should not be considered," Biden said.
"You may remember, I got in trouble when we were running against Senator (Mitt Romney), who was a Mormon, he was a governor, OK? And I took him on and nobody's faith should be questioned."
Biden then turned back to the fight over Barrett.
"This nominee has said she wants to get rid of the Affordable Carew Act, this president wants to get rid of the Affordable Care Act. Let's keep our eye on the ball. This is about less than one month Americans are going to lose their health insurance."
PHOTOS | Joe Biden's visit to Toledo, Oct. 12
Biden's campaign logistic team has arrived in Toledo. Northover Road will be closed starting at 9 a.m. to prepare for Biden's visit.
Secret Service agents begin arriving in Toledo to prepare for Biden's speech at the UAW Local 14 union hall on Jackman Rd. in west Toledo. Press will be allowed at the former vice president's speech, but the general public will not.
Josh Colling of the Lucas County Republican Party sounds off on Biden's visit before arrives in Toledo at 1:15 p.m.
"We're going to tell him it's nice to see him finally," Colling said. "This is the first time that Biden has been in Toledo since the campaign launched; President Trump as we know has been here twice since then."
Colling says the Lucas County Republican Party wants to educate Toledoans and Lucas County residents on policies Biden is pushing that Colling calls "destructive to our economy and middle class."
Colling predicts that Biden won't talk about trade, court packing or health care during his visit to the Glass City, and says the economy in Toledo is stronger under President Trump.
After the Toledo stop, Vice President Biden will attend a voter mobilization event in Cincinnati. Mike Pence will also be in Ohio Monday with a "Make America Great Again" rally in Columbus.
Monday will be among Biden's first general election campaign visits to Ohio, a sign that Ohio is still a key battleground state. He stopped in Alliance after the first presidential debate in Cleveland.
The visit signifies the former vice president's hopes of winning the state after Democrats lost by a significant margin in the 2016 election. Biden has also ramped up advertising dollars in the Buckeye state just weeks before the Nov. 3 election.
Trump won Ohio by 8 percentage points in 2016, but recent surveys show a tight race this year.
Biden's visit also comes just three weeks after President Trump made a visit to northwest Ohio at the Toledo Express Airport.
Biden's visit also comes after news that the second presidential debate scheduled for Oct. 15 has been canceled.
The decision was made a day after the Commission on Presidential Debates announced the debate would take place "virtually" because Trump had contracted the coronavirus.
The commission says it is now focused on the final presidential debate scheduled for Oct. 22.