TOLEDO, Ohio — Teachers or counselors can have a tremendous impact on kids and that is certainly the case with Ryan Titkemeier at St. Francis de Sales High School.
And for Titkemeier, his hard work was recognized in a surprising way.
"Hello! We're sorry to interrupt but I am looking for Mr. Titkemeier," said WTOL 11's Tim Miller as he and a crew knocked on the door and suddenly walked into Titkemeier's office.
"We're here to interrupt your day to let you know you've been chosen as the February Leader In Action," Miller said.
Titkemeier is in his 12th year at St. Francis and is an intervention specialist, helping students who have learning needs or disabilities.
He had previously worked for three years at Central Catholic. Titkemeier was nominated by student Matt Sanford, who wrote a touching letter to nominate his teacher.
"An alum of our school, 'Mr. T' returned to our school after college to be a part of the intervention team. He has helped hundreds of guys like me not only survive, but thrive," Sanford said in his nomination letter. "He has had to overcome serious family hardship and inspires everyone around him to never give up and be your best. A true leader by example, he is the reason I am a successful senior and on my way to continue my own education."
Titkemeier was thrilled by the surprise award and the nomination by Sanford.
He wants students to know that his door is always open.
"Especially in high school, you don't know what tomorrow brings or what you're going to do, or, your hopes and dreams and wishes and wants all change a lot," Titkemeier said. "And so helping them get to a place where they feel comfortable in making some of those decisions on their own, even though you may feel like 'this may be a better avenue;' just keeping them aware of what they're able to do and that they have the capability to get anything accomplished that they want."
He said sometimes his work is not even about academics. Sometimes, it's as simple as asking a student how they are doing or how their day is going.
"We spend probably just as much time working on academics as we do just knowing the kids and getting to know them and them knowing about us and that we're human beings. Yeah, we're educators but we're not untouchable," he said. "We all had our struggles too."
Titkemeier said it is nice to feel appreciated because the work they do is so important.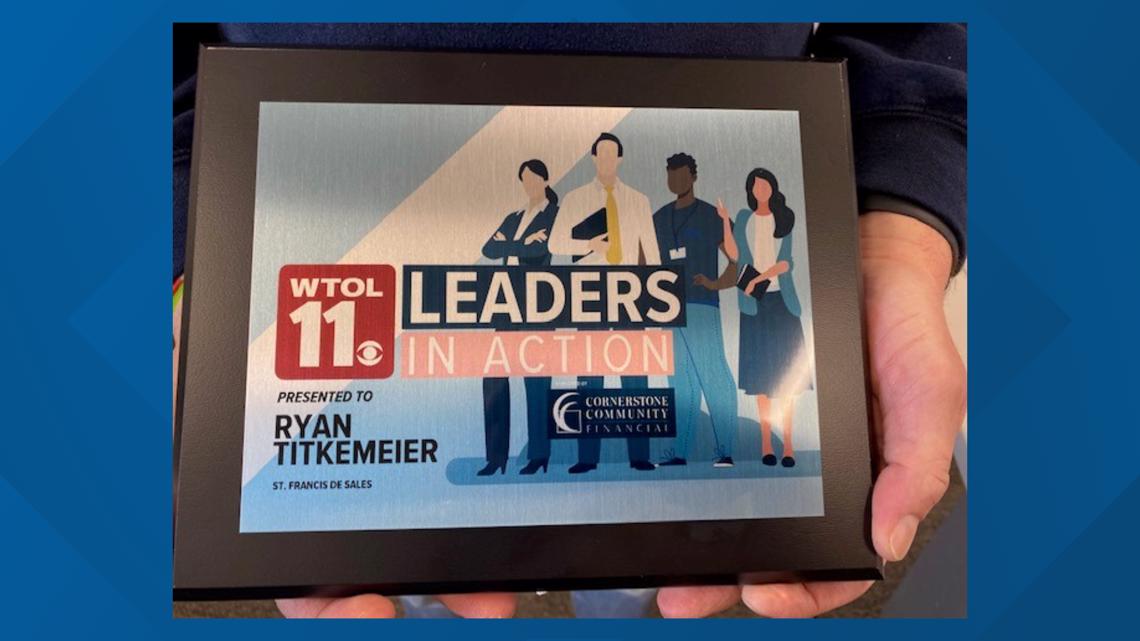 "It's very satisfying. You hope that they can avoid some of the pitfalls you had to go through. We're not bulldozing. We're trying to guide you I guess, to be contributing members of society that are out doing good things for people, is really what we're hoping to do," Titkemeier said. "So it's not just getting a good education but it's being a good person. That's really important to us."
Titkemeier also received a plaque that he intends to put up somewhere. He also was given a card from Cornerstone Community Financial, a partner in the Leaders In Action campaign.
MORE FROM WTOL 11'S LEADERS IN ACTION: