TOLEDO, Ohio — Gov. Mike DeWine was among several local and state leaders who offered their condolences to the family of Toledo Police Officer Anthony Dia, who was shot and killed in the line of duty early Saturday morning.
Dia was shot while responding to a call of a person intoxicated at the Home Depot parking lot in west Toledo, according to police.
DeWine tweeted his and First Lady Fran DeWine's condolences Saturday morning while also announcing he has ordered flags in Lucas County and at Statehouse be flown at half-staff.
Ohio Attorney General Dave Yost also issued a statement regarding Dia's death.
"Officer Dia lost his life doing what police do every watch of their lives ― trying to help someone. His memory will stand tall forever, a man who was fulling his duty in his final act. My heart breaks for the family he left behind," Yost said.
Michigan Sen. Dale Zorn on Monday expressed sorrow and offered condolences to the family of Toledo Police Officer Anthony Dia, originally from Monroe County and a Bedford High School graduate, who died in the line of duty on Saturday.
"The senseless killing of Officer Dia is another sobering reminder of the great risk our law enforcement officers take each day to protect and serve our communities," said Zorn, R-Ida. "Cindy and I mourn the loss of this fine young man and are praying for God's comfort and healing for his wife and children in their grief as they are left to move on without a husband and father."
Chief George Kral and Mayor Wade Kapszukiewicz held a press conference Saturday morning and asked the public to keep the Dia family in their thoughts.
"I ask that you keep Officer Dia's wife, 2-year-old child, friends, family and fellow officers in your prayers, and that you respect their privacy in this most difficult time," Kral said.
Kapszukiewicz noted that Dia was Muslim and contributed to the diversity that makes the U.S. and Toledo great.
"We are one human family, one American family and one Toledo family. And today, our family is mourning due to the loss of one of our family members," the mayor said. "Whether you pray to the God Officer Dia prayed to, your own God or no God at all, please take time today and reflect not just his sacrifice but on the sacrifice the men (police officers) behind me make every day."
Lucas County commissioners also released their statement through the board's communication office.
"We sadly join the entire community in extending our deepest condolences to the family of Officer Anthony Dia, who made the ultimate sacrifice in the line of duty to serve and protect our citizens. We ask all of Lucas County to pray for his family and for his fellow Toledo Police Department brothers and sisters. This is a tragic and heartbreaking reminder of the risks that our brave law enforcement officers face every day. This is an unimaginable loss for our community. We send our prayers to the family of this fallen officer and offer our profound sympathies to them," the statement read.
Officer Dia was also a member of Toledo's Islamic Community. On Saturday morning, the Islamic Center of Greater Toledo released a statement of gratitude to Anthony Dia and condolences to his family.
On Saturday evening, Toledo police shared a touching video that highlighted the young officer's life as a husband, father and police officer.
The billboard on the Toledo Firefighters Local 92 building read, "Rest in peace brother Dia."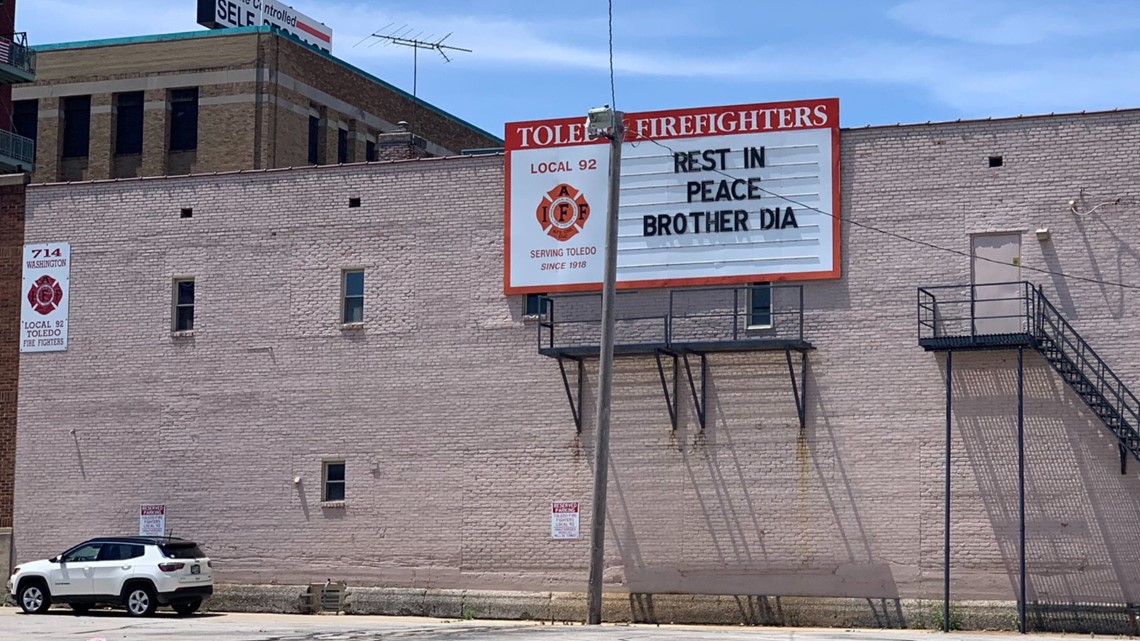 Additionally, several police and fire forces across the state have posted messages of support to the Toledo Police Department on their Facebook pages.
Toledo Fire and Rescue Department:
Oregon Police Department:
Columbus Police Department:
City of Sandusky Police Department:
Cincinnati Police Department:
Port Clinton Police Department