LAKE COUNTY, Ohio — It's a list you don't want to be atop -- but many cities in Lake County have found themselves leading the way in the latest coronavirus surge in Ohio.
According to data released by the state on both Tuesday and Wednesday, three zip codes are in the top 10 list for areas that have the highest number of positive coronavirus cases over the last two weeks.
Those zip codes are 44077 (ranking number 8 ), 44094 (ranking number 7), and 44060 taking the top spot.
The 44060 includes Mentor, Mentor-on-the-Lake and Kirtland Hills. Areas in the other zip codes include Willoughby, Willoughby Hills, Kirtland, Painesville, Concord, and Fairport Harbor.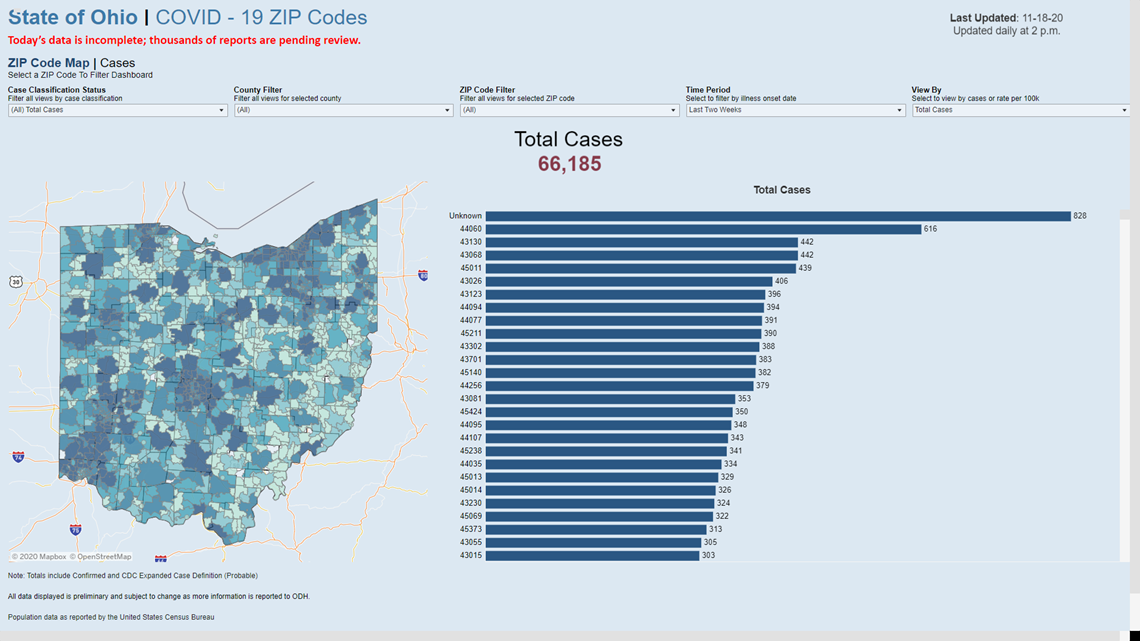 Governor DeWine spoke about the alarming number of cases in Lake County at a press conference held Wednesday at Cleveland's Burke Lakefront Airport.
"Lake County for example in the last 2 weeks 1 out of every 100 persons has been diagnosed with COVID," said Governor DeWine, referring to the situation as "very sad."
The rising number of cases is also alarming for healthcare workers.
"Our local communities are showing up as top 10 in the state. That's not necessarily where you want to be," said Dr. John Baniewicz, Chief Medical Officer for the Lake Health, the primary health system in the county. "We are way above where we were this spring. It's putting a lot of stress on everything."
Lake Health already activated its surge plan and is moving staff around as necessary. Elective surgeries have also been cancelled for the time being.
Currently, the Health system has 67 patients in its COVID-19 units as of Tuesday. That's more than three times the amount they saw at the peak of the spring surge when they had about 20 patients on average.
"If it continues to rise at this rate, that's when you really start to worry about running out of hospital beds and staff and so forth," said Dr. Baniewicz. "So far we've been managing. It's been tough, but we're managing."
Healthcare workers on the front line say the work isn't easy.
"It's a burnout feeling at this point. We're doing the best we can," said Brittne Reeves, a nurse working in Lake Health's COVID-19 unit. "It's stressful. It's frustrating. And we try to talk to each other throughout the shift, like 'ok, it could be worse.'"
And there's a chance it does get worse – a situation workers are prepared to take on, but don't want to get to. To make matters worse, community spread is forcing caregivers to take time away from work because family members or they themselves have contracted the virus.
"It's not just the patients that we have to worry about it getting worse for. But also our co-workers and ourselves," said Reeves. "So if the fallout is nurses are getting sick, that's even less people to help the patients.
While the data isn't conclusive, Dr. Baniewicz says the latest surge appears to be the result of Halloween gatherings. With Thanksgiving right around the corner, he hopes people take extra precautions.
"I'm very nervous about that right now," said Baniewicz. "I'm certainly hoping the numbers don't continue to escalate like they have over the last couple weeks. It's really the rate of rise that's been so alarming."
So what can you do to help? Wear a mask, wash your hands, and limit your contact with others – especially around the holidays. For Reeves, that won't be difficult, as she'll be away from her husband and children caring for others.
"I told them don't think of it in the negative," said Reeves. "Just think 'yes, mommy has to leave for thanksgiving, but that's because somebody is sick. Somebody else that wants to be home, but they can't be home because they're sick.'"