TOLEDO, Ohio — The Toledo-Lucas County Health Department announced the finding of the first presumptive positive case of COVID-19, or the novel coronavirus late Saturday night and on Sunday, the case was revealed to be a man who traveled internationally.
"We are confirming today that Lucas County has the first positive case of COVID-19. This is an international travel case," said Health Comissioner Eric Zgodzinski. "This is a man in 70s who traveled to Europe during the end of February. He is stable in the hospital. He had limited contact with the community when he returned."
The hospital at which the patient, who has a significant other, is being treated is not being identified in the interest of patient safety.
He said that people who may have been in contact with the man will be contacted.
Epidemiologist Lauren Wagoner said that if you have had contact with a confirmed COVID-19 patient and are exhibiting symptoms of COVID-19 - which include a fever over 100.4 degrees, a cough and shortness of breath - you are asked to call the community call centers at 419-251-4000 or 419-291-5355.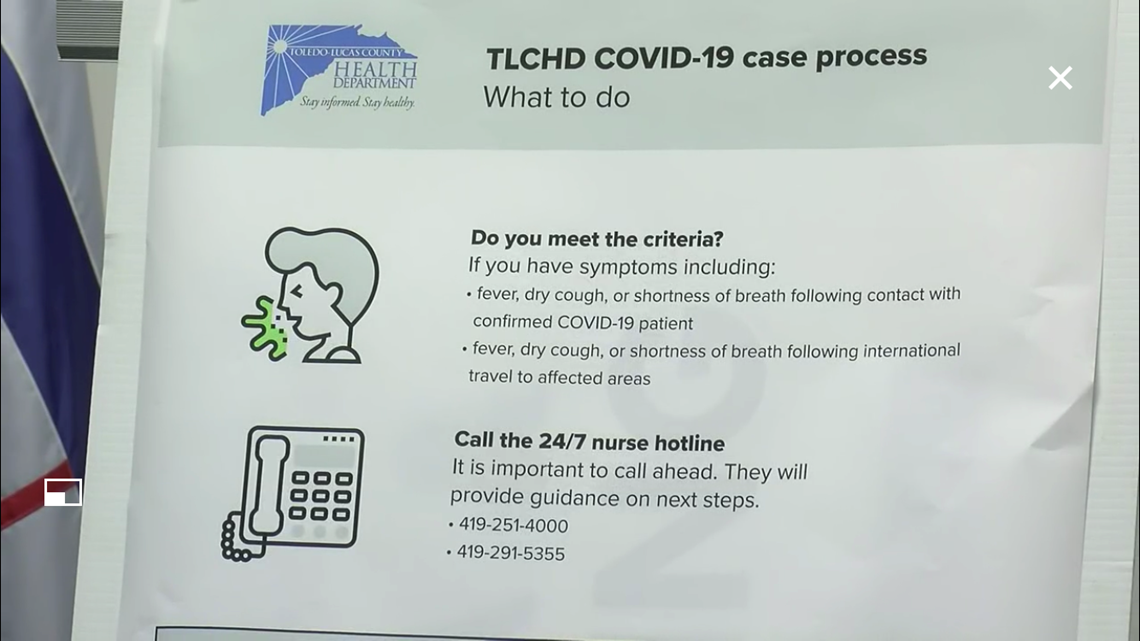 People will be assessed into the different categories of high and medium risk and low risk. High and medium risk people are those who may have had the most contact with an infected individual and will be asked to quarantine for 14 days. Low risk people will be asked to monitor for any symptoms for 14 days.
Though this is not a case of community spread, Zgodzinski said officials are treating it as if it could be to help stop the reach of the virus.
"Keep washing your hands, don't touch your face, and avoid contact with sick people. Stay home if you're sick. If you have to venture out, that is acceptable. Cover your mouth with a tissue or your sleeve. Please get adequate sleep and eat well balanced meals to ensure a healthy immune system. Social distancing: We are looking for that six foot distance," Zgodzinski said.
Mayor Wade Kapszukiewicz was asked whether the primary election would be going forward, and he confirmed that the election will take place Tuesday.
"Be smart. There's hand sanitizer in there. Try to vote early if you can. Practice distancing. Try to pick a time where the traffic won't be high," he said. "There are going to be things that we need to do, should do, that we are going to continue during over these next months. Voting is a core part of being an American. We are going to have to be doing things differently."
Kapszukiewicz said he'd be on a call with Gov. Mike DeWine at 1 p.m. Sunday.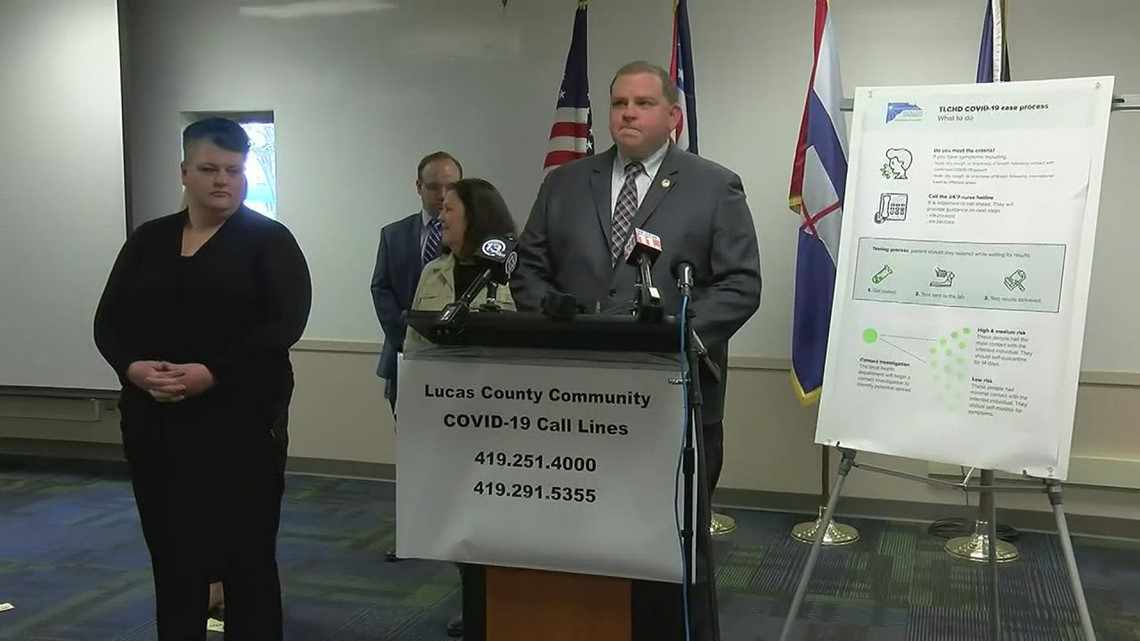 The health department continues to urge individuals to disclose to their health providers any recent travel to affected areas and if they develop symptoms such as fever or respiratory symptoms.
Providers are urged to ask patients about their travel history and report any suspected cases of COVID-19 to the Health Department immediately.
The CDC has three levels to classify a potential case of COVID-19:
Person Under Investigation (PUI): Any person who is under investigation for having the virus that causes COVID-19, or who was under investigation but tested negative for the virus.
Presumptive Positive case of COVID-19: Anyone who has tested positive for the virus, but testing was conducted at the local or state level. Currently, presumptive positive cases must have sample undergo confirmatory testing at the CDC.
Laboratory-confirmed case of COVID-19: Anyone who has tested positive for the virus at the CDC laboratory.
The community should continue to practice general health hygiene that prevent the spread of viruses in general:
Wash your hands with soap and water often for at least 20 seconds.
Avoid touching eyes, nose and mouth.
Avoid close contact with people who are sick.
Cover your cough or sneeze with a tissue, then throw the tissue in the trash.
Clean and disinfect frequently touched objects and surfaces.
Stay home if you are sick.
If you have underlying health conditions or are an older adult, avoid large gatherings.
Facts not fear: Putting COVID-19 into context
WTOL 11's coverage of the coronavirus is rooted in Facts, not Fear. Visit wtol.com/coronavirus for comprehensive coverage, find out what you need to know about northwest Ohio and southeast Michigan specifically, learn more about the symptoms, and keep tabs on the cases around the world here. Have a question? Text it to us at 419-248-1100.
Protect yourself from coronavirus
Cover: Cover your mouth and nose with a tissue when you cough or sneeze.
Dispose: Throw used tissues in a lined can.
Wash hands: Wash your hands often with soap and water for at least 20 seconds, especially after blowing your nose, coughing, or sneezing; going to the bathroom; and before eating or preparing food.
Hand sanitizer: If soap and water are not readily available, use and alcohol-based hand sanitizer with at least 60% alcohol, covering all surfaces of your hands and rubbing them together until they feel dry.
Avoid touching: Avoid touching your eyes, nose, and mouth with unwashed hands.