Most Lucas County nursing homes with COVID-19 cases have history of poor health inspections
Lucas County is 2nd in the state in coronavirus nursing home deaths, as of May 21. In data released by Ohio on May 20, the county listed 121 deaths since April 15.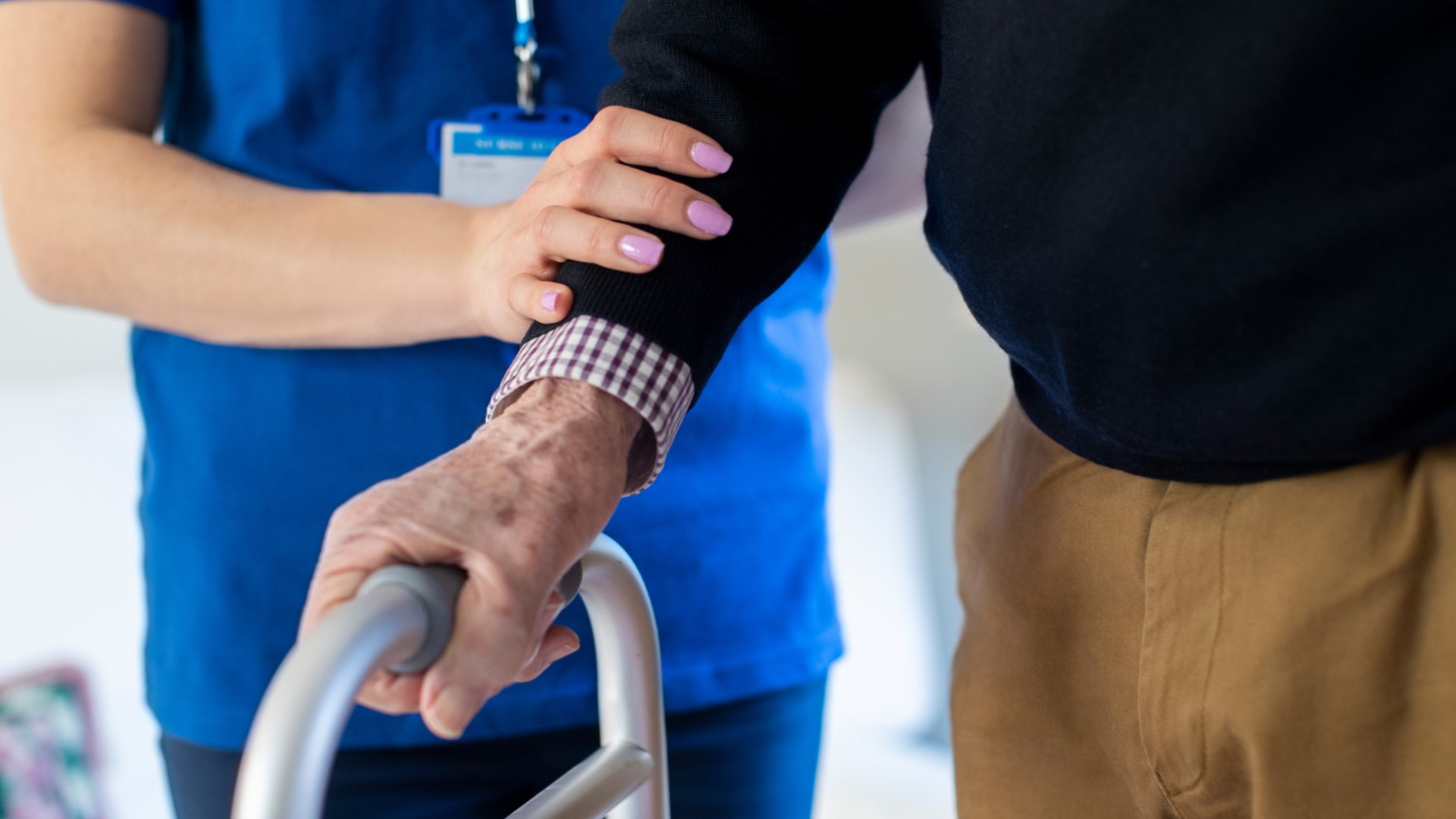 By March 18, the virus had spread to 23 residents and 15 staff members.
The facility reported the viral outbreak to the health department on March 19, weeks after it was required to do so.
The failure was part of citations noted in a state inspection that month. The facility has had 16 citations in the last three years, roughly twice the state average.
The viral outbreak was just a precursor to the COVID-19 pandemic that has ravaged the Maumee facility this year.
Lakes of Monclova has reported that 107 staff and residents have tested positive, 34 have died. The owners of the facility did not return a request for comment.
LAKES OF MONCLOVA INSPECTION REPORT
The facility is not alone in issues with infection control, food handling, abuse allegations, training citations and other inspection issues. Many local nursing homes with COVID-19 outbreaks have a history of poor health inspections, a WTOL investigation has found.
Lucas County is second in the state in nursing home deaths, as of May 21. In numbers released by the state on May 20, the county listed 121 deaths since April 15. A separate records request revealed that 11 more people died in nursing homes prior to April 15.
As of May 20, the state says that 1,247 people have died from COVID-19 in nursing homes, 70 percent of the state's death tally.
Lucas County has become one of the epicenters of the pandemic in Ohio.
Hunt for Answers
:
What's the common denominator?
After the state began releasing case numbers from area nursing homes, 11 Investigates began looking for any common denominator in why certain facilities had cases and others did not.
According to the health department, Lucas County has 67 long-term care facilities, with about 6,000 staff and residents.
When we began collecting data at the end of April, 27 facilities were reporting cases. Of those, 20 had health inspection reports and ratings on medicare.gov. We first looked at Lakes of Monclova because of the high volume of cases.
But as other facilities were examined, something jumped out about the facilities. The Centers for Medicare & Medicaid Services evaluates nursing homes with a number of categories, including health inspection reports. Five stars is the best. One star is the worst.
Almost all of the facilities had poor inspection records.
Of the 20 facilities, seven of them received one star for inspections, putting them in the bottom 20 percent of Ohio homes. Only one nursing home with COVID-19 cases, Concord Care Center, had an inspection rating above average. The 20 facilities had an average inspection score of 1.9 stars and had racked up 258 citations.
By comparison, the Ursuline Center has had nearly spotless inspection reports and has a five-star rating. There are no cases of COVID-19 in the facility.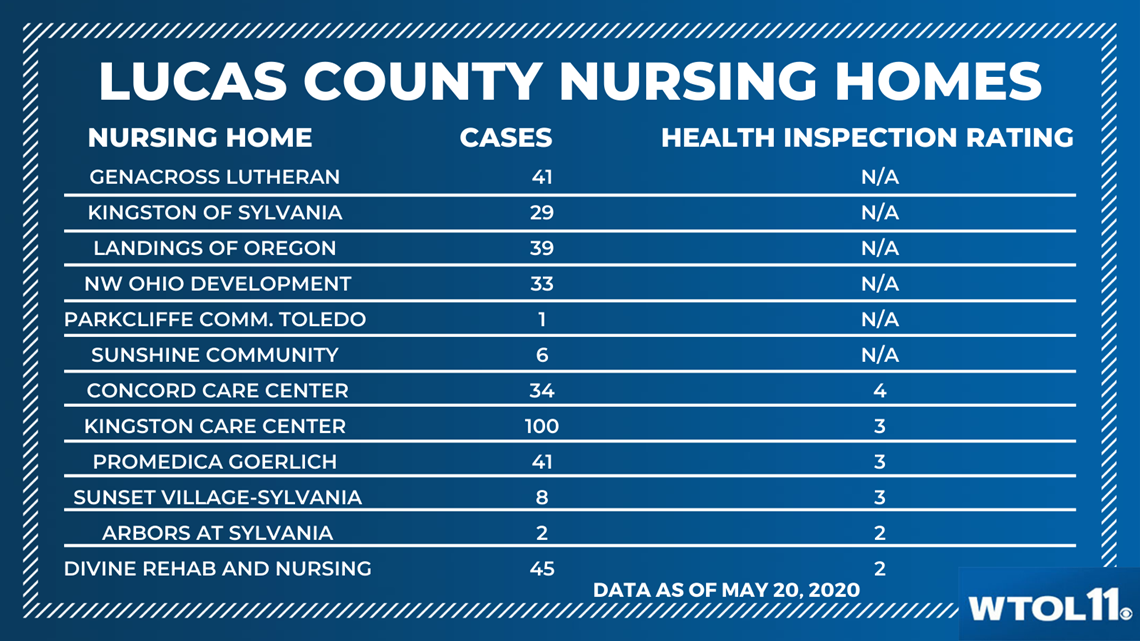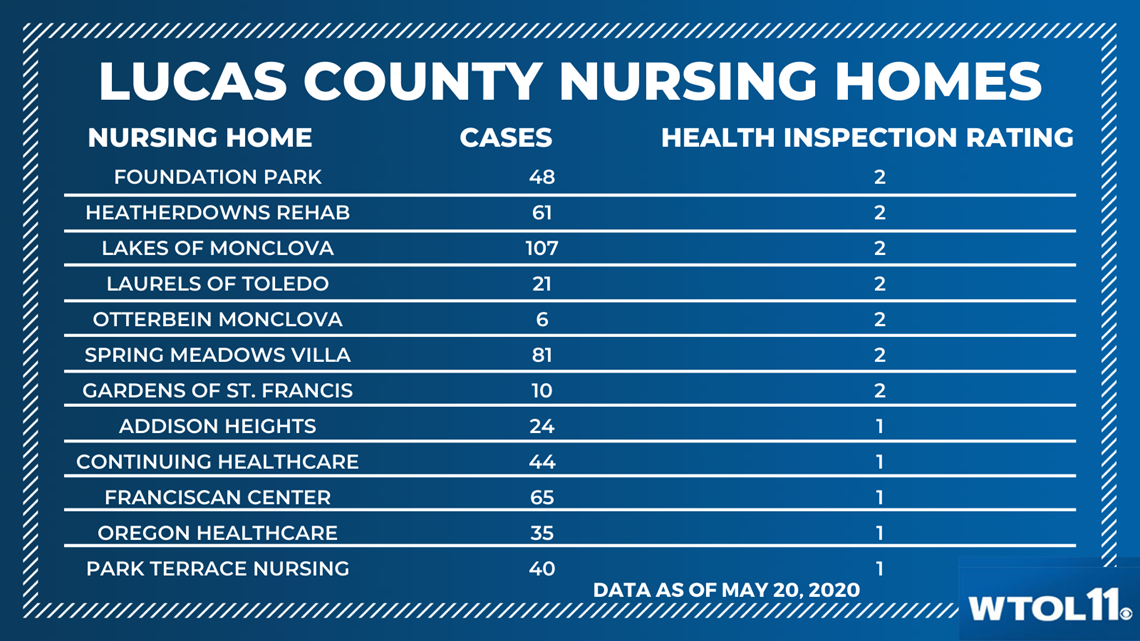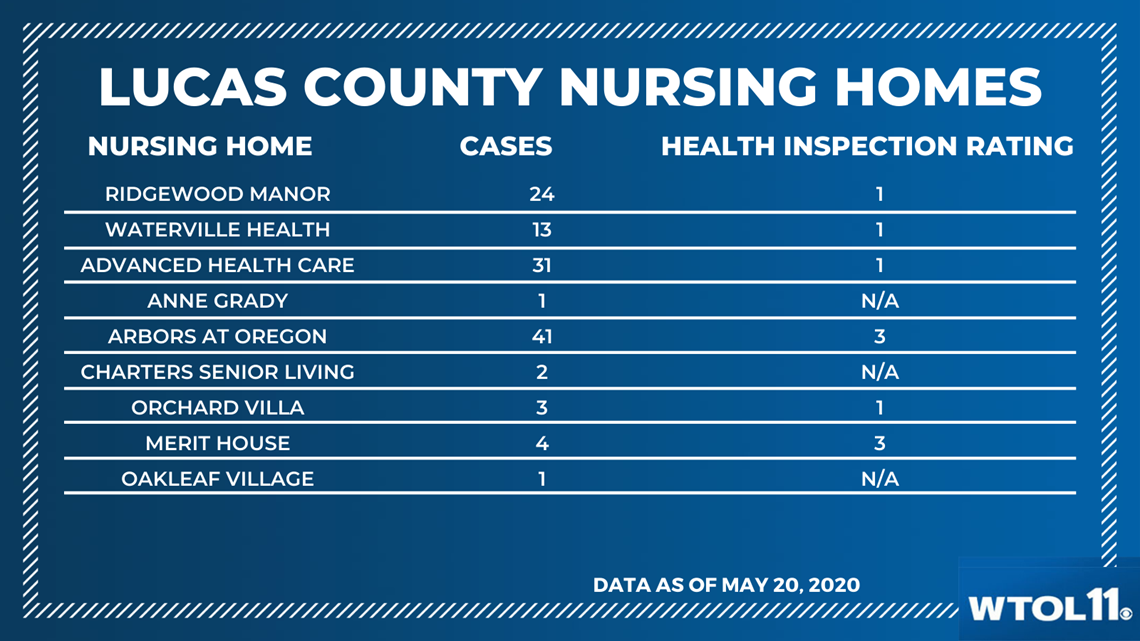 An Employee's Call for Help
:
Above-average citations
While this investigation was taking shape, an employee for Toledo's Park Terrace Nursing reached out to 11 Investigates.
"I'm just terrified for my own life," she said. "I just don't feel safe."
Days before, the woman, who asked not to be identified, had been told by the facility that she had tested positive for COVID-19.
The employee says she has seen numerous cases of unprofessionalism. She said she has no doubt that has played into the 40 infections at the facility.
"Don't send your family members there if you want them to survive, don't send your family members there ... seriously, because I wouldn't send mine there."
Park Terrace has 17 health citations on its reports, twice the state average. During one inspection, multiple food items in the kitchen were found with mold on them.
In a statement, the facility listed several steps it has taken to slow the infections, including checking residents three times a day for signs of illness and adding that employees take an oath to care for their vulnerable population.
In a follow-up request for comment about the employees allegations, the facility offered the following statement:
"Employees must adhere to acceptable business practices in matters of conduct, behavior, professionalism, and to exhibit a high degree of personal integrity at all times.
We provide frequent education and constant oversight of our staff to ensure adherence to these expectations. As an organization, we also provide oversight and frequent onsite visits by corporate team to confirm that our facility is maintained at the highest standard."
PARK TERRACE INSPECTION REPORT
RESPONSE FROM PARK TERRACE
Failing Report Cards
:
Examining Inspection Ratings
Detroit has battled COVID-19 in its nursing homes. Dr. Teena Chopra, an infectious disease expert in the city, says many nursing homes across the country share the same hurdles.
"They don't have epidemiologists and infectious control practitioners that we have in our big academic centers. They don't have anyone to guide them ... what is to be done if you are sick."
But an Ohio inspector couldn't even determine how well nurses had been doing their jobs at Franciscan Care Center during a July 23, 2019, inspection. A report shows no annual reviews were being done for nurses. The inspector also cited the facility for infection control issues.
The facility has a one-star inspection rating and has reported 65 infections. It said in a statement to 11 Investigates that it has been working on improving infection control.
FRANCISCAN CARE CENTER INSPECTION REPORT
RESPONSE FROM FRANCISCAN CARE CENTER
Addison Heights and Continuing Healthcare of Toledo have each piled up 31 citations during health inspections, though Continuing Healthcare blames previous owners for most of those issues. Addison Heights reported 24 total cases on May 20. Continuing Healthcare has had 44.
Continuing Healthcare provided a May 25 update to 11 Investigates, saying that it received no deficiencies or citations in a surprise infection control inspection on Memorial Day.
The federal inspector was focusing on transmission precautions, hand hygiene, use of personal protective equipment, infection surveillance, and review of policies and procedures.
CONTINUING HEALTHCARE OF TOLEDO INSPECTION REPORT
RESPONSE FROM CONTINUING HEALTHCARE OF TOLEDO
ADDISON HEIGHTS INSPECTION REPORT
County Steps Up Efforts
:
More Tests Available
On April 27, Lucas County announced that it would be providing tests for all 6,000 county nursing home residents and staff.
"We will allow populations not to mix. It will give a better look inside nursing homes. It's a great day for us," Health Commissioner Eric Zgodzinski said.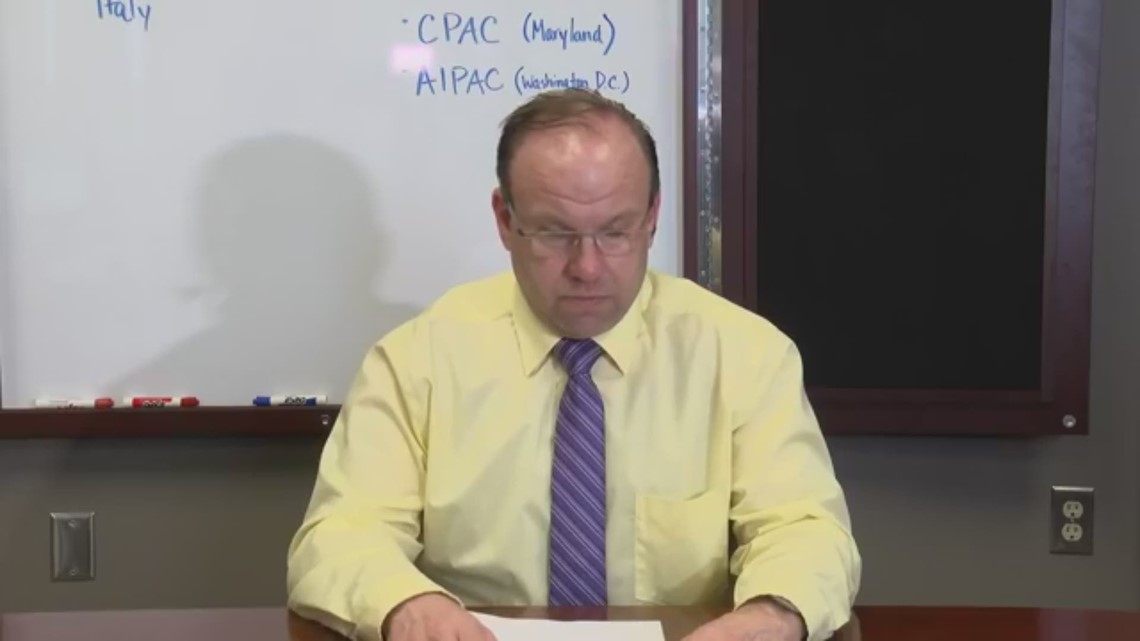 But that optimism has faded somewhat. Some facilities have done widespread testing on their own, but only 1,516 individuals have been tested with the county tests.
When asked if they were disappointed in the test results, a health department spokesman said: "We would like to see additional testing be completed, however, approximately 2,500 tests have been administered to date. (Some individuals have been tested more than once.) We facilitated access for all nursing facilities in Lucas County to utilize if needed. Several facilities have zero cases and are not needing to test their staff or residents. However, facilities could start testing down the road, as they see necessary."
The danger of not testing all residents is that the infected who are asymptomatic could be unknowingly infecting others, something health commissioner Ben Batey believes happened in Wood County. The vast majority of COVID-19-related deaths in Wood County are in its nursing homes.
"We can screen, do you have a fever or any of these symptoms and they can say, no, I'm good and I can come into work today. But they could potentially still be carrying that virus and that's how it can potentially sneak in," Batey said.
And when the virus does sneak into nursing homes, the results can be deadly.