COLUMBUS, Ohio — Ohio Gov. Mike DeWine released new information on the state's response to coronavirus Thursday.
Focus held mainly on a plan for schools to return to in-person learning in the fall and a new alert system aimed at keeping Ohioans informed of the status of the virus in their counties.
Here's a look at what was discussed.
School Guidelines
DeWine said he has had talks with teachers, superintendents, school officials and medical personnel to put together a plan for schools to get back in the classroom while staying as safe as possible.
The consensus, he said, is that students need to get back into the physical classroom, as some students have struggled to receive the same quality education while learning remotely.
The guidelines put forth by the state give school leaders flexibility to do what's best for their students.
Because school buildings are indoor settings where people are inside together for long periods of time, it is a place where the virus can easily spread.
Specific guidelines will be made available on coronavirus.ohio.gov.
Here is an overview of what will be expected from schools come the fall: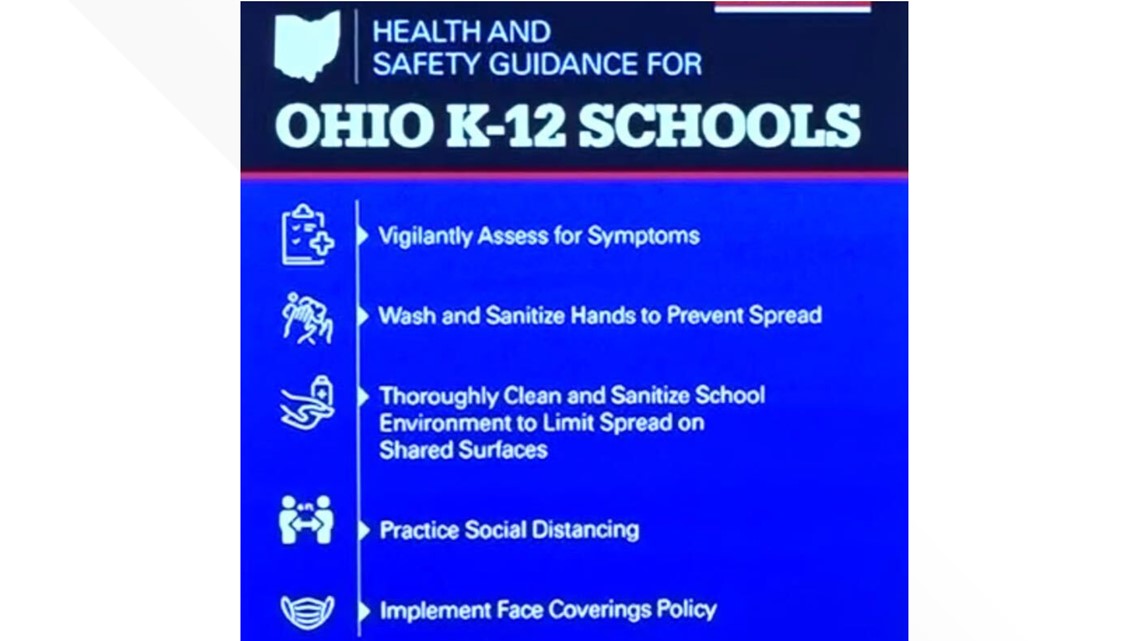 Vigilantly assess symptoms - Staff and volunteers should conduct daily health checks prior to going to school, including temperature checks and assessing symptoms. Anyone with a temperature of more than 100 degrees or who exhibits symptoms must stay home. If there is a higher risk of COVID-19 in a community, schools can scale up this guidance. For example, school leaders can take temperatures of students and staff prior to entering the building. School administrators must send home students or staff if they develop symptoms or a temperatures at school and refer them to an appropriate health care provider or testing site. They must contact the health department if there is a case of coronavirus at the school. Schools must work with local health departments to create a comprehensive testing strategy.
Wash and sanitize hands to prevent spread - Schools must provide ample opportunity for students and staff to wash their hands throughout the day. To supplement this, schools should provide hand sanitizer in high-traffic areas such as entrances to the buildings and classrooms, requiring its use.
Thoroughly clean and sanitize school environment to limit spread on shared surfaces - COVID-19 can spread by touching a surface and then touching your mouth, nose or eyes. Using disinfectants reduces the spread of infectious diseases.
Practice social distancing - Social distancing of at least six feet can reduce the spread of infectious diseases. Schools should strive to keep six feet of distance between students, staff and volunteers in all school environments, including classrooms, bathrooms, at pick-up, on school buses, etc.
Implement face coverings policy - All school employees must wear face masks unless it is "unsafe" for them to do so, and it is recommended all students in third grade and above wear masks as well; districts must put forth a face mask policy.
"Follow the science, use common sense," DeWine said. "We wear face masks to protect each other."
DeWine called these guidelines "aspirational," acknowledging the fact that distancing especially may be difficult to do at some times.
Public Health Advisory Alert System
As many of the previous orders are set to expire, DeWine said Thursday that vital and necessary baseline orders will continue on to help combat the recent spike of cases in the state. Those baseline orders include things like social distancing, guidelines for businesses, etc.
Additionally, a new warning system, called the "Public Health Advisory Alert System," has been implemented to provide community leaders, state leaders and health departments data and information that will allow them to layer additional enhanced safety measures to combat flareups as they pop up across the state.
The new color-coded system is built on data-driven framework to assess the degree of the virus's spread. The hope is to inform, engage and empower individuals, businesses, communities in the appropriate response and action.
The system is made up of four levels, providing Ohioans insight into the severity of the problem in the counties in which they live, determined by seven data indicators:
New cases per capita - When the data shows that a county has had an average of 50 cases per 100,000 people in a two-week period, that will trigger a flag for increasing case rate. This specific threshold was chosen because this is the point at which the CDC defines a populations case rate as going from "moderate" to "moderately high."
Sustained increase in new cases - If the number of new cases continually increases for a series of days, this indicates virus spread. A county will be flagged for this indicator if it has a five-day period of sustained new case growth.
Proportion of cases not congregate cases - The risk of spread in congregate living facilities is very high, however, DeWine the risk of spread from these facilities to outside communities is relatively low. This is why leaders are giving more weight to non-congregate cases when looking at community spread. When leaders see a high number of cases from those living in the broader community, that is a big concern, DeWine said. When 50% of new cases in a three-week period are from outside congregate care facilities, this will trigger a flag under this new system.
Sustained increase in emergency room visits - Emergency room data will show the trend in the number of people who visit the E.R. with COVID-19 symptoms or a confirmed coronavirus cases. A county will be flagged when there is an increase of ER visits over a five-day period.
Sustained increase in outpatient visits - This looks at the number of people visiting outpatient facilities, including telehealth with confirmed or suspected COVID-19 systems. This lets us know how many people are sick enough to go to the doctor's office. This can be an early warning indicator for future hospitalizations. A county is flagged if there is an increase over a five-day period.
Sustained increase in new COVID-19 hospital admissions - This data point shows the burden of COVID-19 in the community. When the numbers show at least a five-day period of sustained growth in the number of county residents with COVID-19 who are sick enough to be admitted to the hospital. DeWine made clear, this indicator looks at the county of residence, and not the county of the hospital in which that patient is being treated.
ICU bed occupancy - This indicator looks at regional data of coronavirus and non-coronavirus use of ICU beds. This gives us an idea of how full our hospitals are. A county is flagged if the regional occupancy goes above 80% on at least three of the last seven days.
Additional measurements - Three more indicators will be added to the list as more data becomes available. Those data points are: contact tracing, tests per capita and percent positivity.
Alert levels will be updated weekly on Wednesdays and announced during DeWine's Thursday conferences. Here is a look at what each level means:
Level 1 - The color for Level 1 will be yellow. This will be activated when 0-1 of the seven indicators have been flagged. There are currently 53 counties at Level 1. The majority of these counties are seeing a moderate number of cases. Some are seeing a steady increase in cases each day, but not necessarily a rapid spread. DeWine cautioned not to be lulled into a false sense of security, as experts believe all counties have community spread.
Level 2 - The color for Level 2 will be orange. This is issued when a county flags two or three of the seven indicators. There are currently 28 counties under a Level 2, including Lucas County. These counties are seeing cases growing in the communities over the last two weeks. Residents should exercise a high degree of caution by decreasing contact with people in high-risk and limiting in-person interactions and seeking medical care when necessary.
Level 3 - The color for Level 3 will be red. This level triggers four or five of the indicators and there is a very high level of exposure or spread. There are currently seven counties at Level 3. Ohioans should limit activities when possible, consider online options and wear a mask as many cases of community spread are present. Residents of these counties should limit themselves to necessary travel only. COVID-19 hospitalizations and ICU stays are trending up in some counties.
Level 4 - The color for Level 3 will be purple. This level triggers six or seven of the listed indicators. At this point, no Ohio counties are at Level 4. Franklin County, however, is on the watch list, with the grave concern that it could soon move from red to purple. Ohioans should stay home as much as possible and only travel when necessary if their county were to reach this level of spread.
Addressing COVID-19 spike
DeWine said he believes that leaders should look differently at different areas of the state. While there are some needs we have in common: wash hands, wear a mask, social distance, etc., leaders need to look beyond that, especially as case numbers continue to rise.
The number of COVID-19 cases is rising, DeWine said. On June 17, there were 412 new cases. That number jumped to 632 on June 24. On July 1, there were 1,076 new coronavirus cases in the state.
"This is a worrisome and concerning trend," DeWine said.
Experts say that community spread is likely in every county in the state. Local health departments are mapping transmission in their areas.
DeWine said that those health leaders are identifying spread at large family gatherings, funerals, other large gatherings like protests, bars and tourist destinations. The governor blamed this on a lack of social distancing and masks in these instances.
Additionally, the virus is spreading rapidly among young adults in their 20s and 30s. This is a national trend as many seem to be letting their guard down, DeWine said. On Thursday, he said he worries that all of the work Ohioans have put into fighting the virus up until this point is now in danger of being reversed.
However, in an effort to spread a bit of positivity, Lt. Gov. Jon Husted revealed that a new metric would be posted on the coronavirus website, highlight presumptive recoveries of the virus. That number on Thursday was 38,987.
Bars and restaurants
DeWine made note that many bar and restaurant owners are doing an incredible job keeping their businesses safe. He also said that just because a case may be traced back to their business, it doesn't mean the owner or staff members are doing anything wrong. The virus can spread anywhere.
DeWine said that since May, when bars and restaurants reopened, the Ohio Dept. of Commerce Division of Liquor Control has been working to grant permits to allow alcohol in outside spaces next to restaurants and bars. The reason being that health experts know the virus spread much less frequently in outdoor settings.
Anytime people can get outside and spread apart, it is a positive thing, DeWine said. He encouraged owners to continue working with the state to come up with creative solutions to keep people safe and distanced. DeWine called on these business owners to take charge and make sure customers are sitting down and behaving, saying the state would be cracking down on those who violate the regulations.
MONDAY
Positivity Rate
DeWine said that a key indicator of the virus' spread is the positivity rate.
If the spread of the virus remained at a low level, he said, more testing should show a lower positivity. Instead, the creeping up of the state's positivity rate, even as more testing is completed, indicates that Ohio is likely picking up signs of broader community spread.
Hospital Space
Last week was the state's first week of increasing coronavirus hospital utilization after over two months of that number decreasing since late April.
DeWine said that the number of standard hospital beds occupied by COVID-19 patients peaked in late April/early May at about 1,000 and reached a low of 513 on June 20.
In the Dayton and Cincinnati areas, the recent increase in hospital utilization includes standard beds, as well as ICU beds and ventilators.
Although the utilization of hospitals for coronavirus patients is increasing, there is adequate overall capacity.
No region has reached the concern threshold of 80% overall utilization for ICU beds, DeWine said. But, he did make note of the recent history in New York City, Texas and Arizona, saying things can quickly change.
To make sure Ohio hospitals have enough space and ICU beds to treat everyone who needs care, DeWine called on all Ohioans, especially those in Hamilton, Montgomery, and surrounding counties, to redouble their efforts to social distance, wear a mask in public and wash their hands.
Hamilton and Montgomery Counties
DeWine focused a lot of Monday on the southwestern counties of Hamilton and Montgomery counties as cases continue to rise.
He said he discussed the situation in both of these areas with Vice President Mike Pence and President Donald Trump and was assured the state would be receiving additional help to combat the spread in those communities.
At the end of May and into early June, Hamilton County was holding steady at an average of 30 cases per day per 100,000 population. As of this past week, the average new cases per day increased to approximately 100 cases per 100,000, DeWine said.
And due to the delayed diagnosis, these numbers may continue to grow. By reviewing other healthcare indicators, DeWine said it can be seen that this is not solely because of increased testing.
For example, more people are visiting their doctors more often and being diagnosed with COVID-19. In one week's time in Hamilton County between June 15 and June 22, those numbers nearly doubled from 40 to 78 visits per day.
Additionally, Ohio is seeing an increase in additional utilization of other healthcare services.
In Hamilton County and the surrounding region, hospital utilization by COVID-19 positive patients reached their lowest levels of this epidemic during the first and second weeks of June.
But, the number of COVID-positive patients being treated in standard hospital beds, ICU beds, and on ventilators has steadily increased. In fact, in Hamilton County, the number of COVID-positive patients has doubled from the low of 65 on June 11 to more than 130 over the weekend.
In Montgomery County, there is a noticeable increase in cases over the last month from an average of about 10 cases a day at the end of May, to about 40 cases a day in the most recent week.
The community is also experiencing early signs that more people are seeking medical care for COVID-19 symptoms. For example, DeWine said outpatient visits grew from an average of nearly 7 visits per day to 27.
For the hospitals in the West Central region, the number of COVID-positive patients in standard hospital beds, ICUs and ventilators have also doubled since the first week of June. COVID-specific hospital utilization is approaching levels not seen since the earlier peak of the pandemic in April.
Nursing Home Visitation
DeWine said Monday that his job as governor is to protect all Ohioans, saying part of that job means putting in place measures to help keep people safe from the effects of coronavirus.
However, he said it also meant protecting those things that add value to life, and that balance has been the operative word in the state's efforts thus far.
DeWine said acknowledged that restrictions on nursing home visitation has been gut-wrenching for families and that a lack of socialization can have an impact on an individuals well-being.
Therefore, he said, beginning July 20, nursing homes are permitted to begin outdoor visitation, so long as all safety standards are met.
DeWine asked nursing homes to consider:
Case status in the community
Case status within the nursing home
Staffing levels
Access to adequate testing for residents/staff
Personal protective equipment supplies
Hospital capacity
DeWine said his team is confident that their approach provides each facility the flexibility needed to assess their readiness to safely facilitate outdoor visitation and to do so in a transparent way that keeps residents and families informed.
DeWine said that we are now a number of months into this virus, which means that there have been a lot of people locked up, unable to see their families, which has weighed on him. Even though Ohio coronavirus cases are on the upswing, DeWine said he believed opening up visitation was important for Ohioans.
He said that his team has laid out a process, approved by experts in the field. Once testing is done in the nursing home, and if they find that facility does not have cases, they can move forward with outdoor visitation as it is much more difficult for the virus to spread in an outdoor setting.
Anyone with questions about visiting their loved ones, can contact the State Long-Term Care Ombudsman, an office within the Ohio Department of Aging at at 1-800-282-1206.
School Guidelines
DeWine said Monday that his administration was continuing to work on plans to help keep the state's schools safe as they get ready to reopen in the fall.
The goal is to balance the need to get back into school buildings with the need to keep Ohioans healthy and safe at work and in their daily lives as we continue to combat the virus.
When asked if the state was considering how to accommodate older members of school faculty, DeWine said, "absolutely."
While the focus has mostly been on the students, the adults, some within the high-risk category, are being considered in the state's guidelines for schools.
DeWine said Ohioans could hopefully expect more information on school guidelines on Thursday.
Extended Health Orders
DeWine said that due to the recent increase of coronavirus cases in the state, all current health orders will be extended through the end of the week.
His team will be working to finalize plans to take the state into the next phase, which he called a "distinct and different phase" of keeping Ohio open as we head into the second half of the year.
"What people do as individuals is vitally important, every single day," DeWine said.
Closure Possibility
DeWine said what's happening in Texas, Florida, etc. should be looked at as cautionary tales.
He said he does not want to close anything down, and that's why they are working to encourage people to wear masks.
When people go into a restaurant, a jewelry store, etc. they should have a mask on DeWine said, although that is still not a hard requirement in the state.
"We're right in the middle of this game, we're going to determine the outcome," he said.
DeWine said as the state continues to reopen, his administration is going to move toward a more localized approach.
A reporter made note that the Franklin County health commissioner made a comment that the state opened up bars and restaurants too early, and that it may be time to close them down. DeWine, in response, said this is the time for these discussions to take place and that everything is open to assessment.
However, DeWine said that it is up to individual decisions. He said he believes there are enough restrictions in bars and restaurants so that if they are being followed, patrons and workers should be safe.
More information is expected on Thursday.
MORE ON WTOL