'The rural spread in western Ohio is of grave concern': DeWine makes Toledo stop addressing COVID-19 spike
Ohio Gov. Mike DeWine made a surprise visit Friday, discussing concerning coronavirus trends hitting the western part of the state.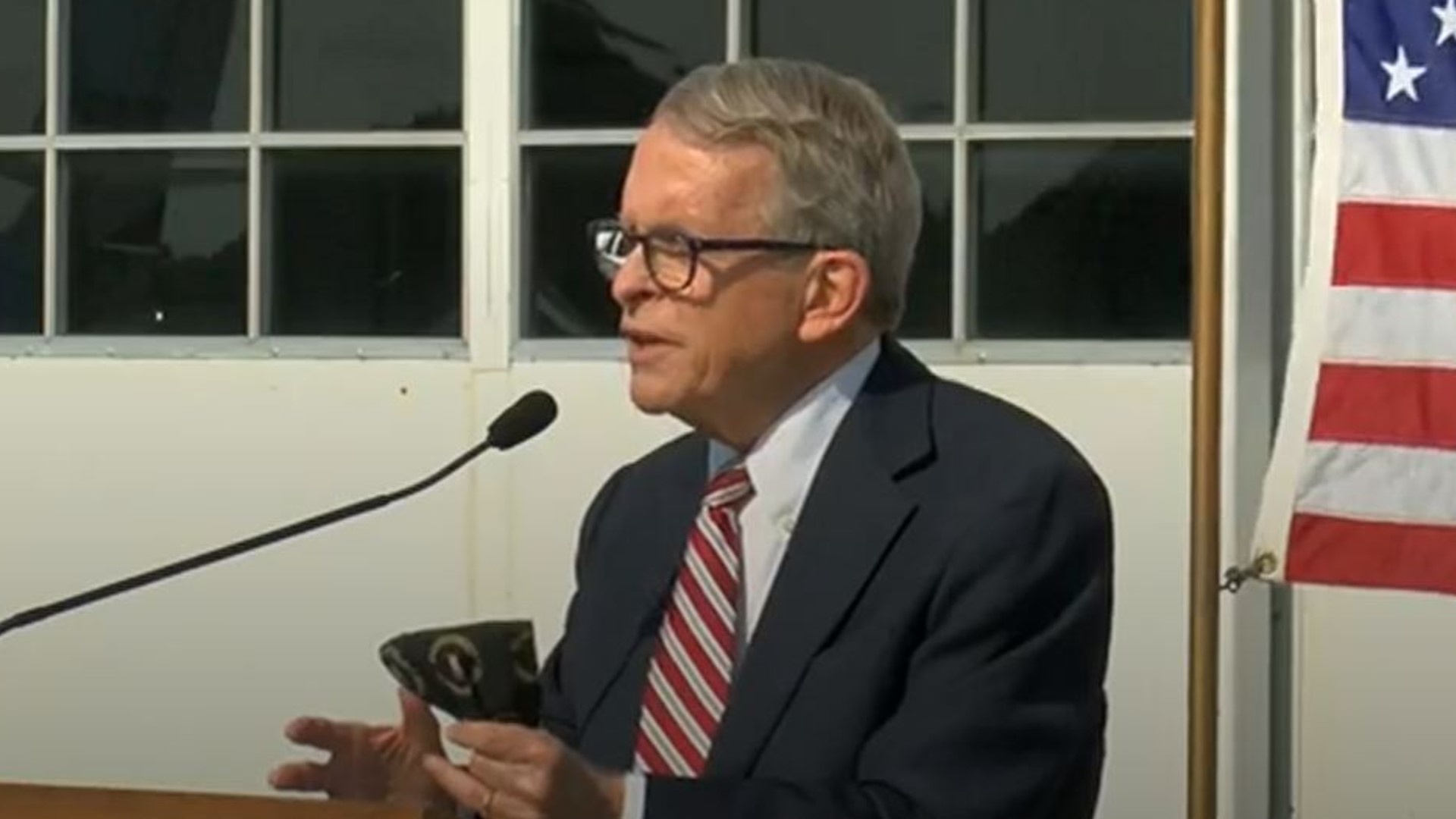 Ohio Gov. Mike DeWine made a surprise stop in northwest Ohio Friday, addressing what he called a "disturbing" trend in COVID-19 hitting the western part of the state.
Case numbers are on the rise, averaging around 1,500 a day. Last month, the positivity rate in Ohio was right around 2.5%. But in just a few weeks, that number has jumped up to 3.9%, with mainly rural counties bearing the brunt of the spread.
"Early on, the spread was focused in our urban areas, today our urban areas are certainly aren't out of the woods, but they are doing a lot better than many of our rural counties," DeWine said.
In northwest Ohio specifically, DeWine noted that there are a number of rural counties with exceedingly high case numbers over the last two weeks.
"Trend lines are not good in Ohio. The rural spread in western Ohio is of grave concern," he said.
For a few months, DeWine's administration has been ranking Ohio's 88 counties in order of those with the most cases per 100,000 people to the least. This week, 5 northwest Ohio counties were in the top 20 of that list.
Chapter one
:
Breakdown of Northwest Ohio Counties
DeWine gave a detailed look at the situation of every county in the region. Here is a look at what he explained.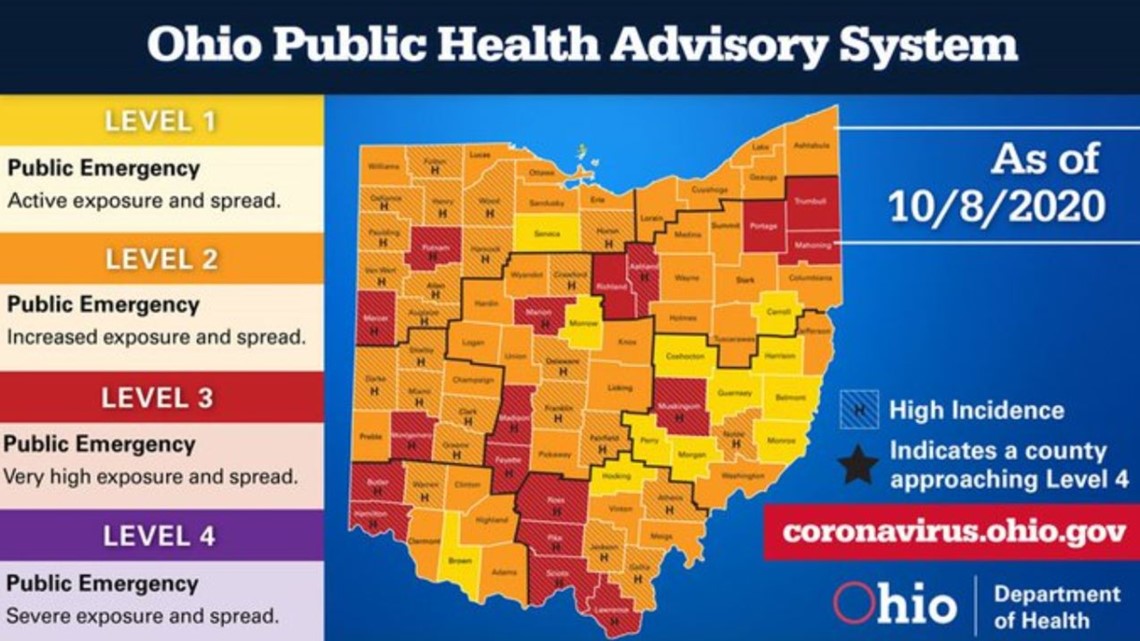 LUCAS
"Lucas is doing pretty well," DeWine said Friday.
The county has had an average of 67 cases per 100,000 people over the last two weeks, with total cases at 288. In that time frame, 14 people were hospitalized.
While Lucas is not a high incident county right now, health dept. officials say cases in the county are starting to climb. Officials have attributed some of the spread to parents sending kids to school when they are sick.
"If we're going to keep our schools open, if we're going to keep our kids playing sports, they can't come to school sick," DeWine said, a sentiment repeated often throughout his address.
DEFIANCE
Defiance County is at a rate of 233 cases per 100,000, which puts them at more than double the Centers for Disease Control and Prevention's level of high incidence.
"That is very, very concerning," DeWine said.
The county's actual case number over the last two weeks is at 89 with no hospitalizations reported.
Health officials have cited a number of cases spreading among close contacts and in long term care facility workers.
DeWine emphasized that the status of the virus within the community will reflect in the area's schools and nursing homes, something he has said frequently in his regular press conferences.
The governor noted a recent outbreak at Defiance College, but said that only one new case was added this week.
He said the data correlated with wastewater sampling. He said that wastewater is an early indicator and can give health officials a four-day jump on a potential outbreak.
FULTON
Out of all the counties in northwest Ohio, Fulton County has the highest incidence rate. On Thursday, DeWine reported that the county was ranked third out of all 88 counties in the state for this metric.
The county is pushing 300 cases per 100,000 with 287, nearly three times the CDC threshold.
"Very concerning, disturbing numbers," DeWine said.
The county has had 121 actual cases in this same two-week time period with four people hospitalized.
Fulton has had outbreaks in long term care facilities, and most new cases, DeWine said, have been attached to another case. This means health officials have seen significant spread in family and friend groups. DeWine said people are likely letting their guard down.
HENRY
Henry County is at 214 cases per 100,000 people, which is more than double the CDC threshold of 100.
The actual case count in the last two weeks is 58, with four hospitalizations.
DeWine said he knows frustration has been growing among parents as quarantine requirements are having an impact on football programs.
However, the governor again reiterated that parents should never send their kid to school when sick.
He also noted outbreaks at large family gatherings and low compliance with mask orders.
WOOD
Wood County is at 162 cases per 100,000 people, with 213 actual cases in the last two weeks. DeWine said that 18 people have been hospitalized in that time frame.
The governor said that most cases have been out of Bowling Green, which makes sense due to the university.
However, he said that students do seem to be following guidance while on campus and in classrooms. The problem is when students get together at parties, with many hopping from one spot to the other, which could further the spread of the virus.
And while most cases are in students, it is likely they are venturing off campus and into the community, where the could be passing the virus on.
HANCOCK
Hancock County is reported to have had 154 cases per 100,000 people over the last two weeks. The actual number of cases in that same period is 117, with five people hospitalized.
WILLIAMS
Williams County has had 100 cases per 100,000 people so right at the CDC threshold for high incidence. Since the county has a small population, this means there were only 37 actual cases. However, six people have been hospitalized.
PUTNAM
Putnam is at 259 cases per 100,000 people, which is roughly 2.5 times higher than the CDC high incidence rate. The county has had 88 actual cases in the last two weeks with 12 hospitalizations.
WYANDOT
DeWine did not give any actual numbers for Wyandot County on Friday, but said the county was nearing the 100 mark as well.
The Ohio coronavirus website listed Wyandot as having 73 cases per 100,000. For a county with a population of just 21,772, that leaves 16 actual cases over the last two weeks.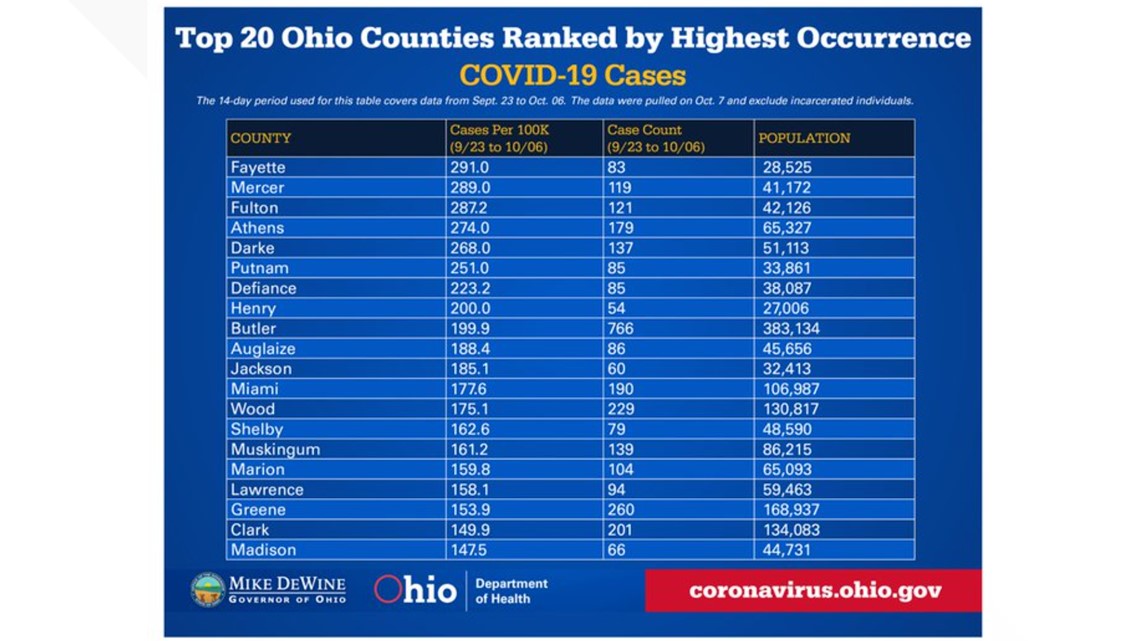 Chapter two
:
How the Virus is Spreading
The governor has been a big advocate for mask use in the fight to stop the spread of COVID-19 and Friday was no different.
"We can at least dramatically slow [the spread] down if people wear masks," DeWine said.
The governor said that the concern all along, and the reason for having strict protocol on kids wearing masks, is over young people passing the virus on to the older people in their lives. He said they are seeing what he calls a "rebound effect" where young people, who may not even know they are infected, are passing it on to older relatives who are more likely to develop complications.
In fact, the state had recently seen the average age of those infected lower, but that number is rising once again.
Much of the spread is being traced back to large gatherings, like weddings, funerals and family parties.
DeWine said that small gatherings, while practicing social distancing and wearing masks when appropriate, are generally fine, but explained that having 300-400 people in a wedding or funeral is "asking for trouble." He said people can still do these things, but suggested keeping it small and if a couple is set on having a huge wedding, maybe wait to plan something of that size until we are out of the pandemic.
"We can do these things. This is kind of part of what I want to tell people, we don't want to shut the state down again. We can have political meetings, rallies even. We want our kids in school - if you want to talk about what's really, really important - we want our kids in school," DeWine said. "We want our kids to be able to go to college. We want people to be able to go to work. We want to be able to enjoy going to a bar or restaurant and what is stopping this, it's not the category so much it's when people don't wear masks."
DeWine called masks a "ticket to freedom" as it allows him to safely do things he otherwise wouldn't be able to in the midst of a pandemic.
"This mask allows me to go see my grandkids," he said.
The governor suggested that Ohioans assume anyone they talk to has the virus as a matter of precaution.
Chapter three
:
Economic Impact
DeWine said that one of the biggest risks to the economy is the virus flaring up again.
"I don't want to be an alarmist. I don't want to be out here saying, 'Everyone shut down and stay in their home,' but if you want kids to stay in school, we have to slow things down," DeWine said.
He went on to say that, if the spread gets to a certain point in a community, schools may begin to go remote even though they prefer to be in-person. Some schools have already made that switch due to small outbreaks.
DeWine predicted that if the current trend continues, people will begin to pull back. This includes schools choosing to go remote, but also people may begin to avoid going out to businesses in-person if the community is in bad shape.
However, he said that he believes most businesses are doing all they can to maintain a safe environment, oftentimes, it may be a patron who violates guidance.
"I think generally, when this is a catering company, or this is a funeral home, the problem is not with them. By and large - there are exceptions to everything - but, by and large they are following protocols, the problem is people," DeWine said.
Chapter four
:
PPE Production in Northwest Ohio
DeWine did bring a bit of good news on Friday in terms of PPE production in northwest Ohio.
The Mold Shop in Sylvania will be making face shields, for example, and Form Labs in Millbury is set to make nasal swabs for testing. Team Ray Technologies is expected to get into temperature monitoring.
"This is what we like to see," DeWine said.
Chapter five
:
Universities and COVID-19
DeWine said that overall, colleges are doing a good job.
University leaders across the state are increasing testing with the government's help. This is likely to include random testing of a certain percentage of the school's population.
DeWine warned that this effort may cause universities to report more COVID-19 cases, but made clear that this doesn't necessarily mean they aren't doing a good job. Rather, they are out there surveying and trying to get a hold of the virus before it spreads further.
Chapter six
:
Voting in a Pandemic
DeWine said that the state is seeing an uptick in residents choosing to vote absentee as a safety measure during the COVID-19 pandemic as many Ohioans find comfort in voting from their own home.
Early voting is seeing an increase in popularity as well, as Friday wrapped up the first week in this election cycle.
The governor called on those voting in person to do so safely by wearing masks and staying distanced while waiting in line.
"If you're going out to vote, whether its Election Eay or early at the board of elections, please wear a mask. We have people working there, sitting hour after hour in contact with a lot of people. The kindest thing you can do is wear a mask," DeWine said.
RELATED VIDEO