TOLEDO, Ohio — Ohio Gov. Mike DeWine addressed northwest Ohioans at press conference Wednesday, revealing that every county in the region is now reported at five times the Centers for Disease Control and Prevention (CDC) threshold for high incidence of COVID-19.
DeWine was joined by Dr. Brian Kaminski with ProMedica, who explained the impact this sort of spread has had on area hospitals and what could lie ahead should things not improve.
Kaminski said that hospitalizations are trending upward at an alarming rate, tripling in the region with that number expected to grow.
"There's no doubt that our hospital systems our healthcare systems will be overwhelmed," Kaminski said.
Hospital systems have surge plans in place to maximize capacity, Kaminski explained, but staffing is a major concern as some workers fall ill themselves or are stuck in quarantine following exposure. However, health leaders have previously explained that hospital staff are more commonly getting sick in the community and not when they are at work.
WATCH THE FULL PRESS CONFERENCE IN THE PLAYER BELOW
The impact has been wide-ranging, he explained, from people with no symptoms to those who have lost their lives to the virus. However, health officials are still learning about the long-term effects of the virus. Some patients, referred to as "long haulers," survive but go on to have significant symptoms for months after.
Another concerning trend: patients who should go to the hospital or emergency room are avoiding it because of the virus.
Both Kaminski and DeWine painted the picture of a different landscape from the previous peak last spring.
The governor explained that early on, if you lived in a rural area, you were likely to not know anyone with the virus. However, COVID-19 has become almost inescapable and now rural areas seem to be some of the hardest hit.
Kaminski said that we are in a worse state than the last peak, but if predictive models are correct, the worst could still be yet to come. But there are things we can do. Kaminski explained that models predicted the situation to be much worse last time around. However, because of the protective measures put into place, spread began to slow.
"Staffing is a major concern right now," the doctor said. "Our healthcare workers live and work in our community. They're not only exposed in their work environments but are exposed at home too."
The press conference comes just one day after DeWine issued a curfew for the state, set to last between the hours of 10 p.m. - 5 a.m. The new measure will go into effect Thursday and last for at least 21 days.
DeWine expressed optimism about the outcome of the curfew.
"I'm optimistic! I think the curfew is going to help. It sends a message that hey this is no ordinary time," the governor said. "It's is about keeping people from getting together from after 10 at night. This virus can spread anytime 24/7. We don't want to shut the economy down, we don't want to have a total lockdown in Ohio."
The idea behind the curfew is to limit contact with others by staying home within those restricted hours. While it is targeted at individuals, retail locations and some businesses like casinos will be expected to shut their doors during those designated hours.
Restaurants and bars are also required to stop serving in-person customers at 10 p.m. and during the entirety of the restricted period. However, takeout and delivery is OK past that.
There are a number of exceptions to the rule as well, including:
People going to or from work;
Those who have an emergency;
Those who need medical care;
Grocery shopping;
Going to the pharmacy;
Picking up carryout or a drive-thru meal;
And, of course, you can still take your dog out or go for a walk.
"We think it's the right step at the right time," said Ohio Restaurant Association President John Barker said during the press conference. "It's going to allow Ohioans to do their part without having what we thought would be an immediate and disastrous impact on restaurants and thousands of employees if we shut everything down."
When asked if he had completely ruled out closing bars and restaurants, DeWine said the curfew would be tried first, but didn't say it was out of the realm of possibility.
The move comes as the state continues to see record-high numbers, including daily cases, hospitalizations and ICU admissions.
On Tuesday, the Ohio Department of Health reported:
7,079 new cases of coronavirus compared to the 21-day average of 5,224
30 deaths compared to the 21-day average of 25
368 hospitalizations compared to the 21-day average of 210
27 ICU admissions compared to the 21-day average of 23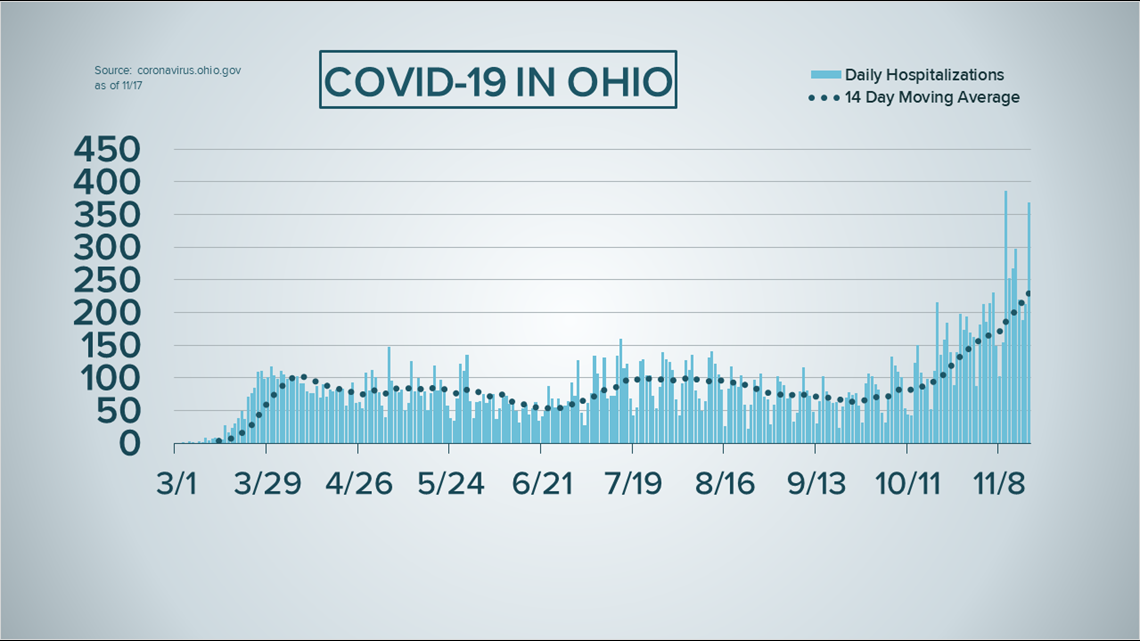 In addition to the curfew going into effect Thursday, DeWine has also asked each Ohioan to do one thing that reduces contact with others.