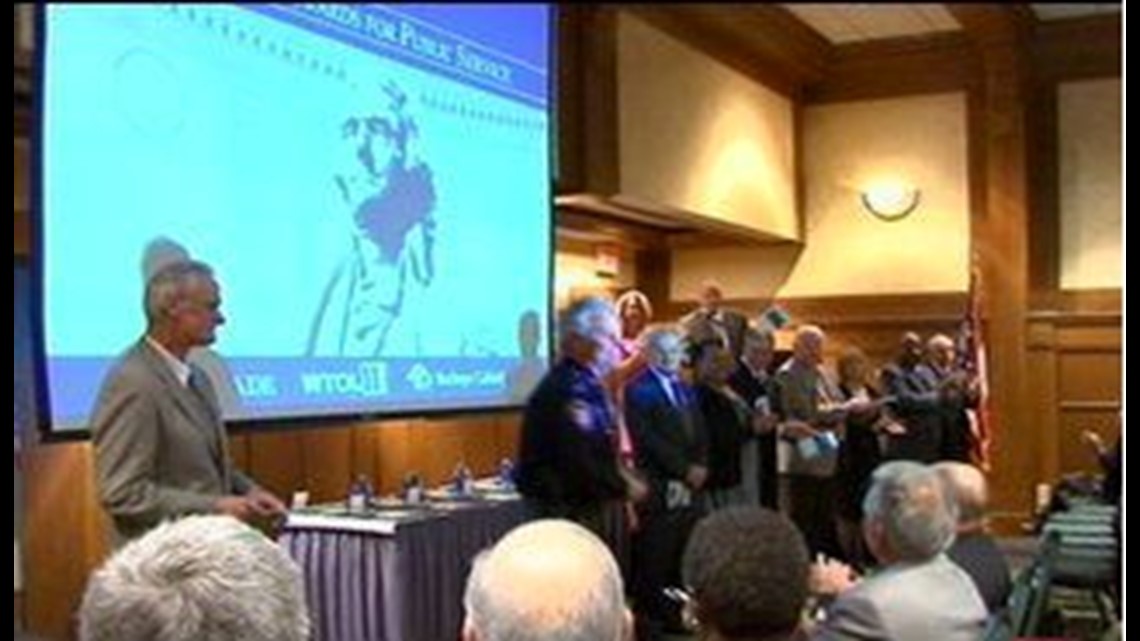 TOLEDO, OH (WTOL) – They have devoted so much time to local communities and strangers. On Thursday, they were recognized for their hard work. The 10 Jefferson Award finalists were honored during a special breakfast at the Toledo Club downtown.
Since 1972, the American Institute for Public Service has awarded a noble prize to people who give their time and money to help others who are less fortunate in their community.
Ten individuals received a lengthy applause as they each received the local Jefferson Award. Four of the finalists were selected as candidates for the national Jefferson Award: James Taylor, Ken Leslie, Jimmie Gaines Sr., and Major John Tharp.
One of the national finalists said he has been so blessed in life that it felt natural to help others.
"One of the things about that blessing is you have to do something. You have to give back to people and it's just always there and I'm grateful for it and now I get recognized for it," said Gaines.
Gaines became emotional when part of his recognition video played.
"It was a picture of my mother. They showed her and she's since deceased, but she's been the inspiration for my whole life," explained Gaines.
Lucas County Sheriff Deputy Major John Tharp said this award touches his heart.
"I'm honored. But as I looked throughout the room today, we had one common thread and it seems as though everyone in this room were men and women for others, and I'm truly humbled to receive such an award," said Tharp.
Norma Leslie accepted the award on behalf of her husband Ken who works with the homeless and veterans.
"I'm so proud of him today, and not just today, but every day. But in his words, none of the work he does would happen if it weren't for the compassion of the community in northwest Ohio," said Leslie.
Taylor was recognized for raising money to build schools for children in Vietnam.
"I don't know why I'm a finalist, but they all do so much great stuff and I really appreciate being in that group," said Taylor.
Only one of the four finalists will get the opportunity for an all expenses paid trip for two to Washington, D.C. where he or she could be recognized as the national Jefferson Award winner.
WTOL 11 is a proud sponsor of the Jefferson Awards. WTOL 11 Your Morning anchors Melissa Voetsch and Jonathan Walsh hosted the event Thursday morning.