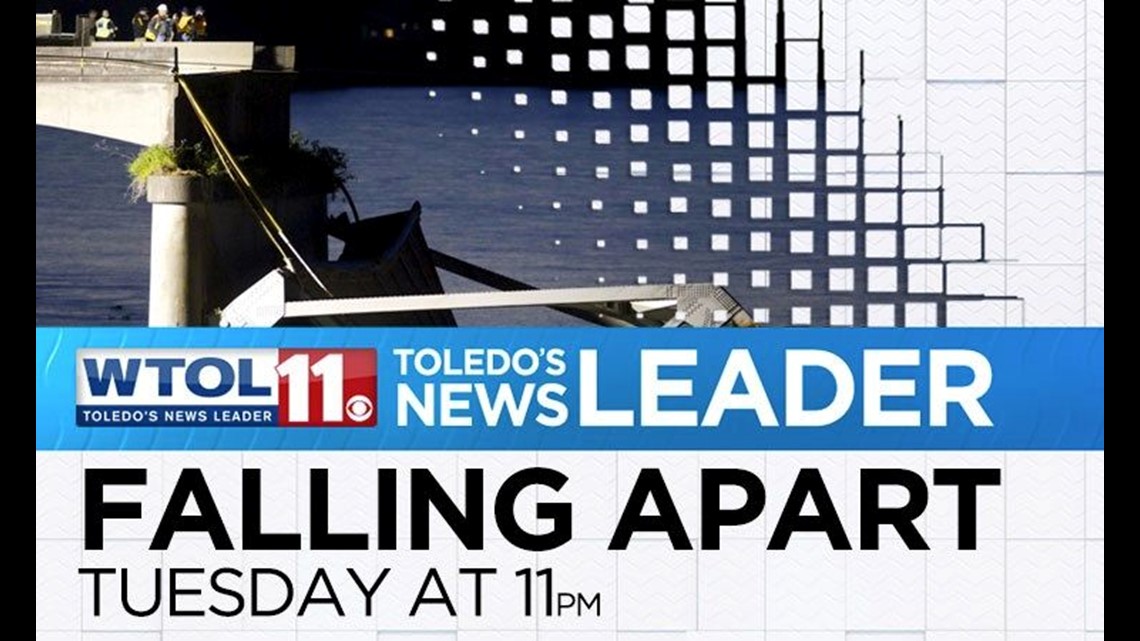 TOLEDO, OH (WTOL) - How safe are the bridges you drive over every day? Are they being maintained and replaced on time, to ensure your safety? WTOL 11 investigates which ones are falling apart and if they are being repaired or replaced.
It cost $28 million and took about a year and a half of work to repair the rust and structural problems on the Anthony Wayne Bridge across the Maumee River in Toledo. But it's just one example of a bridge that had to be replaced so it could be used safety into the future.
"It was definitely an extensive rehabilitation project. Not only replacing the deck, but a number of the structural steel components down below and concrete patching of the substructure," said David Geckle, ODOT Project Manager.
He say the Anthony Wayne Bridge is one of the lucky ones. There are 1,300 bridges in Lucas and Wood counties alone and some aren't even fit to drive over.
Likely the worst bridge, visually, is the Marengo Street Bridge in south Toledo near the Anthony Wayne Trail. Anyone who goes underneath it can easily see all of the rust and corrosion that has been building up.
ODOT and leaders from local cities and counties follow the National Bridge Inventory Ratings Scale, which goes from a 9, meaning excellent condition, down to 0, meaning failed condition.
The Marengo Street Bridge is rated a 4, poor condition, with advanced corrosion, cracking and chipping. But the city says it's still safe to drive over.
Maumee Avenue over the railroad tracks is in poor condition. The Crabb Road Bridge near West Laskey Road is a 3, meaning serious condition, with cracks in the concrete and rust.
The Harvest Lane bridge in west Toledo, over the Eisenbraum ditch, is also a 3, but the city is currently installing a new storm culvert.
In Wood County, one of the worst bridges is Kramer Road over the Portage River near Interstate 75 and Bowling Green. It is rated a 0 on a scale of 0 to 9, which means it is in failed condition, is beyond any corrective action, and is closed to traffic. County engineer Ray Huber downgraded it to a zero when he closed it a year ago, as rust became a big danger.
"If you look right there, all of that paint is flaking away," Huber said. "That's exposed metal and once metal is exposed to the atmosphere and the moisture, then it starts to rust and it begins to deteriorate rather rapidly."
Huber says he was even more worried about the bridge deck, the part you drive over.
Other Wood County bridges with low ratings include the closed Insley Road near Interstate 75 in North Baltimore, rated a 2, meaning critical. And Five Point Road over Cedar Creek in Perrysburg Township, which is rated a 3, meaning serious. That one will soon be replaced.
Mark Policinski, the Executive Director of the Ohio, Kentucky, and Indiana Council of Governments, says there are a startling 6,500 bridges in Ohio that are deficient and need a major upgrade.
"The average bridge in America is 43 years old and has been designed for a life span of 50 years. That means that the average bridge is basically running out of time," Policinski said.
But there is some good news. The oldest bridge in the area, Custar Road over a ditch, was built way back in 1885. Despite its extreme age, it has been maintained over the years and is actually listed as a 7, meaning it's in good condition.
Of the 33 bridges in the two counties that were built in 1900, 12 are listed in good or very good condition. One on Jerry City Road is even rated excellent. The others are still drivable and 7 of them are satisfactory, just one level under good.
ODOT inspects the bridges it maintains every year, even though the federal government only requires it every other year. WTOL 11 followed an ODOT crew as it inspected the Edison Bridge over State Route 2 near Port Clinton. A long arm from their truck on the bridge lowers the crew into tight spots to look over every inch of it, for critical problems.
The future of bridge safety could be the Interstate 275 bridge over Telegraph Road in Monroe County, with dozens of solar panels and wiring. The smart bridge was designed by University of Michigan professor Jerry Lynch and his students. Its sensors measure acceleration and when trucks go over the bridge, they also collect the vibrations and the strain that the bridge is under. Lynch says that information is then sent back to Ann Arbor so they can look for signs of deterioration and damage.
"So we collect data here daily and it gives us a complete picture of the behavior of the bridge between those periods of inspection," said Lynch.
It's still in its trial period, but Dr. Lynch sees it as a transformative technology that could be used all over the country.
"Anytime we can do a better job of assessing the health of the bridge, then motorists are safer in their use of the bridge," said Lynch.
So what's being done about the bridges we showed you that are in the worst shape?
For the Marengo Street Bridge, the City of Toledo is applying for a gr ant to repair or replace it. The Maumee Avenue Bridge will be replaced next year, as will the bridge at Crabb Road.
Wood County engineer Ray Huber says the Kramer Road Bridge will remain closed until a new one is built in 2016.
But maintaining the safety of bridges, and replacing the ones that need it, is a big challenge for local leaders. Funding those fixes is another challenge to deal with.
Lance Dasher, a transportation planner for the Toledo Metropolitan Area Council of Governments (TMACOG), said there are a lot of bridges to care for but not a lot of money to maintain them. He said the gas tax has stayed the same since the early 1990s so they haven't seen increases in funding.
He also says the cost of construction materials is going up. Despite those issues, Dasher said TMACOG always plans ahead.
"We want to make sure that if a bridge is at a certain rating in 2015, we try to project out, by 2025, we might want to start looking for funding for the year 2030," he said.
Although many local bridges are approaching or have passed their expected 50-year life span, Dasher said he is confident that ODOT and local municipalities are keeping a close eye on the conditions of Northwest Ohio's bridges.
"Overall, Ohio's bridges are in good and safe condition. ODOT inspects each bridge annually, exceeding the federal mandate requiring an inspection every two years. If any bridges are deemed unsafe, we immediately close them. Statewide, ODOT maintained bridges average a rating of nearly seven out of nine. We're also helping local governments through our Ohio Bridge Partnership program. It includes $120 million over three years to repair or replace more than 200 of their bridges."   –MATT BRUNING, PRESS SECRETARY, OHIO DEPT. OF TRANSPORTATION
Check out the complete list of Lucas and Wood county bridge ratings and conditions from "worst to best" here.
Here's what the numbers mean:
9: Excellent Condition
8: Very Good
7: Good
6: Satisfactory
5: Fair
4: Poor
3: Serious
2: Critical
1: Imminent Failure
0: Failed
On the spreadsheet, look under the letter "N" for the General Appraisal—that is the latest condition of the bridge.