TOLEDO, Ohio — Editor's note: The above video is from a previous report.
The mother and grandmother of Toledo toddler Braylen Noble are set to appear in court on June 7, pushing back the start of their trial a second time.
A motion was granted to delay until February, due to new evidence being received. However, on Feb. 22, the pair's court appearance was delayed again.
Dajnae Cox, Braylen's mother, and Bobbie Johnson, his grandmother, pleaded not guilty to charges stemming from the investigation into the 3-year-old's death.
Lawyers for Cox and Johnson told a judge they received evidence from the prosecution that would require months to review with their clients. A continuance was granted until Feb. 22, 2022, for both Cox and Johnson.
They face felony charges of obstructing justice. Cox is additionally charged with felony child endangerment.
Cox pleaded not guilty on each count in her indictment. Johnson also pleaded not guilty to her single charge.
The attorney representing the grandmother, Bobbie Johnson, said the family does not know what the obstruction of justice allegations are. He said the only thing they have is the indictment and will learn more as the discovery process begins.
"I know Ms. Johnson as well as her whole family and even though while grieving, they're still anxious to figure out what the police have discovered and what this obstruction charge is all about because we believe she has fully cooperated to the best of her abilities," attorney Kurt Bruderly said.
The women were taken to the Lucas County Corrections Center and booked before being released on "own recognizance" bonds.
Toledo police held a brief news conference in October unveiling new developments in the case. Lt. Dan Gerken said certain evidence was sent away for outside review, including a 911 call, which contributed to charges being filed more than a year after the child's body was found.
"We also met with the prosecutor's office numerous times and they thoroughly reviewed our case," Gerken said. "That took quite a bit of time and I appreciate it to make sure we were doing what was right and taking the case where the evidence led us."
Gerken also addressed why more serious charges have not been filed.
"People who are clamoring for stiffer charges — this is what the evidence led us to," he said. "Part of the issue is the cause of death is still undermined from the coroner's office. That's part of the evidence that led us to the charges."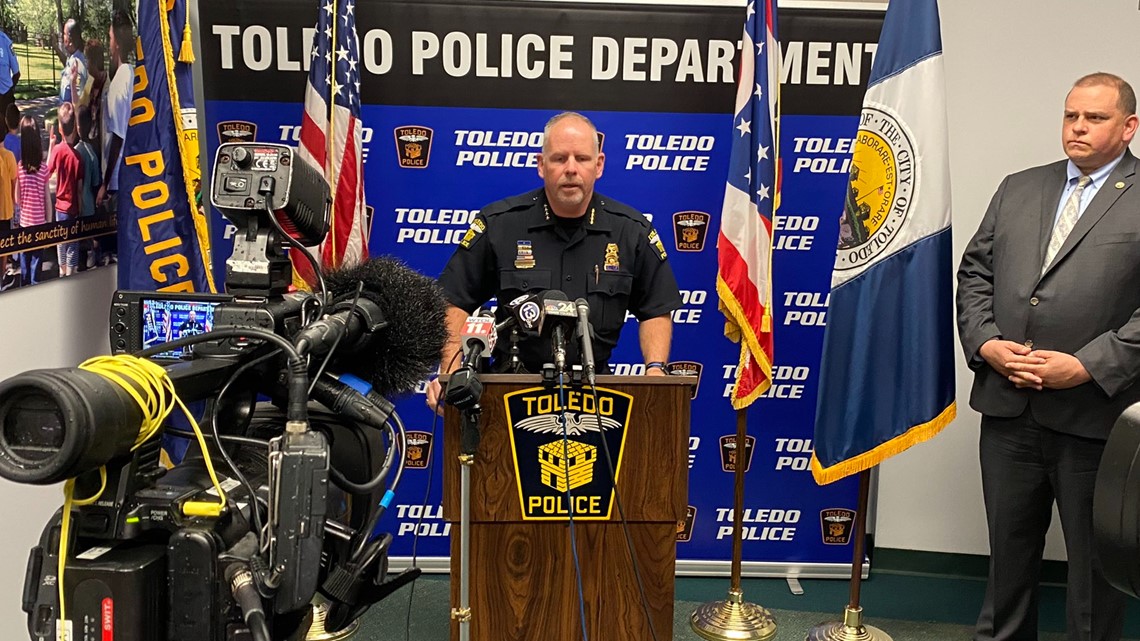 On Sept. 9, 2020, the Toledo Police Department launched an investigation into the death of Braylen Noble after the 3-year-old's body was found in his apartment complex swimming pool.
WATCH THE NEWS CONFERENCE
LISTEN | 911 CALL PLACED BY BRAYLEN NOBLE'S GRANDMOTHER WHEN THE TODDLER WENT MISSING
The child, who was nonverbal and had autism, was reported missing from the 3400 block of Gibraltar Heights Drive at Hunter's Ridge Apartments. His disappearance triggered a massive search by private search groups, law enforcement and the FBI.
Initial details on the autopsy of Braylen by the Lucas County Coroner's office found no obvious signs of trauma on his body, and said drowning had not yet been ruled out as a cause of death.
At the time, Cox had told WTOL 11 that Braylen was last seen in his bedroom. She was on the back balcony and her mother, Braylen's grandmother Bobbie, was in the living room.
There was a window open, so the assumption was he had fallen out the window because the screen was pushed in, although neither woman saw him actually fall.


MORE FROM WTOL