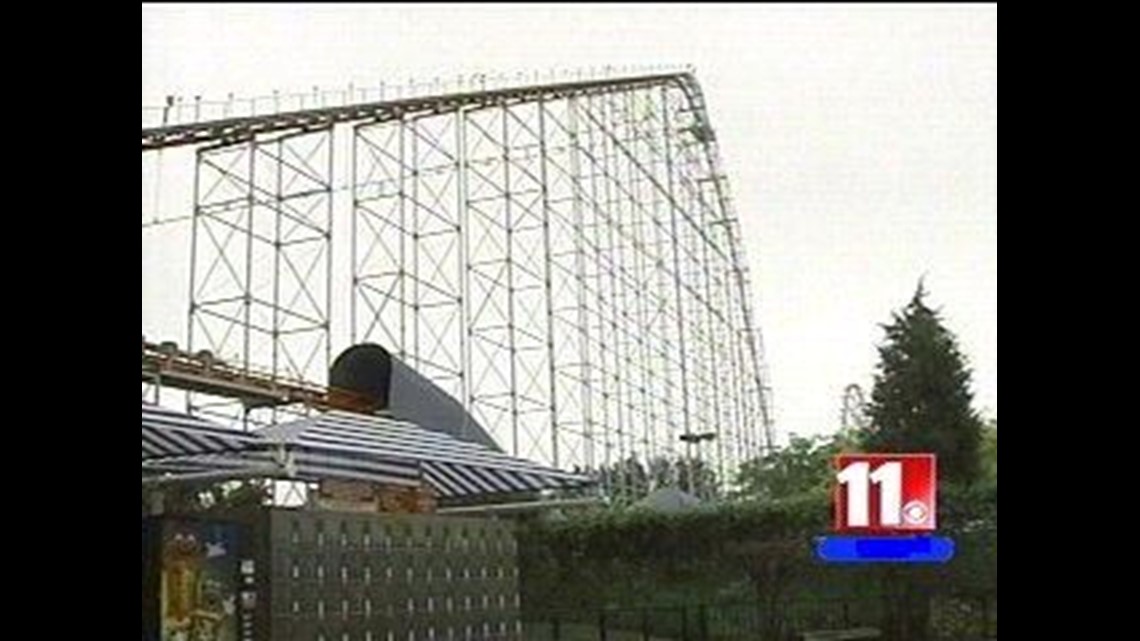 SANDUSKY -- Cedar Point amusement park has reopened one of its roller coasters after a crash injured three people.  The incident happened around 11:00am Saturday morning on the Magnum XL-200 coaster.
News 11 has learned a train loaded with passengers was completing its trip when it rolled through the braking system and hit another train that was stopped and waiting to enter the loading station.  Two people were treated for minor injuries in the park's first aid station, while another person on the train went to Firelands Regional Medical Center after suffering an asthma attack.
A spokesperson for Cedar Point says excessive moisture on the track caused the brakes to fail.
Coaster operators estimate the train was going about 10mph when it hit the other.  Both trains were damaged, but it appeared to be superficial fiberglass damage.
According to Cedar Point's web site, the Magnum is a traditional "out and back" coaster that features 5,106 feet of track that winds its way over Soak City and along the Lake Erie shoreline.  Opened in 1989, it was one of the fastest roller coasters in the world, zooming riders along at 72mph.  In 2006, the Magnum XL-200 was voted No. 3 in the "Best Steel Roller Coaster in the World" category in a poll conducted by "Amusement Today."
In 2006, Cedar Point says more than 1.8 million riders rode the Magnum.
The collision happened on the same day Cedar Point opened its newest roller coaster, "Maverick."  The opening of that coaster was delayed several weeks after the ride's manufacturer, IntaRide, found a "heartline roll" in the track put too much strain on the track and the coaster's cars.
A heartline roll is a roller coaster element in which the train twists, but the riders' hearts stay roughly in line with the center of the curve.  It was supposed to be one of Maverick's signature maneuvers.
Crews removed Maverick's heartline roll, and replaced it with an "S-curve."  The "S-curve" will not include an inversion.  Nothing else will change.
After the new track was installed, Cedar Point says Maverick underwent additional pre-opening testing, then the Ohio Department of Agriculture's Amusement Ride Safety Division inspected the ride.  After that inspection was completed and the ride was licensed, Maverick opened to the public.
In addition, IntaRide, the ride manufacturer, has recently revised the height requirement for Maverick.  Riders must now be 52 inches or taller to ride.
Cedar Point is one of the world's largest amusement parks by ride count, and currently holds the world record for most roller coasters with 17.  The park also has two water parks, two marinas, and several hotels.  It is the flagship park for its parent company, Cedar Fair.