TOLEDO, Ohio — Getting a package at your door is something most of us are experiencing lately as we all navigate life under the coronavirus and are ordering online often, but have you ever received a package you never actually ordered? Today, it happened to me. It was mailed to my exact address, but the return address was this:
I'd never seen the address before. When I opened it, I found what looks like a ... posture corrector? No note left inside the package.
After making sure my mother wasn't mailing me an early (and weird) Christmas present, and looking at my bank and credit card accounts to make sure no fraudulent charge was made, I searched the return address on Google.
I soon noticed images popping up from people all over with the same kind of questions just like mine.
The address is for a gas station and convenience store called Bent Creek Grocery. So, I call the business to try and get answers. And it turns out my call is one of about 20-plus calls they get a day asking the same questions.
"Did you get a package from Jon? Oh, what did you get?" A friendly woman's voice is on the other line. I tell her who I am and ask if she can explain to me what's happening with these deliveries.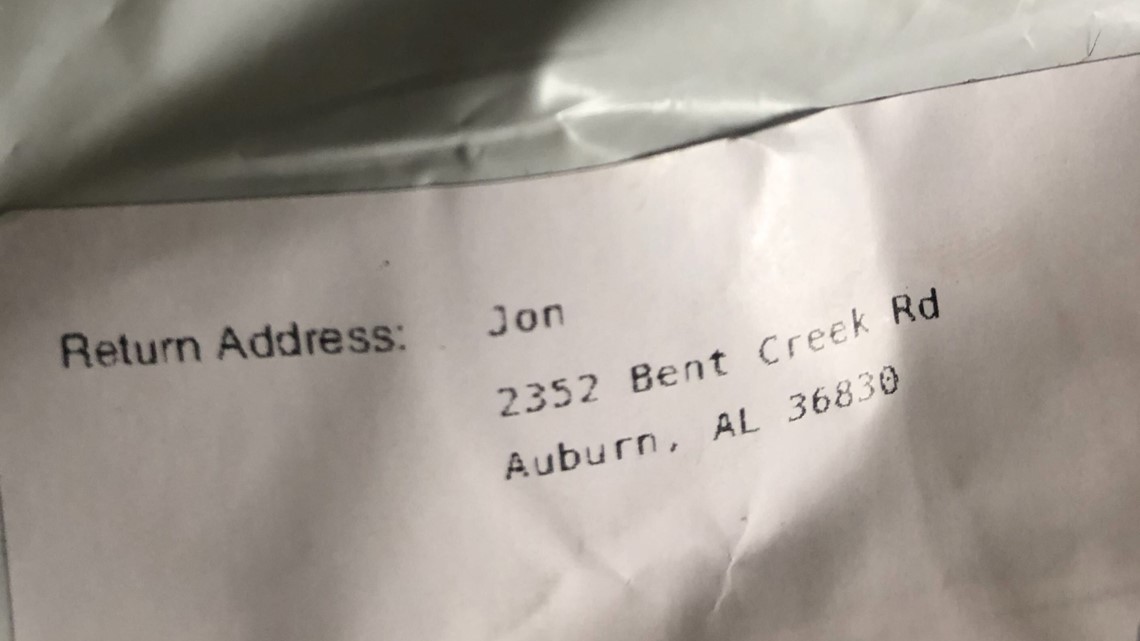 According to the convenience store at this address, there is no "Jon" who works there and they assured us they are not sending out packages to anyone.
She says she gets calls daily from folks across the country who get a delivery just like mine and passes me off to talk to her business partner, Larry Delorenzo.
Delorenzo is as curious about what's happening as I am since it's his business address this "Jon" is using. His voice is friendly and welcoming. He said the packages first started arriving at the store back in August 2019. There was no Jon on the payroll, but he kept the packages, thinking maybe Jon would come to pick up his stuff.
According to Delorenzo, there were five to six milk crates filled with unopened packages addressed to Jon with his business address.
"I thought this Jon will come to get it, but I never saw Jon," Delorenzo says. So in October he took the milk crates to the post office and explained the mysterious packages he received, saying, "There is no Jon here." He notified the U.S. Postal Service and FedEx.
Delorenzo said more calls came in after the holidays.
"I got a call from a furious policeman in California whose 14-year-old daughter got a thong mailed to her, and a woman from Florida woman who says she got a wig in the mail, but the color isn't right," he recalls.
"It ain't me! I'm a standard brick-and-mortar store. I have no online presence," he assures me.
Delorenzo said the Better Business Bureau and Auburn police are investigating the strange packages being mailed using his business address.
He wants to stress to people the obscure items being mailed aren't from him or anyone in his store.
According to the Better Business Bureau, this may be similar to a practice of receiving unordered and unwanted packages that arrive from Amazon is known as "brushing," and is actually a scam. In Amazon brushing scams, suddenly boxes of unordered (by the recipient) merchandise from Amazon arrive at your house. The companies that are sending the random items, most often foreign, third-party sellers, are using your address and your Amazon information.
The reason these sellers do this because they then write an online review using your information. This makes it look like you - a verified Amazon buyer - wrote a praise-filled review of their merchandise, which improves their products' ratings and in turn could lead to more sales for them. It could be bad for you as the recipient, though, because these sellers somehow have access to your Amazon account information. If this happens to you, the Better Business Bureau says you should consider changing your Amazon password. Legally, you can keep any merchandise, though.
My package, however, didn't appear to be from Amazon and it DID have a return address and it's that convenience store in Alabama. Maybe it's a weird quirk, maybe it's a scam. And maybe I'll just improve my posture after all as a result of this.