TOLEDO, Ohio — About 5,800 United Auto Workers at Stellantis' Toledo Assembly Complex began a strike at 12 a.m. Friday after negotiations with Detroit's Big 3 automakers failed to yield new contracts before the union-imposed bargaining deadline.
Striking Jeep workers were on the picket lines before dawn Friday chanting "No justice, no Jeep!" in their efforts to get a new contract that includes wage increases, an end to the tiered wage system, a shorter work week and renewed pension benefits, among other provisions.
For their part, Stellantis, GM and Ford company officials have said they cannot afford what they see as overly generous contracts the union is demanding while still competing globally and shifting the industry to electric vehicles.


UAW expands strike to 38 more Stellantis and GM plants
UAW President Shawn Fain announced Friday morning that United Auto Workers members at 38 parts-distribution plants in 20 states would join the union's stand-up strike at noon Friday.
Workers at the three initial strike targets, including Jeep's Toledo Assembly Complex, will remain on strike.
The new targets of the strike will include only GM and Stellantis facilities.
Fain said talks with Ford this week had yielded some significant results, including movement on ending the tiered wage system, among other issues.
Show of solidarity Thursday as UAW members wait for word on strike expansion
Members of UAW Local 900 from Wayne, Michigan, drove down I-75 in a fleet of Ford Broncos as a show of solidarity with striking UAW workers at Toledo's Jeep Assembly Complex. Also Thursday, striking workers were visited by members of Toledo City Council who came to show support.
National UAW leaders spent Thursday reviewing the latest contract offer from Stellantis. UAW President Shawn Fain has said that the strike could expand to additional plants in the coming days if there is not "serious progress" in the talks.
Fain is expected to make an announcement about whether the strike will expand -- and where that might happen -- Friday morning.
Stellantis makes new offer Wednesday, UAW considers expanding strike to additional plants
Stellantis announced Wednesday it had delivered a new contract proposal to the striking UAW workers. Union leaders said later Wednesday they would review details of the proposal and could not comment on specifics.
The union also held a rally Wednesday afternoon at the Stellantis headquarters near Detroit.
The rally comes ahead of a Friday deadline UAW leaders set for an expanded strike. Unless negotiations make what the union described as "serious progress," the UAW would expand the strike beyond the three plants that went on strike last Friday.
American Federation of Teachers president visits striking Stellantis workers in Toledo
AFT President Randi Weingarten joined UAW workers on the picket lines outside the Toledo Assembly Complex Tuesday morning.
"What we're asking for is fairness and we need to support each other," Weingarten said.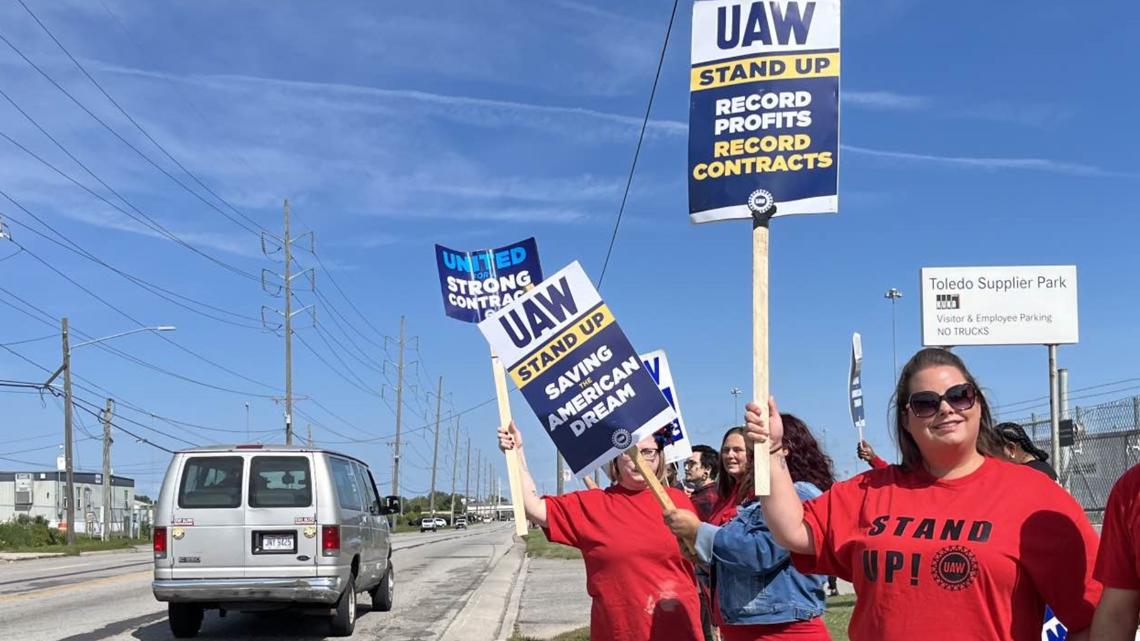 UAW president gives update on strike plans Monday night
In a video posted online, UAW President Shawn Fain said the next locals to join the strike would happen Friday at noon if there isn't significant progress made in negotiations.
Stellantis releases latest update on negotiations with UAW on Monday
Stellantis wrote in a statement that its latest offer included nearly 21% in raises for hourly employees, an inflation protection measure, and reduction of tiers from eight years to four years, including $1 billion in retirement funding.
The company said that they "continue to listen to the UAW to identify where we can work together and will continue to bargain in good faith until an agreement is reached. We look forward to getting everyone back to work as soon as possible."
Click here for the full statement from Stellantis on their continued negotiations with UAW.
Bargaining resumes Monday with concerns strike may expand
The United Auto Workers and the Big 3 automakers resumed talks Monday as the union's targeted strikes against facilities from each company continued into a fourth day.
UAW President Shawn Fain has said the union would expand the strike to other facilities if talks continue to not yield an agreement.
Over the weekend Fain said the UAW rejected a proposal from Stellantis -- owner of the Toledo Jeep plant where workers began a strike Friday -- that would increase pay 21% over four years. The union has demanded raises of at least 36% to match the pay increases the auto companies have given their top executives over the last four years.
"Our demands are just," Fain told "Face the Nation" on Sunday. "We're asking for our fair share in this economy and the fruits of our labor."
Local 14 shows up to support striking Local 12 workers on Sunday
Striking Jeep workers at the Toledo Assembly Complex remained in high spirits as the third day of the UAW's strike against the Big 3 Automakers came to a close.
Earlier in the day, a large convoy of cars, including members of UAW Local 14, who are not striking at this time, circled the plant to show support to the striking Local 12 workers.
Workers from both locals say they are motivated to see the strike through and are more than happy to support each other.
"I've never seen this membership, this motivated for anything in the 10 years I've been here," said one striker. "I mean, it was really nice. Made me emotional. I almost wanted to cry but it was really nice. It was great. We support each other. They helped us, we're helping them. We're brothers and sisters. we're one family. We are different locals, but we're still one family."
Stellantis details latest offer to UAW on Saturday
Stellantis says they have bumped up their wage offer to 21% for hourly workers over the course of a proposed contract, including an immediate 10% increase, according to a press release put out by the company on Saturday.
They also say their latest proposal would end wage tiers for some, but not all, employees.
In addition, the company says an offer to reopen an idled Belvidere, Illinois assembly plant had been contingent on a deal being reached before the strike deadline on Friday.
In response, UAW President Shawn Fain, made a statement on Sunday saying Stellantis was using the Belvidere plant as a "bargaining chip".
"Today, a Stellantis executive told the press that the company had put forward a proposal to reopen Belvidere Assembly Plant but that they are now taking it back. That's how they see these workers. A barganing chip."
Negotiations between the UAW and Stellantis are expected to resume on Monday.
"This is the backbone of America," Rep. Marcy Kaptur visits picket line at Jeep plant
U.S. Rep. Marcy Kaptur, D-Toledo, stopped by the picket lines at the Jeep plant Saturday morning to speak with UAW members.
Two striking workers at the Toledo Jeep Assembly Complex recently moved to the plant from Belvidere, Illinois, after the Belvidere Assembly Plant was shut down indefinitely. It was either move or be out of a job, they said.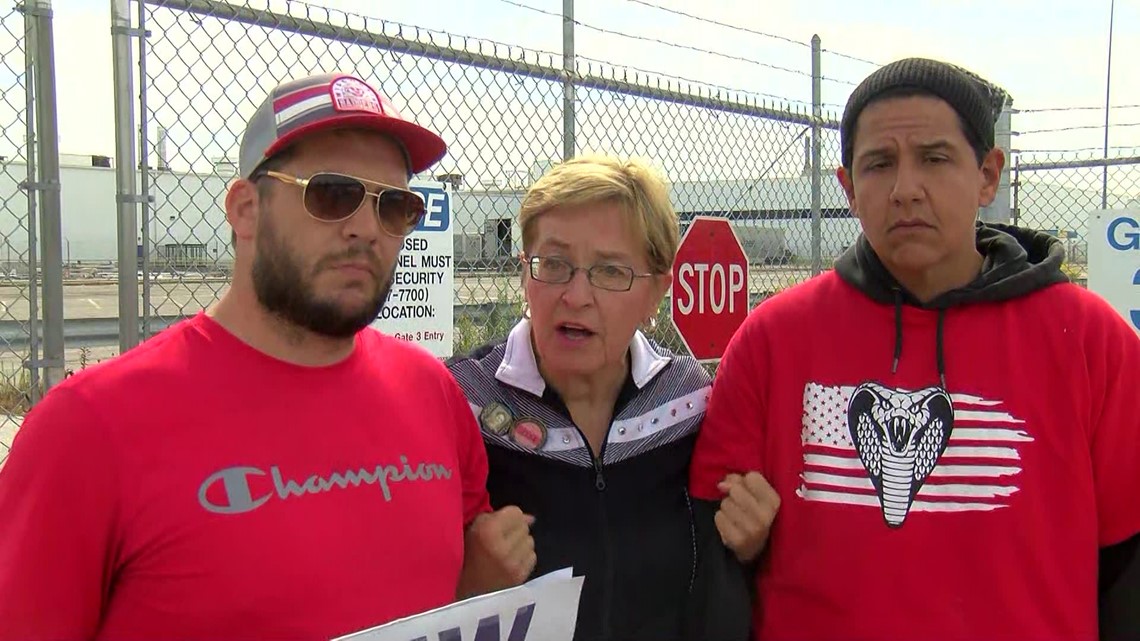 "This is the backbone of America," Kaptur said. "I want America to meet the backbone of this country and why these people deserve a decent contract and a way to make a living."
Kaptur said her parents were union workers in Toledo and her background was one of the reasons why this strike was so important to her.
"No one wins," Toledo mayor reacts to strike
Mayor Wade Kapszukiewicz responded Friday afternoon to the first day of the UAW strike, which started with three targeted plants, including Toledo's Jeep plant.
"Everything about this is unfortunate," he said. "Whether we were one of the first three or the next three or the three after that, the sequential order doesn't really matter to me -- it's just the overall sadness that we've come to this position. No one wins."
Biden sending aides to Detroit
President Joe Biden on Friday dispatched two of his top aides to Detroit to help resolve the strike by unionized autoworkers, expressing sympathy for the union by suggesting that the Big 3 automakers should share their "record profits."
"No one wants to strike," Biden said in brief remarks at the White House. "But I respect workers' right to use their options under the collective bargaining system, and I understand the workers' frustration."
Biden said he is sending acting Labor Secretary Julie Su and senior aide Gene Sperling to Detroit to help reach a "win-win" contract for the companies and their employees.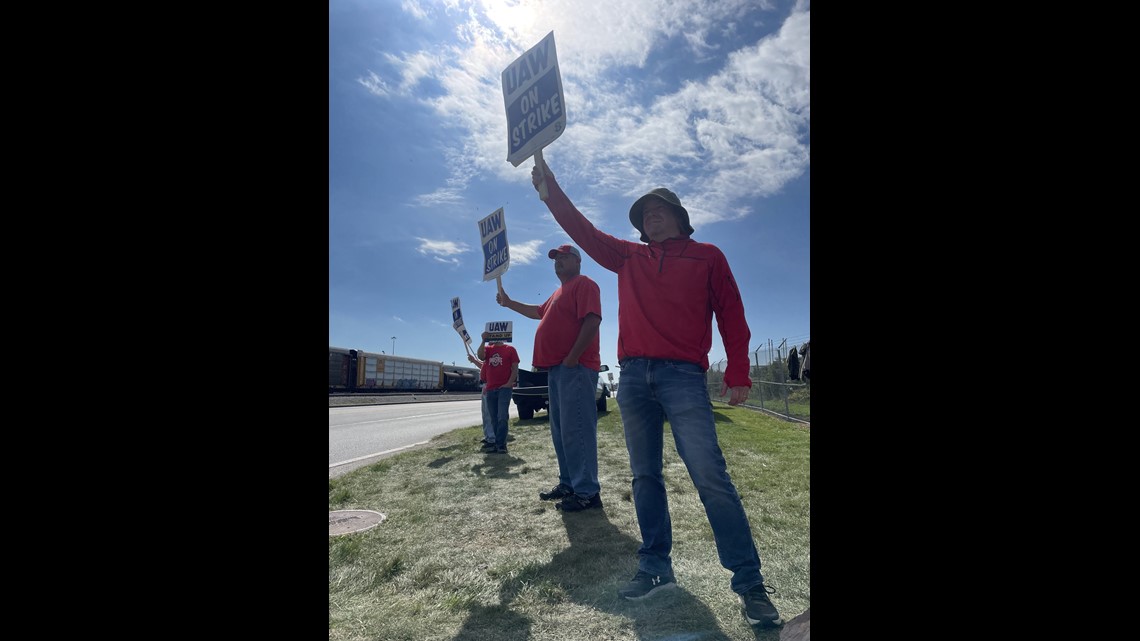 Sherrod Brown visits striking workers in Toledo
U.S. Sen. Sherrod Brown, D-Ohio, visited with striking United Auto Workers members outside the Jeep Assembly Complex in Toledo Friday morning.
Brown said the auto company executives who have been given generous salaries should be willing to pay workers well too.
"I don't much like it that CEOs make that kind of money -- $20 million, $30 million a year -- but they're making that kind of money and they not only won't settle (I know negotiations are tough) but they won't even offer a serious, legitimate proposal for a contract to this union," Brown said.
No negotiations Friday
United Auto Workers leadership said they would not negotiate Friday, the day after talks failed to reach new contract agreements before the previous contract expired.
Instead, the union plans a rally at 4 p.m. the UAW-Ford Joint Trusts Center in Detroit.
Thursday night: Contract talks break down
United Auto Workers President Shawn Fain announced earlier Thursday evening that Toledo's Jeep Assembly plant would be among the first union facilities to participate in a "stand up strike" strategy that targets key plants.
"This strategy will keep the companies guessing," he said. "It will give our national negotiators maximum leverage and flexibility in bargaining. And if we need to go all out, we will. Everything is on the table."
The Ford Assembly Complex in Michigan and a General Motors plant in Missouri were two other plants in the U.S. that Fain called upon to strike immediately after the negotiations failed.
Fain also asked workers not called upon for the immediate strike to show their solidarity. These unionized workers will still work under the expired agreements unless they are called upon to strike, he said.
"We must show the companies you are ready to join the stand up strike at a moment's notice," he said. "And we must show the world that our fight is a righteous fight."