TOLEDO, Ohio — To Cosette Stalker, Sundays are for family.
"I miss you so much," she says as she stands by his gravesite, still unmarked.
The past few Sundays have been spent not around a dinner table, but at the cemetery with her son, Officer Brandon Stalker, where she comes to talk and he listens.
"You got the Purple Heart, buddy. You are amazing. You deserve every bit of it," she tells him. "I need to be out here. I need to see him. I still need to be seeing him, you know, even though he's not here. He is here."
The tragedy unfolded on the afternoon of January 18, 2021.
Cosette was listening to her scanner, as she always did when Brandon worked.
"I knew that there was something going on and they were calling SWAT and then they switched to a private channel."
Brandon was working that day to keep people safe as SWAT tried to force a barricaded man, Christopher Harris, 27, outside.
Harris was wanted for vandalizing and setting the church doors on fire earlier in the day at Our Lady, Queen of the Most Holy Rosary Cathedral.
Police say they spotted him and planned to arrest him, but he went into a home on Fulton Street.
He had guns and was uncooperative, Toledo's Police Chief, George Kral, said.
Police fired tear gas and Christopher Harris, 27, came out firing two guns.
One of the shots hit Officer Stalker in the head.
Cosette hadn't heard any updates since police switched to a private channel.
That's often done to keep suspects from knowing their location and plans during intense situations.
A friend called to tell her she saw a Facebook post that a police officer had been hit.
"And, I said, 'What?' And she said, 'Yeah,' and I said, 'I'm getting ready to call him and see if he's out of there or whatever 'cause I'm listening.' And, right after that, I got the call from Ashley (Stalker's fiancé) that said that one of us needed to go to the hospital. I told my husband, we gotta go to the hospital now. I think Brandon got shot. He's like 'What?' I'm like... We gotta go," recalled Cosette.
"The chaplain came out and said he was back there but we couldn't go see him yet. I just wanted to see my boy. He said there's nothing we can do for him because he was shot in the head. My heart just dropped. I didn't know what to do. It was terrible. It was the worst thing I've seen in my life."
Life before that day, Cosette says, involved the closest of relationships and frequent check ups on Brandon, who was her only son and best friend.
"I always sent my son a message when I knew he was working. Every day before he went on shift, I always said, 'I love you. Be safe out there.' And he'd always say, 'I love you, too' every time he worked."
The two were always close. They traveled all over the place together for him to play baseball and she especially remembers his love for police at a young age.
"When he was little, I had one of those little cars they could walk in and Brandon would pretend he's the police car and going to get the bad guys and it started then. And, we would watch COPS together when he was little and he would be like, 'bad boys,' and he would sing the song."
She has a mixed response when asked, whether in light of the way he died, she would prefer he had never become a police officer.
"Yeah, I do. In a way, because he's my only son, you know. And, that's a big risk with losing your only boy, you know, and I can't have any more kids," answered Cosette. "So, I do, but I don't, because I love the police officers, you know, I really do. I respect them, I feel for them. I feel for their families, because it's like it says, 'When everybody else is running out, they're running in to it.'"
At a time when police officers aren't often appreciated because of the actions of a few, Cosette appreciates the support and gratitude for her son's life.
"From the little boy with the flag in Florida that ran for him, to Max and the hot chocolate, all the different fundraisers for the family, the whole community has been amazing and the messages that I got, the love, the prayers, it was just amazing."
When asked what she wants people to know about Brandon, she says, "I guess that, Brandon would give his life for anybody. He would take his shirt off his back for anybody. He loved everybody. He was a true, honest man. He loved his kids very much, the community. There was a lady who messaged me and said he went on a call to her house and her husband had passed away and that my son sat there for an hour with her. That's what Brandon was about. He was everything."
These days, Cosette still listens to the scanner to make sure his friends are safe on the job. And she sits with Brandon at his grave, inviting anyone who wants to talk to him to do the same.
"Everybody loves you. I'll see you one day."
Until that day, this mom will keep working to keep her son's memory alive, honoring and respecting all heroes in blue.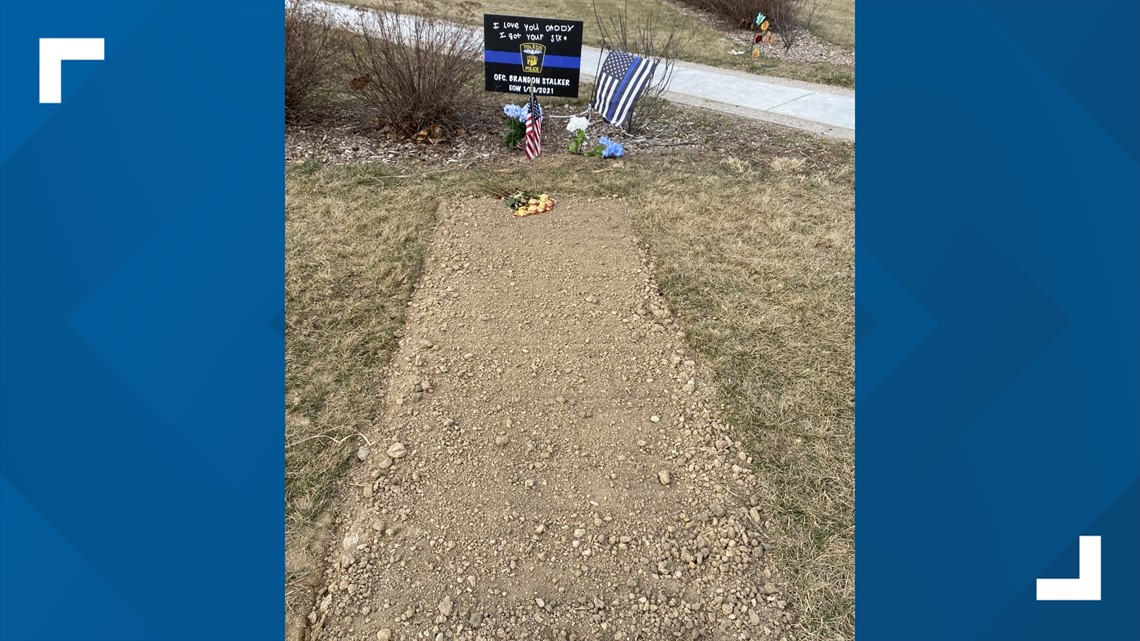 COSETTE STALKER'S FULL INTERVIEW WITH WTOL 11'S MELISSA ANDREWS:
RELATED VIDEO:
PHOTOS | The life and service of Officer Brandon Stalker